Grain-free, paleo carrot cake made with almond flour and sweetened with pure maple syrup. Top it with cashew-based vegan cream cheese frosting for a healthier take on the classic dessert.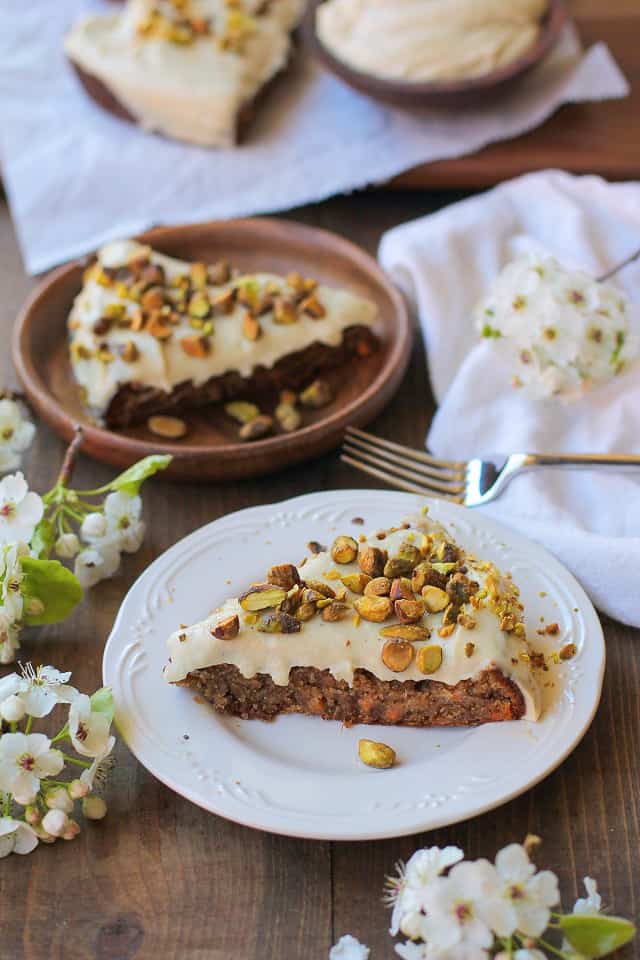 By my calculations, there are two types of cake: carrot cake, and all the other cakes.
This is not to say I'm not partial to all the other cakes…I totally dig them.
But carrot cake? It's an entirely different species of baked good in my mind.
It is, in a word, the dopest of all the cakes.
For this reason, I rarely bake carrot cake without close supervision.
For when I do so un-chaperoned, I eat half the cake in one standing (because the feeding is too aggressive to complete while peacefully seated).
Anyone know what 1-½ cups of almond flour + ¼ cup of pure maple syrup feels like in your stomach organ? Bliss. Heavy, heavy bliss.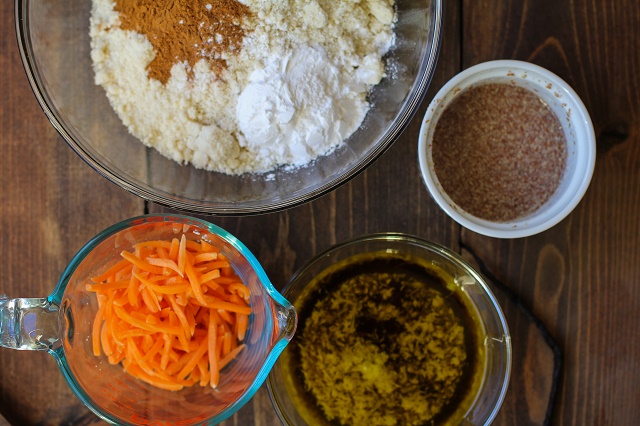 What's the texture like?
This vegan carrot cake recipe is not fluffy the way a regular carrot cake is.
It turns out dense, somewhat similar to a cookie bar (yet softer than a cookie bar). In essence, the texture is difficult to describe, but the flavor is on point with regular carrot cake.
I've been paying close attention to all the healthy carrot cake recipes out there, and I've observed a couple of things:
1.) When grain-free and paleo, the recipe usually includes eggs (which is totally fine for non-vegan folks such as myself), and
2.) Most of the vegan carrot cake recipes I've found usually incorporate all-purpose flour or gluten-free all-purpose flour (which is totally fine for folks who eat grains).
I haven't come across a recipe that is grain-free, vegan, naturally sweetened, and paleo. Which is how this cake was born.
There's so much going on with this cake, I'm going to break the whole thing down.
Vegan Carrot Cake Recipe Highlights:
Gluten-free and grain-free

Made with almond flour

Good source of protein and omega 3s

Refined sugar-free and naturally sweetened with pure maple syrup

Topped with non-dairy, refined sugar-free vegan cream cheese frosting made with raw cashews and pure maple syrup

A healthful alternative to your standard cake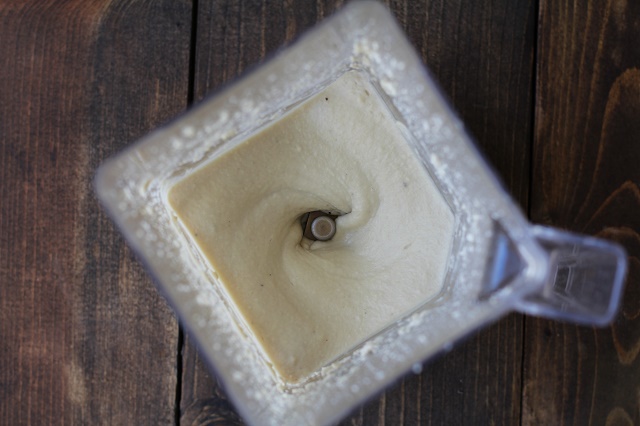 The cashew-based vegan cream cheese frosting…this is nuts.
Buhdumching.
Get it? Because it's made with nuts? I know, it's a riot.
There's no shortage of vegan cream cheese frosting recipes on the internet, but most of them use vegan cream cheese (which is typically soy-based) and powdered sugar.
To ramp up the health benefits of the recipe, a cashew-based "cream cheese" frosting sweetened with pure maple syrup keeps it ultra clean.
Do note, some paleo people object to cashews, so if you have allergies or are following a strict diet, you can omit the frosting or use a whipped coconut milk topping instead.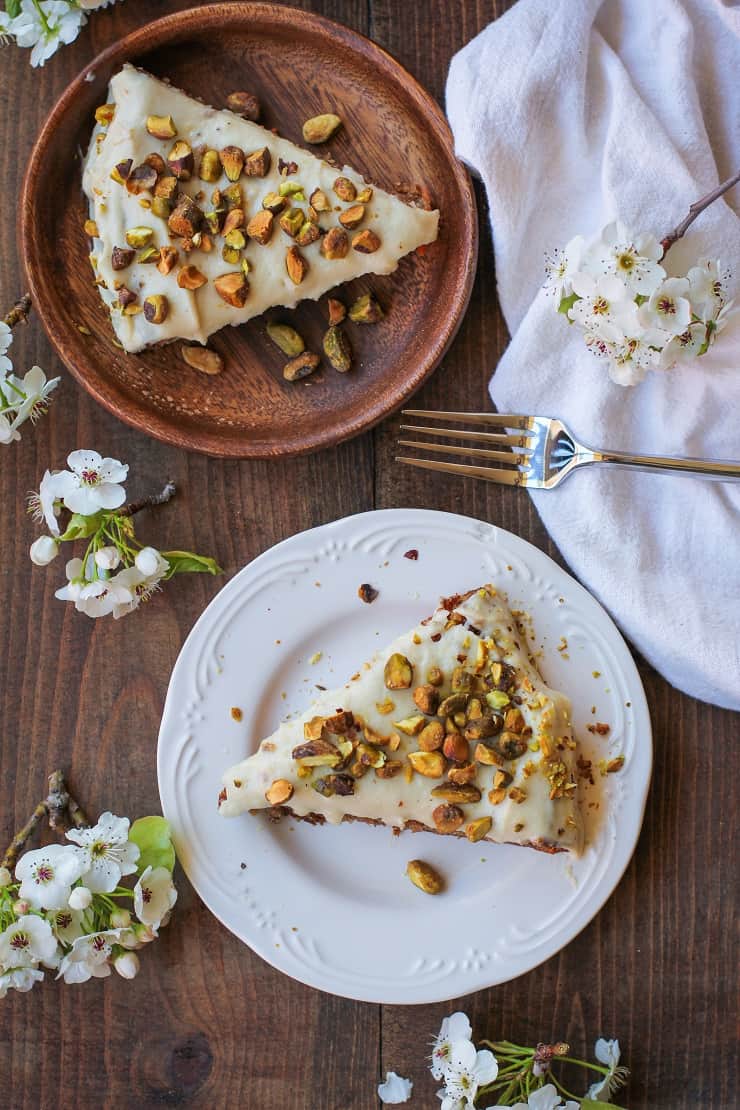 Recipe Adaptations:
To make the cake vegan, I used flax "eggs," but you can also use your egg replacer of choice.

Chia eggs, and/or applesauce will work marvelously.

If you aren't vegan, make my Paleo Carrot Cake or my Low-Carb Carrot Cake (for a keto version).

You can also use honey to replace the pure maple syrup in both the cake and the frosting if you're fine with the recipe being non-vegan.
Also try my Paleo Strawberry Crumble, Paleo Cranberry Orange Vegan Scones, or my Paleo Apple Pie Bars, all of which are both grain-free and vegan!
Enjoy!
Grain-Free Vegan Carrot Cake
Grain-Free Vegan Carrot Cake is perfect for grain-free, dairy-free, egg-free eaters!
Ingredients
Vegan Cream Cheese Frosting:
Grain-Free Vegan Carrot Cake
Instructions
Prepare the Vegan Cream Cheese Frosting:
Soak the cashews in water overnight (or for at least 2 hours). Drain and transfer to a high-powered blender

Turn the blender on to break up the nuts and form a paste. You'll need to stop the blender, scrape the sides and bottom, and re-start several times.

Leaving the blender on, slowly pour the pure maple syrup and lemon juice through the hole in the top of the blender cover (Note: if there's no hole in the cover, you can simply pour the maple syrup and lemon juice into the blender when it's stopped). Continue running the blender, stopping to scrape the sides, until a thick frosting results. I used a Blendtec Blender and let it run on the whisk setting for the full duration 6 times, scraping the sides between each time.

Transfer to a container and refrigerate until ready to use.
Prepare the flax eggs:
To make the flax eggs, combine 3 tablespoons of ground flax seed and 9 tablespoons of lukewarm water in a small bowl. Allow mixture to sit for 10 to 15 minutes, stirring occasionally, until very thick and egg-like.
Prepare the Grain-Free Carrot Cake:
Preheat the oven to 375 degrees Fahrenheit and lightly oil a 9-inch spring form pan (or cake pan).

Add the almond flour, tapioca flour, baking soda, sea salt, cinnamon, nutmeg, and cardamom to a large mixing bowl. Stir together until well-combined (dry mixture).

In a separate bowl, whisk together the oil, pure maple syrup, cider vinegar, grated ginger, vanilla bean scrapings (or vanilla extract), and shredded carrot (wet mixture).

Transfer the flax eggs and the wet mixture to the bowl with the dry mixture and stir well to combine. The batter should be very thick and pasty.

Transfer the cake batter to the prepared pan, and smooth it out to create an even layer.

Bake on the center rack of the oven for 32 to 36 minutes, or until cake tests clean. Allow cake to cool for 30 minutes.

Release the mold from the springform pan and gently transfer cake to a cutting board. Spread the vegan cream cheese frosting over the surface and sides of the cake and decorate with chopped pistachios. Cut slices and serve.
Notes
*Use almond oil, coconut oil, or grapeseed oil in place of avocado oil
If using a smaller cake pan, you'll need to bake the cake longer until it is set up. Try baking it at 350 degrees F for 45 to 60 minutes, or until the cake tests clean.
Nutrition
Serving:
1
of 10
|
Calories:
512
kcal
|
Carbohydrates:
40
g
|
Protein:
14
g
|
Fat:
34
g
|
Fiber:
4
g
|
Sugar:
22
g