Flavorful, aromatic butter chicken made paleo-style! This cleaner version of butter chicken is super easy to prepare!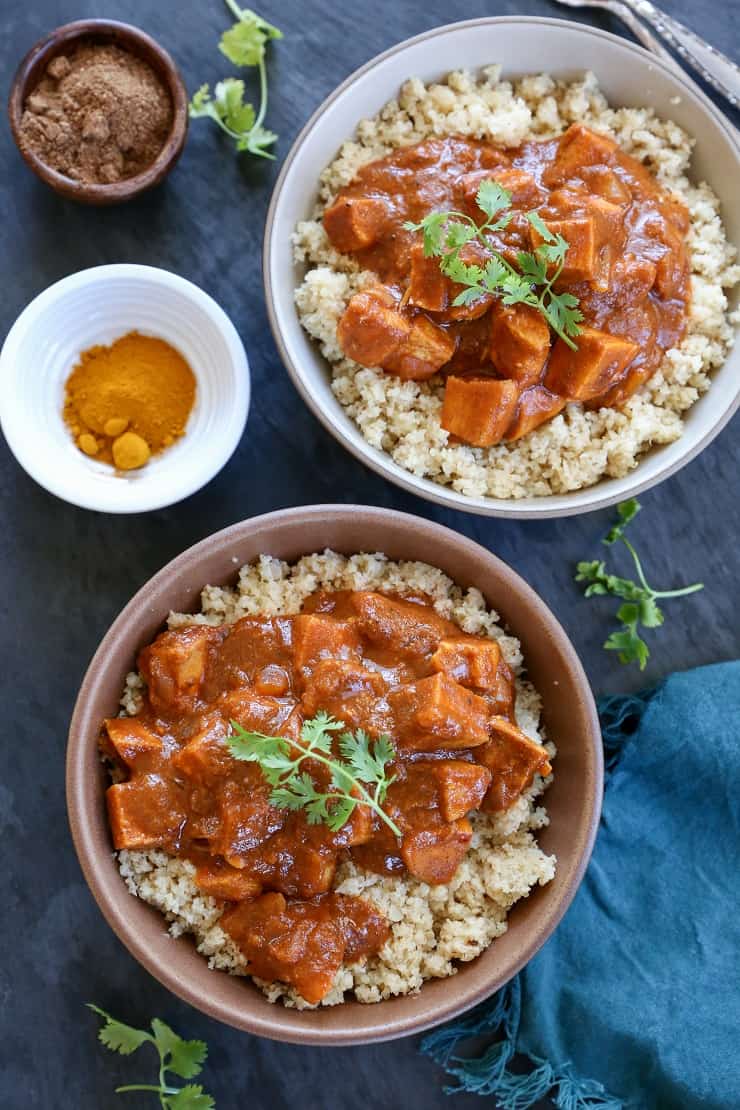 Halloween snuck up on me big time this year! Between the trip to Switzerland, two separate trips to Colorado, and trying to stay on top of the cookbook, the blog, and freelance work in between without losing my marbles, I've basically forgotten all about All Hallows Eve…and have sufficiently lost my marbles…but I have a lifetime to find them, right? Right! 😉
BUT, some great news is I have what I think will be your next favorite dinner recipe.
First, lettuce discuss a torrid inner heated debate I had recently…which is (wait for it, wait for it): what the heck is the difference between Butter Chicken and Chicken Tikka Masala? These are the things you ponder while on a 10-hour flight over open ocean.
The difference between Butter Chicken and Chicken Tikka Masala was a bit of an enigma to me prior to doing some research and making this recipe. The two dishes share quite a few similarities when it comes to the ingredients lists – traditionally, both use tomatoes, tomato paste (or puree), Greek yogurt, heavy cream, the same spices (cumin, coriander, ginger, garlic, etc.), and even a similar cooking technique.
After comparing the ingredients and cooking technique for both dishes, and taking into account slight differences in everyone's approach to both recipes, I performed a basic google search because my mind was baffled. You ready to know the difference? Here's what I discovered.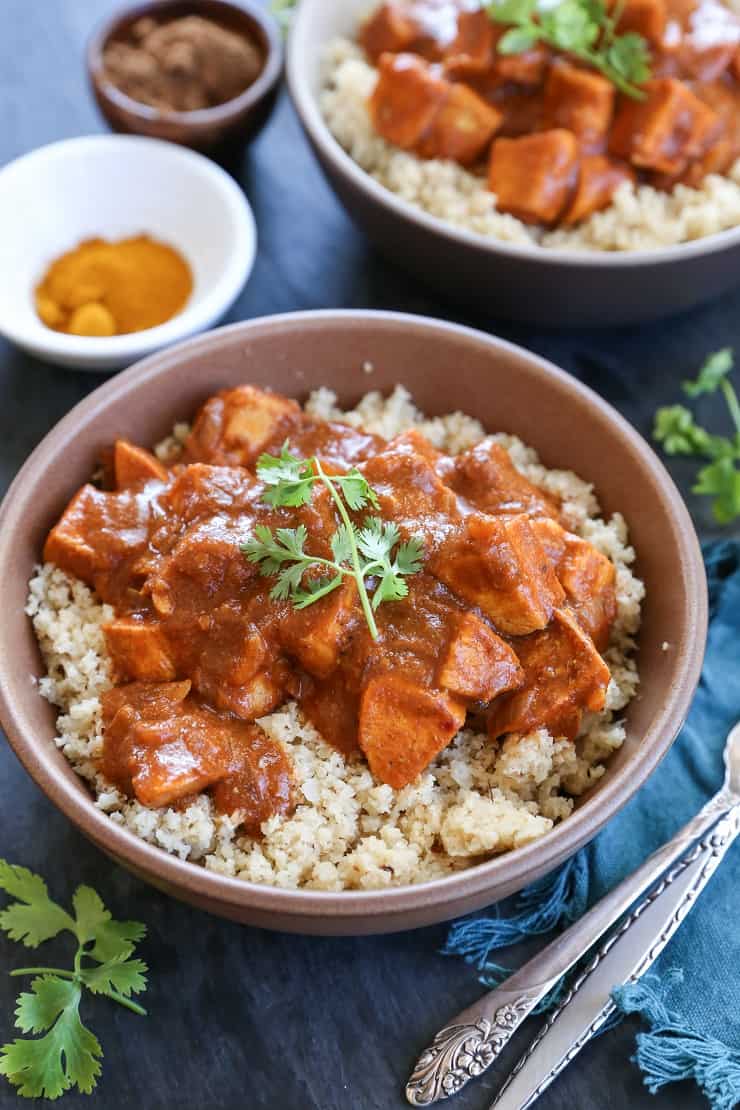 Butter chicken is a classic Northern Indian dish, whereas Chicken Tikka Masala comes from (wait for it, wait for it) the U.K. (specifically England).
As it turns out, there are slight differences in the spices used as well, but after looking through recipe after recipe of both, I couldn't tell you the original authentic version of either one (womp woooooomp). My guess is a query as complicated as this would require travel to actual India and actual England to "research" (i.e. taste test) and have deep conversations with skilled chefs regarding  recipe authenticity…you know…for the pursuit of truth. Tax write off able so long as you blog about it…or mention it to an innocent bystander in passing. Winky Face. I hope the IRS isn't reading this…
Let's discuss this darn chicken.
It's not authentic at all, lol smiley face <- don't kill me with fire.
….the reason being, I paleo-ified it, which requires removing both the Greek yogurt and the heavy cream, replacing both with a creamy, dreamy, thick  non-dairy alternative: coconut milk. Per the paleo diet, grass-fed butter and/or ghee is permissible, so we leave that ingredient unscathe (with the caveat that we indeed use a grass-fed version or ghee). You bored yet? Don't answer that.
What you need to know about this paleo butter chicken is while it isn't a traditional authentic Indian (or as it turns out, English) approach, it is still quite flavorful, creamy, tasty, and much more healthful (or I should say, allergy-friendly) than the dairy-filled version. I kept the cooking technique traditional (first marinating the chicken and then baking it prior to combining it with the luxurious buttery sauce) to ensure the result turned out as silky-smooth and delightful as possible.
A note to my Low-FODMAP friends: I've made this recipe without onions and garlic and it still turns out tasty! There is a little less depth of flavor, so I recommend cooking the sauce for 40 to 60 minutes to help in the flavor department.
So here she be! A great meal for a special occasion, or an awesome meal-prep dish for making ahead in big batches and eating on throughout the week. If you have a family that loves huge flavors and filling meals, this is your jam! Serve it up with your choice of brown or basmati rice, cauliflower rice, or quinoa.
Paleo Butter Chicken
Print
Instructions
Marinate the Chicken:
Place the chicken in a zip lock bag or sealable container with ½ cup coconut milk, ground cinnamon, paprika, and ½ teaspoon sea salt. Seal the bag and shake around until everything is well combined and the chicken is submerged in the marinade mixture. Refrigerate at least 1 hour, up to 12 hours.
Prepare the Butter Chicken Sauce:
Heat the ghee in a medium saucepan over medium-high heat. Add the onion and sauté, stirring occasionally, until onion is translucent and begins to brown, about 8 minutes. Add the garlic and ginger and continue cooking, stirring frequently, until garlic is very fragrant, about 2 to 3 minutes.

Add the remaining ingredients for the sauce and bring to a full but gentle boil. Reduce heat, cover, and cook, stirring occasionally for at least 20 minutes (the longer you cook this sauce, the more flavorful it will become).
Cook and Stew the Chicken:
Preheat the oven to 350 degrees F, and lightly spray or oil a large casserole dish.

Transfer the chicken to the casserole dish and bake on the center rack of the oven for 30 minutes, or until chicken is cooked through and reaches an internal temperature of 165 degrees F.

Allow the chicken to cool 15 minutes to allow the juices to distribute throughout the meat. This will help make the meat very tender.

Transfer the chicken to a cutting board and chop into bite-sized cubes.

Add the chicken to the saucepan with the butter chicken sauce and return to a gentle boil. Cook, uncovered, stirring occasionally, for 20 to 30 minutes. Stir in fresh chopped cilantro.

Serve Butter Chicken with quinoa, cauliflower rice or rice of choice.
Recipe Notes
*Use the remaining coconut milk from the can you opened to marinate the chicken
**Omit the pure maple syrup to make this recipe Whole30-compliant
***nutritional yeast yields a creamy, cheesy flavor to a dish. Since we're using coconut milk instead of heavy cream for the tikka masala sauce, adding nutritional yeast can give it that creamy flavor.
Make this recipe Low-FODMAP by omitting the onion and garlic.