Fluffy, moist, extra banana-y paleo banana bread with almond butter glaze. This healthy banana bread recipe will knock your socks off!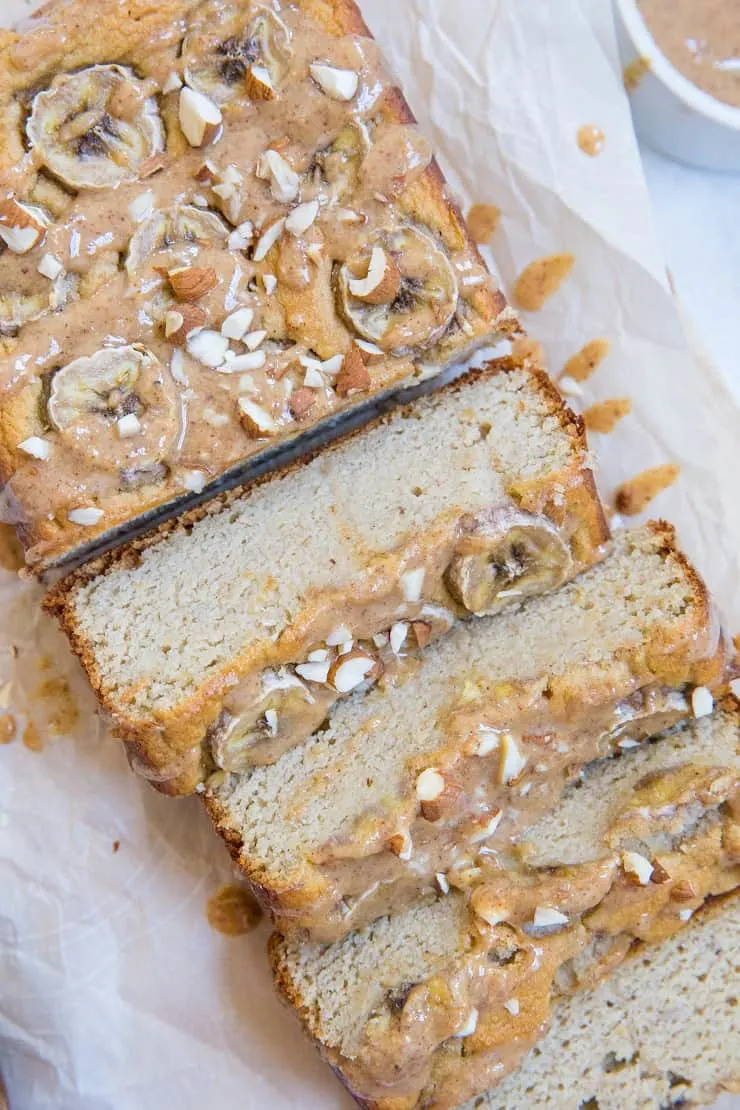 One of the recipes I make over and over from this site is my Paleo Banana Bread.
While I have been steering clear of bananas due to intolerance, I still make the bread for my friends and family regularly, and sometimes I even let my hair down and change it up.
If you're new to my classic Paleo Banana Bread recipe, you're in for a treat!
This recipe is very close to the original, with a couple small changes.
1.) we need an extra banana for the fancy sliced banana top, because: why not?, and
2.) we're making an almond butter glaze, because it is just the icing on the cake…or the glaze…on the…banana bread…moving right along.
What you need to know about this paleo banana bread recipe is the following.
Recipe Highlights:
Grain-free

Dairy-free

Oil-Free

Prepared easily using your blender

Ultra moist

Sweetened mostly with banana and a touch of pure maple syrup.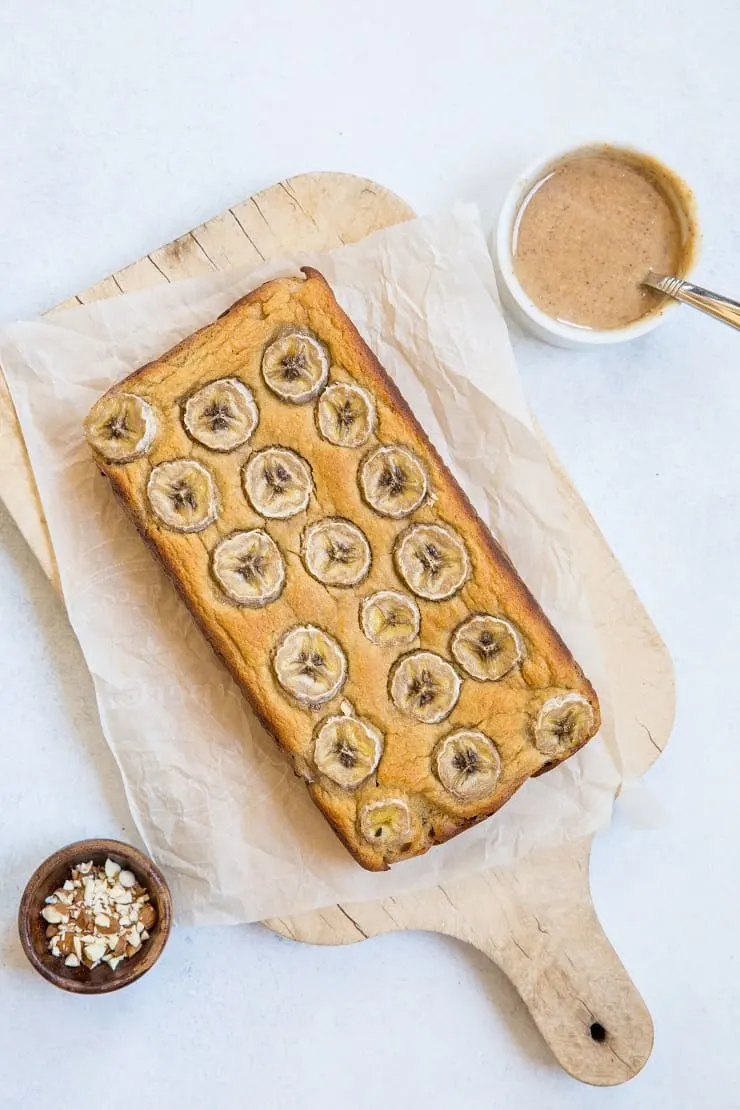 Essentially what you're looking at is a great go-to banana bread recipe for those with dietary restrictions.
PLUS, the creamy, cinnamony-sweet glaze brings this loaf to a whole other level…you don't wanna miss it!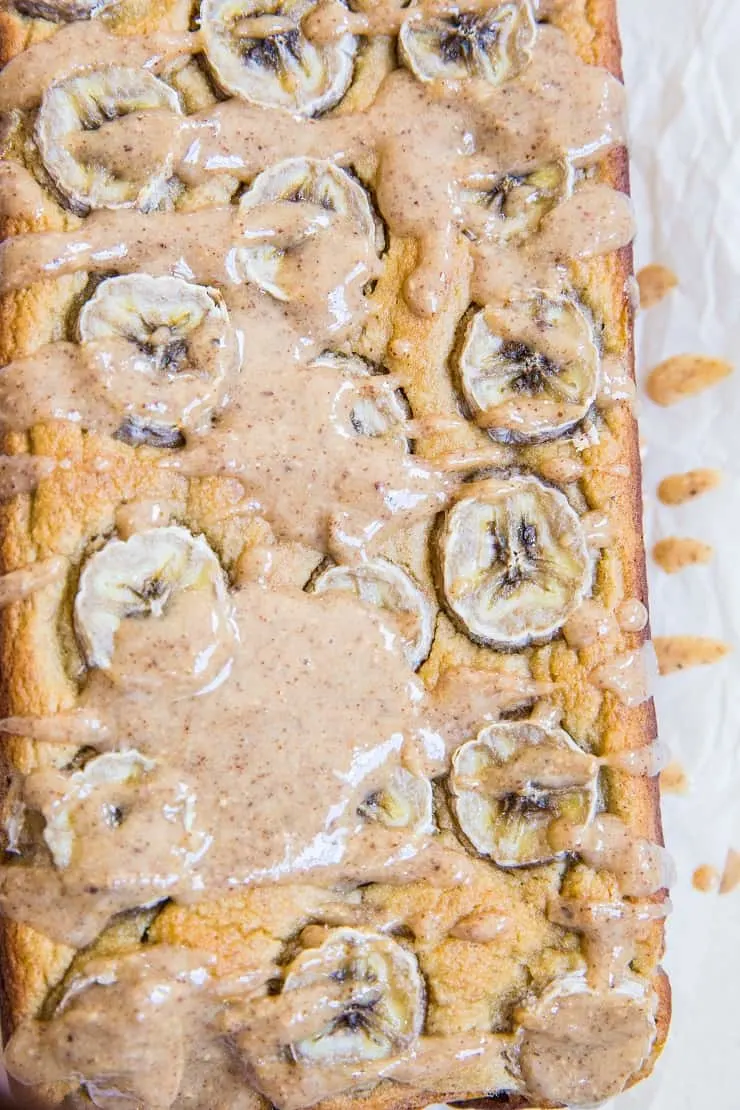 Baking Tips:
Some folks have made this recipe and find it stays undercooked in the center.
Be sure you're lining the loaf pan with parchment paper and using a finely-ground almond flour. Also be sure you're baking the bread until the center rises up and feels firm when you poke it (the edges of the bread should also be golden-brown).
Depending on your oven, and depending on your elevation, this could take a little over an hour.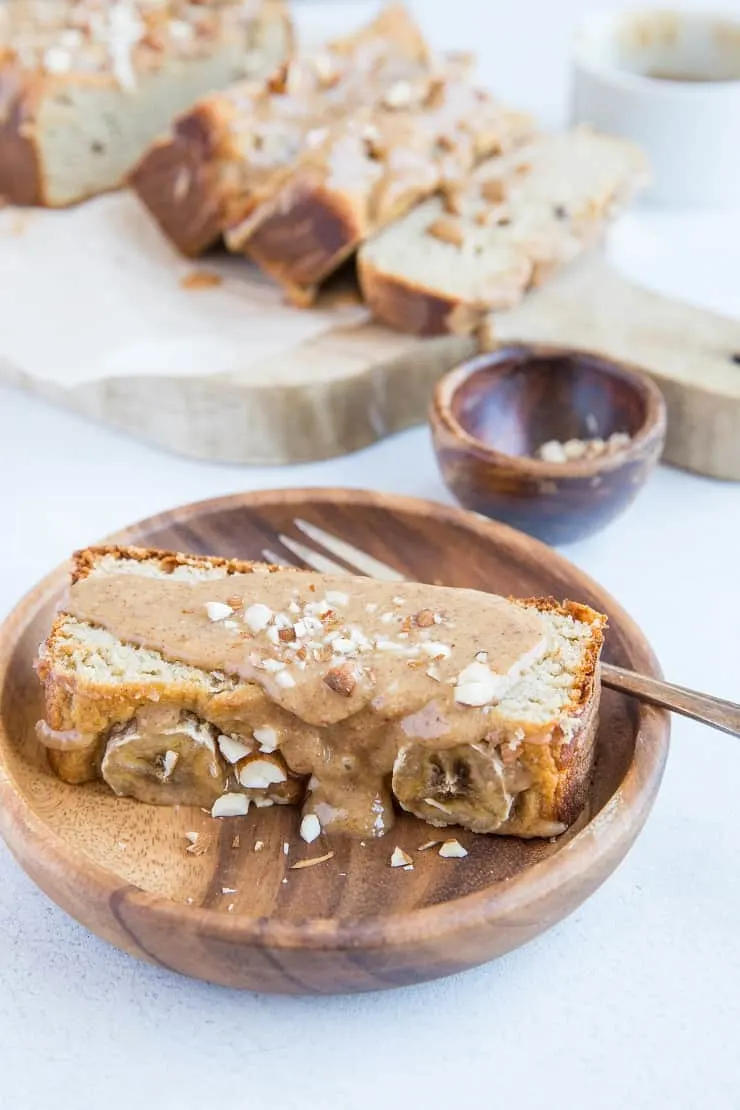 Feel like unleashing some creativity or changing up ingredients depending on what you already have in your pantry? Here are some…
Recipe Adaptations:
Omit the pure maple syrup if you like your banana bread on the less-sweet end.

Replace pure maple syrup with honey or coconut nectar. If using honey, keep a watchful eye on the bread, as honey has a low burning temperature and tends go make breads golden-brown and toasty.

Swap the almond flour for hazelnut flour.

Substitute arrowroot flour for the tapioca flour.

If you don't use arrowroot flour or tapioca flour in your baking, simply replace it with ⅓ cup additional almond flour – just note the bread will not hold together quite as well.

Throw in some dark chocolate chips for a crazy rich and gooey adventure.

Toss in some chopped walnuts, pecans, or pumpkin seeds.

Want to make this with coconut flour? Follow my Coconut Flour Banana Bread recipe for the right measurements!
Last, but not least, you can make the glaze with peanut butter, my friends….sweet.baby.ray the peanut butter version is GREAT!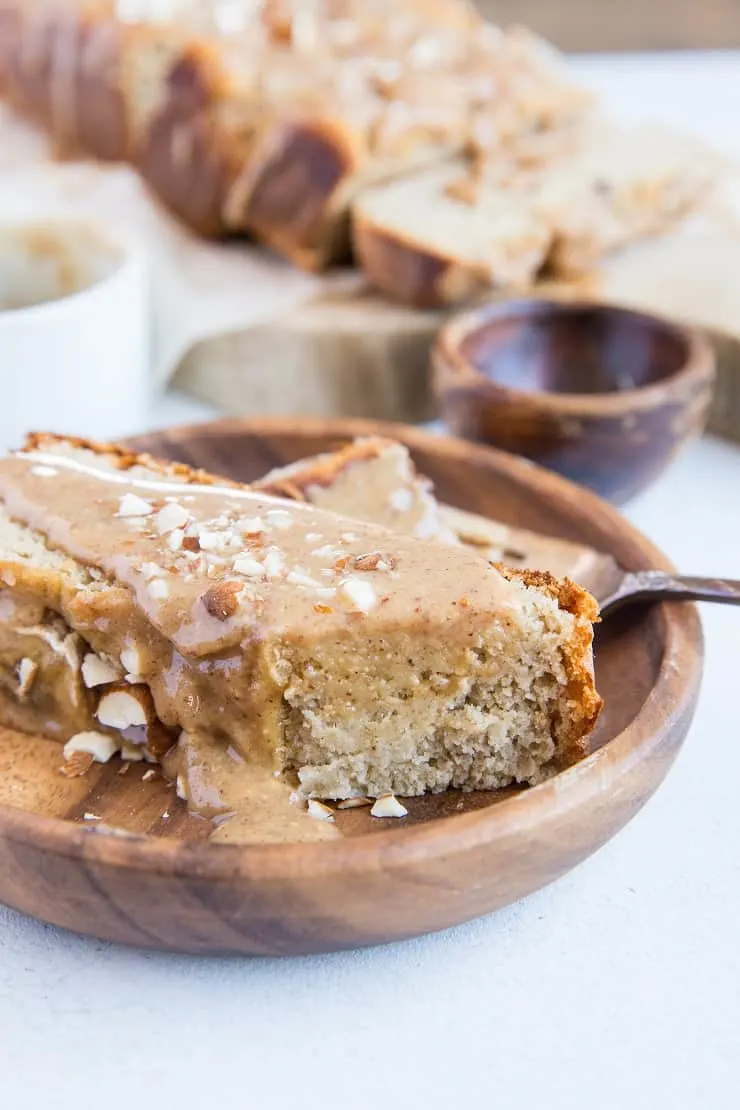 If you love banana bread, try my Paleo Carrot Cake Banana Bread and my The BEST Gluten-Free Banana Bread Recipe.
Have a slice (or three) of banana bliss!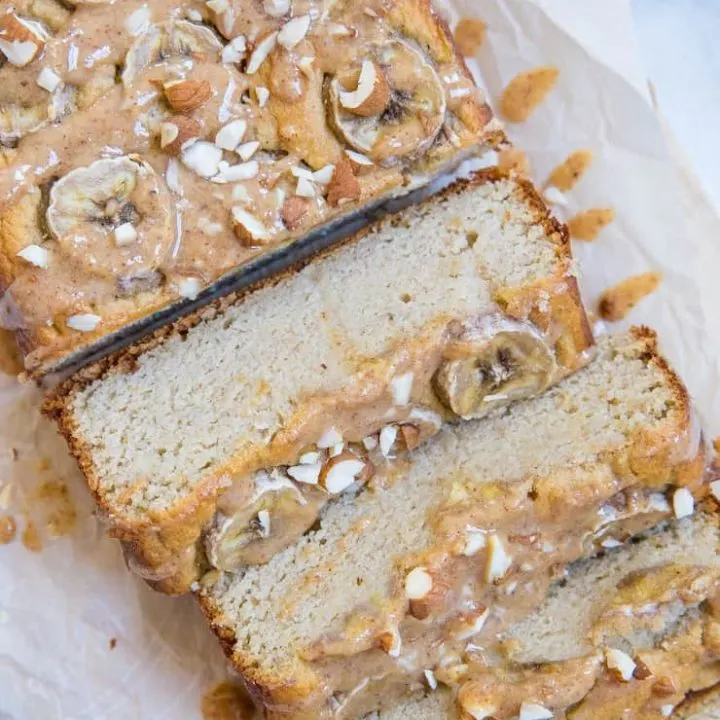 Paleo Banana Bread with Almond Butter Glaze
Total Time:
1 hour
10 minutes
Grain-Free Paleo Banana Bread with an almond butter glaze is incredibly tasty and filling!
Ingredients
Paleo Banana Bread:
Almond Butter Glaze:
Instructions
Bake the Banana Bread:
Preheat the oven to 350 degrees F and line a 9" x 5" loaf pan with parchment paper.
Add all of the ingredients for the banana bread to a blender. Blend until completely smooth. Pour banana bread batter into the prepared loaf pan and use a spoon or spatula to spread the batter into an even layer.
Bake for 50 to 55 minutes on the center rack of the preheated oven, until the edges of the bread are golden-brown. Turn off the oven and allow bread to sit in the still-warm oven another 10 minutes.
Allow bread to rest 1 hour before tugging on the parchment paper to release it from the loaf pan.
Drizzle banana bread with almond butter glaze, slice, and enjoy!
Make the Glaze:
While the banana bread is baking, you can prepare the glaze. Add all ingredients for the glaze to a microwave-safe bowl and microwave 20 to 40 seconds, or until ingredients are melted. Stir until well-combined. Set aside until ready to use.
Nutrition Information
Serving Size

1 of 8
Amount Per Serving
Calories

248
Total Fat

15g
Unsaturated Fat

0g
Carbohydrates

24g
Fiber

5g
Sugar

11g
Protein

8g