Orange and vanilla-scented butternut squash and beets sauteed with honey, dried cranberries, and pecans. This healthy side dish is perfect for holiday gatherings!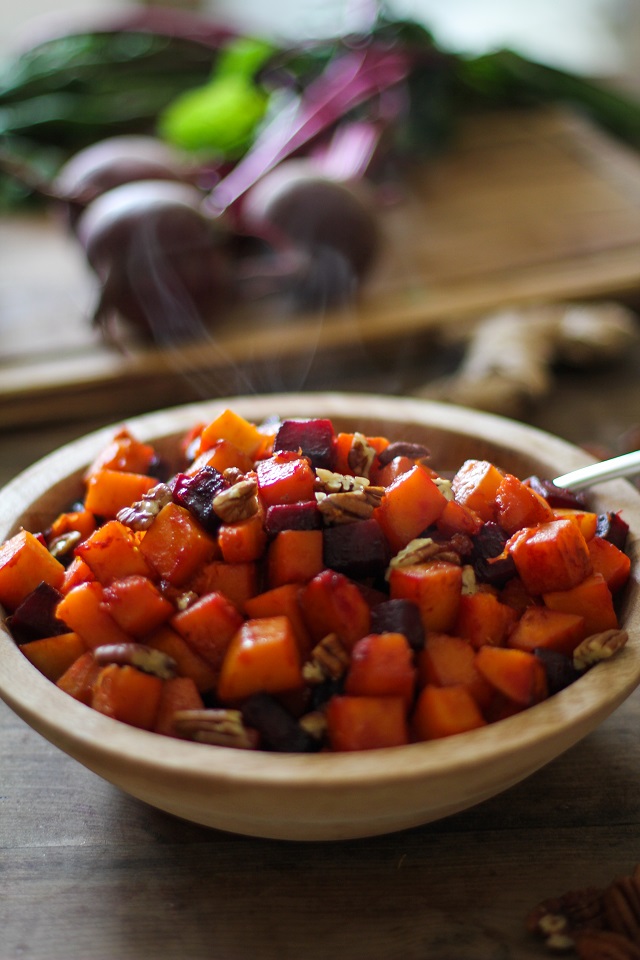 Whoa there holiday season, where did you come from? Just last week we were planning for Halloween and now POOF! Thanksgiving is in our midst. And you know what that means! We have some side dishes to ponder.
How do you do the holiday menu planning sitch? Do you know eeons in advance what foods are going down? Wait until the last minute? Order pizza the day of? (<-you think I kid, but I've done this!) More importantly, are you STRESSED? Because don't be. You shut those feelings down! Holidays are about caring, sharing, boozing, and carbing. No room for stress, nobody panic. Togezzah, we shall breeze through the holidays and come out skinnier on the other side.
#FirstWorldFantasies.
My family typically plans out our holiday menu a couple of weeks ahead of time so that we can divvy up the tasks and the work gets somewhat evenly distributed. Since my family is uuuuge and everyone has strong opinions about what they put in their face, we need to cover all of our bases. Can you guess who in my family is the vegetable planner extraordinaire? This girl right heyah. It's true – I force my family to eat beets. I'm popular this time of year.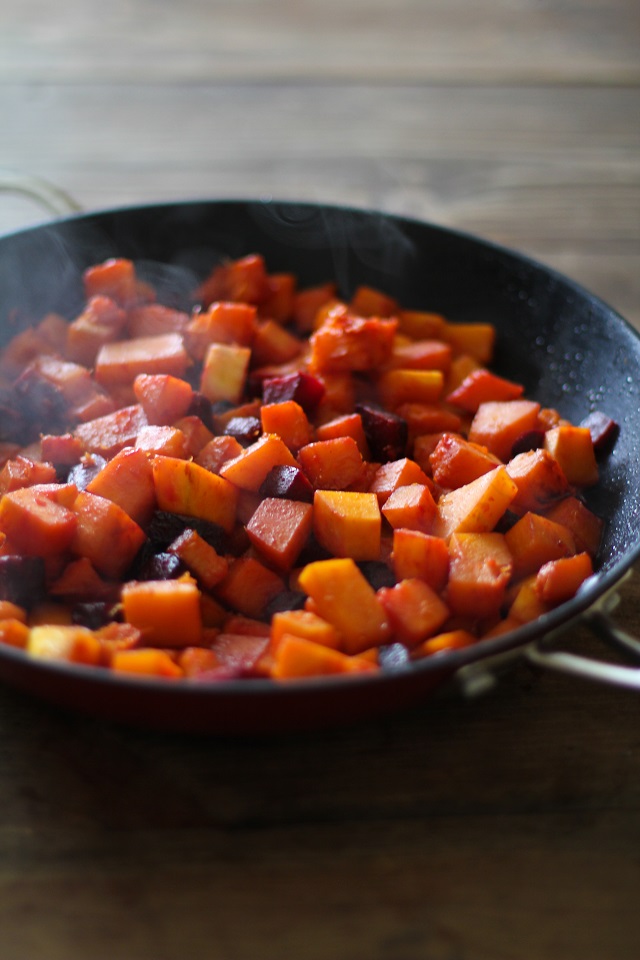 So, side dishes. What's your theory?
The basic premise behind my holiday side dish philosophy is really quite simple: carbs. Basically my favorite food in this life (other than bacon and perfectly broiled salmon) are the carby winter vegetables, so I'm always all about the butternut squash and beet situation. I also love warm cinnamon and honey flavors, which do wonders for making the dish over-the-top delicious.
Wanna hear something crazy-not-so-crazy?? I put straight up vanilla extract in this veggie dish. Not a lot, just enough to give the veggies a super unique warm flavor. A little juuush as Rachel Ray would say. I used Neilsen-Massey Madagascar Bourbon Pure Vanilla Extract, which is my favorite extract for cooking and baking. In case you're unfamiliar, Neilsen-Massey takes a different approach to their vanilla extract than the standard. They use a cold-extraction process (versus heat), which gently extracts vanilla's essential oils and preserves the 300+ distinctive flavor compounds present in the beans. This process takes weeks as opposed which yields complex robust flavors that shine through in your cooking and baking. If there's one thing I've learned since my coming of age, it's that a stellar vanilla extract is a sexy, sexy thing to have in the kitchen.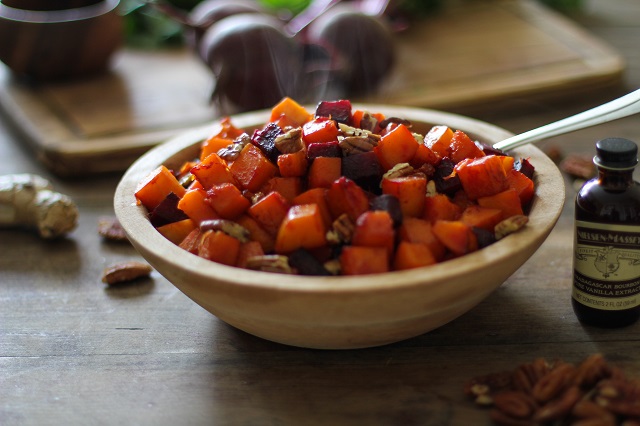 Recipe deets: The only confusing-not-confusing part about this recipe, is you saute the beets for about 15 minutes before adding the butternut squash, to ensure they get fully cooked. Because beets take longer to cook than butternut squash, you need to give them a little extra love in the skillet. Other than that, it's business as usual…a little chopping, a little stirring, nothing complicated, no funny business. Want to replace either the beets or butternut squash with sweet potato? You just go right for it!
When all's said and done, this side dish has all sorts of warmly-spiced flavor with plenty of textural elements. Basically the whole thing tastes like dessert. But, like superfood dessert. With beets in it. Serve with a scoop of ice cream. I kid.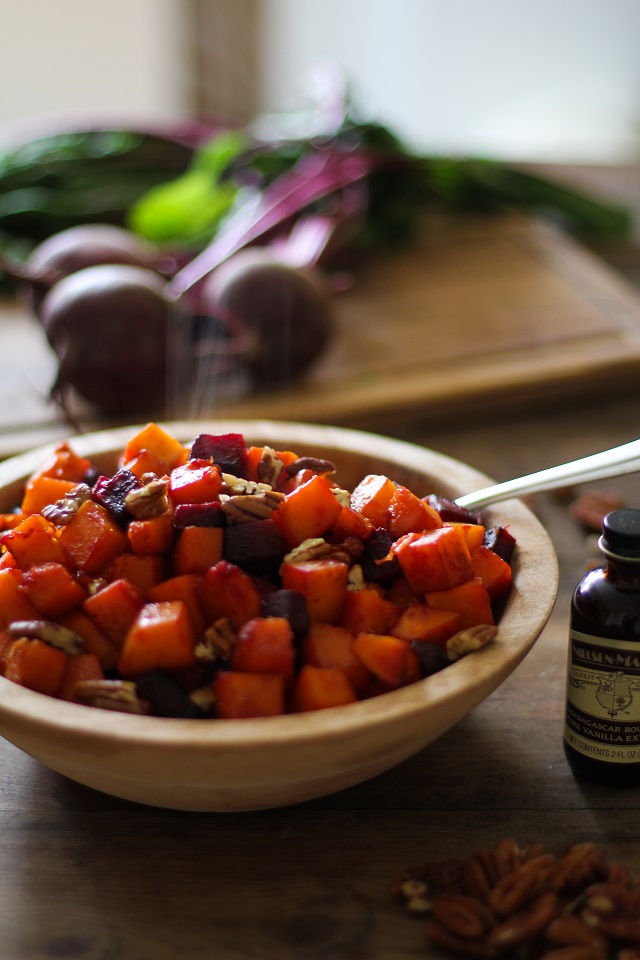 Get your saute on!
Orange Honey-Glazed Butternut Squash and Beets
Orange Honey-Glazed Butternut Squash and Beets is an incredibly nutritious side dish loaded with antioxidants! Plus, it's delicious alongside any entrée!
Instructions
Add the coconut oil to a large skillet or wok and heat to medium-high. Add the chopped beets and cover and cook, stirring occasionally, 15 minutes.

Add the butternut squash, orange zest, orange juice, ginger, dried cranberries, salt, cinnamon. Cover, cook 10 to 15 minutes, stirring occasionally, or until vegetables are soft and cooked through.

Add the honey and vanilla extract. Stir to combine. Taste the vegetables for flavor. Add more salt, honey, and/or orange zest if desired.

Serve alongside your favorite entree!
Nutrition
This post is sponsored by Nielsen-Massey. I was compensated for my time, but as always, all thoughts, feelings, and opinions in this post are my own.
Looking for more holiday side dishes? Check these out:
Roasted Brussels Sprouts and Sweet Potatoes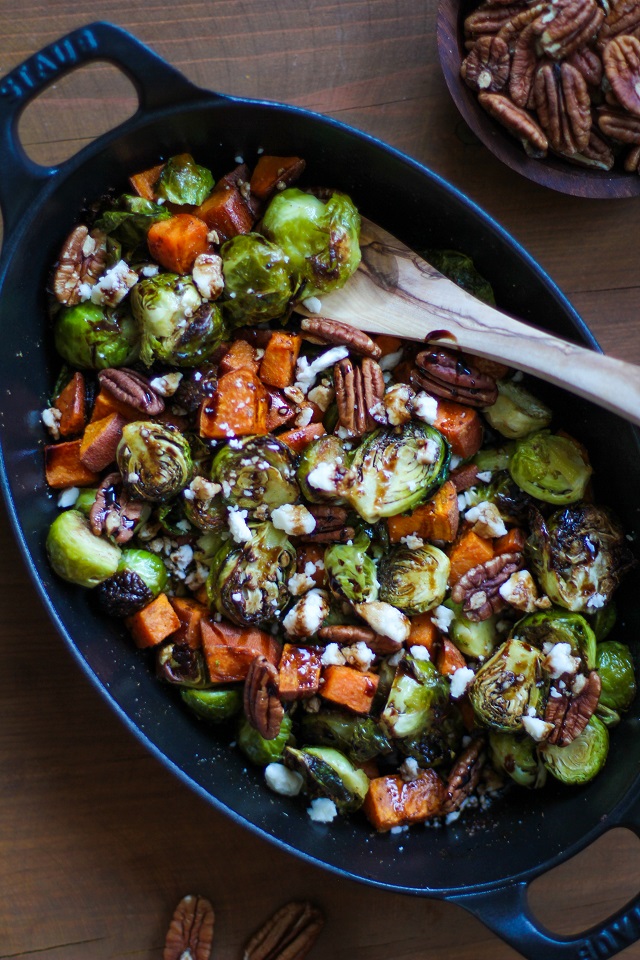 Green Beans and Beets with Balsamic Reduction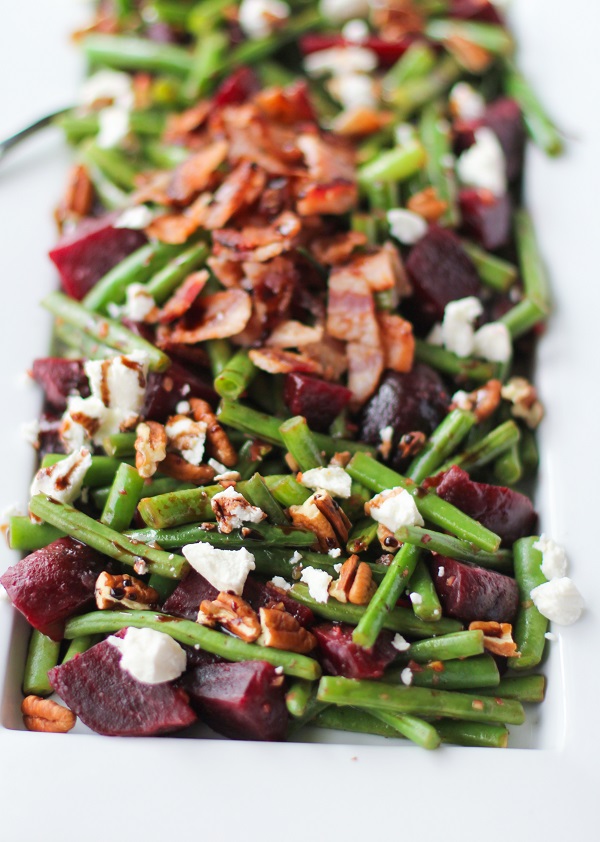 Citrusy Brown Rice with Butternut Squash and Pomegranate