Indian Chicken Biryani made dairy-free! This simple, flavorful meal is so tasty yet so easy that you will want to make it each and every week!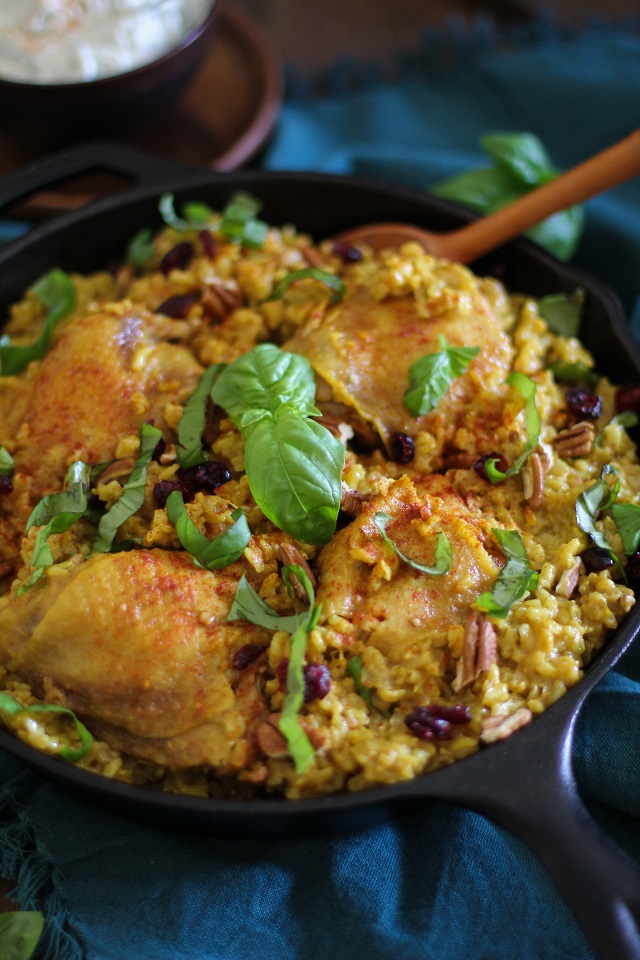 I'd be lying if I said I don't sometimes wish HUGE pots of chicken and rice would – POOF! – appear out of the ether and feed me for weeks on end.
Some ladies wish fancy clothing would materialize in their closet, other gals just want to hibernate with a damn fine cauldron of comfort food…without having to put in any effort.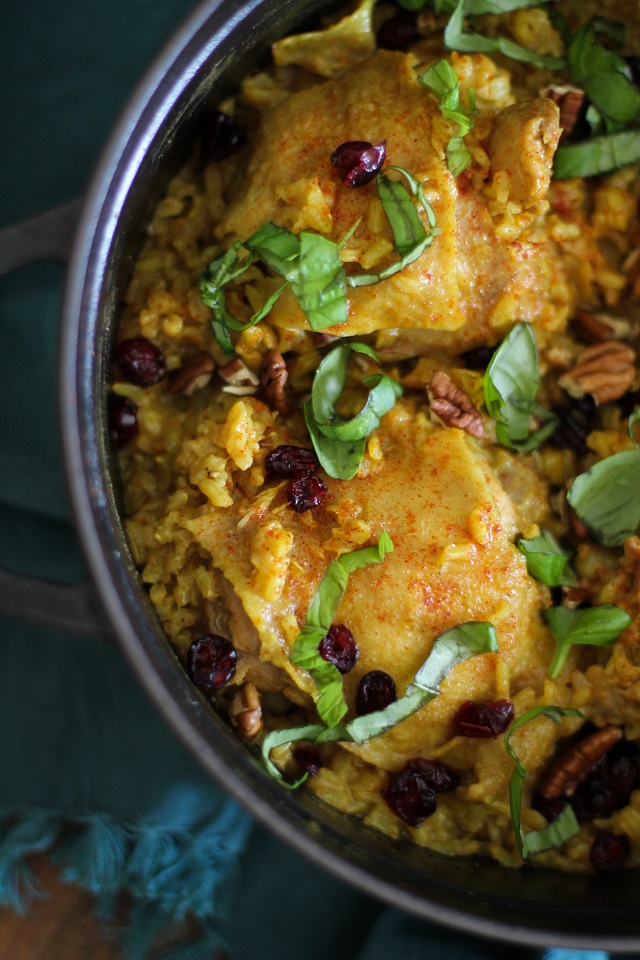 As real life would have it, no food fairies have bestowed massive vats of chicken dinner upon me thus far. And you guys, I'm not going to lie…this is no 30-minute meal. As in, once you start this thing, you're in it for the long haul…which is actually quite perfect for a snowed in occasion, or a special occasion.
Which brings me to my next point:
When I googled "chicken biryani" to get more details on the classic Indian (slash Pakistani) dish, what I found was this dish is traditionally served at weddings and family gatherings. So, not exactly your mid-week throw-it-together-after-work situation.
But don't let that fool you into thinking you can't make this on any given night of the week! This one-pot meal is easy enough to make whenever you please…no special occasion needed!
The RICE, you guys! So flavorful with all the seasonings PLUS the chicken fat lubing it up for some intense explosions in your mouth face. Don't skip the dried cranberries or pecans, mmkay? They're little touches of heaven.
While this recipe takes some time and effort, it's worth every stitch.
I adapted the recipe from One-Pot Paleo by Jenny Castaneda, and lemme just say, this pot o' flave is my slow jam. The recipe feeds 4 to 6 people very comfortably, and if you're into leftovers, this is absolutely a meal you want to prepare and eat on for dayz.
More Healthy Chicken Dinner Recipes:
Eat, drink, and be merry
One-Pot Chicken Biryani
Easy Chicken Biryani made in one pot is so simple yet delicious, you'll want to make it every week!
Ingredients
Chicken Marinade:
¾

teaspoon

coriander

1

teaspoon

paprika

1

teaspoon

ground cumin

4

cloves

large garlic

minced

1

tablespoon

ground ginger

peeled and grated

1

tablespoon

lemon juice

½

teaspoon

sea salt

2

pounds

to 3 bone-in skin-on chicken pieces

I used thighs
Cucumber Mint Sauce:
1

cup

coconut cream

1

medium cucumber

peeled, seeds removed and finely chopped

10

leaves

mint

chopped

Pinch

sea salt
Aromatic Rice:
2

cups

basmati rice

3

tablespoons

coconut oil

½

medium onion

finely chopped

1

tablespoon

fresh ginger

peeled and grated

4

cloves

garlic

minced

¼

teaspoon

ground turmeric

2

teaspoons

ground coriander

1

teaspoon

ground cumin

1/2

teaspoon

sea salt

to taste

Pinch

red pepper flakes

2

cinnamon sticks

2

cups

low-sodium chicken broth

1/3

cup

dried cranberries

1/4

cup

fresh parsley

chopped

1/2

cup

roasted pecans

½

cup

fresh basil

chopped
Instructions
Combine the ingredients for the chicken marinade in a bowl. Add the chicken pieces and stir to coat. Cover and place in the fridge to marinate overnight (or at least 30 minutes). Prepare the Cucumber Mint Sauce by combining the ingredients in a bowl. Stir and refrigerate overnight (or until ready to use).

Preheat the oven to 375 degrees F. Pour rice into a deep bowl and cover with water. soak for 30 minutes, then drain.

Melt coconut oil in a large Dutch oven or stockpot over medium heat. Add the onion, ginger, garlic, turmeric, coriander, cumin seeds, salt, red pepper flakes, and cinnamon sticks. Saute until fragrant, about 5 minutes.

Add the chicken pieces and marinade to the pan. Cook the chicken for 3 minutes on each side, until skin is golden brown and crispy. Add the basmati rice and mix until everything is combined. Pour in the broth and bring to a gentle boil. Turn off heat, cover, and move pan to the oven to cook for 40 to 60 minutes (mine took 1 hour, but check the pot periodically for doneness).

At the 15 minute mark, check the rice and mix it while scraping the bottom to make sure the rice does not stick to the pan.

Add the dried cranberries, fresh parsley, and roasted pecans and stir well. Serve with fresh basil and cucumber mint sauce.
Nutrition
Serving:
1
of 6
|
Calories:
644
kcal
|
Carbohydrates:
48
g
|
Protein:
56
g
|
Fat:
24
g
|
Sugar:
1
g