Energy bites made to taste just like an oatmeal cookie! If you love the flavor of oatmeal cookies but can't tolerate oats, this oat-free paleo version of energy bites is perfect for you! This healthy snack recipe includes walnuts, pumpkin seeds, dates, cinnamon, and raisins for an infusion of plant-based protein and healthy fat. These vegan and paleo energy bites are perfect for the on-the-go lifestyle or for packing with you to take hiking or traveling.
Fair Warning: I'm letting all of my hippy show in this post and discussing things irrelevant to food, so if you're just looking for the recipe for these Oatmeal Cookie Energy Bites, you can skip right to the recipe card.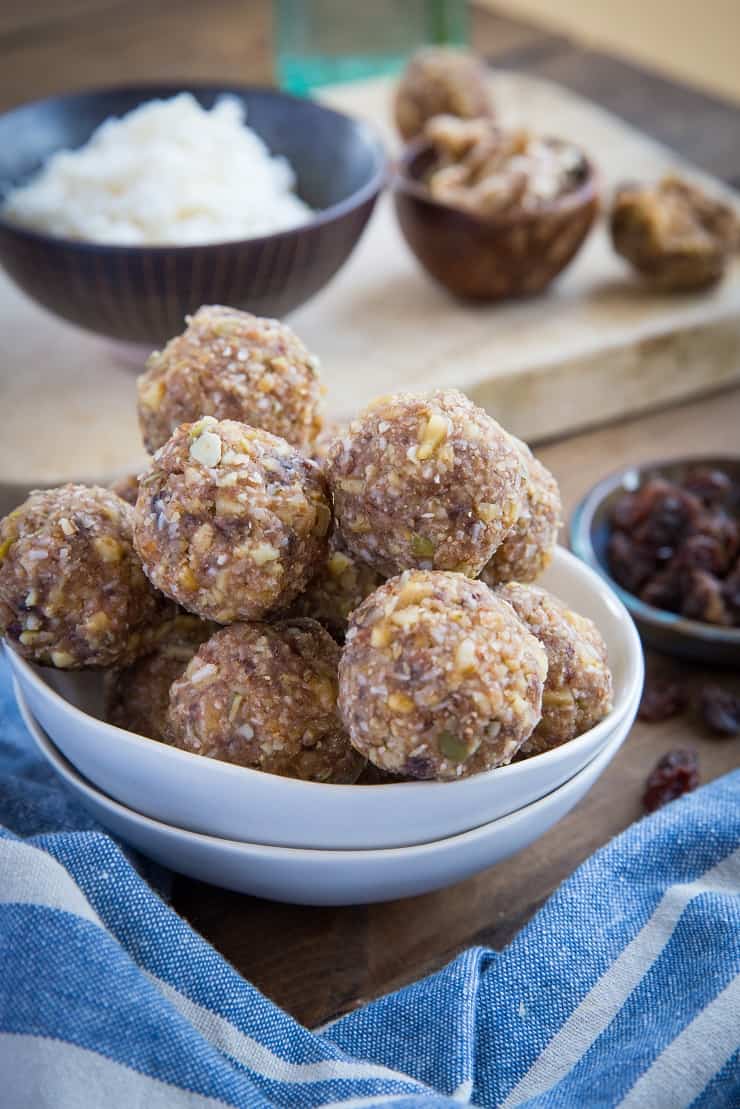 Can we discuss summer plans for a moment? Do you have any? If so, I'd love to hear what you're doing. Can I borrow your summer vacation idea? Just for a minute?
This time of year, I typically have a very clear idea of what my summer is looking like – plane tickets for trips are typically purchased by now, I usually have a few weekend adventures lined up, and I've got goals, man. Not this time around, at least not yet.
Truthfully, I haven't quite gotten back to my homeostasis after turning in the cookbook. The last couple of months of cookbook creation were a bit destabilizing…do you feel that way when you're working on a big project, or do you feel even more grounded? You'll hear cookbook authors likening cookbook writing to pregnancy…while I have never been pregnant, I totally empathize with the simile, and right now I'm having a little postpartum whatdafuuuh?
The fact the hard part is over gives me a huge sense of relief, and now I feel I'm scrambling to get my bearings and to "have a plan." Before, my plan was the cookbook. And now, it's more along the lines of, daaar? It's funny how our society promotes the core value that we should always have a plan rather than releasing ourselves to the universe and allowing ourselves to be untethered…at least for a while.
Perhaps during these times, the best approach is to accept you're wanting of stability and are struggling to find it. To accept you want the plan but are having a difficult time forming it. To accept it's okay to not have a plan, and it's okay to feel ungrounded, trusting yourself to find your way in due time. Trusting that you are your own rock, and beyond that you're needless. Trusting it's okay to just.feel.weird.
Wow, this is deep.
What's funny about this Deep Thinking Tuesday thing we've got going on here, is I began writing this post in that fakely chipper manner I often do when I don't want to spread negative juju over the interweb (I do have your emotions at heart every time I sit down to write)…I was going to suggest you make these energy bites as a grab-and-go snack to fuel your summer travels, but I think you already get that gist and aren't looking for repetition.
I think you're more than capable of drawing your own conclusion about these energy bites and what they mean to your life. I think what you really need is to see someone vulnerable. Perhaps as vulnerable as you, perhaps more vulnerable than you. You want to energetically connect with someone human, rather than read empty words that are finely tuned for google's SEO algorithm.
Energy. Discussing bites that give you energy is only fitting in a post like this. One of the things I focus on regularly is bringing my energy back into my own body. We humans have a tendency to give our energy to others whether or not they need it and whether or not we realize we're doing it. We package it up and send it on its way when sometimes it is best served inside of us.
That's not to say it isn't worthwhile to send your energy outward – it definitely is; but being cognizant of where it's going and the intention behind it is crucial so you aren't racking your brain to figure out where all of your energy has gone. This to say, if you're like me and you find yourself ungrounded regularly, the practice of visualizing yourself unhooking your energy from those you've hooked onto and bringing it back to yourself is a powerful way of coming back into your own energy.
…And on the flipside, unhooking the energy line from someone you're taking energy from and visualizing yourself giving it back to them. We often don't realize when we're draining the energy out of another person…it is rarely our intention to do so, but giving someone back his or her energy is also a good practice to have when you're able to recognize you're being an energy vampire.
Am I scaring you off? It's cool, I'm not for everyone.
Feel free to connect with me over these energy bites, over energy in general, over summer plans, over feeling unstable, over Tetris, whatever you feel like discussing. There's a person behind this blog who is fallible AF, willing to share it, and for that very reason, she sees you.
Go get your bite o' energy!
Oatmeal Cookie Energy Bites
Get your oatmeal cookie fix with these delicious energy bites!
Servings:
24
energy bites
Instructions
Add all ingredients for the energy bites to a food processor and process until a thick, sticky dough forms. You will need to stop the food processor multiple times to scrape the sides with a rubber spatula and re-start. Note: if dough continues to stay crumbly, add 1 to 2 additional tablespoons almond milk, until dough forms.

Transfer the mixture to a sealable container and refrigerate at least 2 hours. Form balls and store in a zip lock bag or air-tight container in the refrigerator or freezer.
Notes
*You can also use unsweetened almond butter or cashew butter
Nutrition
Serving:
1
of 24
|
Calories:
141
kcal
|
Carbohydrates:
9
g
|
Protein:
6
g
|
Fat:
11
g
|
Fiber:
2
g
|
Sugar:
5
g
If you're looking for more Energy Bites and Fat Balls: