Vanilla chai-spiced fat balls made with almonds, pecans, pumpkin seeds, coconut butter, pure maple syrup, and warm spices for a palate-pleasing snack.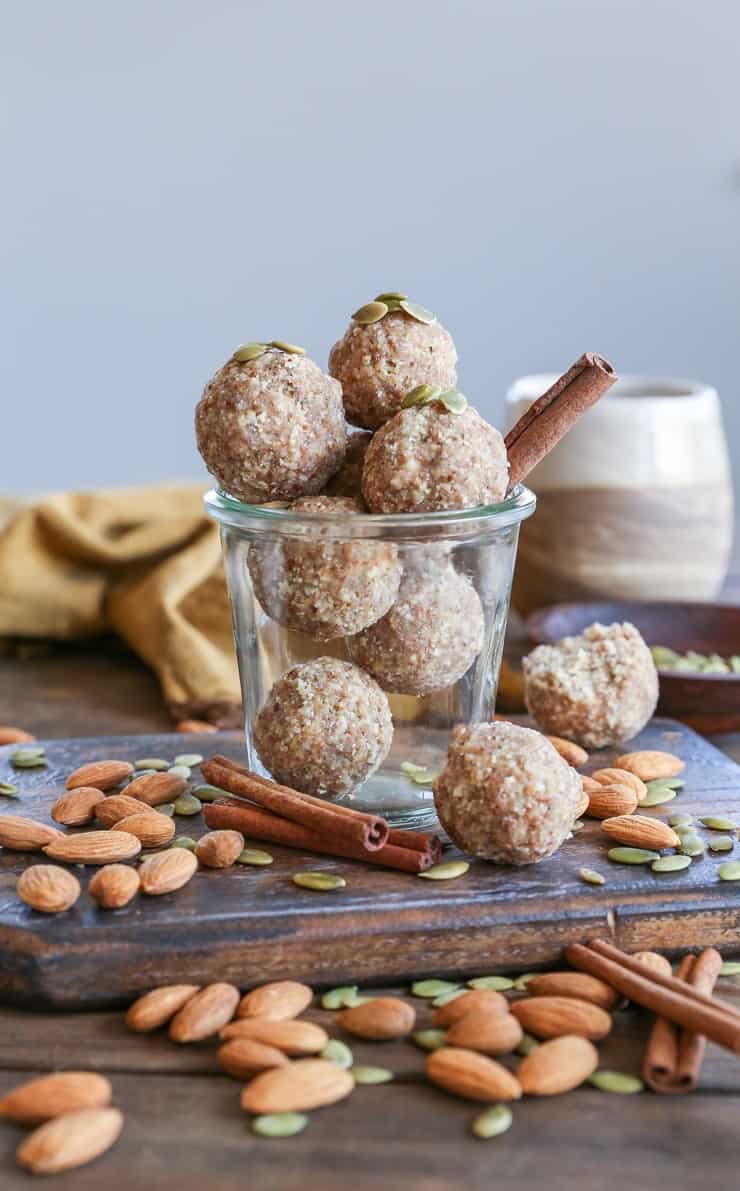 It's the return of the fat ball!
This one's warmly spiced with vanilla and chai flavors! A perfect snack to enjoy throughout the fall and winter.
You may remember the macro concept from my Keto Fat Balls: protein, fat, and low sugar.
The idea here is to formulate a low-carb snack for those between-meal times to tide you over, without spiking your blood sugar.
I changed things up a bit from my first fat ball recipe, using coconut butter (also known as coconut manna) versus coconut oil.
I enjoy either option, but enjoy the smooth texture and naturally sweet flavor of the coconut butter.
Mixing it with nuts forms a sort of nut chocolate essence, you feel?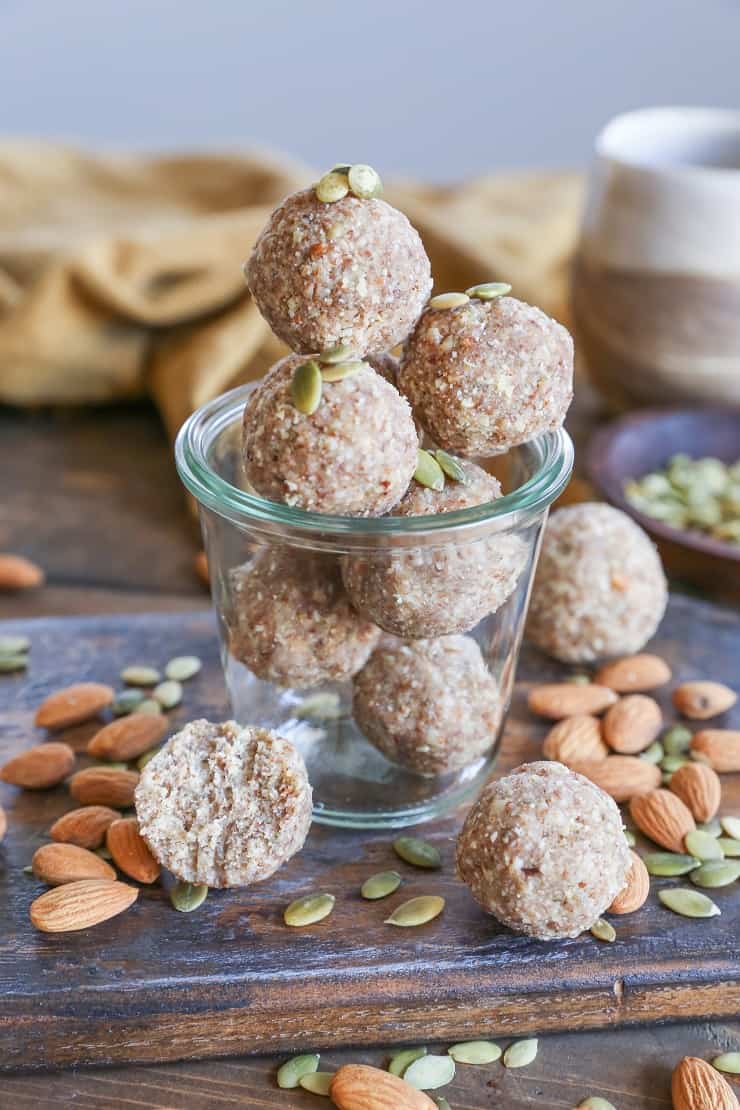 These fat balls can also easily be used as dessert, because their lightly sweet fatiness is ultra satisfying.
If you want to get real naughty about it, you can drizzle these with melted dark (or white…no shame, no harm, no foul) chocolate.
These Vanilla Chai Fat Balls are so easy to throw together at a moment's notice.
All you need to do is throw all of the ingredients (in no particular order) in a food processor and process.
Recipe Tips:
After the the ingredients have been blended together and the mixture is nice and sticky, I recommend transferring it to a seal-able container and refrigerating it for a couple hours, as chilling it will make ball formation easier.
If you're like me and have a difficult time digesting raw nuts, you can lightly roast the nuts before making the balls. To do so, spread the nuts and pumpkin seeds on a baking sheet and roast at 375 degrees F for 3 minutes. They don't need to go for a full roast – just long enough to get them nice and puffy.
A note about the vanilla portion of this recipe: To keep the recipe cost-effective and easy, I used a quality pure vanilla extract, but I was tempted to use an actual vanilla bean.
If you have a vanilla bean on hand and would like to put it to use, feel free to open 'er up and scrape out the beans – a legit vanilla bean would make the flavor on these beauties soar!
If not, I do recommend using a quality alcohol-free pure vanilla extract so that the balls have a nice warm vanilla flavor versus that bite that comes with some extracts.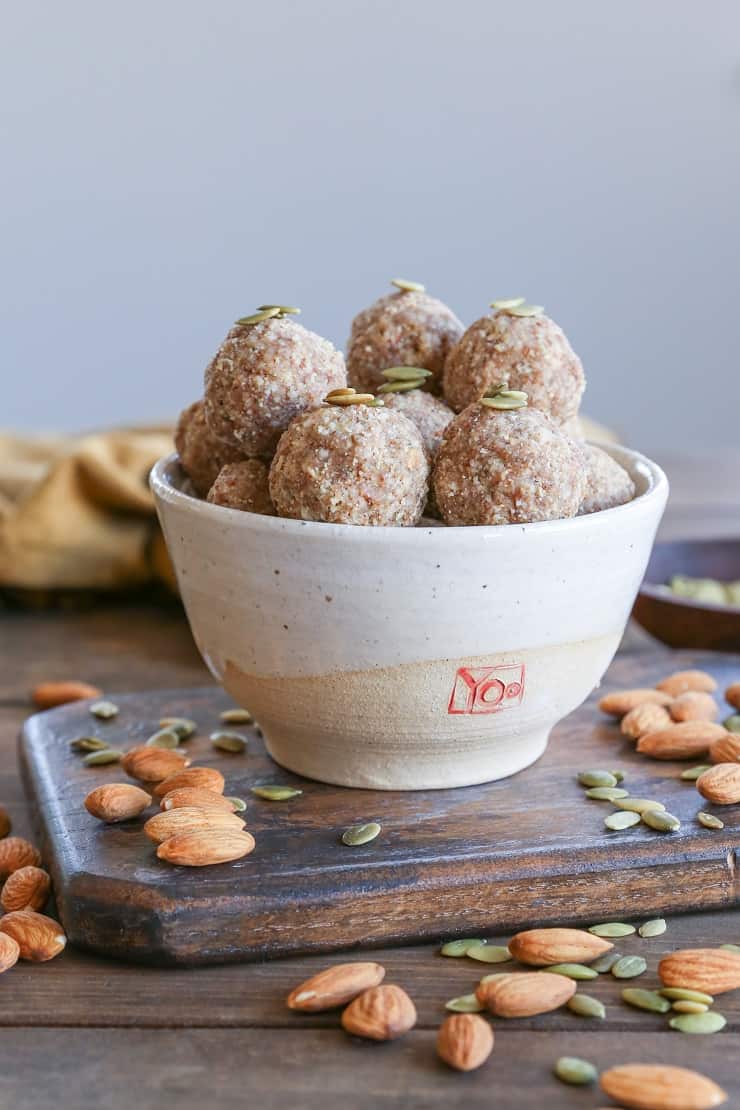 How to Store Energy Balls:
I store the fat balls in the freezer, but you can also store them in the fridge.
They don't need much time at all to thaw if you keep them in the freezer, as the fat keeps them nice and soft. Whenever the hankering hits (often), I just pull one out of the freezer and bite into it.
Recipe Adaptations:
Change it up by using different nuts, spices, and extracts.

Consider substituting all of the spices for pumpkin pie spice if you have it on hand in order to shorten the ingredients list.

You can also add dried fruit for some tang.
You may remember my Cranberry Bliss Protein Balls from last year – adding some dried cranberries can make these balls a nice festive treat.
Vanilla Chai Fat Balls
A warmly-spiced infusion of deliciousness make these energy bites a true delight!
Instructions
Add all ingredients to a food processor and process until well-combined and a dough-like mixture forms. Taste mixture for flavor and add more pure maple syrup and/or spices to taste

Transfer fat ball mixture to a sealable container and refrigerate at least 2 hours.

Form balls out of the fat ball mixture and enjoy! You can store the fat balls in a zip lock bag in the refrigerator or freezer.
Notes
If you have a difficulty digesting raw nuts, roast the nuts and seeds at 375 degrees F for 3 minutes before proceeding with the recipe.
*Replace vanilla bean with 2 tsp pure vanilla extract if desired.
**Make this recipe keto by replacing the pure maple syrup with a zero-sugar sweetener, such as xylitol, erythritol, or stevia
Nutrition