Vegetarian Thai green curry with avocado, broccoli, peppers, carrot, and more – A light yet filling and oh-so satisfying meal made in 30 minutes.
This post is sponsored by California Avocado Commission.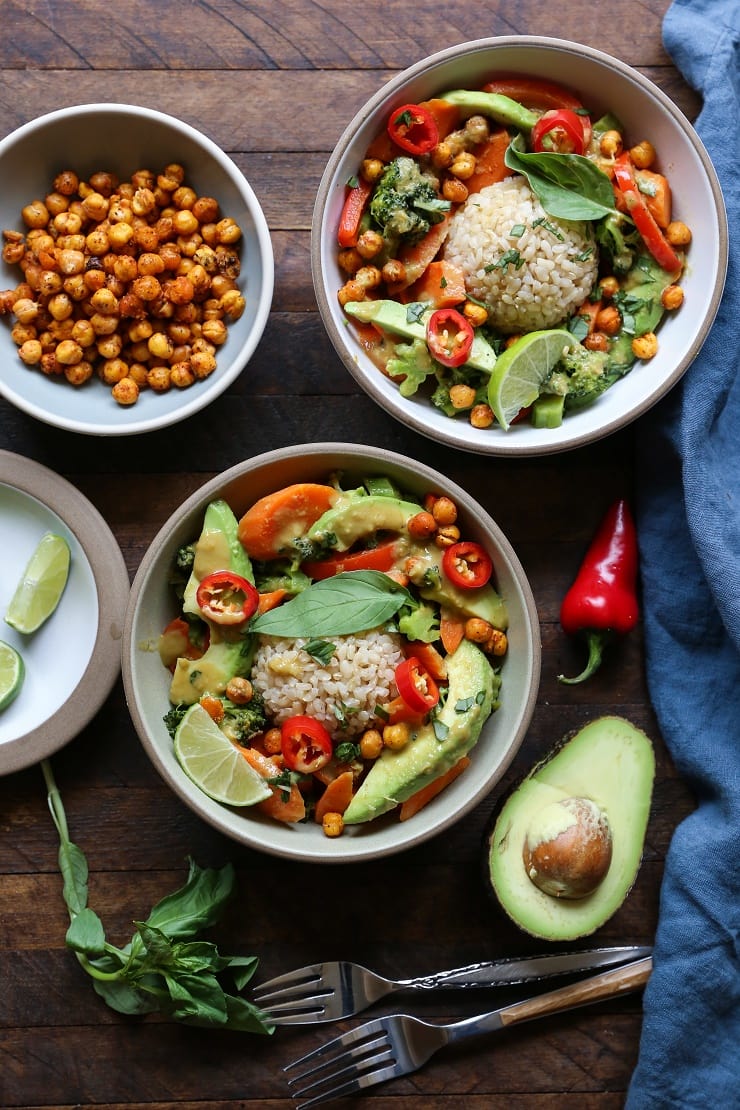 If I weren't so concerned with keeping my variety game strong on this blog, there's a solid chance that 80% of my recipes would be some sort of curry.
I just love it so!
Creamy coconut milk, warm aromatic spices, gingaaah, fresh seasonal veggies? Thai curry is just a warm swaddly embrace of pure comforting perfection.
If you tuned into my Shrimp Taco Salad with Avocado Green Goddess Dressing recipe last month, you already know I linked up with California Avocado Commission to bring you funky fresh recipes using California's finest avocados.
This month's theme is Impress in 30 Minutes or Less, so I decided to bring my quick and easy veggie-packed Thai green curry to the table with the addition of California avocados.
You guys, this recipe is so strikingly easy AND mouth-wateringly tasty, I can barely even stand it.
A variety of vegetables plus hunks of fresh avocado bathed in Thai green curry sauce, served with steamed brown rice and roasted chickpeas. Why yes, this is a meal of dreams.
I joke about keeping variety in my recipes, but truly, there are endless variations upon the curry dish, from spices used to protein options and produce.
Take for instance, the addition avocado. Inventive, texturally pleasing, healthful with good fats, delicious.
If you're hesitant about the warm avocado thing, I hear ya, but if you are at all into avocados, I highly recommend you give it a try!
Avocado curry has such a comforting yet fresh essence, and by some stroke of magic, all of the flavors and textures just jive! You'll have to just try it to believe it.
How to Make Avocado Curry:
This easy Thai green curry recipe is so simple to make and comes together so quickly!
You use coconut milk like you would oil in order to sauté the ginger and veggies, then add the remaining coconut milk and green curry paste to cook the veggies in that flavorful aromatic Thai curry sauce.
Once the veggies are cooked through, simply add your sliced up avocado and stir it around until everything's piping hot. Serve that beautiful concoction over a bed of rice and toss some roasted chickpeas on top.
I love this dish with fresh chopped basil and a lemon wedge squeezed over everything.
If cilantro's your jam, you can do that, too! If you want to save yourself the extra step, you can add the chickpeas to the curry rather than roasting them. I was just in the mood for a little crispy crunch.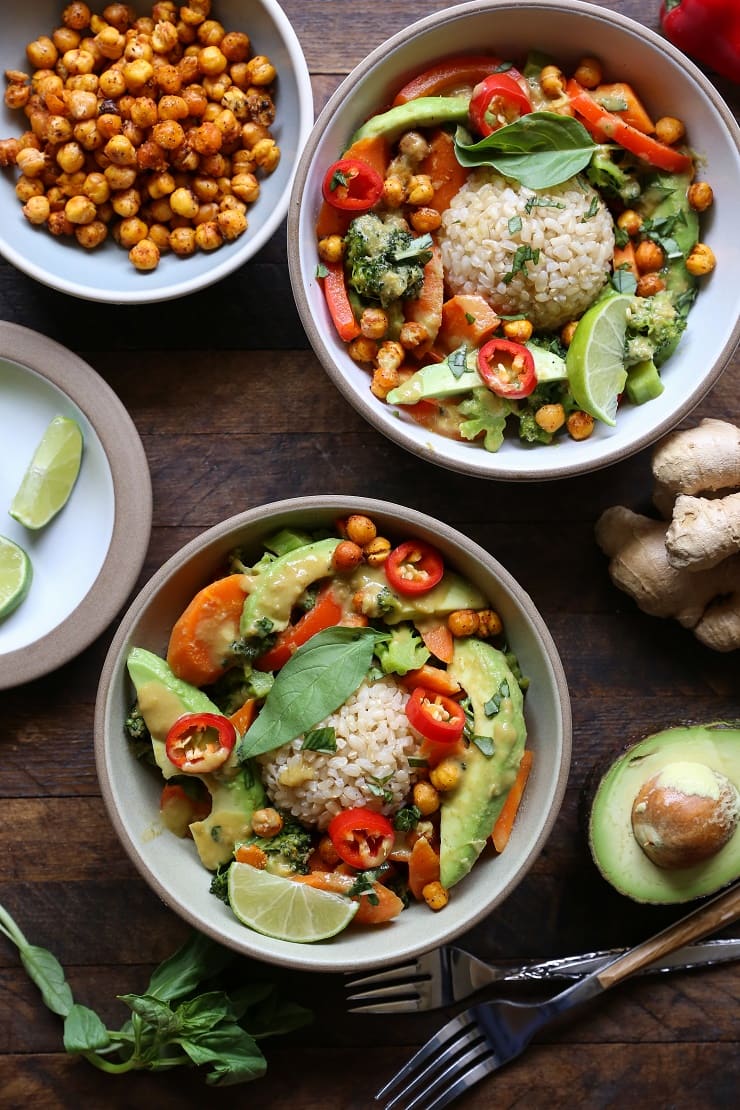 A note about timing: If you prepare brown rice like I did, this isn't technically a 30-minute meal. If you need it to clock in at 30 minutes, feel free to cook white rice, quinoa, couscous, or even rice noodles to go with your curry. If you're amped for brown rice, you can always make it ahead of time.
If you prefer red curry or yellow curry over green, simply swap out the green curry paste for your curry paste of choice.
OR, if you're mega into cooking from scratch, you can prepare my homemade easy green curry paste and have it on hand for any of your green curry needs.
Thai curry with avocado for the win! Over and out.
My cookbook,
Paleo Power Bowls
, is now available! CLICK HERE to check it out. Thank you for your support!
If you make this avocado curry recipe, please feel free to share a photo and tag @The.Roasted.Root on Instagram!
30-Minute Thai Green Curry with Avocado
Vegan Thai Curry with avocado is incredibly flavorful and will step up your curry game!
Servings:
3
to 4 Servings
Ingredients
For Serving:
1

lime

cut into wedges

1

fresno chili

sliced

1/4

cup

fresh basil

chopped
Instructions
Roast the Chickpeas:
Preheat the oven to 450 degrees F and spread the chickpeas on a baking sheet. Drizzle with olive oil, chili powder, garlic powder, and sea salt. Toss everything using your hands to ensure the chickpeas are well coated. Roast 30 minutes, or until golden-brown and crispy. Note: you can also skip the roasting process and simply add the chickpeas to the curry at the end of the cooking process to save time.
Prepare the Curry:
Prepare the rice according to package instructions (note: to speed up the rice cooking process, either choose a rice that cooks quickly, such as white rice, or use a rice cooker).

Add 1/4 cup of the coconut milk to a large skillet and heat to medium-high. Add the ginger and curry paste and stir until well-combined. Cook 2 minutes, until ingredients are very fragrant.

Add the chopped broccoli, carrot, bell pepper, and the remaining coconut milk, and stir everything together. Cover and cook 5 to 8 minutes, or until vegetables have reached desired doneness.

Add the sliced avocado to the curry and gently stir to combine. Cook just until avocado is heated through.

Serve the green curry with cooked rice, and lime wedges. Garnish with chopped fresno chili (skip for mild curry) and fresh basil.
Nutrition
Serving:
1
of 3
|
Calories:
631
kcal
|
Carbohydrates:
67
g
|
Protein:
10
g
|
Fat:
33
g
|
Fiber:
9
g
|
Sugar:
8
g