Hearty, healthy, and delicious minestrone soup with quinoa – an easy-to-prepare vegetarian and gluten-free soup recipe.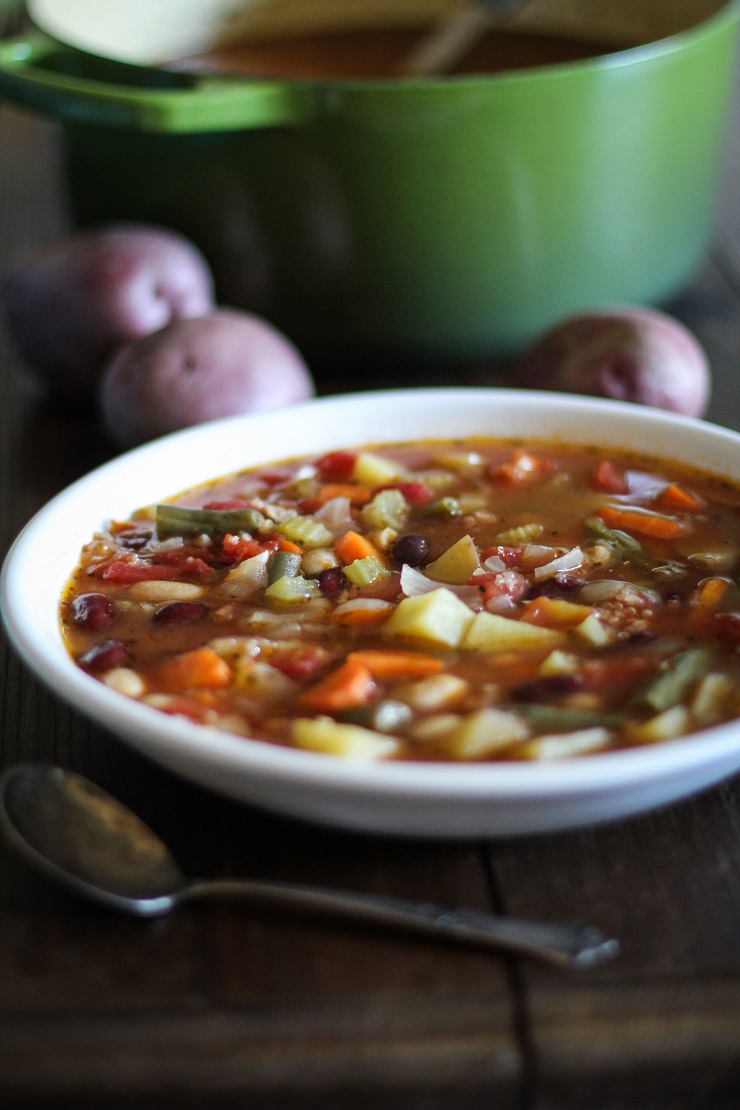 One thing I don't talk about on here very much is where I'm from.
If you've been lurking around my site for quite some time, you know that I grew up in Lake Tahoe, where cutting out of school early to go skiing is not only acceptable, but it is encouraged.
And you can get P.E. credit for it.
In the small, almost too cozy town I grew up in, seeing my teachers and coaches on the chairlift or mountain biking trails is commonplace, and secrets are simply a luxury you just do not have.
Tahoe residents have long-standing "you know you're from Tahoe when. . ." jokes. For instance, you know you're from Tahoe when…
Your idea of a traffic jam is three cars lined up behind a snow plough
"Hucking the palisades" is a real life phrase. And you use it. Regularly. Similarly, "shredding the gnar" is also a real life phrase. You do this regularly.
You can't make it out of the grocery store in less than 1 hour because you're bound to run into at least 10 people you know.
You've dated at least one pro skier or mountain biker. Or you are a pro skier or mountain biker.
You and all of your friends make each other beanies for Christmas. Because you're broke. And your head is cold.
You've biked Big Blue.
You are the proud 3rd owner of a 1998 Subaru Outback.
The population of the town you live in is lower than the elevation.
You've zip-lined across more lakes than most people have been to.
Your level of awesomeness is commensurate with the height of the cliffs you've jumped.
You can guess which of your friends caused the power outage by crashing into the pole with their bald-tired 1998 Subaru Outback.
Which brings me to my next point: power outages during huge snow storms are a frequent occurrence.
Being stuck at home because someone ram-rodded the power lines, and you can't trudge through the 4 feet of snow to your car, much less un-bury your car, much less drive your car, much less park your car, in order to get from point A to point B, is to be expected multiple times per winter.
During these times, it is important to have a stash of candles and non-perishable food.
Welcome to Tahoe Survival Guide 101.
Growing up in a house with a well-prepared mountain dad meant we always, always had enough food in the pantry for our family to survive a nuclear holocaust….or an extremely large snow storm or power outage.
During these days of inclement weather when it wasn't safe to leave the house, we'd break out the canned veggies and make a big pot of soup or stew.
Canned vegetables and soup fixings not only got us by the cooped up days, but they welcomed us and warmed our bellies after a long day on the mountain.
Aside from being immobile during certain times of the winter, it can be also be difficult to find good fresh produce at the store.
If you stock your cupboards with your favorite canned tomatoes and veggies so that you can not only eat when you're hauled up in your cabin, but eat well, you're one step ahead of your neighbor, who is, no doubt, eating saltines covered with grape jam.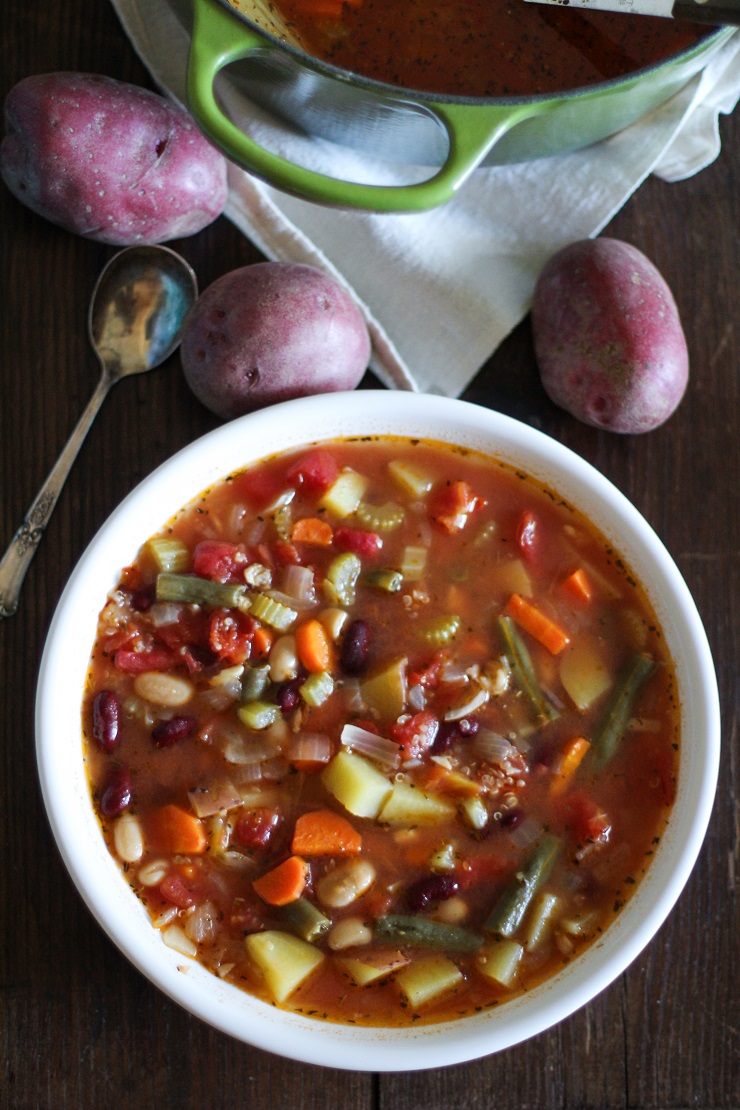 Because I'm huge on soup, especially during the snowy winter months, I love having a stock of canned food to facilitate my feeding process.
Girl gets hungry after shoveling snow for half the day. I use diced tomatoes in my soup and chili recipes as opposed to fresh tomatoes because they save time, and I like the texture and flavor they bring to soups.
Finding fresh green beans at my grocery store can be hit or miss, so I used canned to make this minestrone soup happen.
Traditional minestrone soup includes pasta noodles, but I replaced the noodles with quinoa in order to keep the soup gluten-free.
You can easily re-tradition this recipe by adding noodles and skipping the quinoa.
More Healthy Soup Recipes:
And that's it, folks! Enjoy your cozy, healthy winter soup!
Minestrone Soup with Quinoa
This rustic classic Minestrone Soup with Quinoa is a fresh Italian-inspired light soup recipe.
Ingredients
3

tablespoons

olive oil

1

yellow onion

chopped

2

carrots

peeled and chopped

3

stalks celery

chopped

2

red potatoes

chopped

6

cloves

garlic

minced

1

teaspoon

dried basil

½

teaspoon

dried oregano

¼

teaspoon

dried thyme

½

teaspoon

ground sage

2

14.5 ounce cans Diced Tomatoes

6

cups

low sodium vegetable or chicken broth*

½

cup

dry quinoa

1

rind parmesan cheese

optional

1

14.5 ounce can kidney beans, drained and rinsed

1

14.5 ounce can cannellini beans, drained and rinsed

1

14.5 ounce can Cut Green Beans, drained

½

teaspoon

salt or to taste
Instructions
In a large stock pot or Dutch oven, add oil and heat to medium. Add the chopped onion and sauté until fragrant and softened, about 3 minutes.

Add the carrots, celery, and red potatoes. Continue sautéing, stirring frequently, until vegetables have softened, but are still al dente, about 8 minutes.

Add the garlic and spices and sauté another 1 minutes.

Add the diced tomatoes, chicken broth, quinoa, and parmesan cheese rind. Bring the soup to a full boil, then reduce the heat to a simmer. Cover the pot and cook for 30 minutes or until vegetables are cooked through and quinoa is cooked.

Add the 3 types of beans and cook an additional 8 minutes.

Remove the parmesan rind (or leave it in and eat it).

Test the soup for flavor and add desired amount of salt.

Serve with crusty bread and shredded parmesan cheese
Nutrition
Serving:
1
of 5
|
Calories:
459
kcal
|
Carbohydrates:
45
g
|
Protein:
15
g
|
Fat:
3
g
|
Fiber:
5
g