Maple Spiced Pear and Walnut Baked Brie with warmly-spiced caramelized pears, walnuts, pumpkin seeds, and golden raisins atop gooey baked brie. This ultra tasty appetizer is packed with flavor and perfect for sharing during all of your fall festivities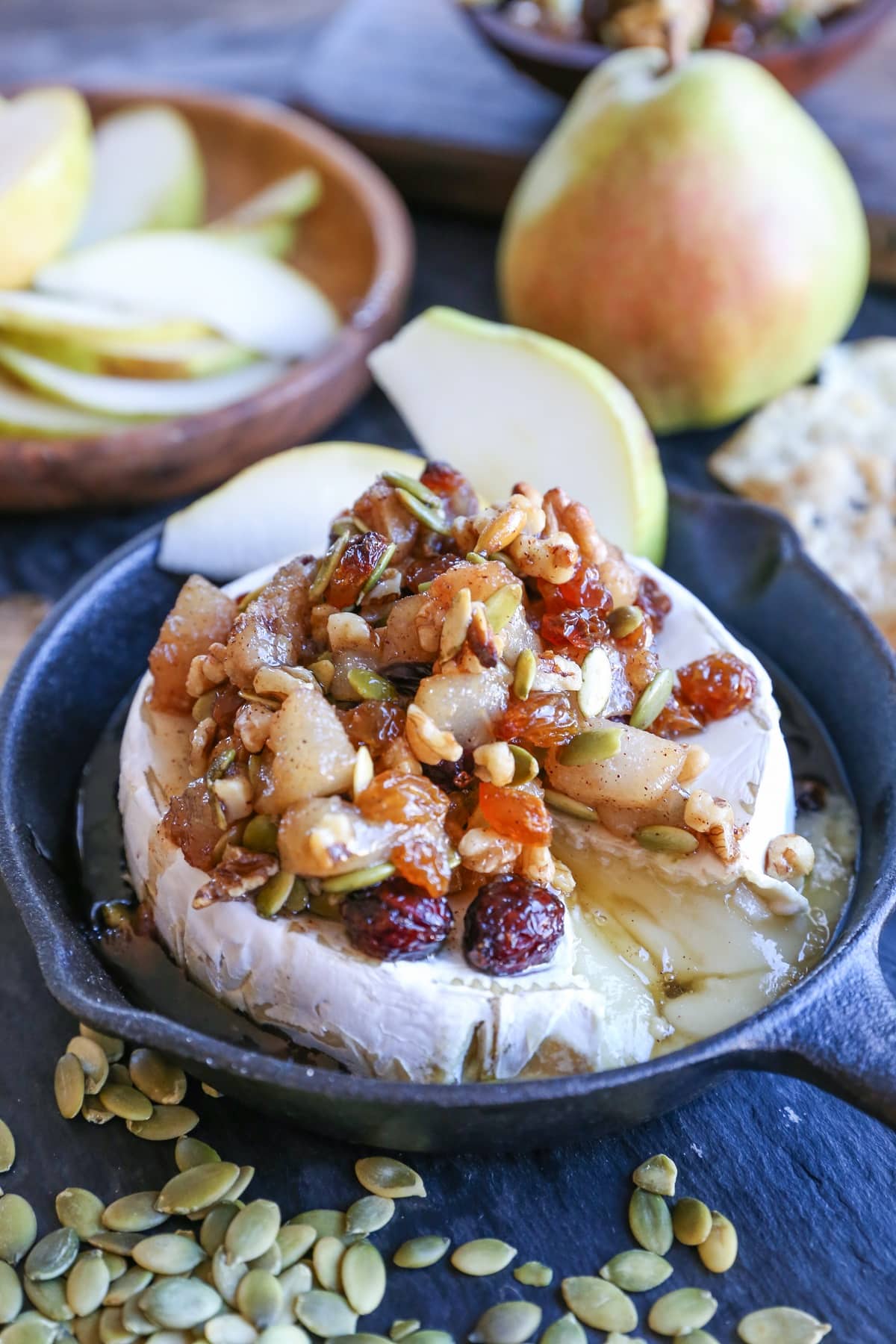 I found it only appropriate that I should share an ooey gooey melty cheese recipe while I'm travelling in Switzerland, a.k.a. the Melted Cheese Capital of the World (<- don't quote me on that 😉 ).
In all seriousness, this baked brie with maple-spiced pears and walnuts is the way to go when you're entertaining guests for any gathering this fall and winter.
It's particularly useful when you're in a bind and need to whip out a fancy, yet cost effective and super quick appetizer because you're like me and your procrastinate all the things in life.
Football appetizer? Here's your crowd-pleasing, pantry pirate-appeasing appetizer to hand over to your hangry friends on game day.
Holiday gatherings or New Years Eve party? Put this one on repeat during the busy holiday season.
And if you're looking to be a real badass, you can bring this baked brie into your Fall Harvest Meat & Cheese Board to really spice up your life!
I confessed this in my Baked Brie with Boozy Fig-Candied Pecans and Baked Brie with Maple Spiced Apples posts, but my favorite way to consume brie cheese is baked with some sweet & savory fruit and nut concoction on top.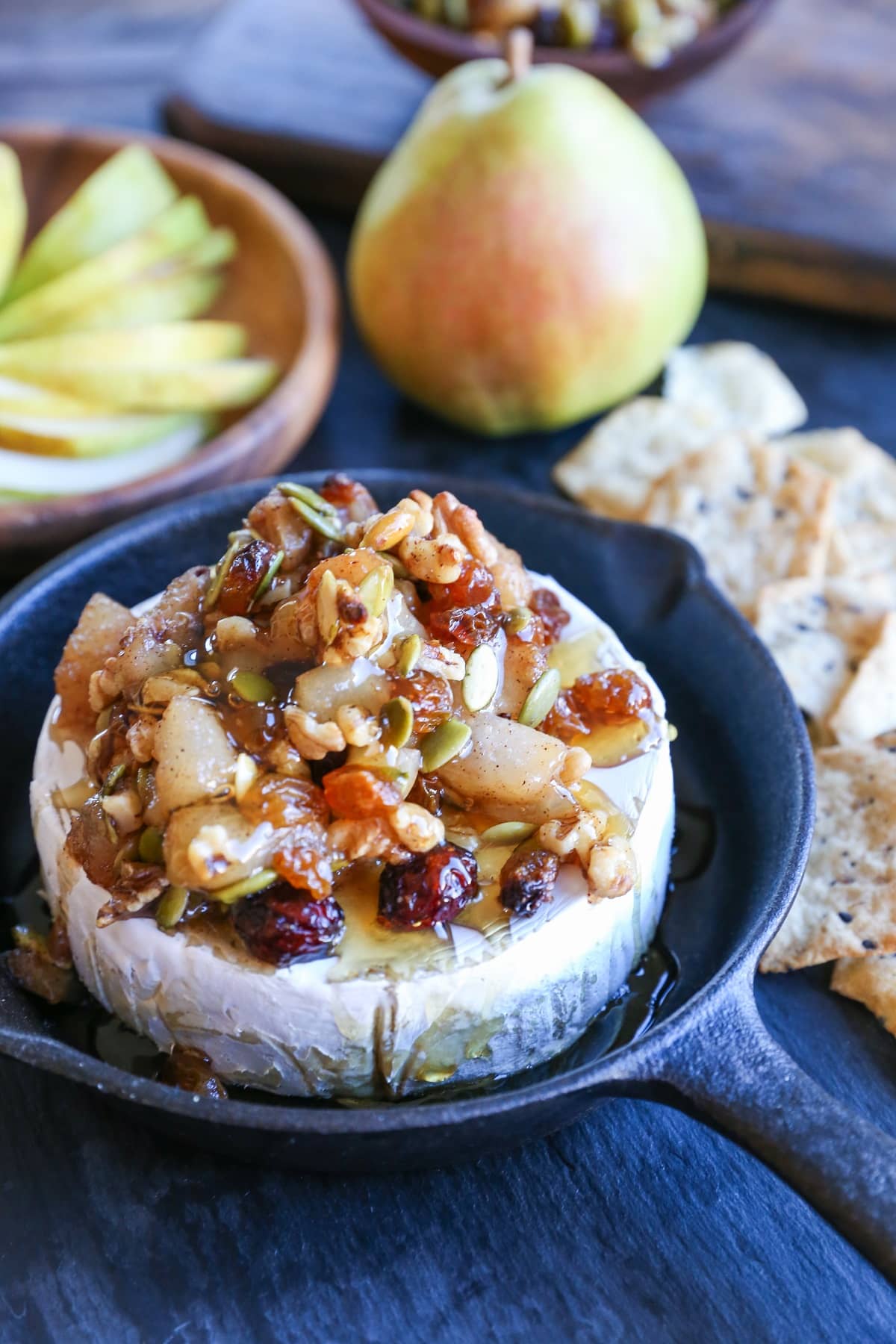 Ingredients for Baked Brie:
Brie Cheese: Pick up a wheel of cheese from the grocery store (not to be confused with a wedge of brie, although several wedges would certainly work too). You can use cow's milk brie, goat or sheep's milk brie, or triple cream brie.
Olive oil: Used to cook the topping, we need a little olive oil, avocado oil, or butter to heat everything up.
Fresh Pears: We caramelize pears until they are nice and soft so that we have a nice sweet fresh fruit to go on top of the cheese as a compliment. Use apple slices if you prefer!
Dried Cranberries & Golden Raisins: The combination of tangy dried cranberries and sweet raisins adds sweetness and depth of flavor to the warm brie.
Walnuts and Pumpkin Seeds: Adding crunch to the topping, walnuts and pumpkin seeds just bring the whole thing together in a gooey, crunchy, nutty fruity bite of bliss.
Pure Maple Syrup: We use pure maple syrup to sweeten the baked brie topping. You can use brown sugar instead if you prefer.
Cinnamon & Cardamom: Adding that warmly-spiced deliciousness to this easy baked brie recipe, cinnamon and cardamom make for such a marvelous experience. Skip them if you're not into it.
Sea Salt: A pinch of sea salt helps level up the flavor of the yummy pear topping. Don't skip it!
What to Serve with Baked Brie:
Baguette slices, crackers (I use gluten-free crackers), and fresh apple slices are my top picks for dunking in baked brie.
The end results of combining these delicious fresh ingredients together is a rich and creamy, sweet, tangy, warmly-spiced nutty perfect bite! I'm willing to bet it will be your next go-to appetizer!
Recipe Adaptations:
If you want to wrap your brie in puff pastry, be sure to pick up some crescent roll dough.
Add a tablespoon of butter to the pear mixture for added creamy flavor.
Double or triple the recipe for several wheels of brie if you're serving more than 6 guests.
If you want to get really funky with this, you can come up with all sorts of flavor concoctions atop your toasted baguette, and even invite prosciutto, bacon, or pancetta to the scene.
Incorporate 2 to 3 tablespoons of fig jam or apricot preserves if you love them.
If you're looking for a camembert recipe, this is an excellent way to serve camembert as well.
Get creative with your favorite toppings, mixing up the fruit, nuts, and sweetener to your heart's delight.
How to Make Baked Brie:
Preheat the oven to 350 degrees F.
Add all of the ingredients for the pear topping to a small skillet and heat over medium heat. Cook, stirring occasionally, until the pears have softened but still maintain some shape, about 5 minutes. If at any point it appears as though the fruit compote is dry, add a tablespoon of butter or more pure maple syrup.
Remove the brie from it's packaging and use a sharp knife to cut off the top of the rind. You can discard the top rind.
Place the wheel of brie in a small cast iron skillet or an oven-safe bowl or ramekin. Place this on a baking sheet just in case anything overflows during the baking process.
Transfer the pear topping on top of the brie. Bake the brie in the oven for 15 to 20 minutes, or until the cheese is nice and melted. Do note that the cook times may vary depending on the size of your brie and the temperature of the brie going into the oven.
Serve baked brie with crusty bread, toasted baguette slices, crackers, slices of apple, or anything you feel would be amazing for dipping.
If you'd like to use this as part of a full charcuterie board, I would suggest pairing this baked brie with crackers, prosciutto, and a drizzle of honey.
Store any leftover baked brie in an airtight container in the refrigerator for up to 5 days.
And that's it! An easy appetizer that is a great addition to any gathering necessitating food.
The man doesn't typically get very animated about food, but I actually got a reaction out of him with this baked brie.
He did a little knee-wobble dance, got all bright-eyed and bushy-tailed and legit said the words, "Too much flavor! Maaaaagh there's too much flavor!" Translation: he liked the baked brie mucho.
Check out this cheese porn: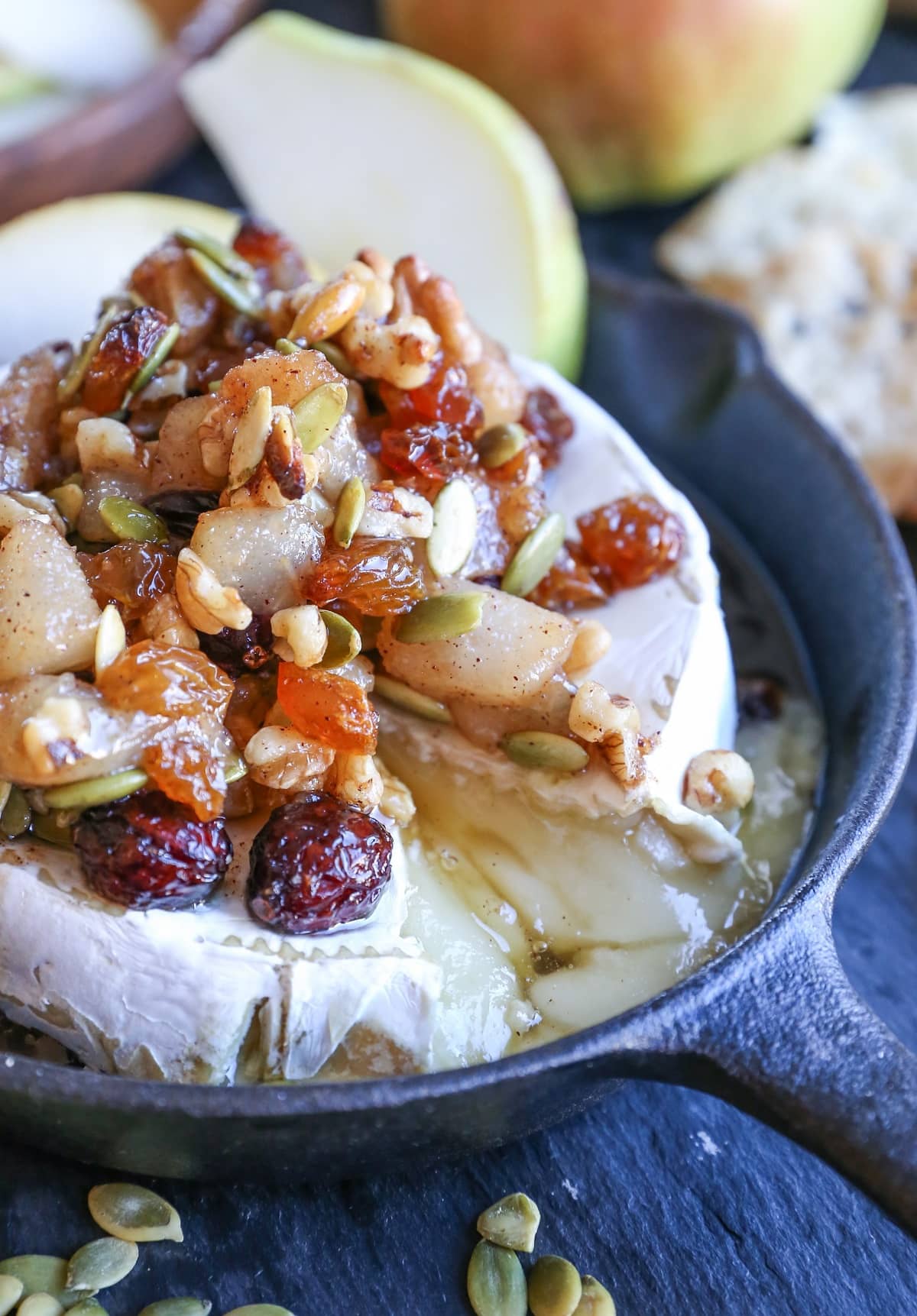 The best part is the spiced pear compote takes less than 10 minutes to prepare.
In my opinion, it takes brie from just alright to next level with the touch of a button (as in the "Bake" button on your oven). Melted brie is on a whole other playing field than cold or room temperature brie!
So pick up a loaf of bread, a wheel of brie and make this amazing gooey brie cheese for your next party.
One more for the road 😉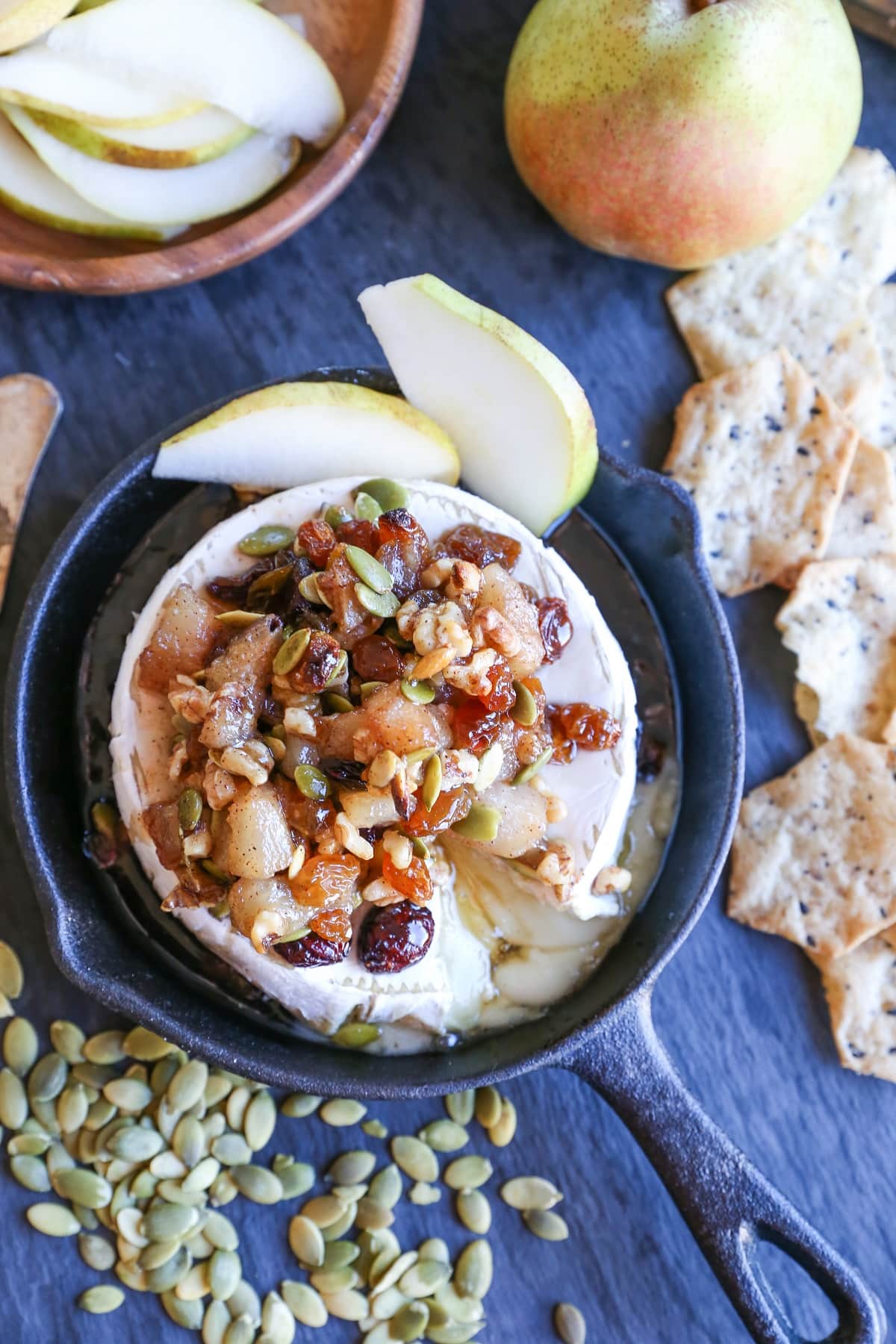 Maple Spiced Pear and Walnut Baked Brie
Baked brie with caramelized pears and walnuts makes for a unique, winning appetizer to share with friends!
Ingredients
1

Tbsp

olive oil

butter, coconut oil

1

large comice pear

peeled, cored, and diced

3

tablespoons

raw walnuts

chopped

1

tablespoon

pumpkin seeds

2

tablespoons

golden raisins

1

tablespoon

dried cranberries

3

tablespoons

pure maple syrup

1/2

teaspoon

ground cinnamon

1/8

teaspoon

ground cardamom

optional

1

pinch

sea salt

to taste

1

7-ounce wheel brie cheese, see note*
Instructions
Add everything but the brie cheese to a small skillet and heat to medium-high. Cook, stirring occasionally, until mixture has thickened, pears have softened, and everything appears sticky, about 5 to 8 minutes.

Preheat the oven to 350 degrees F.

Unwrap the brie cheese and use a sharp knife to cut off the top rind (note you can also leave the rind on…either way works). Place cheese in an oven-safe dish (preferably the dish you'll be using for serving). Top with the pear-walnut mixture and bake on the center rack of the oven for 15 to 20 minutes.

Serve baked brie with choice of gluten-free crackers, sliced pears or apples, and/or toasted baguette.
Notes
*Consider goat or sheep's milk brie for those who are allergic to cow's milk
Nutrition
Serving:
1
Serving
|
Calories:
213
kcal
|
Carbohydrates:
16
g
|
Protein:
7
g
|
Fat:
14
g
|
Fiber:
2
g
|
Sugar:
14
g
This post contains affiliate links, which means I make a small commission off items you purchase at no additional cost to you.