How to make a fall-inspired meat and cheese board using seasonal ingredients that you can find at any grocery store. You don't need to jump through hoops to pick up easy-to-find and sure-to-please ingredients for your charcuterie!
This post is sponsored by Milton's Craft Bakers.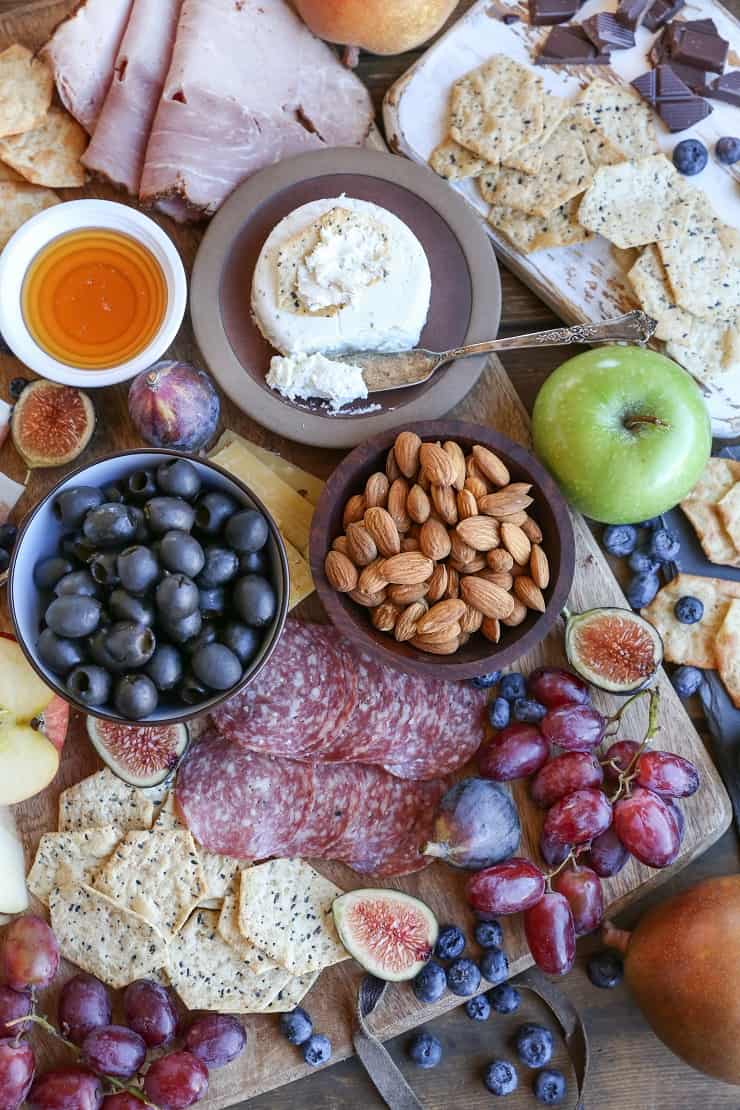 With the holidays rapidly approaching, and with football season in full swing, we need to discuss entertaining guests! It's been a few years since I showed you How to Make a Legit Charcuterie Board, so I figured I would re-visit the topic with an autumn flair. Meat and cheese boards are my favorite of all the appetizers, as there's so much room for creativity and I feel they're an instant win in the palatability department. Plus, choosing your own adventure when it comes to mixing and matching the cheese, meat, fruit, and/or spread/drizzle combo is always a fun time!
Many moons ago, I worked for a winery, where we did wine and cheese pairings and events during which we took the charcuterie concept to the next level. One of my biggest takeaways from the experience is to keep the cracker situation simple so as not to detract from the flavor of the cheese. Because I eat a gluten-free diet, I was psyched when Milton's Craft Bakers got in touch and asked if I wanted to try their crackers and chips. My answer, of course, was a resounding yes!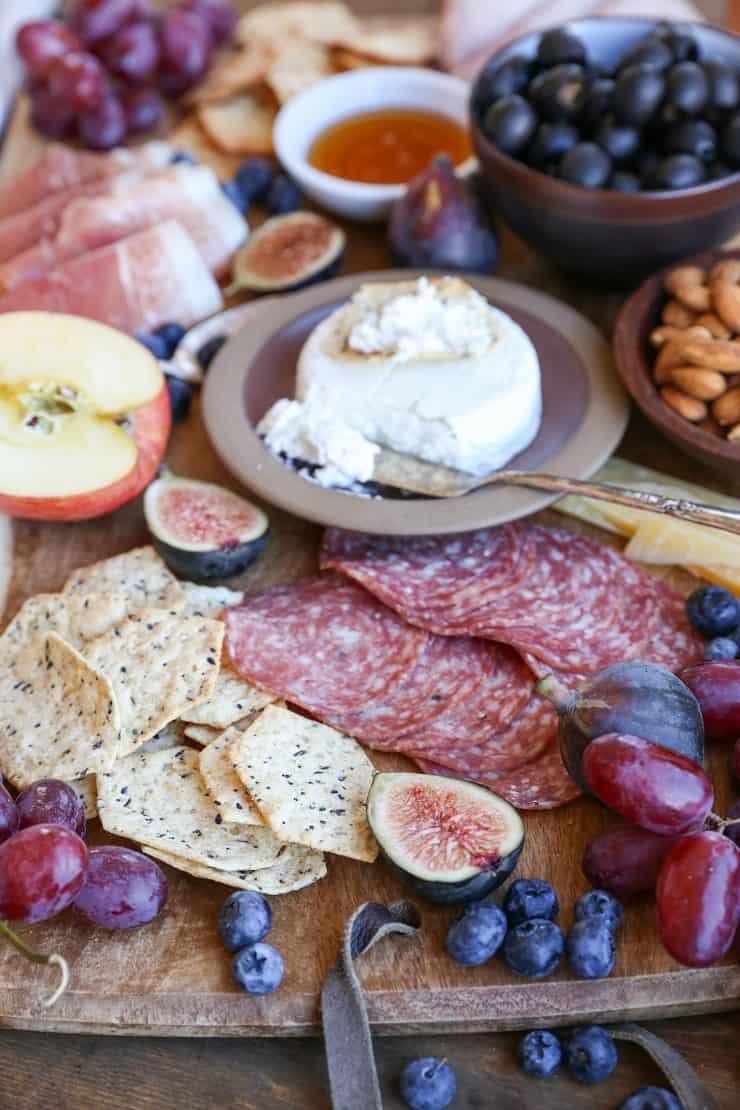 Milton's crackers are sturdy (so perfect for using as a dipping/topping cracker), perfectly flavored (as in you get the intended flavor, but it isn't overpowering, so the true flavors of the meat and cheese shine through in addition to the delightful cracker flavor), and you can't tell they're gluten-free.
So let's dive in!
In general, my formula for a meat and cheese board is as follows: at least 3 meats, 3 cheeses, 3 fresh fruit, 1-2 dried fruit, 1-2 types of nuts, 1-2 types of olives, 1 drizzler, 1 dip, dark chocolate, and 2 types of crackers.
To drill down to the specifics, here are my formulas within the formula to achieve the optimal pleasing meat and cheese board to satisfy all your guests.
2 crackers: I always like to do two types of crackers because people can be very picky about the caravan by which meat and cheese gets to their mouth. For instance, some folks prefer a simple sea salt cracker so that it doesn't intervene with the flavor of the meat and cheese, whereas some folks say BRING IT ON to flavor, and love a good herby, peppery cracker. As you can see for this charcuterie board, I selected Milton's Sea Salt and Everything crackers. Both work marvelously with any selection of meat and cheese. Seriously, they're very versatile! My favorite combination for this particular board was the herbed goat cheese spread on the Everything cracker with a drizzle of honey and a small piece of black forest ham.
3 meats: 1 deli meat and two aged meats. For this board, I chose black forest ham as the deli meat, an un-cured genoa salami, and a prosciutto for the aged meats. I basically always go with salami and prosciutto because in my experience, both are instant crowd-pleasers. For the deli meat, I feel you can't go wrong with a high quality turkey or ham. Just be sure you offer enough of each type of meat, as you'd be surprised by how quickly people snap up the meats!
3 cheeses: My formula within the formula for cheese is 1 aged dry cheese, one non-cow milk cheese, and one young, soft cheese. I typically go with parmesan, gouda, or gruyere for the harder cheese, an herbed goat cheese for the non-cow milk (I like this option because many people don't do cow milk, and goat cheese is easy to spread), and brie for the young soft cheese.
3 fresh fruit: I actually did 5 types for fresh fruit here, but 3 is definitely sufficient. Because we're going fall-inspired for this charcuterie, I selected apple, pear, and fig for my fresh fruit. I had some blueberries and grapes in my refrigerator, so I included those as well…we'll call them palate cleansers 😉 The apple and pear work as amazing dippers and spreaders – they hold up nicely, so you can put a slice of cheese and meat on them, drizzle them with honey (or a jam/preserve), or simply eat them plain.
When selecting your fruit, be sure you're picking up fruit that's in season. These days, there is a lot of crossover in terms of what is still fresh and delicious, so as long as the fruit looks, feels, and smells ripe and delicious, feel free to include it. I'd just avoid making peaches (for instance) the fruit centerpiece of a charcuterie board you make in December.
1 dried fruit: I neglected to include dried fruit here only because by the time I laid everything out, I simply forgot about the dried fruit. I love using dates because they're ultra sweet and go very well with most cheeses (since they aren't tart), or golden raisins, or juice-sweetened cranberries. Dried fruit is one of those easy pick-up and snack-on deals, and they're fun to play with when coming up with flavor concoctions for the ultimate charcuterie cracker.
1 type of nut (or mixed nuts): Essential for snacking. I find nuts play an important role in an appetizer board because they give people the opportunity to munch between cracker inventions. I love roasted and salted mixed nuts for an easy go-to, but raw nuts work great, too! For this round, I went with raw almonds. You can also get creative with the crunch by offering up fancy inka corn nuts (these are bomb!), wasabi peas, or your favorite munch-able.
1 or more type of olive: Depending on your audience, the olive selection can be pretty pivotal. If you, yourself are an olive connoisseur, you can rely on your own taste here. Or, if you have little experience olive-ing, take a quick poll among your guests to see if they prefer green, black, or kalamata, pitted or un-pitted, stuffed or un-stuffed, marinated or un-marinated. My personal favorite are fancy olives that have been marinated in olive oil and garlic. For this round, I went easy-peasy un-marinated black olives.
1 drizzler: A sweet drizzle can make a meat and cheese cracker explode in flavor! I always, always offer honey because it goes very well with both brie and goat cheese, and most people tend to love it. If I'm feeling frisky, I'll also put out a jam, preserve, or chutney. Fig spread tends to be a big hit, as does a good marmelade. You can also go the savory route and offer up a tapenade or some herby sauce like a pesto or chimichurri.
1 dip: This one's an easy sell. Anything that requires minimal effort for eating is bound to win you some mega points. For the dip, I like to keep it on the healthy end by going with hummus or the Paleo Sour Cream & Onion dip I posted the other day, but you can get creative depending on the palate of your guests. If you're unsure of everyone's preference and you don't want to ask, go with a classic hummus.
Dark chocolate: Not necessarily essential for all charcuterie boards, but I love, love, love a good dark chocolate. Be sure to pick one you've tried before, and even if, like me, you're into the very high cacao percentages (85% for instance), I'd still stick with a slightly lower percentage (I'm thinking 60% to 72%) lest you end up with guests who ordinarily would dabble in the chocolate, but choose not to because it's too bitter. Additionally, a very bitter chocolate won't sit well on the tongue when you're consuming creamier, lighter flavors.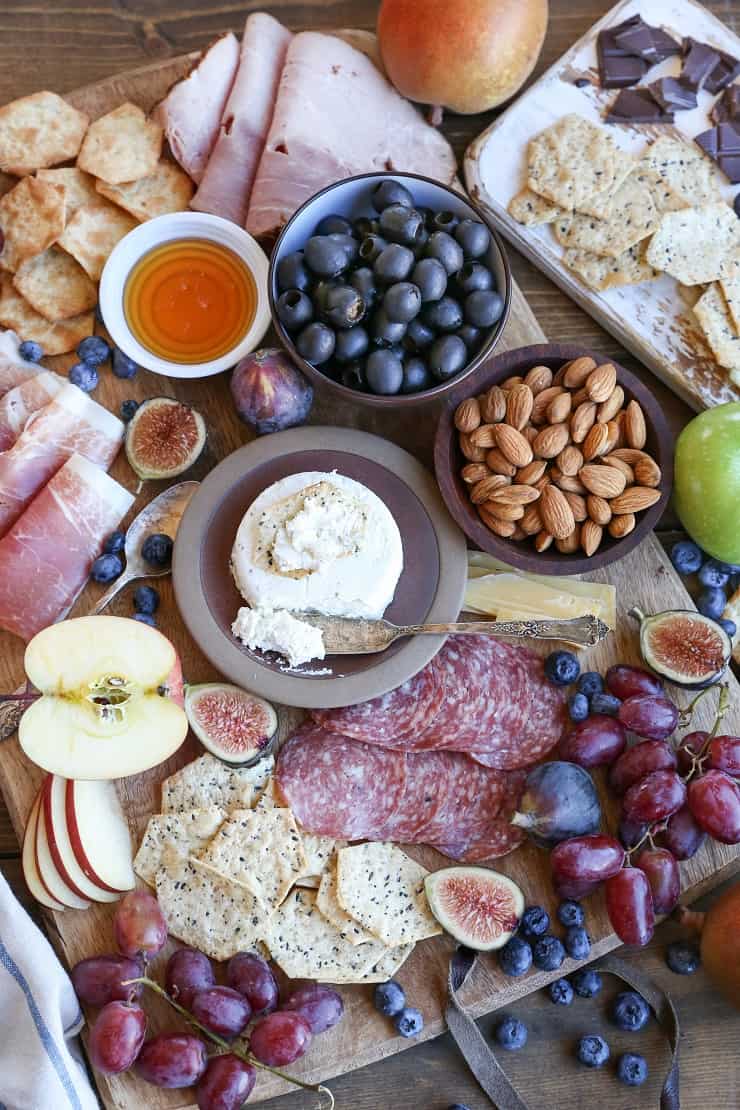 Providing multiple options for each charcuterie ingredient ensures your guests will have many, many iterations to choose from when making their selections. In addition, 3 of each is manageable from a time and cost standpoint as well.
Wine pairing? If you're looking to pair wine with your charcuterie, I wrote a post on Wine and Cheese Pairing 101 which provides some simple guidelines to selecting your wine based on your cheese, and vice versa.
And that's it! Be sure to check out Milton's gluten-free crackers, and have a blast with your meat and cheese board participants!