Baked brie with fig spread and pecans is a marvelous appetizer for holiday entertaining!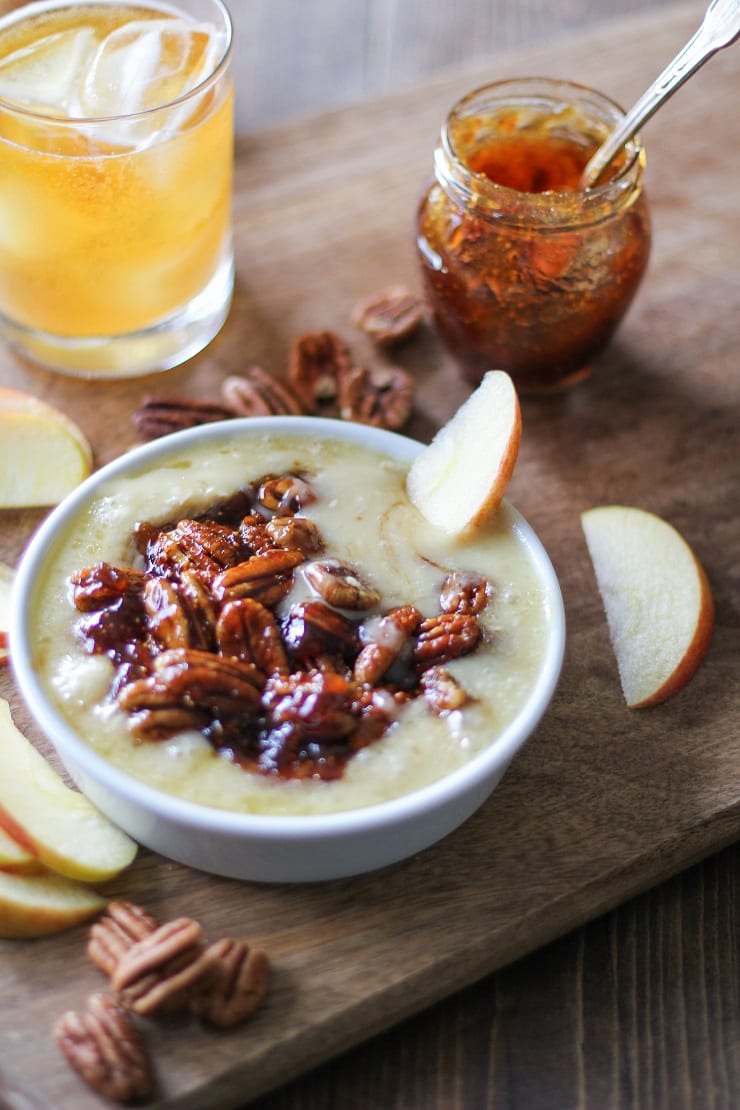 There's no other way to say this…
Melted cheese.
Major thing.
I'm of the belief that cheese is 200x better when it's melted. Anyone else with me on the melty cheese front? And mixed with fruity fig spread? Ugh just stop granting me wishes, life…you are just so kind!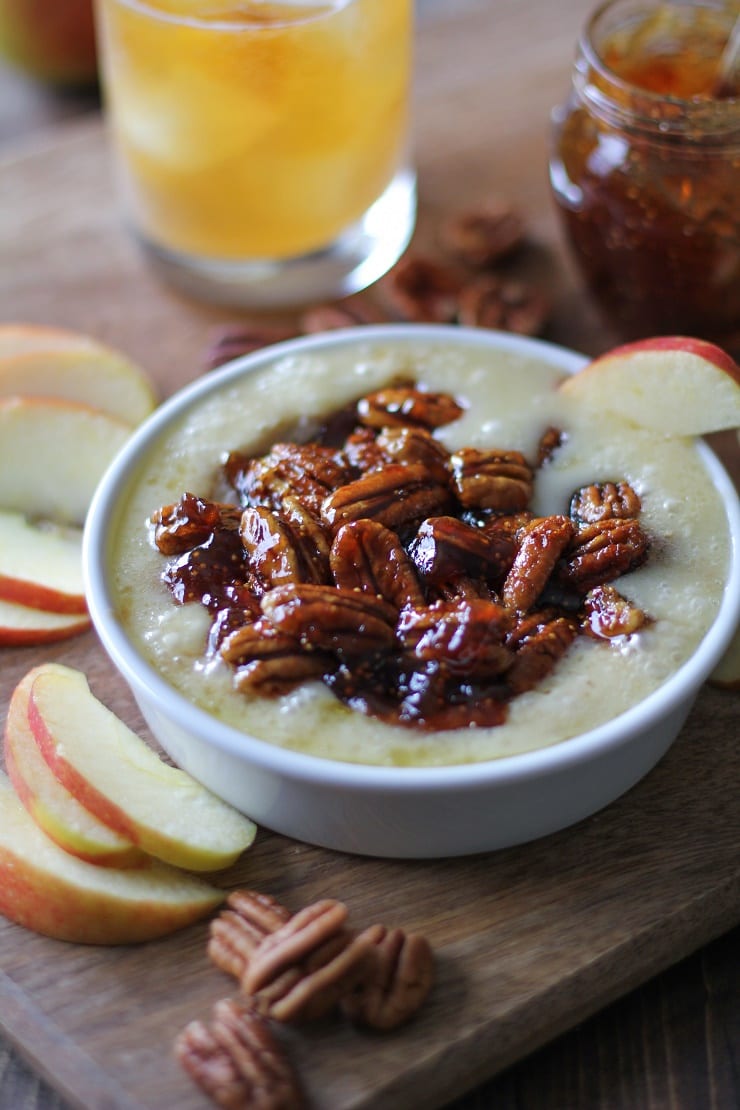 Have you ever baked your brie? It's like it becomes an entirely different cheese.
Truth talk: I'm not an uuuuuge fan of non-baked brie. As in, I prefer my brie baked, brandy-ed, fruited, and nutted.
If you're not a fan of brie, I implore you to try baked brie. Whole 'nother world out there.
As soon as that wheel bakes at 350 for 15 minutes, the game is on. AND – #ProTip – if you're going to bake your brie, you may as well create a bonkers tasty topping to go with it.
Enter: Fig Spread.
I couldn't be more obsessed.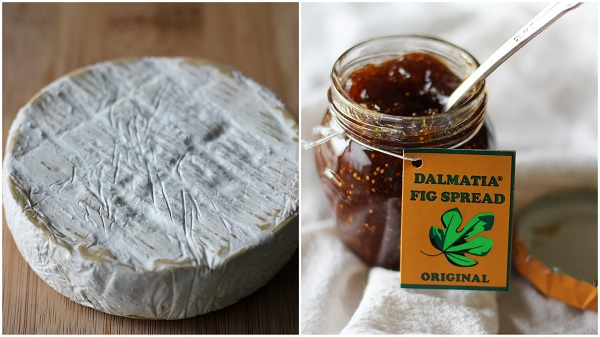 I've tried many-a-variation upon the baked brie situation, and lemme tell ya: fig spread's where it's at. So easy, so delectable. Dalmatia's Original Fig Spread is my go-to for all the figgy things, and it seriously does wonders to baked brie!
You can also use Dalmatia's Orange Fig Spread for a little something special. Add brandy and nuts and you're looking at holiday appetizer heaven. All the people will swoon!
How to Make Baked Brie:
If you've never made baked brie, it's really easy.
You simply slice the rind off the top, place it in an oven-safe dish, top it with your boozy fig and nut spread, and bake it for 12 to 15 minutes at 350. I like to serve baked brie with apple slices, but you can also serve it with your favorite crackers.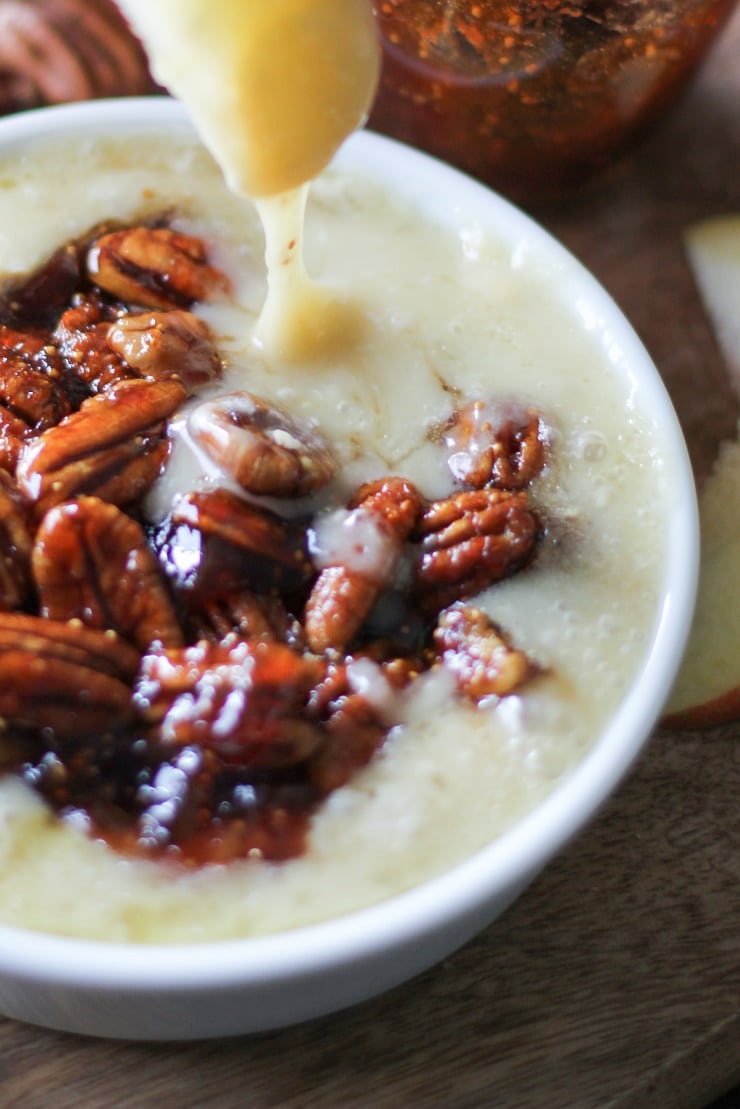 You can find Dalmatia Fig Spread at most main stream grocery stores, as well as specialty stores and cheese shops. Share this delicious figgy melty brie fest with people you love!
Baked Brie with Boozy Fig Spread and Pecans
Baked Brie with Boozy Fig Spread and Pecans is the ultimate appetizer!
Ingredients
1 6.5-

ounce

wheel brie cheese

½

cup

Fig Spread

or jam

½

cup

raw pecan halves

2

tablespoons

brandy

pinch

salt
Instructions
Preheat the oven to 350 degrees F.

Un-wrap the brie, and shave the rind off the top using a sharp knife. Place the brie in an oven-safe baking dish (ideally, the same dish you wish to serve it in).

Add the fig spread, pecans, brandy, and salt to a small skillet and heat to medium high. Cook, stirring constantly until mixture comes to a full boil, about 2 minutes. Remove from heat and allow fig/pecan mixture to cool slightly.

Pour the fig-pecan spread on top of the brie and bake for 10 to 15 minutes.

Serve with choice of crackers and/or apple slices.
Nutrition
This post is sponsored by FoodMatch, the exclusive importer of Dalamatia Fig Spread. I was compensated for my time, but all opinions are my own. Thank you for supporting the brands that support me!