Low-Carb Chocolate Fudge Recipe made with simple ingredients. This easy fudge recipe is perfect for sharing during the holidays, gift giving, or enjoying as an occasional treat! Rich, fudgy, and decadent, this low-carb fudge is a healthier alternative to classic fudge.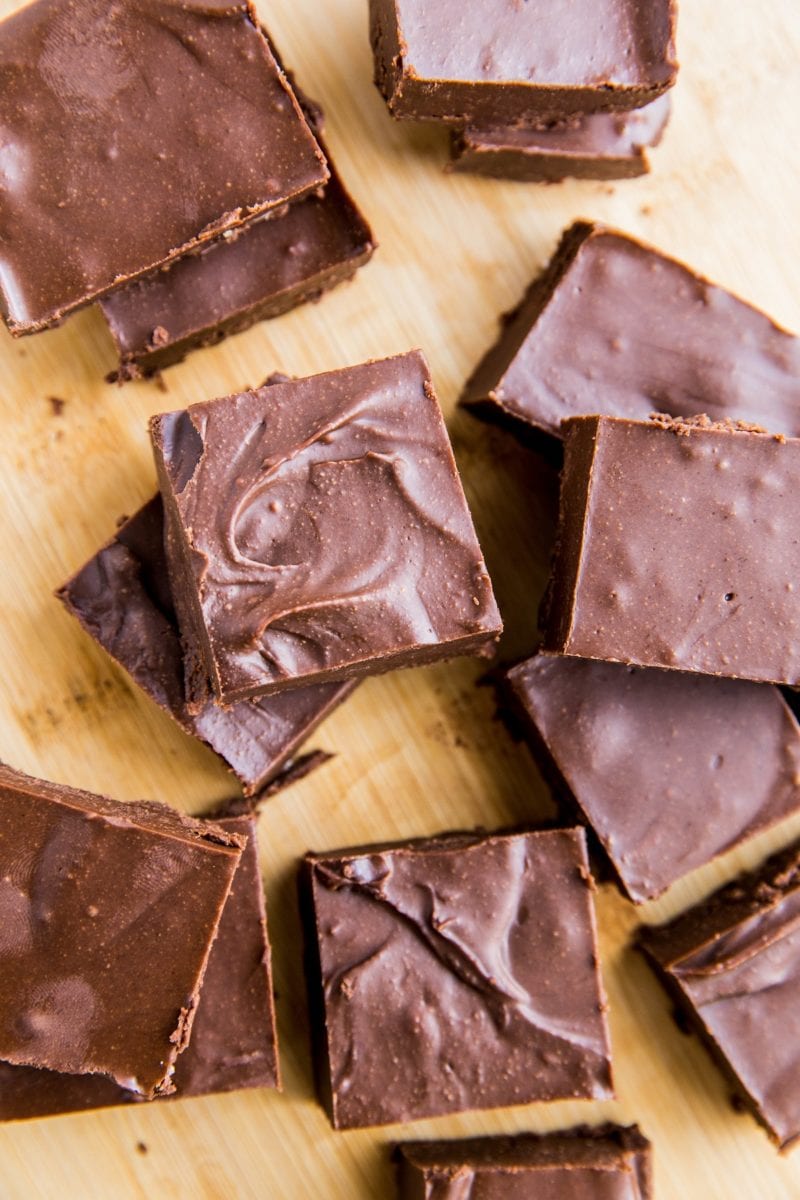 Not only do I have a healthier low-carb chocolate fudge recipe for you today, but it quenches your sweet tooth without being overly sweet.
This is one of those feel-good treats that doesn't put you into a sugar coma or make you regret your decisions in life.
My favorite thing about this low-carb fudge recipe is just how easy it is to make. The creamy texture with just the right sweetness makes this homemade fudge a true delight. It's perfect for holiday gifts, too!
If this is your first time making fudge, no sweat! You'll have your fudge ready in a single day and the prep time is only a few minutes, making this the absolute easiest recipe.
We simply stir up all the ingredients in a bowl, pour the fudge mixture into a baking dish and refrigerate. BOOM! Anyone can make this!
The best part, is we don't need a candy thermometer and don't need to pay close attention to ingredient weights and temperatures the way you do with classic fudge.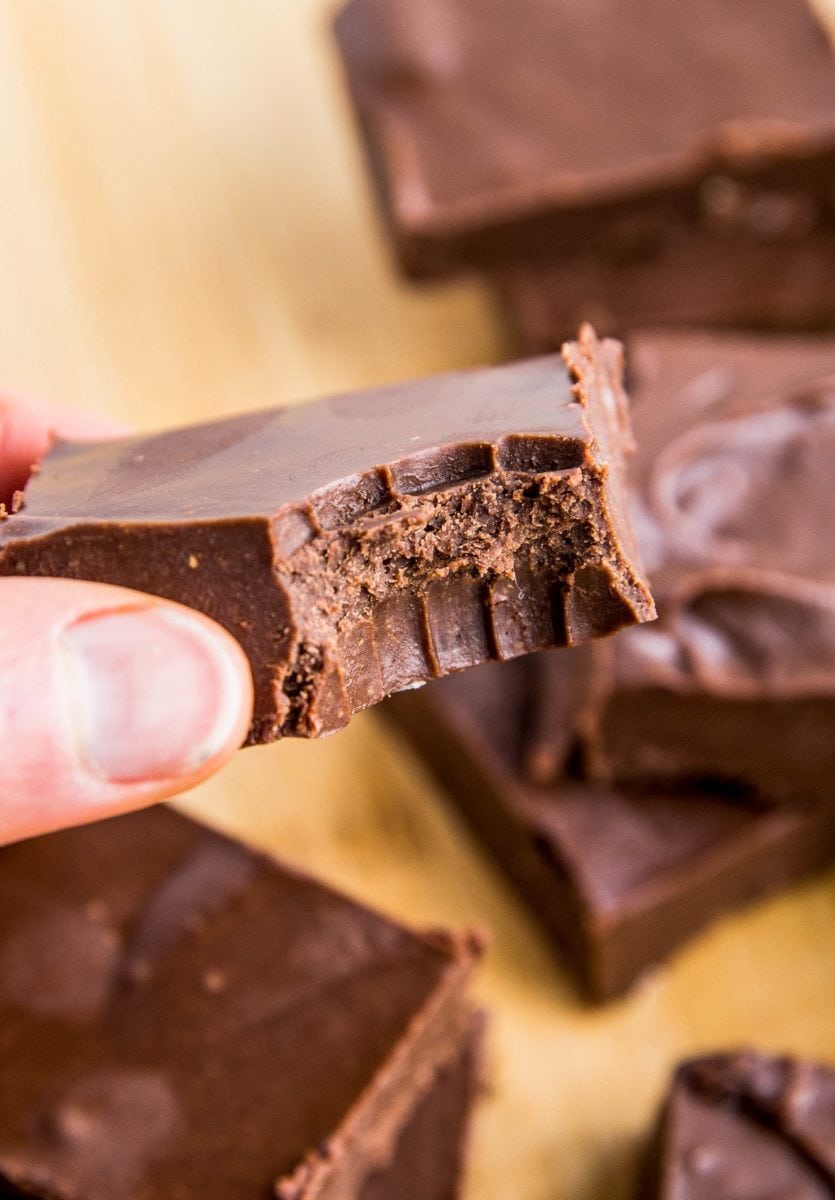 The Inspiration For This Recipe:
Put simply, I wanted to make a fudge recipe that I would eat.
I have always found the traditional fudge recipe to be too sweet so I never ate it as a kid.
For this reason, I began making my own fudge recipes using cleaner ingredients many years ago. If you're looking for a Keto Peanut Butter Fudge recipe that does not include chocolate, give it a gander!
This low-carb chocolate fudge is super rich and creamy, perfect for the dark chocolate lover, and ideal for those who love a sweet treat but prefer them less sweet.
Now of course if you like your fudge to be lightning bolt sweet, you can easily add more sugar-free confectioner's sugar, or 1/2 cup of sugar-free chocolate chips! Play with the portions to your heart's delight!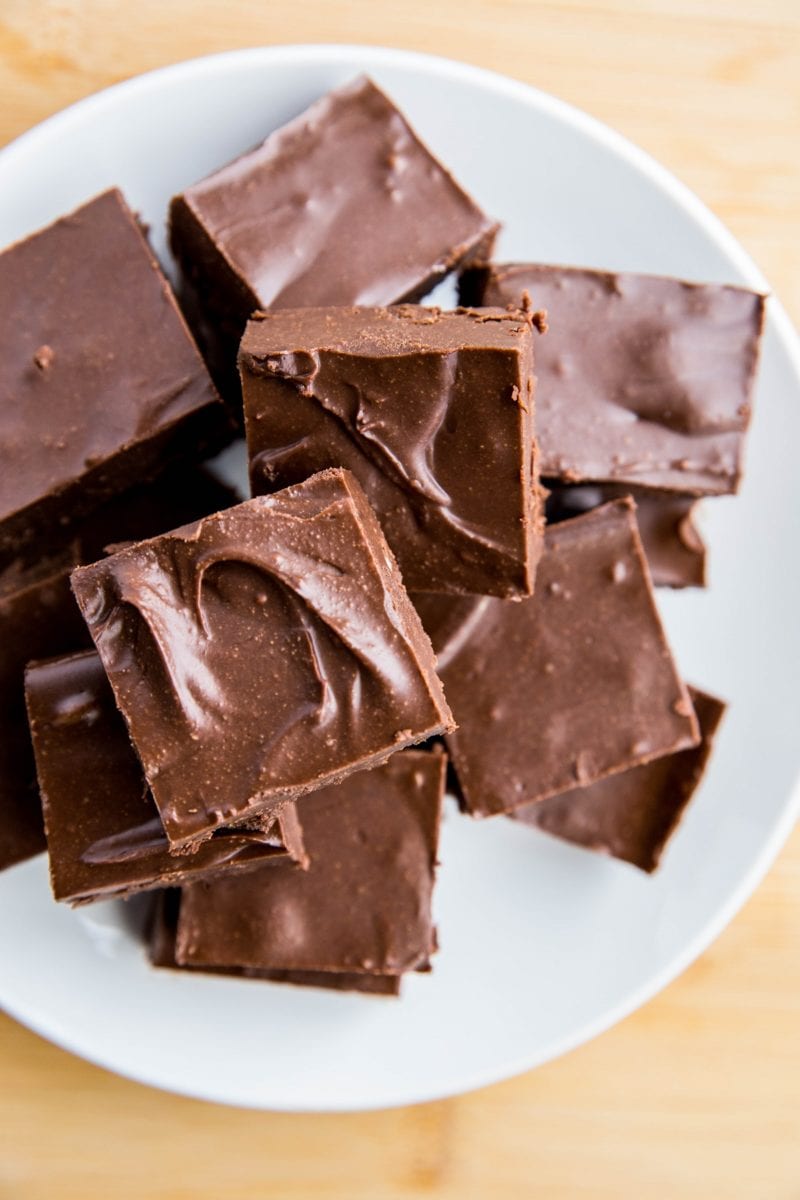 This easy fudge recipe requires minimal simple ingredients. Ready to dive in? Let's go!
Ingredients for Low-Carb Chocolate Fudge:
Unsweetened Nut Butter of Choice: The majority of the volume of this recipe comes from your favorite nut butter. This, in conjunction with butter, takes the place of heavy cream in classic fudge.
I use cashew butter because I love the creamy flavor. Not all grocery stores carry cashew butter, so you may need to source it online or go to your local natural food store (I got mine at Whole Foods).
You can use peanut butter or almond butter depending on the flavor you're going for. If you love peanut butter chocolate fudge, I say go for that peanut butter! Cashew butter contains twice as many carbs as peanut butter, so if you're aiming for an easy keto fudge recipe, use peanut butter.
Unsalted Butter: Melted butter gives the fudge a silky smooth texture so that it has that classic fudge consistency and iconic buttery flavor. It makes it nice and soft and rich, which is important when it comes to fudge!
For a dairy-free option, replace the butter with 1/3 cup of coconut oil or coconut milk. You can also use ghee!
Raw Cacao Powder: The chocolate portion of this chocolate adventure. Raw cacao powder has a rich and creamy chocolatey flavor, which I prefer over regular unsweetened cocoa powder. If you like the bitterness of regular cocoa powder, go for it! Add 1/2 cup of chocolate chips to the recipe to make it even richer, sweeter, and chocolatier.
Sugar-Free Confectioners Sweetener: In order to sweeten the fudge without adding sugar, I use sugar-free confectioners sweetener (aka sugar-free powdered sugar). The finely ground confectioners sweetener ensures the substance mixes into the fudge without graininess. If you want to give it a shot with regular sugar-free granulated sweetener, so for it, but note that the texture will not be creamy.
I recommend Lakanto Sugar-Free Powdered Sugar which is made with monk fruit, Allulose, or Swerve Confectioners Sweetener for my top three recommendations. If you have a favorite sugar substitute or preferred sugar alcohol, feel free to use it.
Sweeten this sugar-free fudge recipe to your personal taste. I like mine less sweet but for a sweeter fudge, simply add more sugar-free sweetener or some sugar-free chocolate chips.
Vanilla Extract & Sea Salt: Vanilla extract and sea salt provide that warmth and big bold rich flavor that makes fudge so enticing. It's these little touches that make a treat irresistible!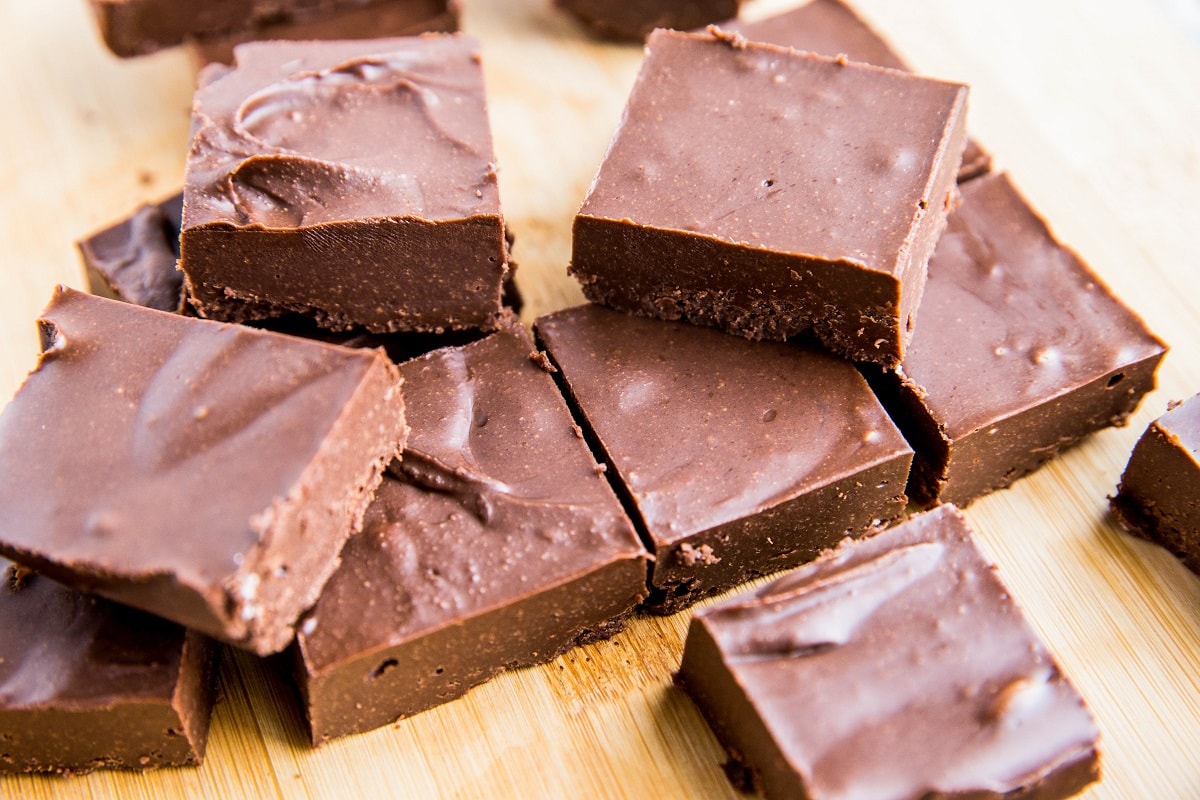 Let's make this easy keto chocolate fudge recipe!
How to Make Low-Carb Chocolate Fudge:
Line an 8-inch cake pan with parchment paper. You can also use a 9" x 5" loaf pan for thicker fudge.
Melt the butter in the microwave in a heat safe bowl. If you're adding sugar-free chocolate chips, melt them with the butter. Note: if you're familiar with using a double boiler, you can go this route instead of using the microwave.
Add the cashew butter (or peanut butter or nut butter of choice) to the melted butter and mix until creamy.
Stir in the cocoa powder, sugar-free powdered sugar, vanilla extract and sea salt and mix until creamy. If the mixture is difficult to stir together, heat it in the microwave for 15 second increments until it is easier to combine.
Pour the fudge mixture into the prepared pan and spread it into an even layer.
Refrigerate fudge for at least 2 hours, or until it has set up completely.
Slice and serve!
Store fudge in an airtight container in the refrigerator for up to 2 weeks. You can also freeze it in a zip lock bag for up to 4 months.
Recipe Tips:
Make sure cashew butter is at room temperature.
How to Store Low-Carb Chocolate Fudge:
Although this fudge is stable at room temperature, I store leftovers in a sealed container in the refrigerator (or freezer) because it contains butter. I also like my fudge to be solid rather than soft, but if you prefer very soft fudge, it can be stored at room temperature for a few days.
Is This Recipe Keto?:
If you're using peanut butter to make the fudge, it is keto-friendly for most people following a ketogenic diet.
Making the fudge the way I do using cashew butter will result in a low-carb dessert and work for those on a low carb diet, but may be too high in carbs for folks following a keto diet.
Depending on your carb intake, this fudge may not be compliant with your keto lifestyle. It still is sugar-free and won't spike your blood sugar (so ideal for those with high blood sugar), but it contains 12 grams of carbohydrates, 2 grams of fiber, and therefore 10 grams of net carbs per piece. You can always slice the fudge into smaller chunks than I do, or use peanut butter.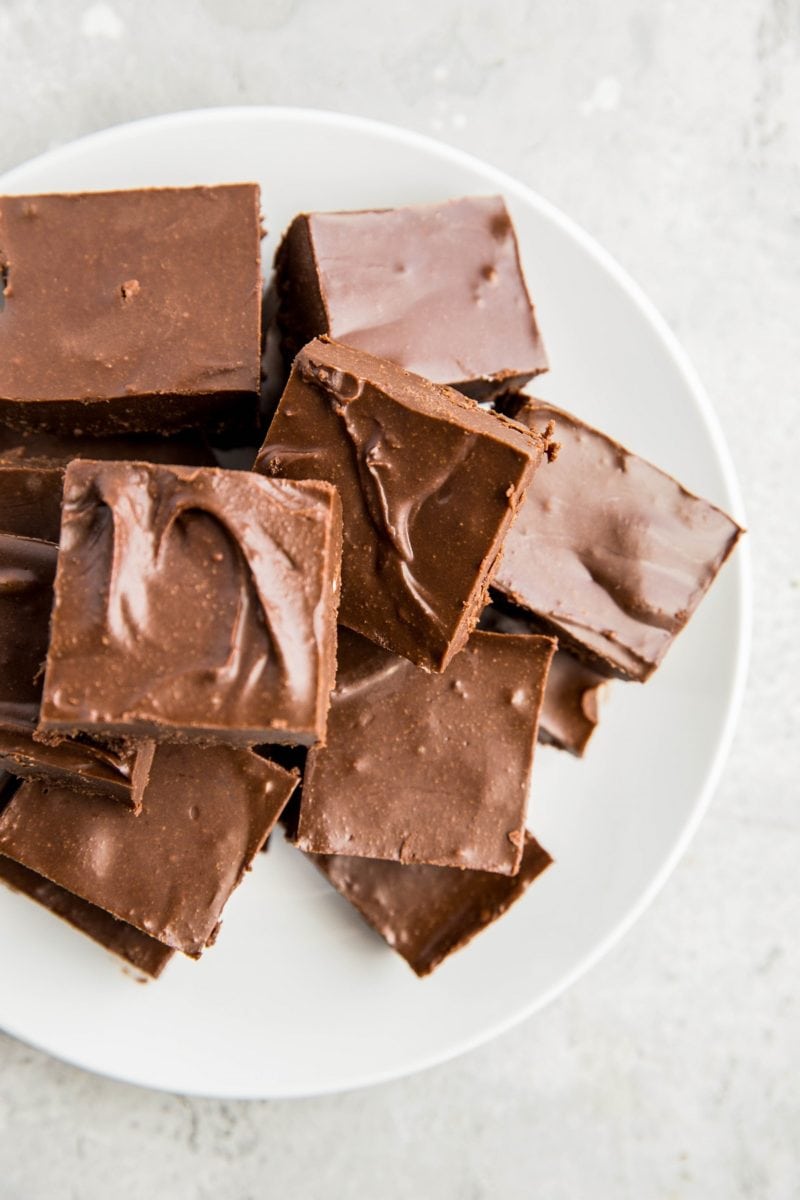 Looking for more keto desserts to enjoy throughout the holiday season? Check these out!
More Keto Dessert Recipes:
I hope you enjoy this sultry little number!
My cookbook,
Paleo Power Bowls
, is now available! CLICK HERE to check it out. Thank you for your support!
If you make this recipe, please feel free to share a photo and tag @The.Roasted.Root on Instagram!
Low-Carb Chocolate Fudge
Low-Carb Sugar-Free Chocolate Fudge Recipe that is rich and perfectly sweet.
Instructions
Melt the butter, combine with cashew butter until creamy. Add cocoa powder, powdered sugar, vanilla extract and sea salt and mix until creamy. If the mixture is difficult to stir together, heat it in the microwave for 15 second increments until it is easier to combine.

Transfer the mixture to a parchment-lined 8" x 8" cake pan, or a 9" x 5" loaf pan for thicker fudge.

Refrigerate fudge for at least 2 hours, or until it has set up completely.

Slice and serve!
Notes
*You can use peanut butter if you love the flavor! Almond butter works too but it will be slightly grainy and will not be quite as creamy/fudgy.
Nutrition
Serving:
1
of 16
|
Calories:
184
kcal
|
Carbohydrates:
12
g
|
Protein:
3
g
|
Fat:
16
g
|
Fiber:
1
g
|
Sugar:
1
g