Instant Pot Apple Butter Recipe made refined sugar-free using coconut sugar and pure maple syrup. This warmly-spiced spread makes the perfect gift for friends and family.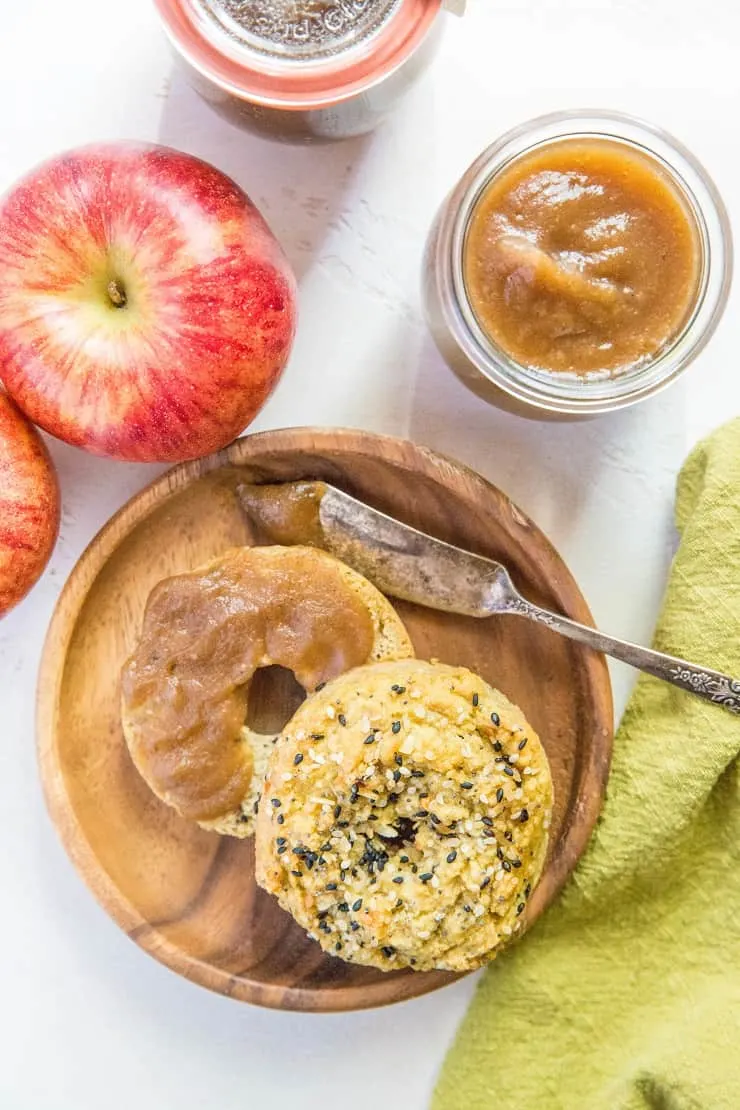 Apple butter is basically mandatory during the fall and winter months. There's something about the homemade spread using freshly harvested apples that warms the heart and soul!
While I love a traditional apple butter, it is just as easy to make apple butter refined sugar-free as it is to make it with cane sugar. I like using organic coconut sugar and pure maple syrup (or molasses!) for sweetening apple butter. This makes it ever so slightly lower on the glycemic index, and most people tend to process more natural sweeteners better than processed sweeteners.
So what do we need in order to make apple butter? Contrary to the title, apple butter contains no actual butter, making it suitable for dairy-free or vegan eaters.
All we need is apples, coconut sugar, pure maple syrup (or molasses), cinnamon, nutmeg, cloves, a squirt of lemon juice, and pure vanilla extract. Badda bing, badda boom! Apple butter magic!
Let's make it!
How to Make Instant Pot Apple Butter:
Peel, core, and chop the apples. No worries if the chunks aren't all the same size!
Transfer the chopped apples to your Instant Pot, along with the rest of the ingredients.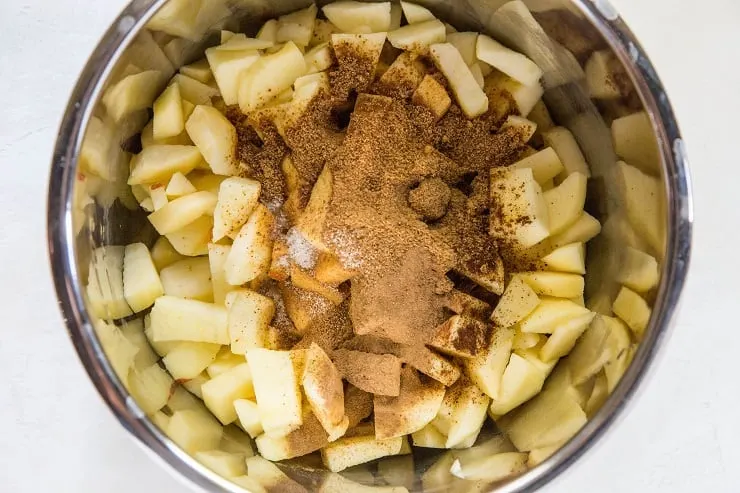 Give everything a big stir until it's well-combined.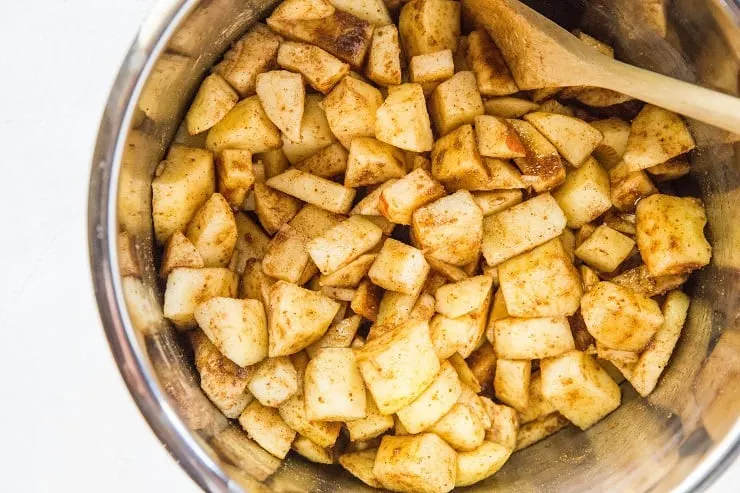 Secure the lid on your Instant Pot and press "Manual" or "Pressure Cook." Pressure cook on high for 15 minutes. Position the steam release valve to "Sealing." Once the Instant Pot has run its course, allow the steam to release naturally.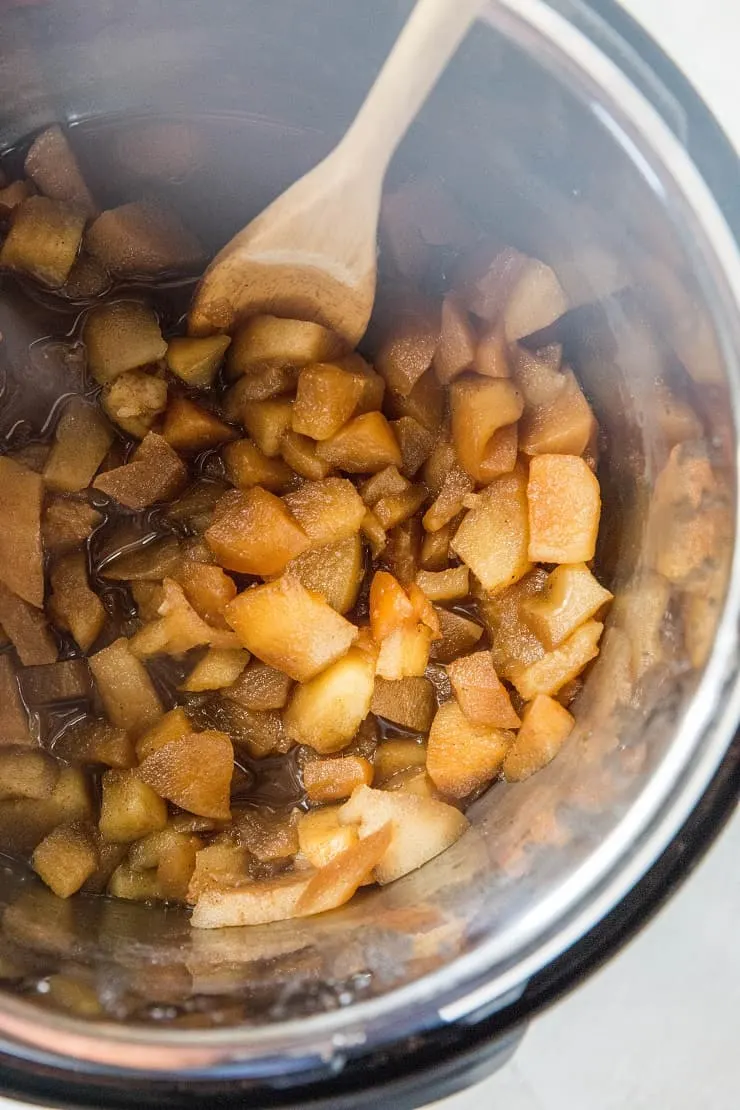 Remove the lid of the Instant Pot. Mash the apples using a potato masher if you prefer chunkier apple butter. For creamier apple butter, use an immersion blender, or transfer everything to a regular blender and blend until smooth.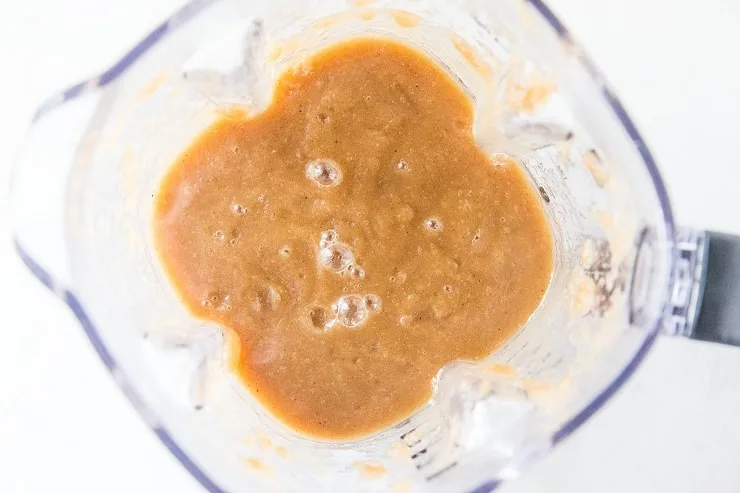 Transfer the apple butter to sanitized jars and refrigerate until ready to use (or serve immediately!)
How to Serve Apple Butter:
Apple butter can be used in numerous ways! You can use it as a spread on any baked good, such as sliced bread, bagels, muffins, scones, etc. You can also use it in place of frosting on cakes and cupcakes, or use it inside of baked recipes, such as cakes and galettes.
I'm thinking this apple butter would be AMAZING on top of Chai-Spiced Paleo Coffee Cake, Morning Glory Quickbread, or Paleo Gingerbread Muffins.
I enjoyed the apple butter on gluten-free toast and on my Paleo Everything Bagels (it may sound strange, but trust me, it works!).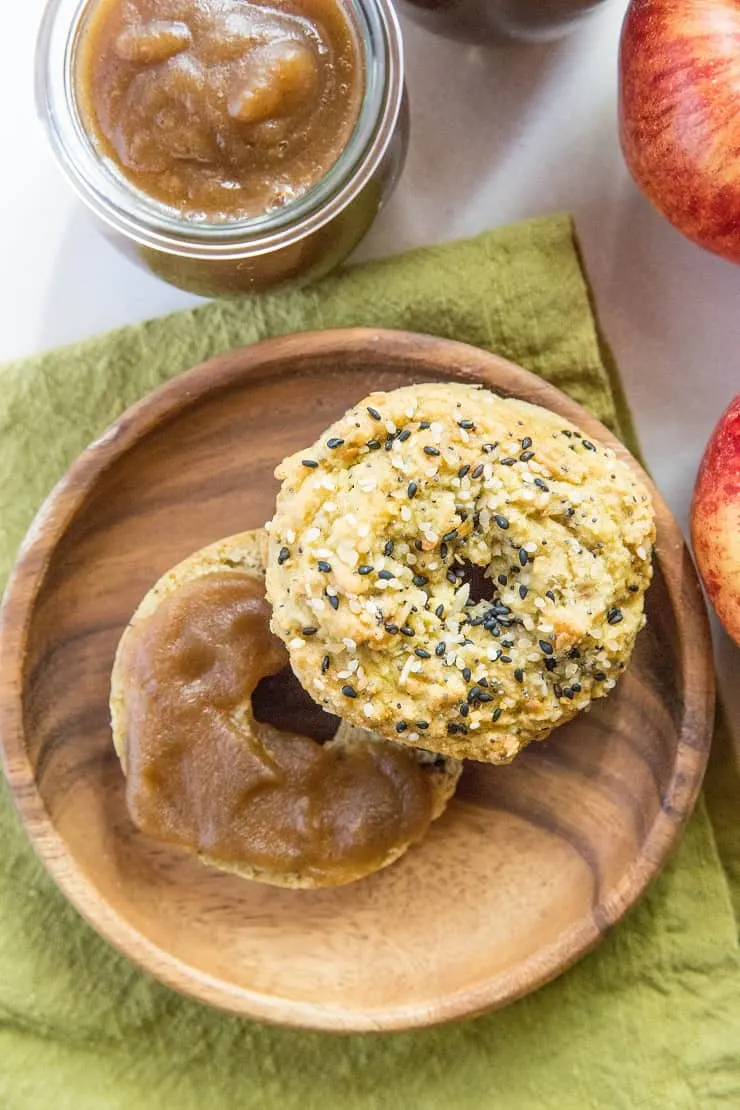 Can I Make Apple Butter in a Slow Cooker?:
You certainly may! For the slow cooker version, simply add everything to your Crock Pot or slow cooker and cook on high for 3 to 4 hours or on low for 8 to 10 hours. Use a potato masher, immersion blender, or regular blender to mash or blend the apples once they are cooked.
Recipe Adaptations:
If you're fine with cane sugar, replace the coconut sugar and pure maple syrup with 1/2 cup granulated sugar and 1/2 cup brown sugar.

Double the recipe if making gifts for friends and family.

Use any type of apple you prefer. I used envy apples, which turned out fabulously!

Replace the pure maple syrup with molasses, or change up the sweeteners according to how you like your sweets.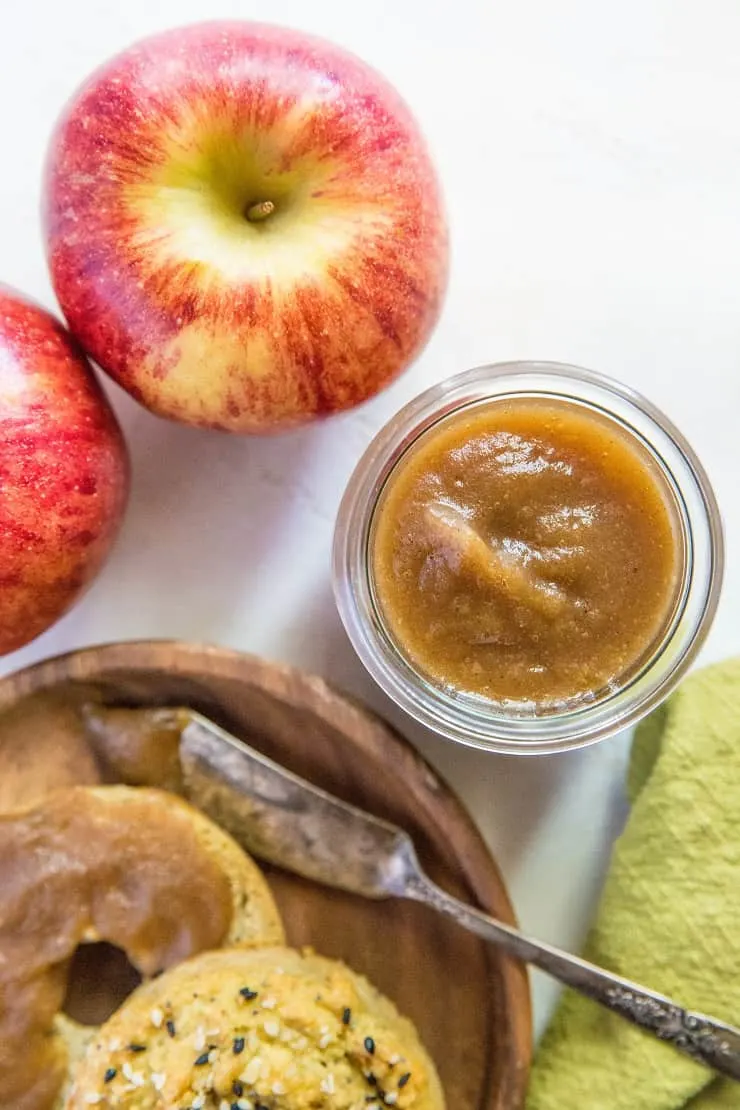 Upon what deliciousness will you smear your apple butter?
My cookbook,
Paleo Power Bowls
, is now available! CLICK HERE to check it out. Thank you for your support!
If you make this Paleo Apple Butter, please feel free to share a photo and tag @The.Roasted.Root on Instagram!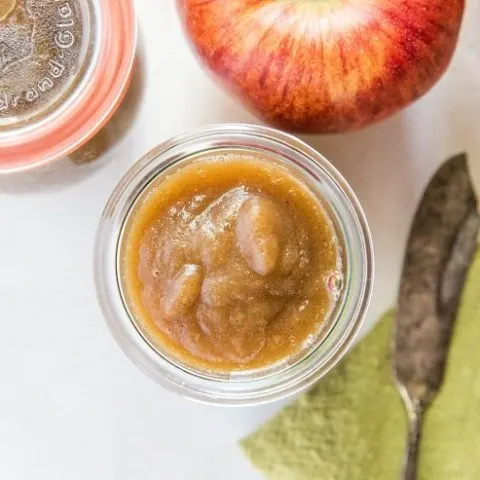 Instant Pot Paleo Apple Butter
Refined sugar-free apple butter made in the pressure cooker
Ingredients
3 lbs apples, peeled, cored, and chopped
1 Tbsp lemon juice
2 Tbsp water
Instructions
Peel, core, and chop the apples. No worries if the chunks aren't all the same size!
Transfer the chopped apples to your Instant Pot, along with the rest of the ingredients. Give everything a big stir until it's well-combined.
Secure the lid on your Instant Pot and press "Manual" or "Pressure Cook." Pressure cook on high for 15 minutes. Position the steam release valve to "Sealing." Once the Instant Pot has run its course, allow the steam to release naturally.
Remove the lid of the Instant Pot. Mash the apples using a potato masher if you prefer chunkier apple butter. For creamier apple butter, use an immersion blender, or transfer everything to a regular blender and blend until smooth.
Transfer the apple butter to sanitized jars and refrigerate until ready to use (or serve immediately!)
Nutrition Information
Yield

12
Serving Size

1 serving
Amount Per Serving
Calories

131
Total Fat

0g
Unsaturated Fat

0g
Carbohydrates

35g
Fiber

3g
Sugar

30g