Learn how to spiralize butternut squash in order to make delicious gluten-free pasta recipes that are packed with nutrients, lower in carbohydrate and are all-around amazing!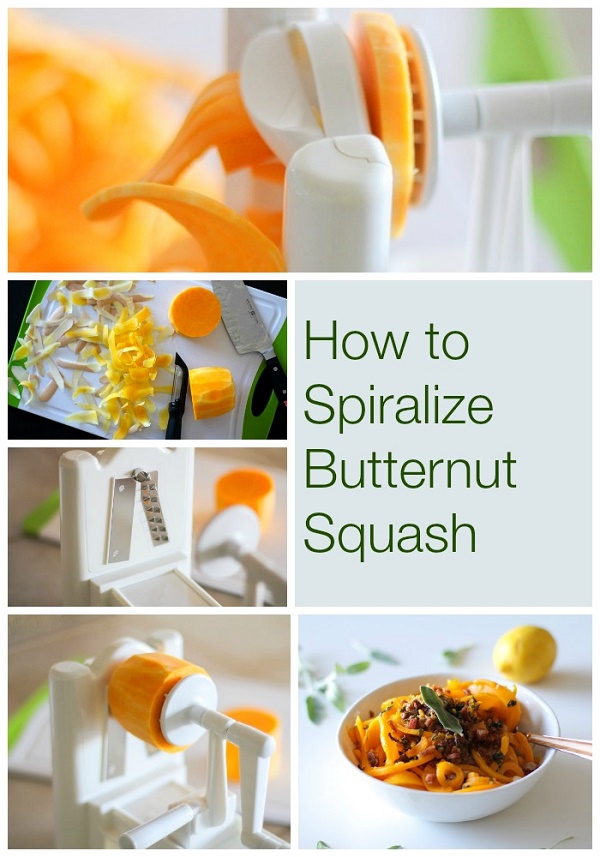 Remember that phase we went through together with our Spirelli? We made this, that, and the other thing out of veggie noodles. For a while there, life was looking like one big bowl of gluten-free vegetable pasta. We may have shared a Lady and the Tramp moment or two.
I've got some news for you…
We have graduated.
I went ahead and purchased the Paderno Spiral Vegetable Slicer, knowing it's more suitable for the larger vegetables.
Upon examining the spiralizer and sizing up my butternut squash, I did a little head scratching. I realized this would be a tough nut to crack <- get it? Nut? Butternut. Buh-dum-ching.
And it dawned on me that if I was giving the butternut the sideways glance, not knowing how or where to start the process, many folks would probably have the same problem.
I figured I'd share a little tutorial on How to Spiralize Butternut Squash so that we can whip up butternut squash noodles to our heart's delight.
How to Spiralize Butternut Squash
First, buy a large butternut squash that is more cylandrical than round…you want the long part to be as long and straight as possible.
Hold your butternut squash lengthwise on a cutting board.
Using a sharp knife, carefully chop the bottom bulbous part off and save it for your future butternut squash needs.
We aren't going to spiralize the rounded end because it contains seeds and funky innards that don't do well for spiralization.
Peel the butternut squash using a julienne peeler or potato peeler. There is another white layer underneath the tough cream colored skin that needs to be peeled too. I simply peeled the squash twice with my potato peeler. This is TEE-DEE-OUS, but it's worth the tedium, I promise!
Now chop the long part in half so that your butternut chunks are about 3 to 4 inches each.
Insert your blade of choice into your spiralizer.
Place one of the butternut chunks firmly in the corer. Make sure your spiralizer is sitting firmly (suctioned) to a flat surface. Crank the lever to spiralize noodles.
Separate the noodles using your hands – it makes the cooking process easier. Once you've noodled the squash, you can make all sorts of gluten-free "pasta" recipes.
How to Cook Butternut Squash Noodles:
Cooking the noodles takes roughly 12 to 15 minutes over medium heat in a skillet.
I've read you can also roast the noodles in the oven by lightly coating them with oil and baking at 400 degrees for 5 to 8 minutes.
And that's it, folks! Let there be noodles! Try out my Butternut Squash and Prosciutto Pasta using your butternut squash noodles!