Grain-free, refined sugar-free pumpkin cheesecake, lightened up using yogurt for a healthier holiday treat.
This post is sponsored by Nancy's Yogurt.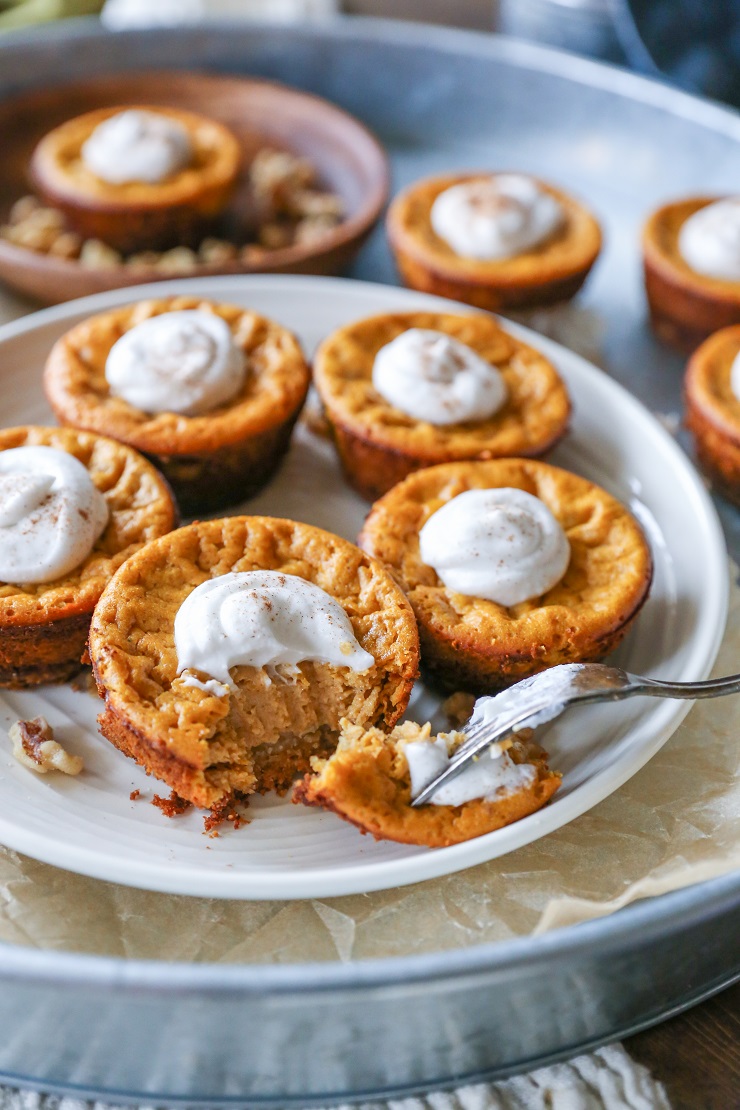 Did I ever tell you the story about my favorite holiday dessert? It's a short one.
Pumpkin cheesecake.
For me, there are few desserts more irresistible than a perfectly sweet, tangy, chilled homemade pumpkin cheesecake. I like my pumpkin treats super cinnamon-y and ginger-y, which is part of the reason I like making them myself at home. I tend to go heavy in the spice department, while keeping the dessert gluten-free (or grain-free) and naturally sweetened. While I absolutely love cheesecakes laden with cream cheese, I always make them with yogurt because the replacement is super easy and the result is a much cleaner treat.
From a flavor standpoint, cheesecake made with yogurt is still nice and tangy, but from a texture standpoint, it comes out airy and less dense. For me, this is a marvelous trade-off, as I love the nice tangy flavor but could do without desserts that are overly rich.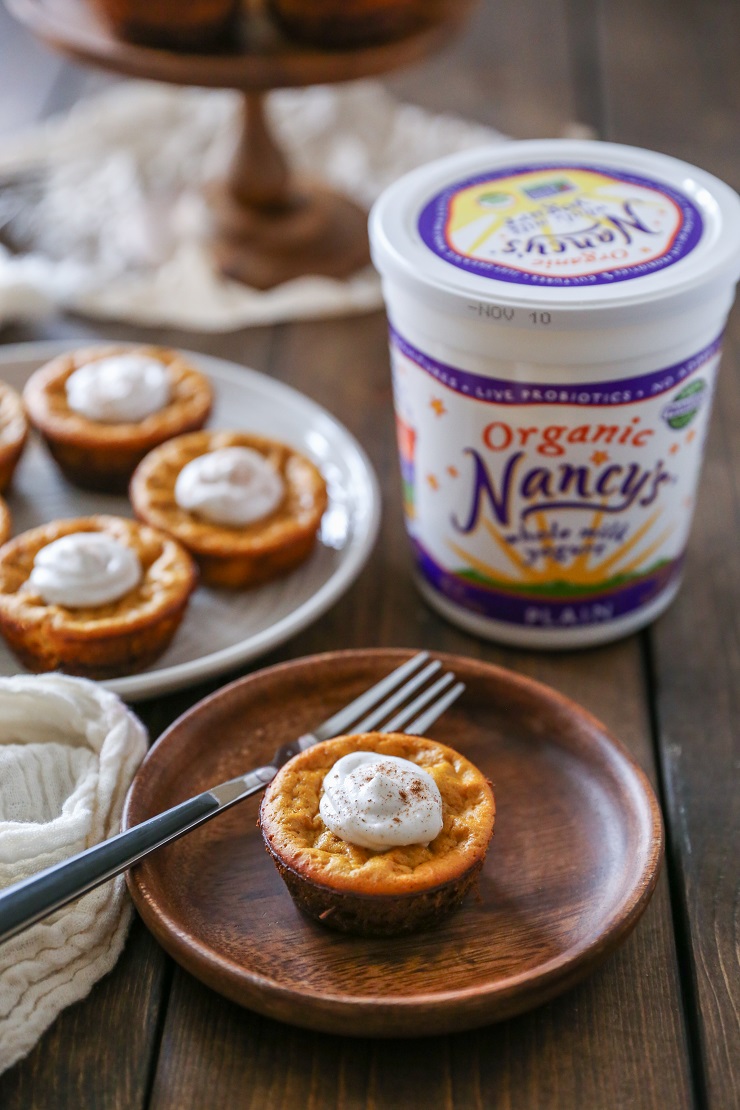 I used Nancy's Whole Milk Yogurt instead of cream cheese, and pure maple syrup in place of sugar to keep this recipe on the healthier end of the dessert spectrum. I've been enjoying Nancy's yogurt for years on end. I love the texture and level of tang, and their whole milk yogurt is my favorite. Bowls of granola, oatmeal, and fruit are usually accompanied by a dollop of plain yogurt for added protein and flavor.
Incorporating yogurt into your holiday recipes (both sweet and savory) is a great way of keeping your dishes low in fat yet still creamy. I use yogurt to replace cream cheese, sour cream, and butter in various dishes. If you remember my Stuffed Sweet Potatoes recipe from last year, I'm all about using yogurt to create that unique flavor to give well-rounded flavor.
Back to these little bites of pumpkin bliss.
The crust is a simple combination of almond flour, coconut oil, and pure maple syrup, and preparing this pumpkin cheesecake is super easy. Simply add the ingredients for the filling to a blender and blend until smooth. Stir together the ingredients for the crust in a bowl and you're ready to go. I use a muffin tray to make individual single-serve portion sizes, but you can also use small tart pans if you have them.
If you're looking for a full-size pumpkin cheesecake, no sweat. You can easily follow the exact recipe below and use an 8 or 9-inch spring form pie pan, rather than making individual cheesecakes. To go this route, line your spring form pan with parchment paper and push the crust into prepared pan, then pour in the filling. The full-sized cheesecake will require more baking time than the individual cheesecakes. Bake for 30 to 40 minutes, or until the center is set up.
Once the cheesecake is out of the oven, allow it to cool before chilling it in the refrigerator. My favorite way of enjoying this dessert is chilled with homemade coconut whipped cream on top. If you love the tang of yogurt, you can also top it with more plain yogurt!
When all's said and done, this dessert is healthy enough to eat for breakfast, yet delicious enough to enjoy as a treat for dessert. You can use honey or agave in place of pure maple syrup. In addition, you can use hazelnut flour, cashew flour, or tigernut flour in place of almond flour for the crust. Feeling some sweet potato goodness? Make these into sweet potato cheesecake rather than pumpkin by using roasted sweet potato! Get creative and choose your own cheesecake adventure!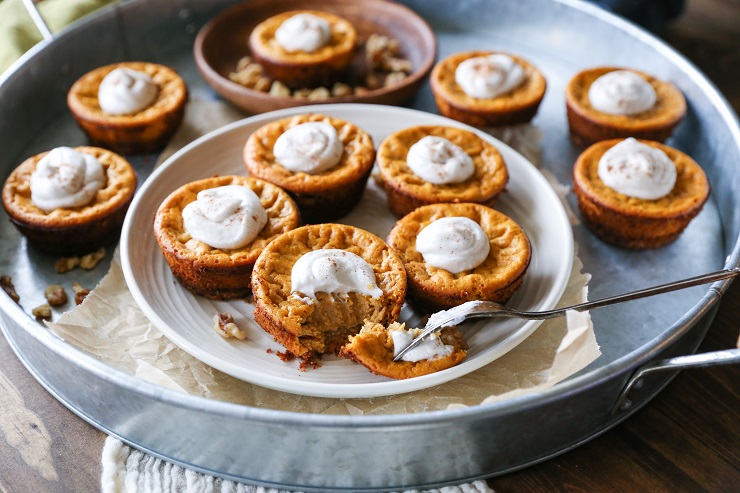 Get after it!
Tools I Used to Prepare This Recipe:
Healthy Pumpkin Cheesecake (Grain-Free)
Pumpkin cheesecake made with yogurt instead of cream cheese! Grain-free and delicious!
Servings:
12
mini cheesecakes
Ingredients
For The Maple Pumpkin Cheesecake Filling:
Instructions
Prepare the Crust:
Add all of the ingredients for the crust to a mixing bowl and stir to combine. The crust mixture will be crumbly.
Prepare the Pumpkin Cheesecake Filling:
Add all of the ingredients for the filling to a blender and blend just until combined.
Prepare the Pumpkin Cheesecake:
Preheat the oven to 350 degrees F and lightly oil or spray a 12-hole muffin tray (Note: you can also use an 8-inch spring form pie pan to make a full-size pumpkin cheesecake).

Press 2 to 3 tablespoons of the crust mixture firmly into each hole of the muffin tray - there is plenty of crust mixture, so feel free to go liberal here.

Pour the filling mixture into the holes, filling them all the way up.

Bake on the center rack of the oven for 35 to 40 minutes, until the centers of the cheesecakes are firm.

Remove from the oven and allow cheesecake to cool for 30 minutes. Place tray in the refrigerator and chill until completely cold. When ready to serve, run a small knife along the edge of each cheesecake to pop them out of the tray.

Serve with homemade coconut whipped cream and enjoy!
Nutrition