Green Bean Salad with Walnuts, Feta, and Lemon-mint Dressing. Perfect for all your summer Barbecues.
I feel like I can't stop showing you salad.  Every other day, you're like, "oooooooooh, anooooooother salaaaaaaaad….didn't expect that one coming. NOT!" And I'm like, "look, I'm real sorry."
Except that's a viciously insincere lie.
Because:
a.) This'll get you a standing invitation to all the summer barbecues. You'll be the cool guy or gal with that amazing green bean salad with all the je ne sais quois all up in it.
b.) It does a body good. Just looking out for your health and well being, my babies. Except, by that, I mean I'm looking out for my own health and well being. Because it's summer, and bikinis've got to get wore'd.
c.) It's hard to be sorry about anything when I'm sipping on boozy bevs next to the beautimous ocean in the exotic land of the Dominican Republic. < – Okay, I do apologize for that.
By the way, do you like my new outfit?
In case you hadn't noticed, my lovely site designer, Shay Bocks, made some changes to my blog.  Here are the new attractions:
New slideshow: You can see my five most recent posts up close and personal instead of having to scroooooooooooll alllllllllllllllll the waaaaaaaaaaaaaaaay doooooooooooooown.
Thumbnails of my recent posts underneath the slideshow so that, again, you don't have to scroll as much to see what's been happening here.
A second navigation bar underneath my header. You should click on it. Winky face.
My site is now mobile optimized! This means you can read The Roasted Root on your iPhone or tablet-y gizmo much easier than you could before. You can take me anywhere, yessiree Billy Bob Thornton.
Ready for some green bean salad to enjoy while you read these words in the most mobile optimized of ways? Let's do the bean thing.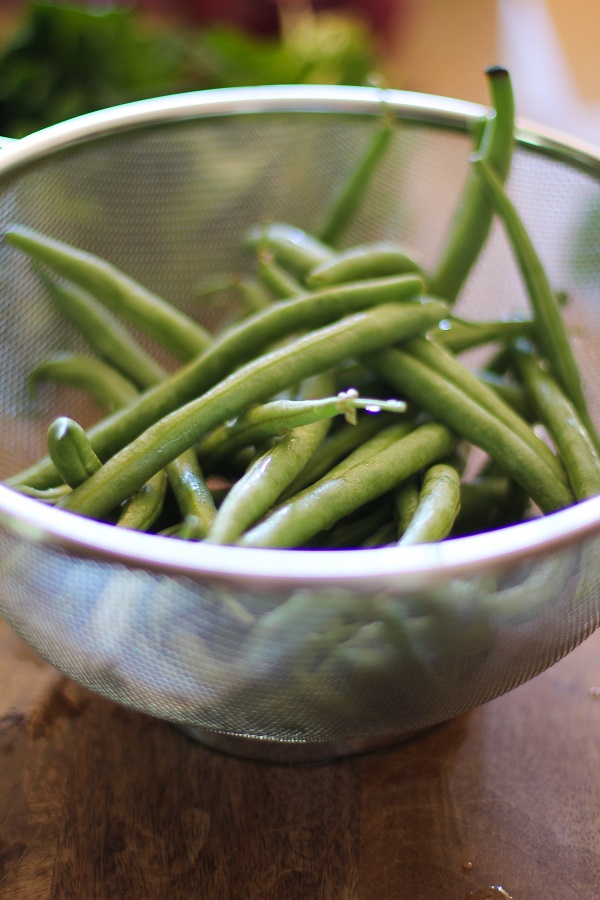 During a scroll through pinterest, I saw this Green Bean, Walnut, & Feta Salad from The Kitchen is My Playground. I was immediately drawn to it like a moth to a bug zapper. It took me all of about 5 minutes to hop in my car to go fetch the ingredients.
I changed up the dressing recipe slightly from the original and made a little extra to have on hand for my other salad-ing needs (which are fierce…but you already knew that). The salad is everything you could possibly want out of green beans. It's zesty, tangy, crunchy, and all you want to do is just.keep.eating.it.
If you've never blanched a single thing in your life, have no fear. It's super easy, and once you go blanch, you'll never go back. Right? Right.
All you do is FLASH cook the green beans in boiling water,
transfer them to an ice bath, and let them chill. Literally…they chill right there in that water. You drain and strain and toss the salad and that's all it takes to make them dreams happen.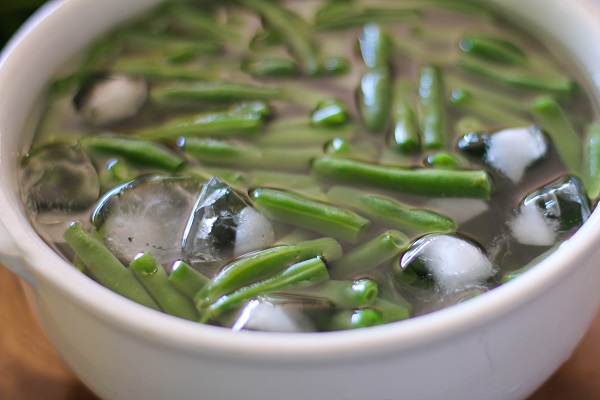 The lemon-mint dressing. Make extra.  Call in for reinforcemets. I gave you a recipe large enough for the green bean salad and then some, because you really need to eat this dressing on everything.
I use my Magic
Bullet to make all of my salad dressings because the small little pod keeps the dressing contained and prevents it from splattering all over the inside of the blender. No one likes blender splatter. The ingredients just get whirled up for a few seconds, and out comes good vibrations.
You take this green bean salad with you wherever you go, ya hear?
Blanch it like you stole it.
Green Bean Salad with Walnuts and Feta
Print
Ingredients
1-1/2

pounds

green beans

trimmed and cut into 1.5" pieces

1

cup

raw walnuts

chopped

2/3

cup

feta cheese

crumbled

2/3

cup

red onion

chopped
Lemon-Mint Vinaigrette
1

cup

grapeseed or olive oil

½

cup

apple cider vinegar

¼

cup

fresh lemon juice

1

lemon

zested

½

cup

fresh mint leaves

roughly chopped

4

cloves

garlic

minced

¼

teaspoon

kosher salt

or to taste
Instructions
To prepare the lemon-mint dressing:
Add the salad dressing ingredients to a

small blender

and blend until smooth.

Keep sealed in the refrigerator for up to 10 days.
To prepare the Walnut Salad:
Bring a large pot of water to a boil and add the chopped green beans. Cook for 2 to 3 minutes, but no longer.

Immediately transfer the green beans to an ice bath in order to stop the cooking. Once cooled, strain the beans into a colander and pat dry.

Add the blanched green beans, walnuts, feta, and red onion to a large serving bowl. Mix in desired amount of lemon-mint dressing and add salt to taste.

Serve alongside your favorite entrée.