Grain-free strawberry shortcake with coconut milk whipped cream and fresh strawberries. This Paleo shortcake recipe is perfect for sharing with friends and family as a healthy dessert.
Can we even come close to topping the scrumtrulescence that is grain-free strawberry shortcake?? You've got the fluffy cake, the sweet tangy berries, and the sweet whipped cream all mooshed into a flavor meld that just melts on your tongue buds like mmmmhmmmm.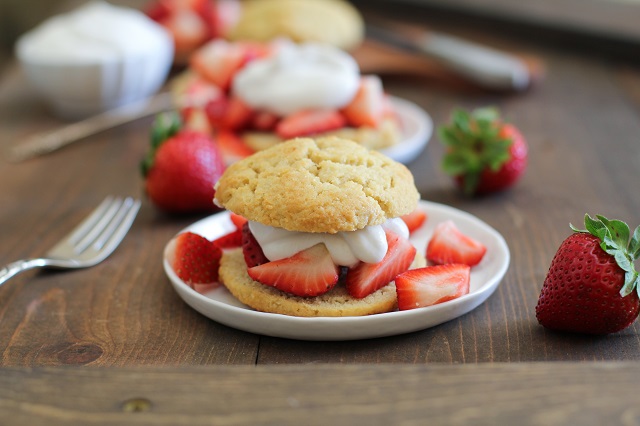 To assemble this easy peasy lemon squeezy recipe, you start by baking up a batch of those Grain-Free Biscuits I showed you a while back. They're made with almond flour and coconut oil for a paleo-friendly bread-like/cake-like apparatus that can be used for butter slathering, breakfast sandwiching, or, as it turns out, strawberry shortcake-ing . Yes, they're called biscuits by name, but they don't turn out dry or crumbly the way regular biscuits do. They're moist and have the slightest sweetness to them…perfect for the dessert-ifying. Plus, when you get them all sogged out with the strawberries and whipped cream, that's where all the fun begins.
You also go ahead and make coconut whipped cream (or regular whipped cream if you're into that kind of thing), and simply chop up some fresh ripe strawberries. Plate everything up and you're looking at a winning dessert for any occasion. Healthy enough for breakfast, people!
As you can see, I like making little burgler shortcakes out of my ingredients…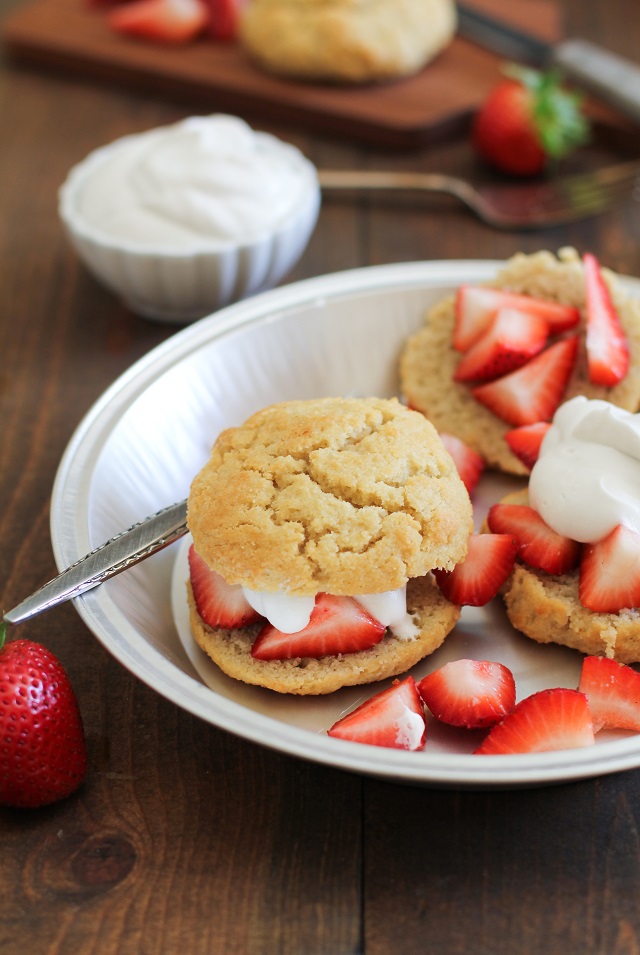 Wanna know a little trickerooski my mom taught me? She chops her strawberries ahead of time, puts them in a bowl with a sprinkle of sugar, and allows them to sit overnight so that all the natural juices and sweetness come out and you're left with a softer, juicier berry. You can try this method or also roast or grill the strawberries. Whatever's your bag, baby. Any of the componentry for these shortcakes can be made ahead of time so that when it comes time to serve them, they're already ready already. Love.it.
OOH! If you want to be Snazzy McSnazzalot, you can grill up the biscuits for a little char-grill action. Strawberry shortcake skewers? Those would be booooomb! If you need a little extra sweetness, you can do a little drizzle of honey or even make some sort of crazy sweet balsamic reduction contraption. I mean, there really is no end to the options.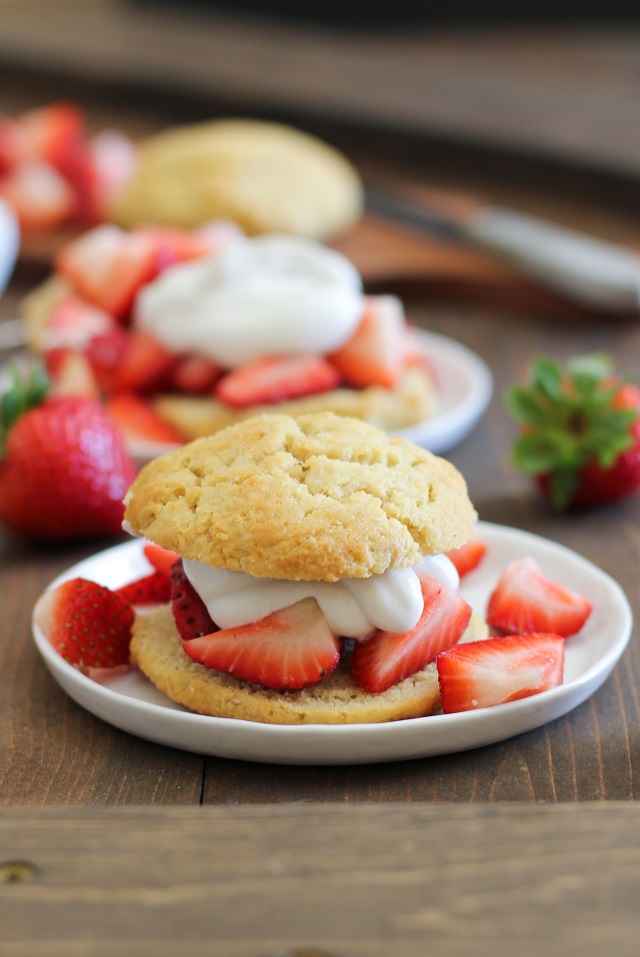 Let's recap. These strawberry shortcakes are…grain-free, refined sugar-free, dairy-free, animal-free (vegan), get out of jail free card status, man bait, super healthy, mmm mmm good, better than sexola, okay maybe not better than sexola, but pretty damn bangarang, make them for the fourth of JU-ly, slash your Downton Abbey tea party, slash your hipster brunch, slash your hippy friend's wedding, all the barbecues and picnics for crying out loud.
Paleo, people.
And if you're really feeling festive…
BOOM! Patriotism.
…these make an excellent red white and blue dessert for Independence Day.
Sugah, yes please!
Grain-Free Strawberry Shortcake with Coconut Whipped Cream (Paleo)
Grain-Free Strawberry Shortcake with Coconut Whipped Cream are a fresh, flavorful paleo dessert!
Ingredients
16

ounces

ripe strawberries

stems removed and chopped

1

batch Coconut Whipped Cream

1

cup

fresh blueberries

optional
Instructions
Prepare the grain-free biscuits and the coconut whipped cream according to instructions.

Wash the strawberries and pat them dry. Chop off the stems, then chop the strawberries into small chunks.

Assemble the strawberry shortcakes by slicing the biscuits in half and serving them with desired amount of strawberries and coconut whipped cream.
Nutrition