Grain-free waffles made with hazelnut flour, almond milk, and coconut oil. These paleo waffles are perfect for weekend breakfasts!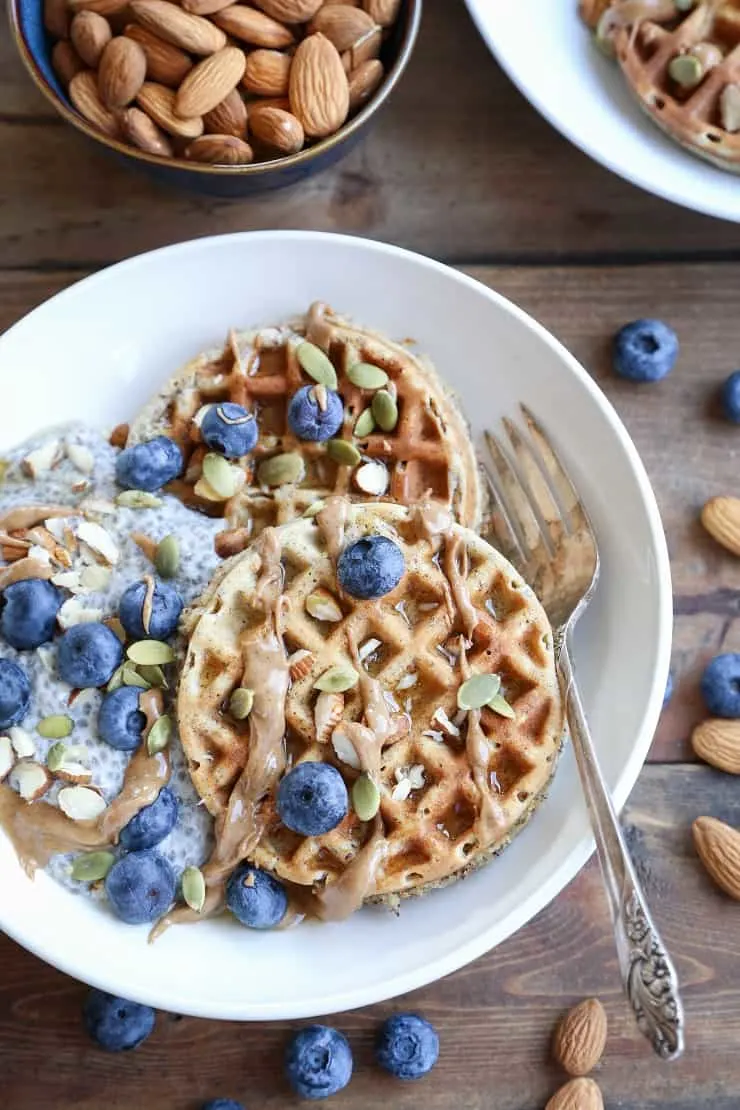 In my Good Digestion Smoothie post, I informed you I was about to embark on a 3-day juice cleanse, and I thought I'd take a second to give you a quick recap before I dive into the deliciousness that is these waffles. It was intended to be a 3 day cleanse, but I ended up modifying it after a day and a half by adding back clean restricted (grain-free, dairy-free, sugar-free, animal protein-free) meals. In essence, the cleanse was too much, too fast.
The simple addition of clean food has made it so much more bearable, and even very enjoyable! My digestive system feels ironclad and amazing, I have more energy, and overall, my mind, body, and spirit is soaring. For me, the cleanse was a lesson that fasting to that extent doesn't bode well with me (I got a migrane and heartburn and was having difficulty making simple decisions), but staying consistent on my whole food adventure does.
I chose to do the cleanse in the first place because my eating habits have been a little off track the last couple of months, and my digestive system has suffered as a result. I'm a "healthy" eater in general, but every once in awhile, I let the floodgates open just a hair by consuming too much dairy, alcohol, and/or sugar (I generally have no issue avoiding gluten), and before I know it, my body and mind get off kilter. It can be hard to "get back on track" so to speak, so the cleanse was intended on being a quick re-set.
And it has been! While an all-out juice cleanse is not my jam, It certainly was the catalyst to reacquainting myself with my regular eating habits. It was a great reminder that sticking to the foods your body loves is important for your personal health (and sanity)…it's definitely fine for me to stray from time to time, but remaining mindful about my food decisions is key in feeling well. The reason I bring this up is these days, I know more people with food intolerances than people with zero intolerances, so my guess is you can relate, or you know someone who can. All's I can say is discovering a lifestyle that works well for you is such a beautiful process!
Bowl of waffles, anyone?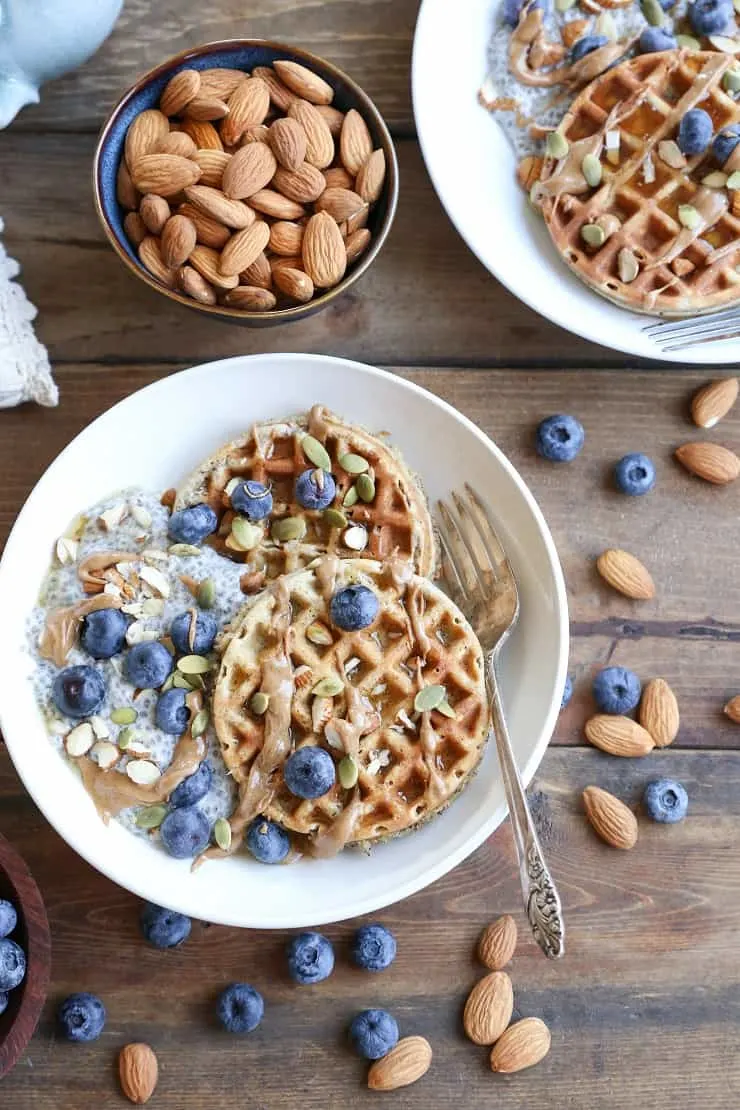 It was only a matter of time before I showed you how I truly eat my waffles: via bowl. I mean let's face it: I legit eat everything out of a bowl.
This recipe is one I've made time and again, and both the boyfriend and I are mega fans. It's basically identical to the Grain-Free Almond Flour Waffles I posted a couple months ago, subbing out hazelnut flour for the almond flour (how's that for lazy recipe development, eh? 😉 It takes every ounce of my self-control to not get inappropriate with these waffles…although they're super clean, my stomach can get a little upset when I consume too many nuts. Who can resist a good waffle or 6??
I had some leftover chia seed pudding in my refrigerator from the Blackberry Smoothie Chia Seed Pudding Parfaits, so I thought it'd be real neat to pair the waffles with it. I absolutely love the combination of the chia seed pudding and waffles! The hot, crispy, sweet waffles with the creamy chia seed pudding makes for a beautiful dining experience. I also love the addition of blueberries, chopped raw almonds, pumpkin seeds, and a drizzle of almond butter and honey.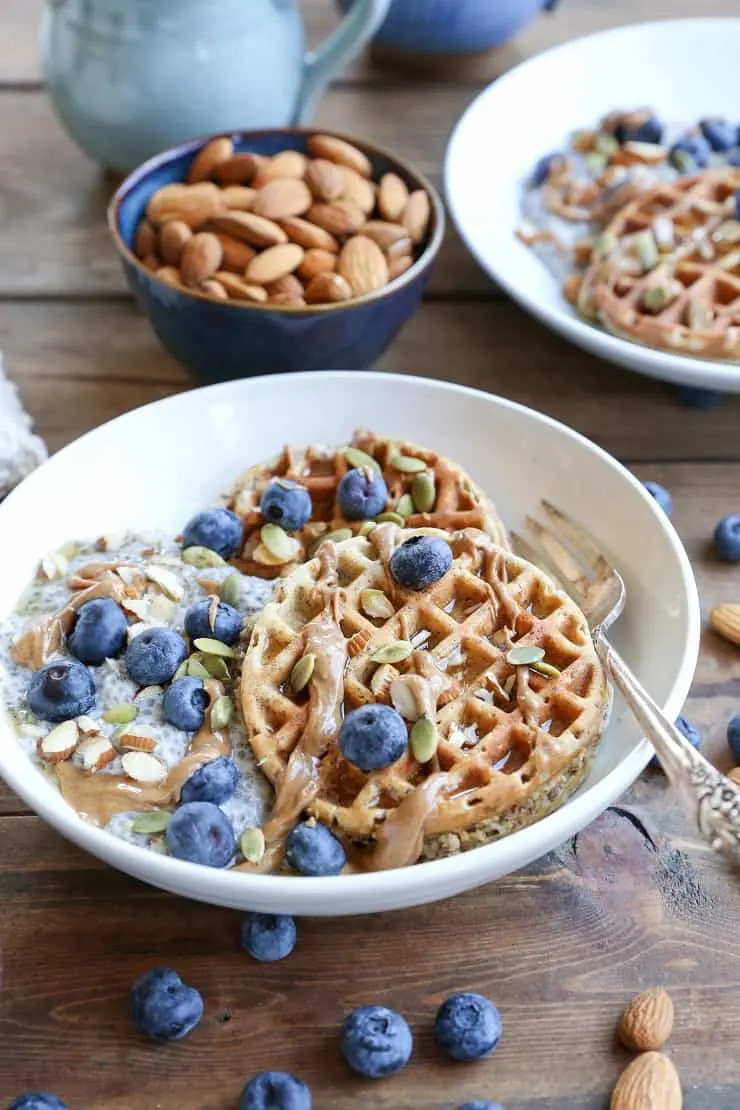 These waffles freeze amazingly well. If you end up with leftovers, simply store them in a zip lock bag and put them in the toaster to reheat them. You can get all sorts of crazy with the toppings, using any fresh seasonal fruit, nuts, seeds, nut butters, and/or natural liquid sweeteners. If you really want to go wild, you can add cocoa powder or instant espresso to the batter to change up the flavor.
Enjoy your waffles for breakfast this weekend!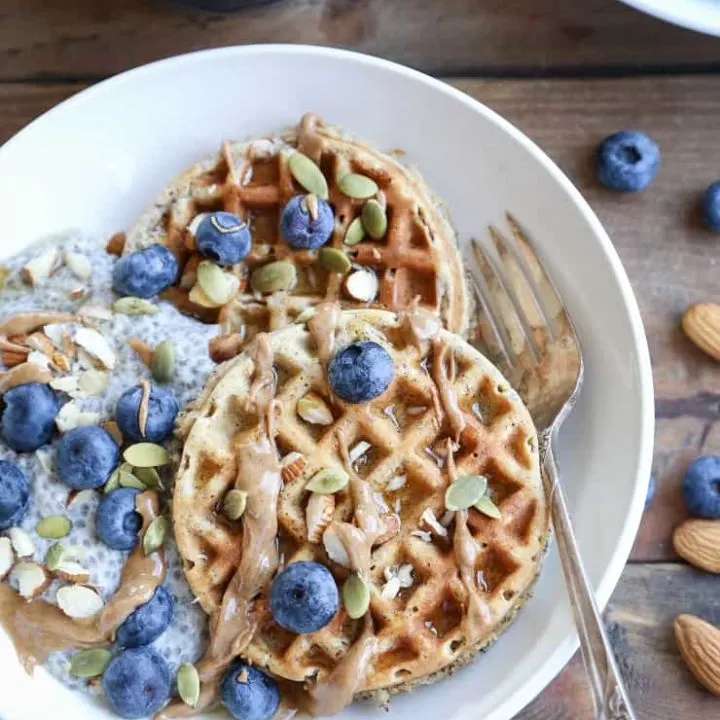 Grain-Free Hazelnut Flour Waffles
Yield:
3 large or 6 small waffles
Paleo Waffles made with hazelnut flour or almond flour are nearly indistinguishable from classic waffles! Load them up with your favorite toppings!
Ingredients
3 large eggs
1/3 cup unsweetened almond milk
1/4 teaspoon baking soda
Instructions
Add the ingredients for the waffles to a blender and blend until smooth. Plug in your waffle iron (I used a mini waffle iron) and lightly spray with cooking oil.
Once the waffle iron is hot, pour batter in the center and cover with the lid. Allow waffles to cook a little longer past the green light of the waffle iron, about 2 minutes (to 5 minutes for crunchy waffles). Repeat for remaining batter.
Serve waffles with chia seed pudding, almond butter, honey, raw nuts and seeds, and fresh fruit.
Nutrition Information
Yield

3
Serving Size

1 g
Amount Per Serving
Unsaturated Fat

0g