Moist, fudgy Flourless Zucchini Brownies made with nine basic wholesome ingredients featuring hidden veggies! This healthier brownie recipe features a generous amount of chocolate for a decadent treat!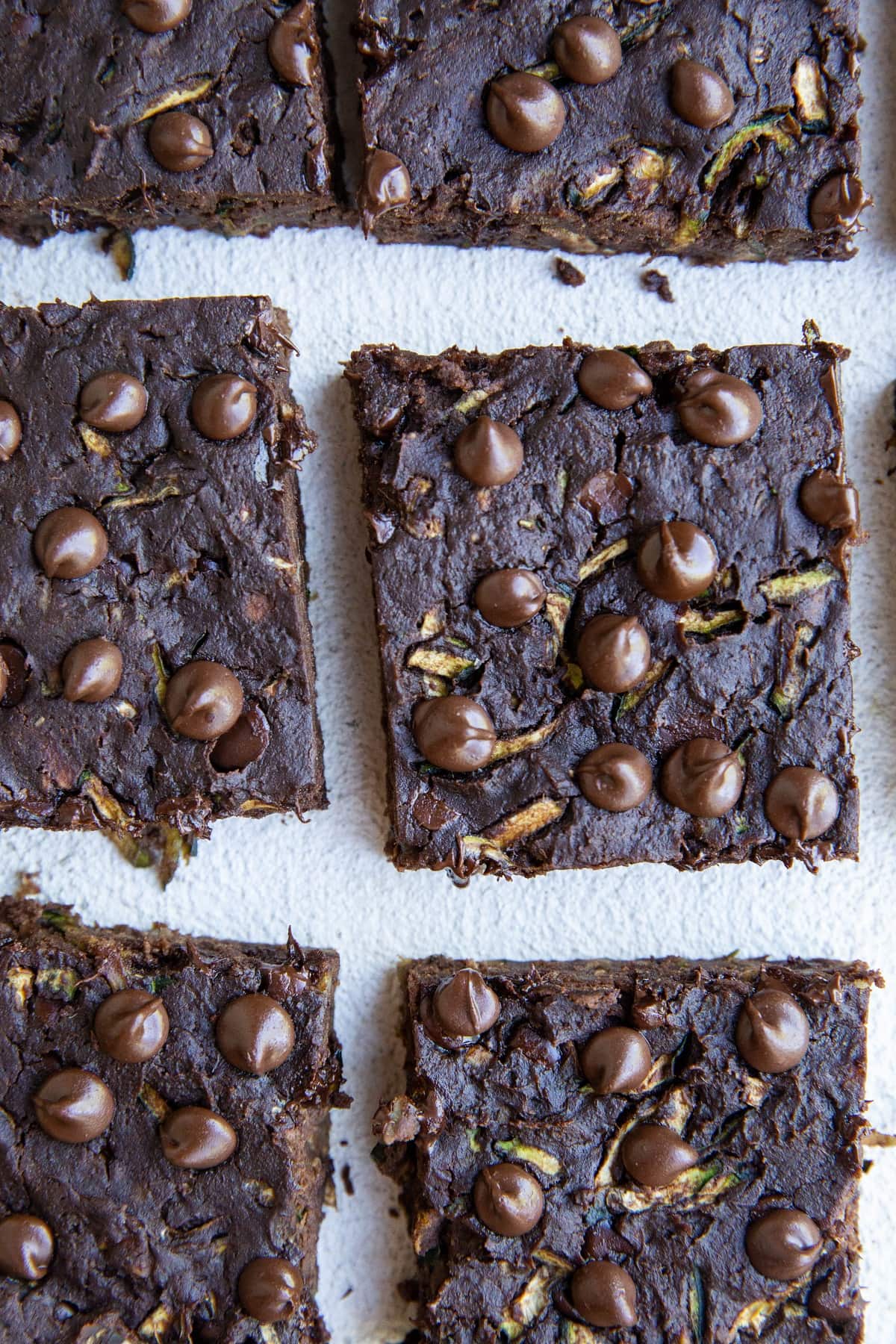 If you love fudge brownies and can dig the idea of hiding some veggies in your treats, these wholesome flourless zucchini brownies are for you!
​They are the best brownies for my fellow clean eating fanatics who both honor their sweet tooth and keep ingredients relatively healthy.
Similar to my Healthy Sweet Potato Brownies recipe, this recipe for zucchini brownies uses cooked mashed sweet potato for the bulk of the volume.
Sweet potato brings natural sweetness and takes the place of both flour and butter in a traditional brownie recipe.
The key to making these brownies flourless is using mashed cooked sweet potato, almond butter, and egg.
This combination is what replaces the all-purpose flour. You can see the Recipe Adaptations section below for alternatives to the sweet potato and almond butter.
If you're a texture person, there is a bit of texture from the zucchini here. I personally enjoy the texture because the vibe is similar to chopped nuts in brownies; however, if you aren't into texture, this may not be the brownie recipe for you.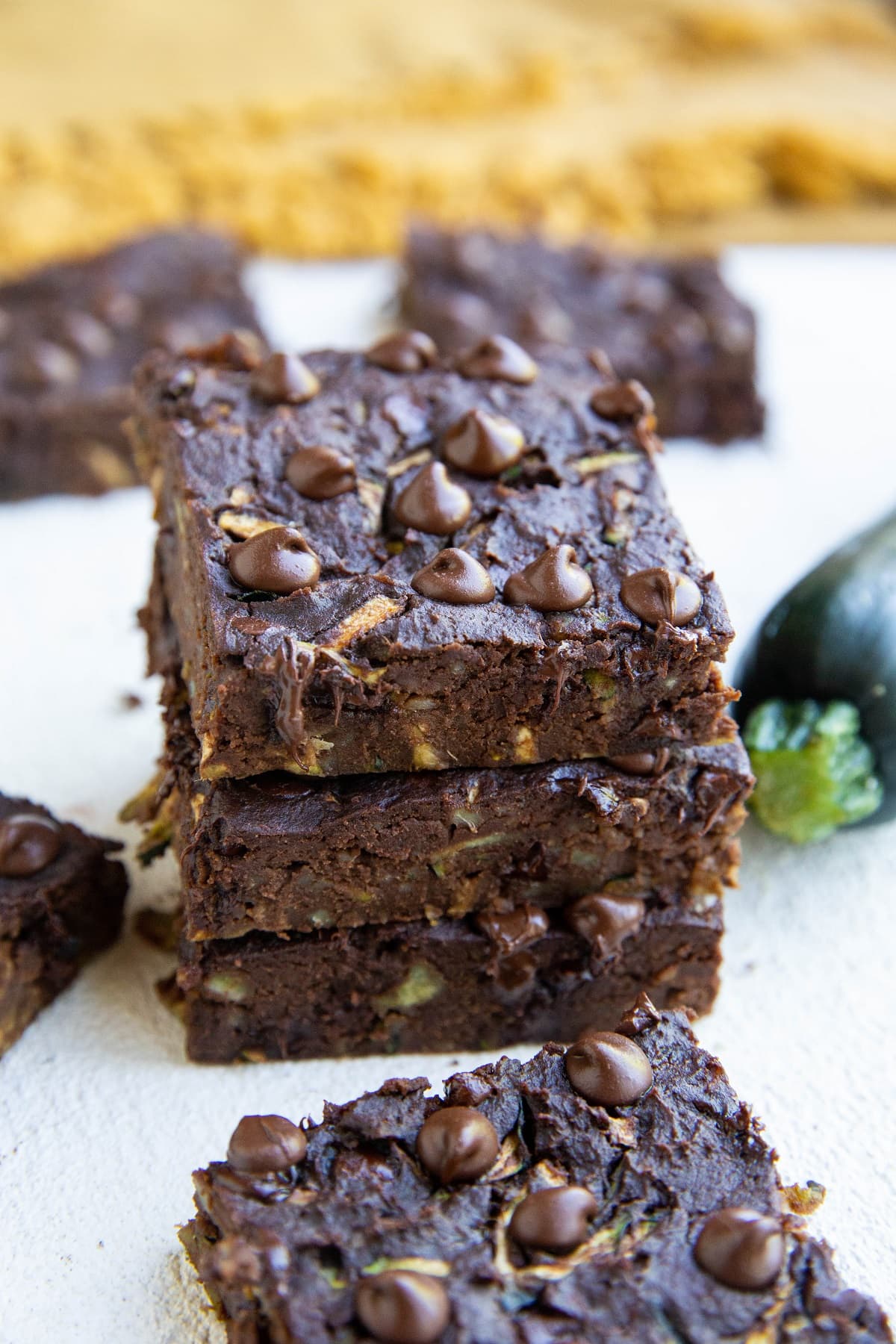 Let's discuss the simple ingredients for healthy zucchini brownies.
Ingredients for Flourless Zucchini Brownies:
Sweet Potato: We cook up one medium-sized sweet potato, then mash it up to create the majority of the base of these healthy brownies. The mashed sweet potato provides natural sweetness, moisture, soft texture, and takes the place of regular flour.
Unsweetened Almond Butter: Creamy almond butter adds a little fat and some silky texture to the brownies.
We don't need a huge amount since the mashed sweet potato is doing much of the heavy lifting here.
You can also use peanut butter, sunflower seed butter, cashew butter, or any nut or seed butter you like.
Egg: One large egg helps bring all of the ingredients together. If you're looking for a vegan option, make one flax egg by combining one tablespoon of ground flax seed with three tablespoons of water.
Pure Maple Syrup: To keep the brownies refined sugar-free, we use pure maple syrup to sweeten this chocolate dessert. The pure maple syrup also acts as a liquid to bring moisture to the brownies without the need for a lot of excess oil.
Avocado Oil: A touch of avocado oil yields that decadent consistency for luscious texture. We only need a little!
Vanilla Extract: Pure vanilla extract adds warm flavor to the brownies to give them balance.
Cocoa Powder: Unsweetened cocoa powder brings the majority of the chocolate richness to the brownies. Raw cacao powder and Dutch process cocoa powder work too.
I typically use raw cacao powder because I love how creamy the flavor turns out, as it isn't as bitter as regular cocoa powder.
Sea Salt: A pinch of sea salt levels up all of the sweetness and rich chocolate flavor in this healthy brownie recipe.
Chocolate Chips: A generous amount of chocolate chips is what gives that fudgy taste and texture to the brownies.
You can scale the amount up or down to your heart's delight. I use semi-sweet chocolate chips, but sugar-free chocolate chips, dark chocolate chips, chocolate chunks, or even white chocolate chips work great.
Zucchini: We grate up one zucchini squash to add to these nutrient-dense brownies. As I mentioned above, you do get some texture from the zucchini so if you prefer a smoother texture in the brownies, be sure to finely grate the zucchini rather than using a regular box grater.
You can do this by using the fine side of the box grater or pulsing the zucchini in a food processor. There's no need to drain the excess moisture from the zucchini ahead of time, as it is a main source of moisture.
Optional Additions:
If you love nutty brownies, add ½ to ¾ cup of chopped walnuts or pecans.
Love dried fruit? Feel free to add ½ cup of dried blueberries, raisins or dried cranberries. Goji berries are great too.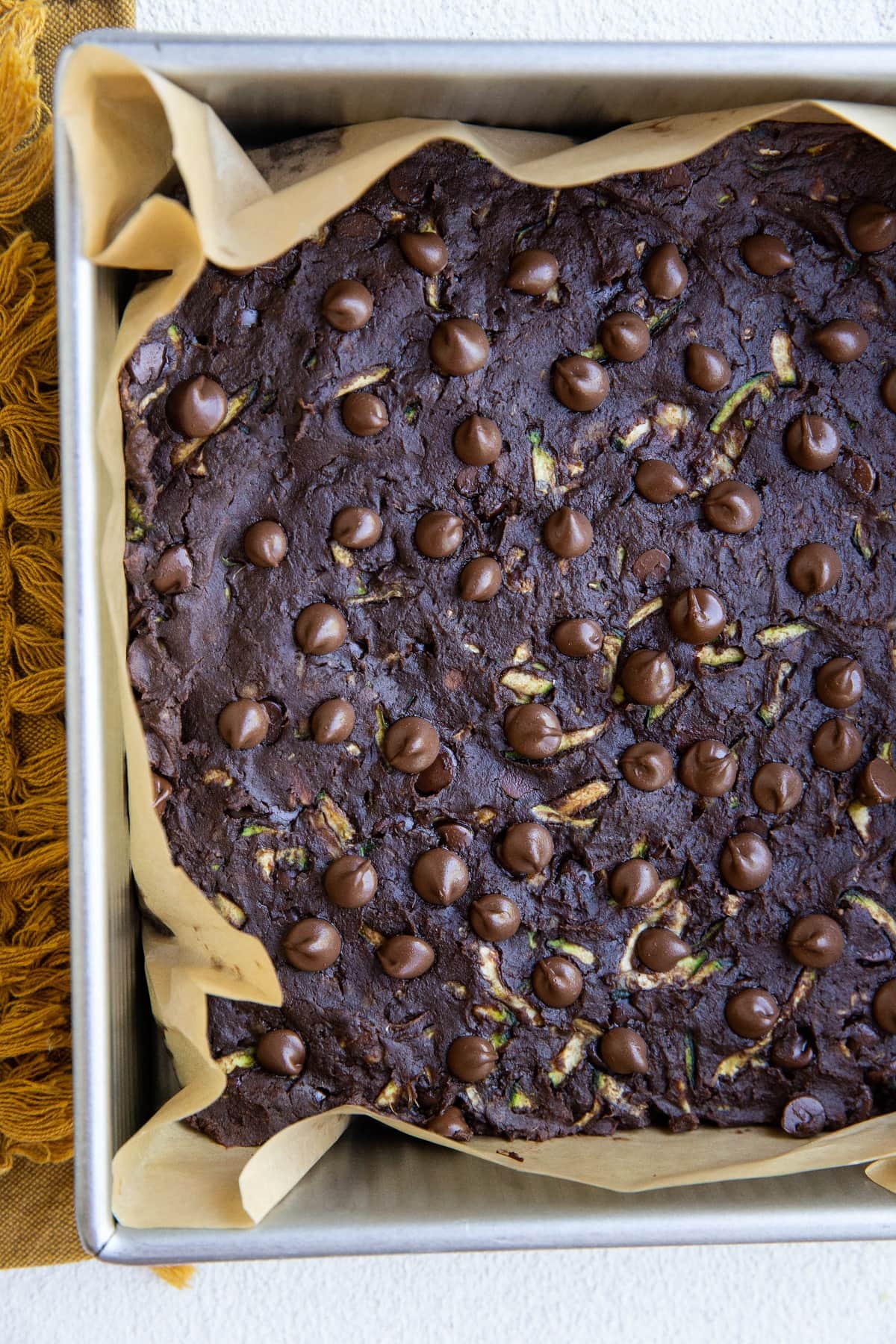 Because this healthy zucchini brownie recipe is designed to be fudgy, we don't need a leavening agent to achieve the right consistency.
Recipe Adaptations:
Replace mashed sweet potato with mashed banana. The brownies will taste like bananas so you need to like the flavor of banana to go this route. I've made this version many times and absolutely adore it.
Use your favorite nut butter – peanut butter and cashew butter work great!
For sweeter brownies, add 3 tablespoons of coconut sugar and use semi-sweet chocolate chips, milk chocolate chips, or a chopped dark chocolate bar.
Make vegan brownies by replacing the egg with one "flax egg" (1 tbsp ground flax seed + 3 tbsp water, mixed together in a small bowl and sit for 15 minutes to thicken).
Add 1/3 cup to 2/3 cup of chopped nuts and/or dried fruit.
Swap out the avocado oil for melted coconut oil, vegetable oil, or 3 tablespoons of melted butter.
If you love chocolate frosting on top of brownies, feel free to whip up a batch.
Now that we have the simple ingredients and some potential customizations down, let's bake these fudgy dark chocolate zucchini brownies.
How to Make Flourless Zucchini Brownies:
Cook the sweet potato using your desired method. My two favorite methods are chopping and boiling the potato or microwaving the potato.
To boil the potato, transfer the chopped sweet potato to a saucepan or pot and fill it with water. Bring the pot to a full boil and cook for 15 to 20 minutes, or until the chunks of potato are very soft.
To microwave the potato, wrap it in a paper towel, then saturate the paper towel with water. Place the wrapped sweet potato on a plate and microwave for 5 minutes. Flip the potato over and microwave for another 5 to 7 minutes, or until it is very soft.
Allow the sweet potato to cool before handling it. Once the potato has cooled and is at room temperature, mash the sweet potato and measure out ⅔ cup of mashed sweet potato in a large bowl.
Note: you can cook the sweet potato up to 5 days ahead of time if you prefer preparing recipes in parts.
Preheat the oven to 350 degrees Fahrenheit and line a 8" x 8" baking pan with parchment paper (or spray it with cooking oil).
Transfer the pure maple syrup, egg, avocado oil, and vanilla extract (wet ingredients) to the large mixing bowl with the mashed sweet potato.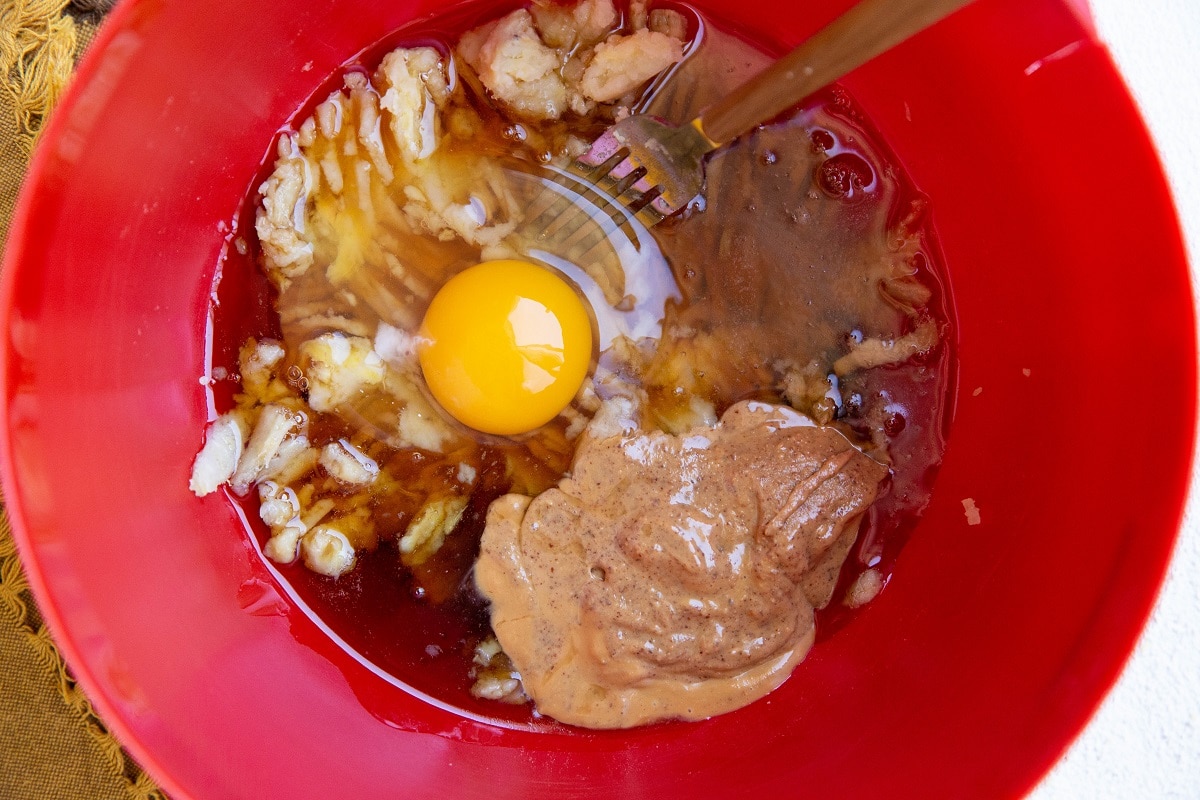 Mix everything together until well-combined and a thick sticky substance forms. You can use an electric mixer if you have one, which will ensure everything mixes completely.
Add in the cocoa powder and sea salt (dry ingredients) and mix well. The batter will be very thick.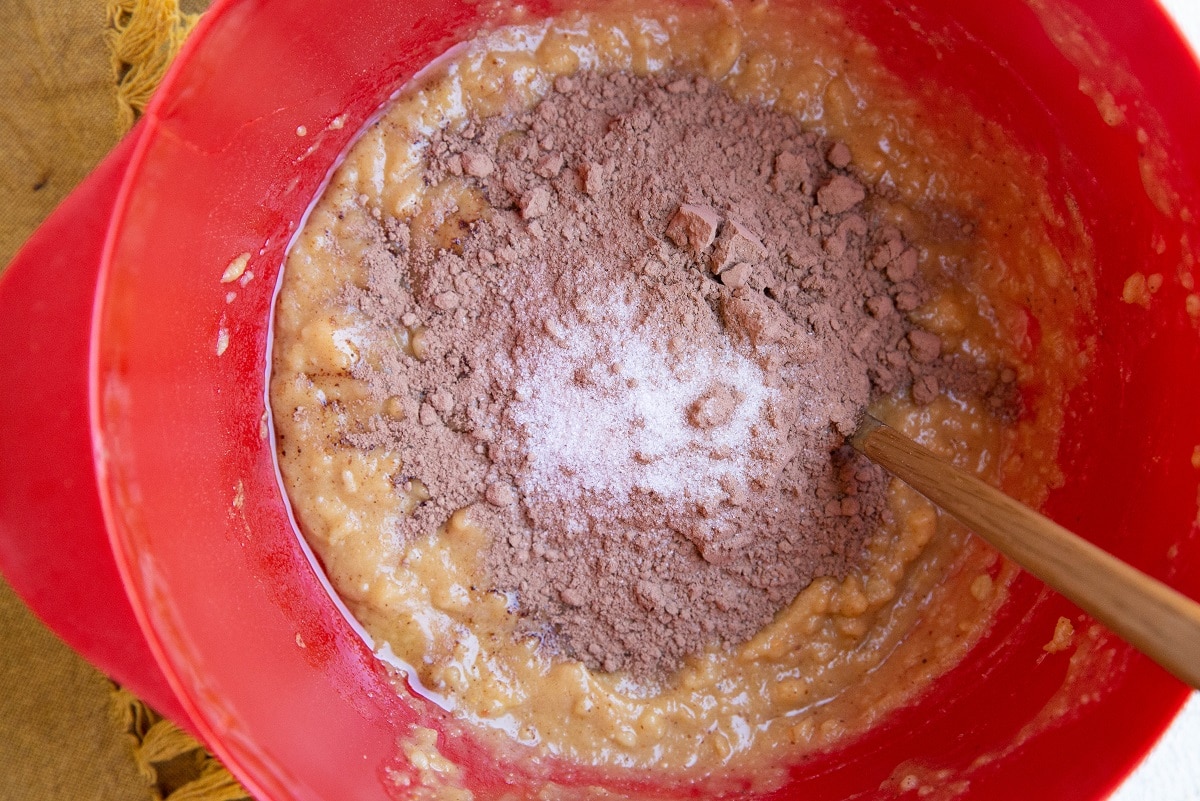 Stir in the chocolate chips, followed by the grated zucchini until the chocolate chips and zucchini shreds are well-distributed throughout the brownies.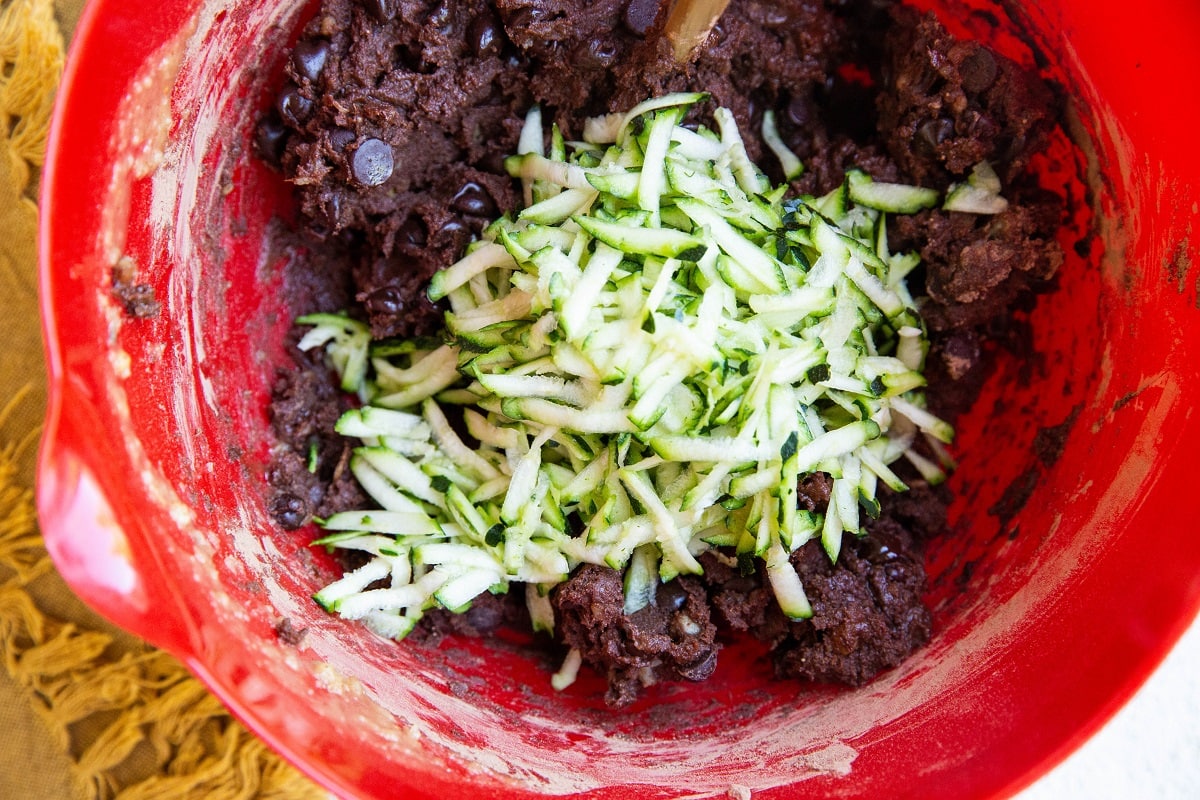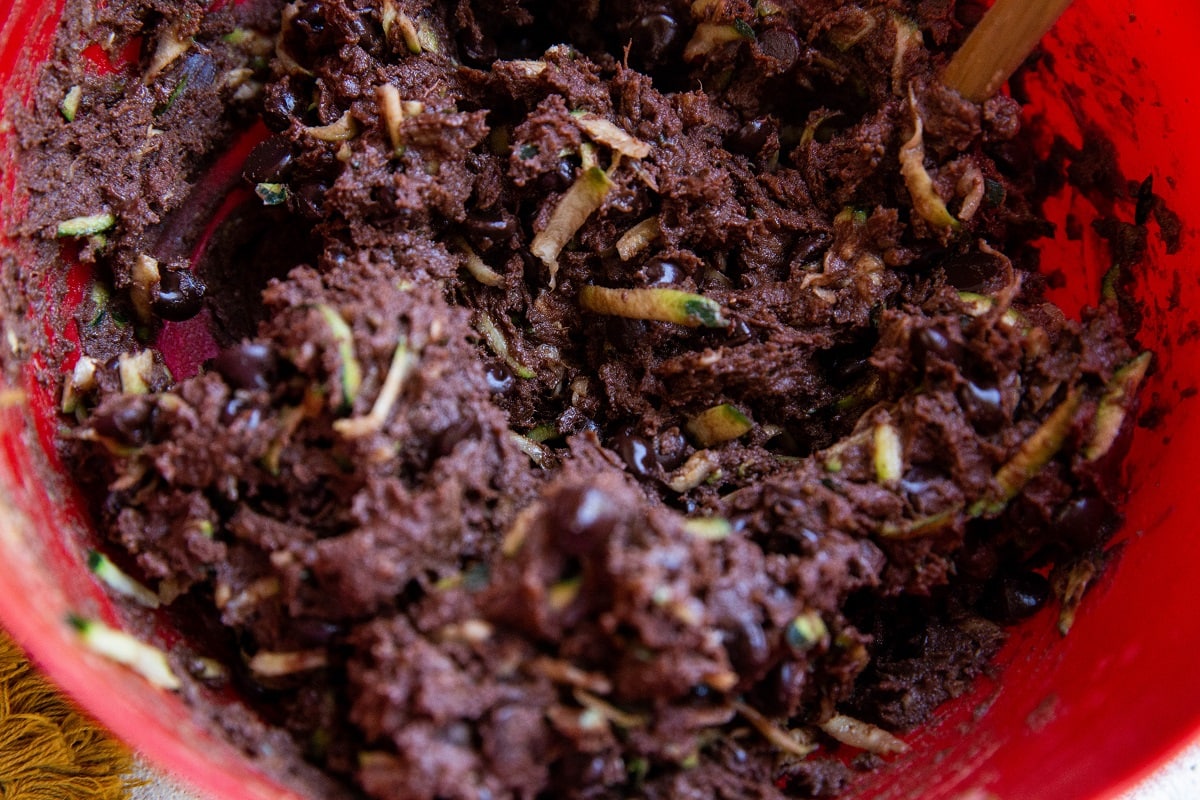 Transfer the brownie batter to the prepared pan and spread it into an even layer. I use a rubber spatula for this because the batter is very thick. If desired, top the brownie batter with extra chocolate chips.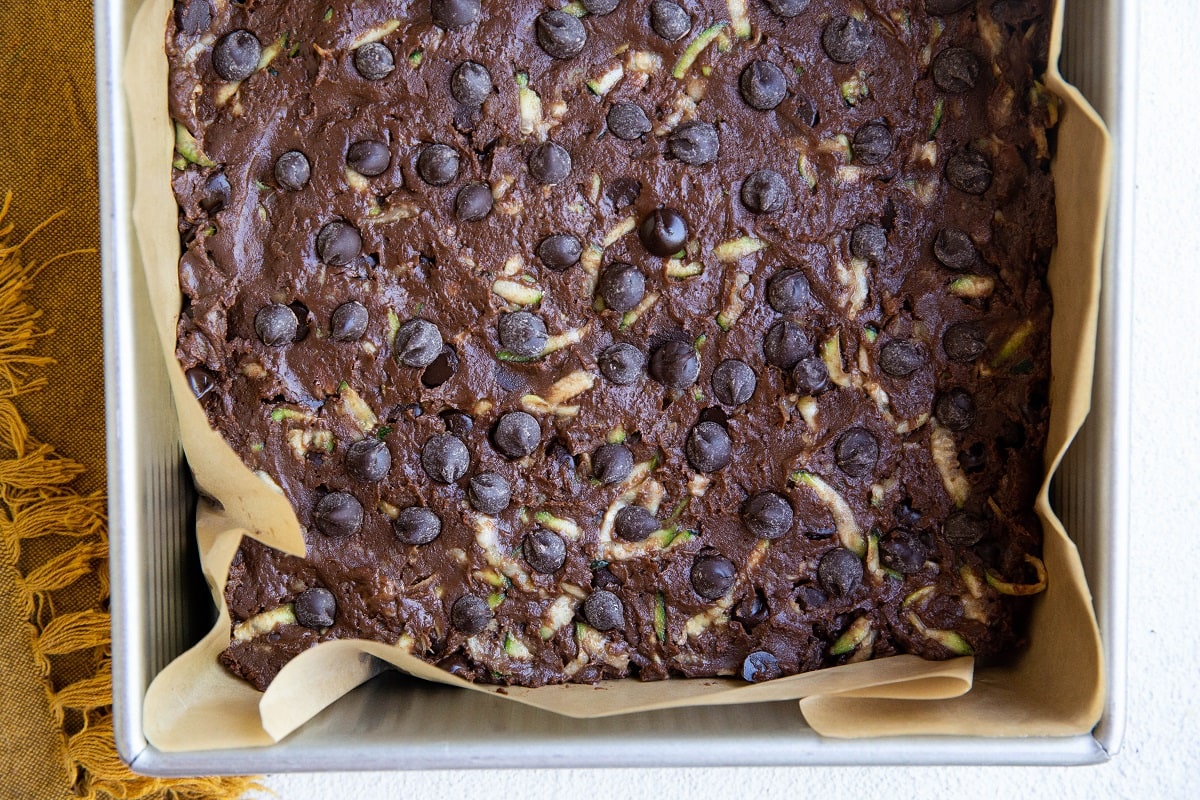 Bake on the center rack of the preheated oven for 15 to 20 minutes, or until the brownies have set up. For fudgier brownies, adjust the baking time for 12 minutes and if the brownies haven't reached your level of preferred doneness, you can continue baking longer.
Allow the brownies to cool for at least 10 minutes before slicing and serving. The longer you wait to cut the brownies, the better they will hold together.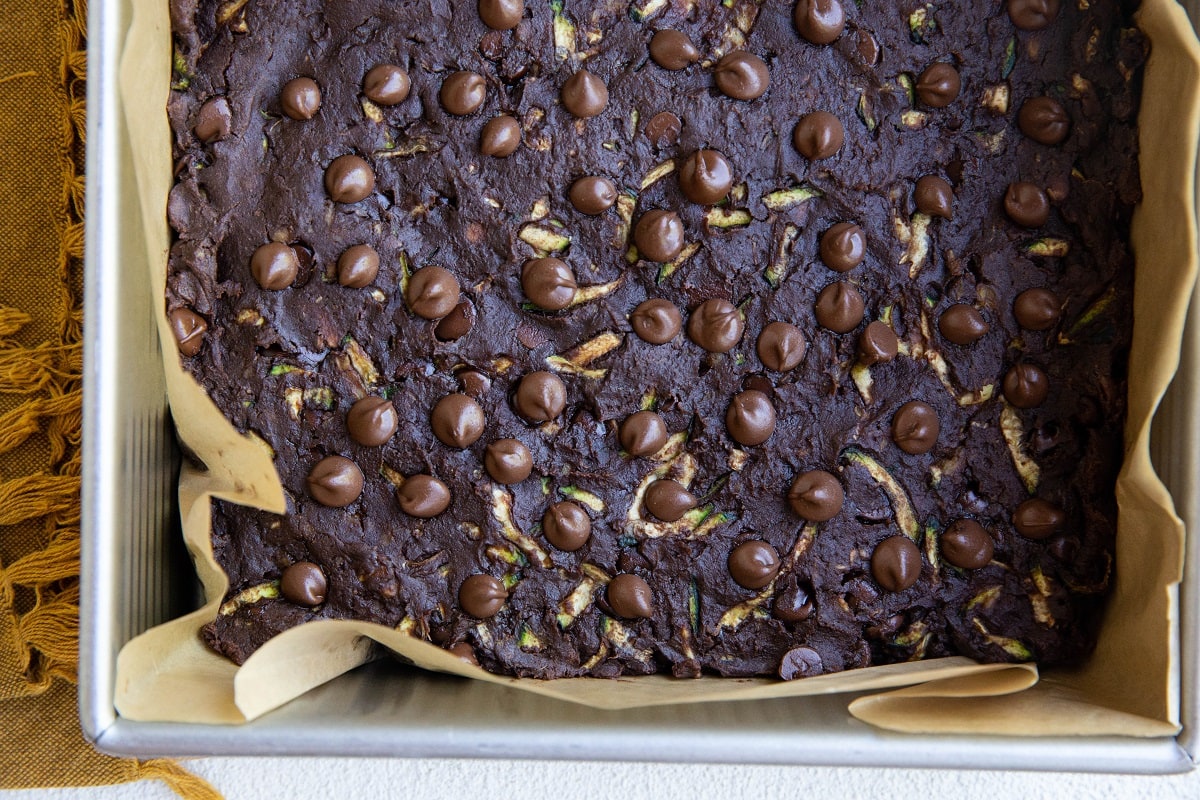 Serve with a scoop of vanilla ice cream, and enjoy!
These yummy brownies are one of my favorite zucchini recipes on this site and taste even better the next day after the flavors have had time to develop. I recommend serving them warm. You can pop them in the microwave for 10 to 30 seconds to reheat them before diving in.
Store any leftovers in an airtight container in the refrigerator for up to 1 week. You can freeze leftover brownies in a freezer bag for up to 3 months.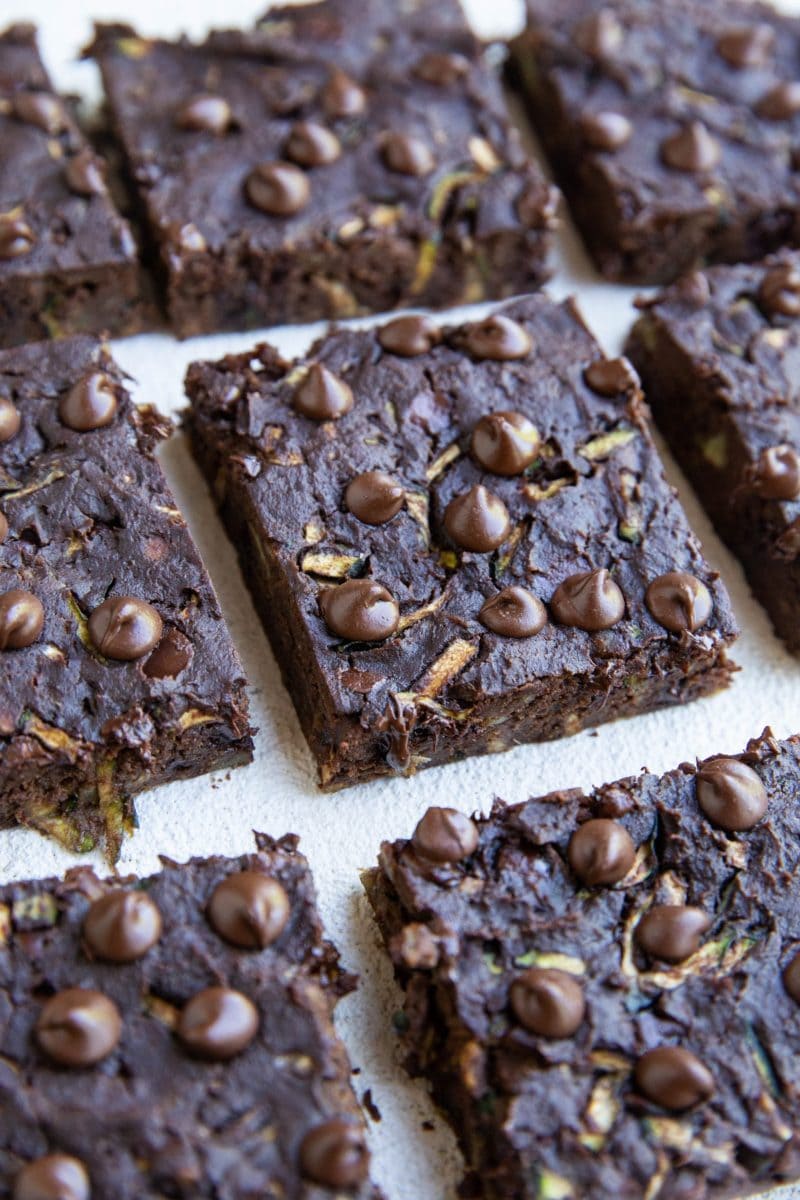 And that's it! The next time you're craving fudgy brownies, these are the best way to quench the craving without going overboard on sweet treats. It's the perfect dessert for the summer months, and a great way to use extra zucchini for those who grow a garden.
Looking for more zucchini recipes to enjoy during zucchini season? Make my Creamy Mediterranean Chicken with Zucchini Noodles, Paleo Double Chocolate Zucchini Bread, or Almond Flour Zucchini Cake.
If you love grain-free healthy brownie recipes, also try these reader favorites.
More Healthy Brownies:
Vegetable brownies, let's go!
Flourless Zucchini Fudge Brownies
Grain-free fudge brownies with zucchini, sweet potato, almond butter, and pure maple syrup.
Instructions
Steam, boil, or roast a small sweet potato (you'll need ⅔ cup of mashed sweet potato). I boil mine in a pot of water for 15 to 20 minutes, until it's very soft. Once the sweet potato is cooked, allow it to cool enough to handle. Once cool, mash the sweet potato and measure out ⅔ cup. Transfer the mashed sweet potato to a mixing bowl.

Preheat the oven to 350 degrees F and line an 8" x 8" baking pan with parchment paper.

Add the almond butter, egg, pure maple syrup, avocado oil and vanilla extract to the mixing bowl with the mashed sweet potato. Whisk together with an electric mixer or by hand until creamy.

Add the cocoa powder and sea salt and stir well until combined. Stir in the grated zucchini and chocolate chips/chunks.

Transfer batter to parchment-lined baking pan and smooth into an even layer. Bake 30 to 35 minutes, or until brownies are cooked through. Allow brownies to sit at least 15 minutes before slicing and serving.
Nutrition
Serving:
1
of 9
|
Calories:
259
kcal
|
Carbohydrates:
35
g
|
Protein:
4
g
|
Fat:
14
g
|
Saturated Fat:
5
g
|
Polyunsaturated Fat:
1
g
|
Cholesterol:
21
mg
|
Sodium:
30
mg
|
Fiber:
2
g
|
Sugar:
15
g
This post contains affiliate links, which means I make a small commission off items you purchase at no additional cost to you.