Whoa there, October! Hollaaaaaa!
Are you already primed and pumped for Halloween? I already know what I want my costume to be…can you guess? Spoiler alert: an Otter Pop. Alexander the Grape to be more specific.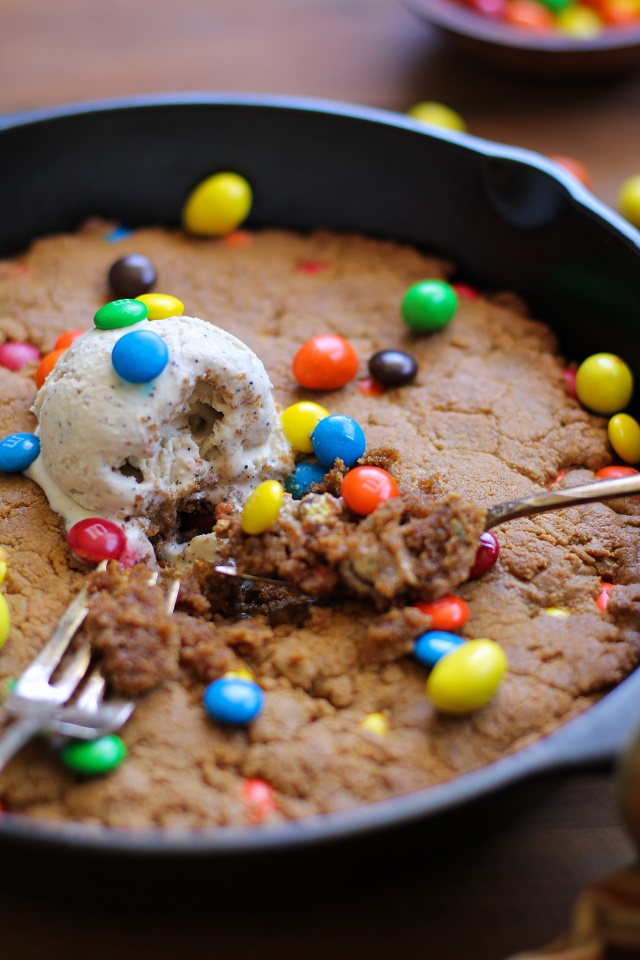 Did you know Halloween is one of my favorite holidays? I love the fact that it is…
A. not only acceptable, but encouraged for people of all ages to dress up and act strangely,
B. a great excuse to get together with friends and watch horror films and drink booze, and
C. the one day of the year I don't feel an ounce of guilt for eating all the candies in abundance. In triplicate. In the voluminous of volumes.
Speaking of candy …
When it comes to store-bought treats, I tend to go for the chocolaty goods — and the more peanutty, the better. Whipping up healthier baked goods using said treats is a major win in my book. It's not only a great way of making candy stretch so that I don't end up eating bag after bag, but also a brilliant way of using up leftover Halloween candy once the holiday is over.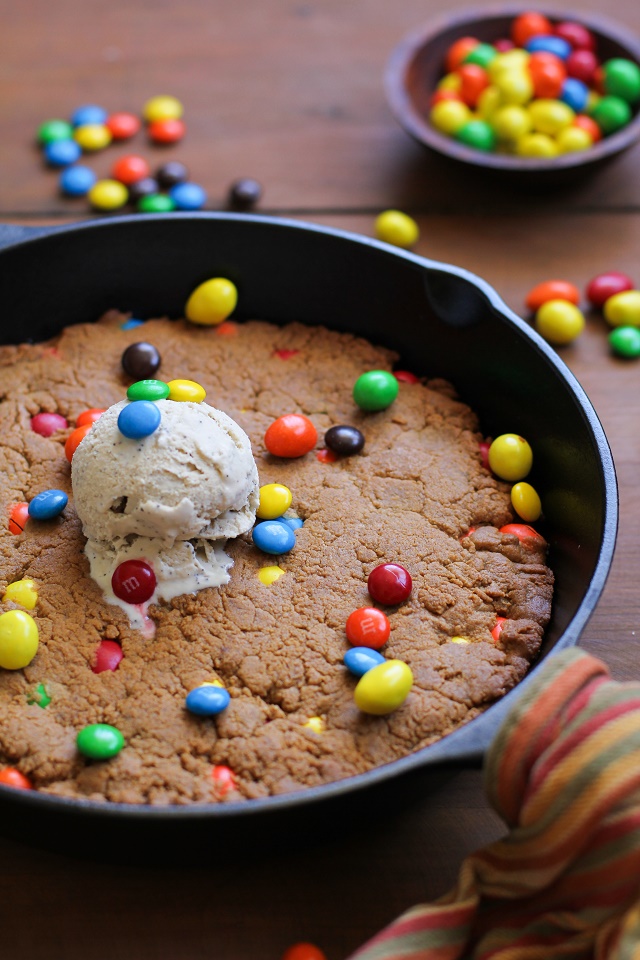 For those who, like me, are huge fans of the peanut butter and chocolate combo, this flourless skillet peanut butter cookie with Peanut M&Ms is the ultimate treat! Made completely flourless using only six ingredients, the cookie is easy to whip up quickly and is fun to enjoy with friends and family. I used coconut sugar for the cookie in place of cane sugar to keep it lower on the glycemic index and on the healthy end of dessert.
I served the skillet cookie with my homemade Paleo Coffee Ice Cream, but you can also serve it with any ice cream of choice, such as vanilla, chocolate, dulce de leche, rocky road, etc. I also topped the cookie with additional Peanut Butter M&Ms and regular M&Ms for good measure.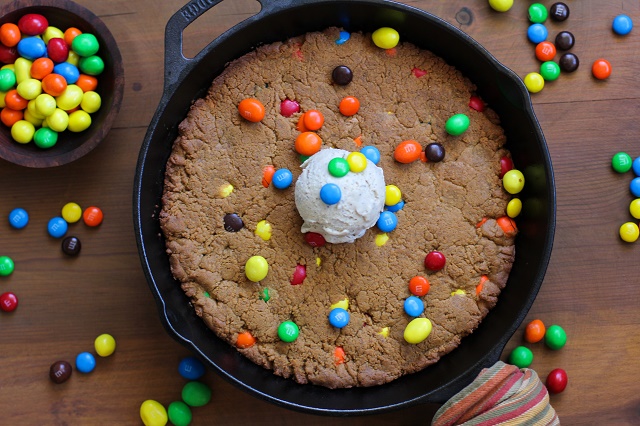 All I did to prepare the recipe was make flourless peanut butter cookie dough, similar to my Flourless Peanut Butter Cookies recipe. Instead of making individual cookies, I spread the dough in a 10-inch cast iron skillet. The mondo cookie was ready after 20 minutes in the oven.
When it comes to serving skillet cookies, I enjoy plopping a scoop of ice cream on top and handing everyone a fork (or spoon), rather than serving the cookie in separate pieces. This way, everyone can dig in together and have fun with the dessert.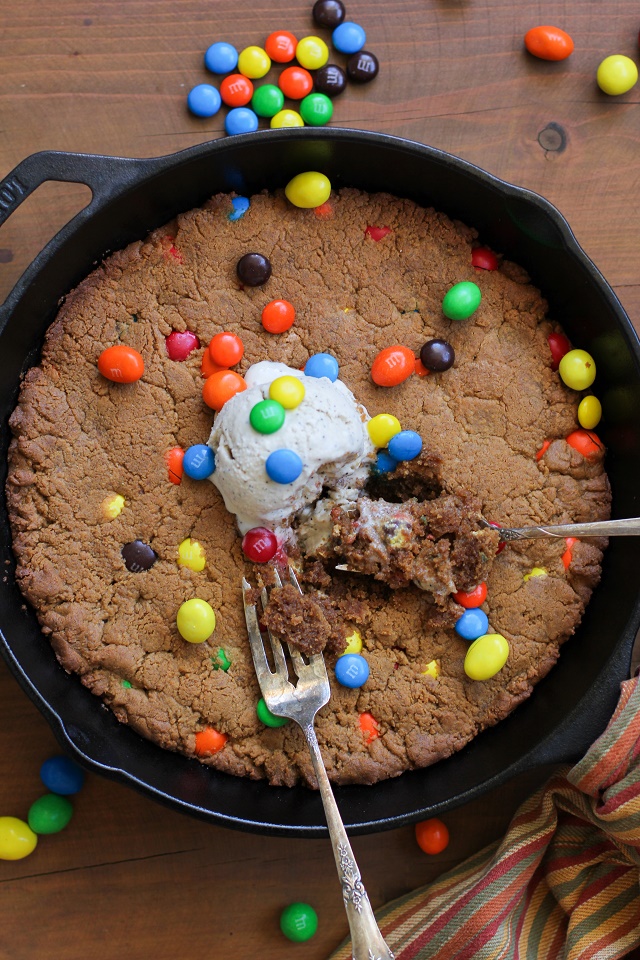 Because this cookie is gluten-free and flourless, it doesn't hold together quite as well as a regular cookie made with all-purpose flour. It is a bit crumbly, especially when it first comes out of the oven, which is why I love serving it with ice cream. The hot cookie melts the ice cream, creating a moist pool of melt-in-your-mouth goodness.
If you're serving individual slices of the cookie, just be sure you let it cool to room temperature before slicing into it, or else it will be difficult to get the slices to hold together. And that is all it takes to make the peanut butter lover's ultimate Halloween treat!
Flourless Peanut Butter Skillet Cookie
Flourless Peanut Butter Skillet Cookie is the perfect treat for sharing with friends and family for a special occasion.
Ingredients
2

large eggs

1

tablespoon

coconut oil or butter

¾

cup

coconut sugar**

½

teaspoon

baking soda

¼

teaspoon

sea salt

see note

1

cup

Peanut M&Ms

plus more for serving
Instructions
Preheat the oven to 350°F, and lightly oil a 10-inch cast iron skillet.

Add all of the ingredients except for the Peanut M&Ms to a mixer. Turn the mixer on medium speed, and beat until well combined and a dry dough forms.

Fold the Peanut M&Ms into the dough.

Turn the dough out into the cast iron skillet, and press it into the skillet with your hands until you get an even layer.

Place the skillet on the center rack of the oven, and bake 20 to 25 minutes, or until the edges of the cookie are golden-brown.

Allow the cookie to cool at least 10 minutes before serving with a large scoop of ice cream in the center and additional M&Ms. NOTE: The skillet will stay hot for a long period of time, so if serving to children, serve in separate bowls. Note: If serving individual slices of cookie, allow the skillet to cool to room temperature before serving, as the cookie will crumble when served hot.
Notes
*You can also use sweetened, salted creamy peanut butter. If using salted and sweetened, use only ¼ cup coconut sugar and omit the salt.
**You can replace the coconut sugar with ¾ cup tightly packed light brown sugar
Nutrition
This content was created in partnership with Kroger Family Stores using free products provided by Kroger.