Easy Fajita Omelettes make for a nutritious breakfast. Serve them with avocado, salsa, and plain yogurt, or any of your favorite toppings.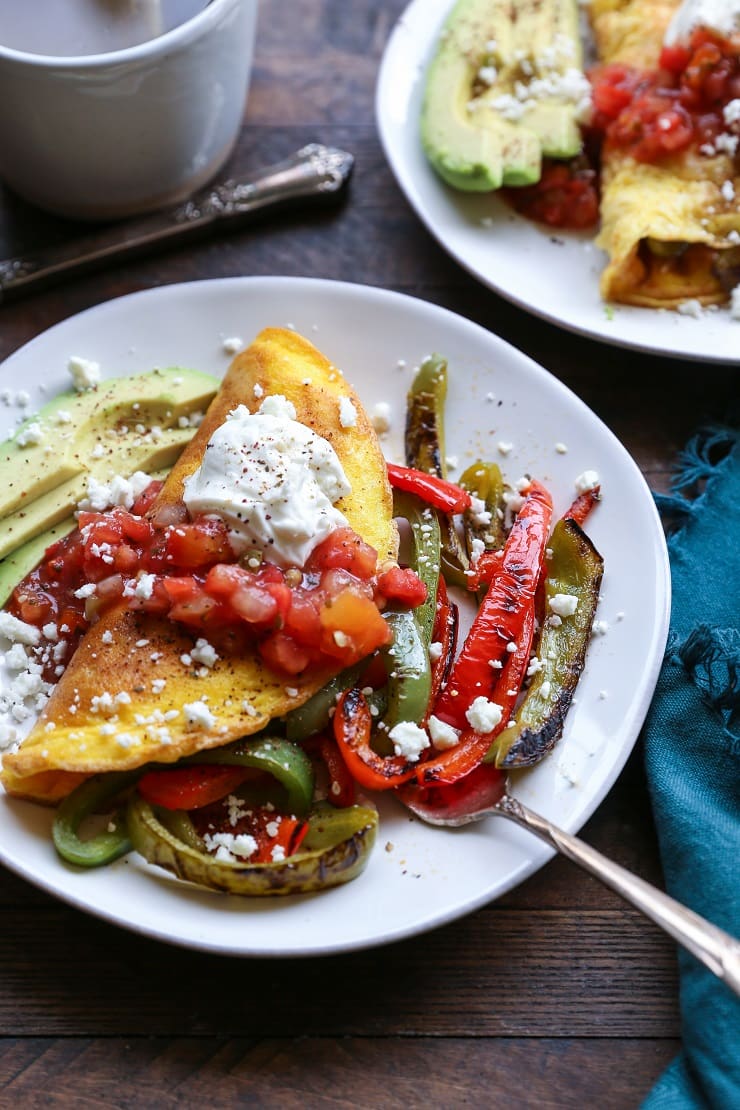 I read a lot of material about the way our body processes food, and one aspect of health I've never really discussed on this blog that is crucial to our well-being is sleep.
It goes without saying most of us are sleep-deprived, but getting in really great sessions of shut eye helps us digest our food, regulates our cortisol levels, regenerates our tissue and muscles, and of course helps with immunity, stress, and mood.
If you're someone who works out regularly, but doesn't sleep enough, and you wonder why you don't see the results you're looking for, try getting more *quality* sleep!
In addition, those with digestive issues or autoimmune disease can benefit immensely from sleeping more. Plus, have you ever woken up from a solid night of sleep, and felt skinny AF?
There's a lot of benefit in giving your body what it needs.
If you're interested in the subject and want to geek out a little more, this article on Adrenal Fatigue explains it all brilliantly (note: if you're someone who doesn't train hard, but you work long hours, you can read the article through the lens of work rather than exercise).
I used to have that typical go-to-bed-late, wake up at 4:30am by cell alarm to make it to the 6am spin class, work too many hours throughout the day, drink too much caffeine, and put it on repeat. And proceeded to wonder why my workouts weren't building strength the way they should have, and why I was mopey the majority of the time. Sleep is underrated, but it's so important.
And what better way to wake up after a solid night of rest to a tasty breakfast? <- A for effort on that transition.
Do you ever feel like you could eat nothing but Mexican food for the rest of your life and not even give a care?
Because I definitely have those thoughts, and I'm a co-dependent eater, so please tell me I'm not alone!
As I mentioned in my 30-Minute Chicken Fajitas post, I'm pretty into the seared bell pepper.
With Cinco de Mayo approaching, I'm feeling a week-worth of Mexican-inspired breakfasts, lunches, and dinners is wildly appropriate. Starting with these fajita omlettes with cotija cheese, avocado, salsa, and a dollop of plain yogurt? Yes, please!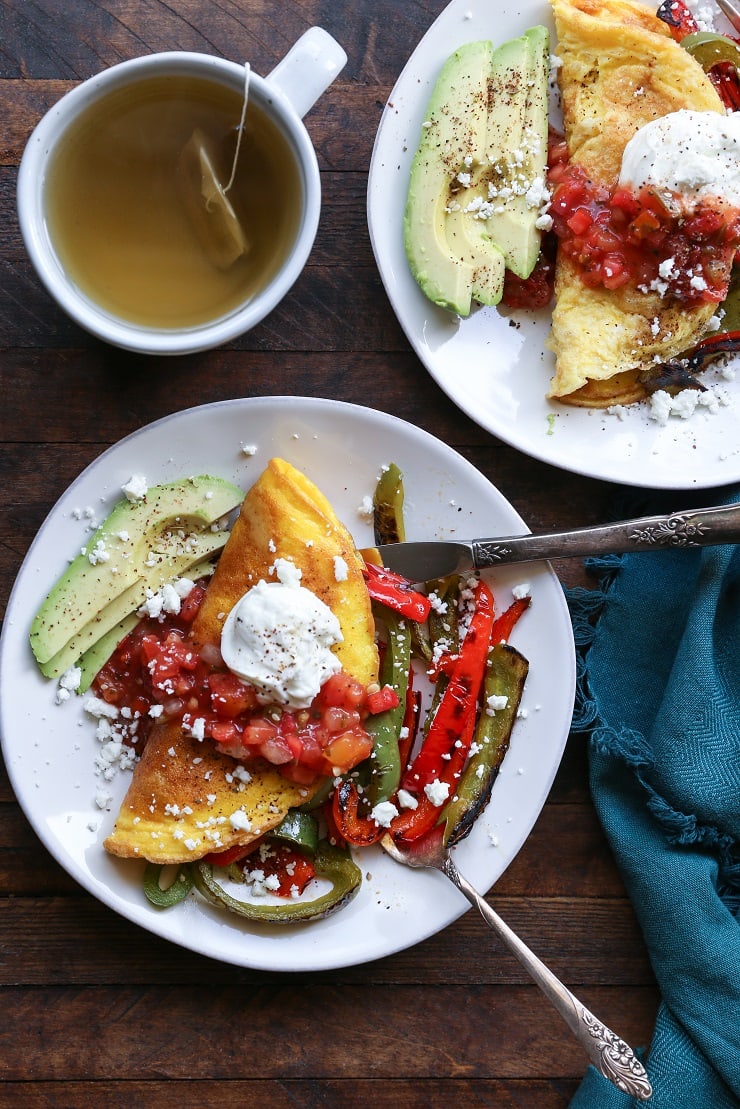 These omelettes are fairly quick…almost to the point you could make them before work on any given weekday before work!
Simply sauté the peppers and prepare the omelettes in another skillet while the peppers are cooking. Top with a smattering of add in's, and you're golden!
You can easily add onions for a flavor boost if you'd like. I only left them out because I recently discovered I'm sensitive to onions (more on that in a future post). You can also add baby spinach or kale to boost your morning vitamin intake. Black beans, mushrooms, tomatoes? Feel free to toss them in as well.
I've been known to make omelettes for lunch or dinner, so you can branch out of the breakfast box and incorporate these into all the meals.
If you're looking for more Mexican-ish breakfast fare, check out my Ultimate Healthy Breakfast Bowls, or Turmeric Quinoa Breakfast Bowls with Peppers and Kale.
Or, if you can't get enough of the fajita, try my Roasted Portobello Mushroom Fajitas!
These bomblettes…
Fajita Omelettes
Combine your favorite Mexican food with your favorite breakfast food with these amazing omelettes!
Ingredients
1

red bell pepper

cored and cut into match sticks

1

green bell pepper

cored and cut into match sticks

1/4

teaspoon

paprika

1/4

teaspoon

ground cumin
sea salt

to taste

4 to 6

eggs

1/4

cup

cotija cheese

1/2

avocado

peeled and sliced

1/4

cup

plain yogurt

I use Icelandic yogurt

1/3

cup

salsa
Instructions
Saute the Bell Peppers:
Heat 2 tablespoons of cooking oil (coconut oil, avocado oil, almond oil, or olive oil) in a medium-sized skillet over medium-high heat. Add the peppers, paprika, cumin, and sea salt, and saute, stirring occasionally, until peppers begin to soften and brown, about 5 to 8 minutes.
Make the Omelettes:
Heat a skillet over medium heat with just enough oil to coat the surface (note: for a 2-egg omelette, use a 6 to 8-inch skillet, and for a 3-egg omelette, use a 10-inch skillet). Whisk together 2 or 3 eggs in a bowl with a pinch of sea salt. Pour the eggs into the hot skillet and allow them to cook 3 to 5 minutes, until the omelette is mostly set up. Flip and allow omelette to cook another 30 seconds to 1 minute, or until eggs are cooked through. Repeat this process with remaining eggs.

Stuff the omelettes with desired amount of peppers. Top with cotija cheese, avocado, plain yogurt, and salsa.
Nutrition
Serving:
1
Omelette
|
Calories:
426
kcal
|
Carbohydrates:
21
g
|
Protein:
17
g
|
Fat:
56
g
|
Fiber:
12
g
|
Sugar:
11
g