Easy and healthful vegetarian fajitas with roasted portobello mushrooms, bell pepper, onion, and spicy chipotle sour cream.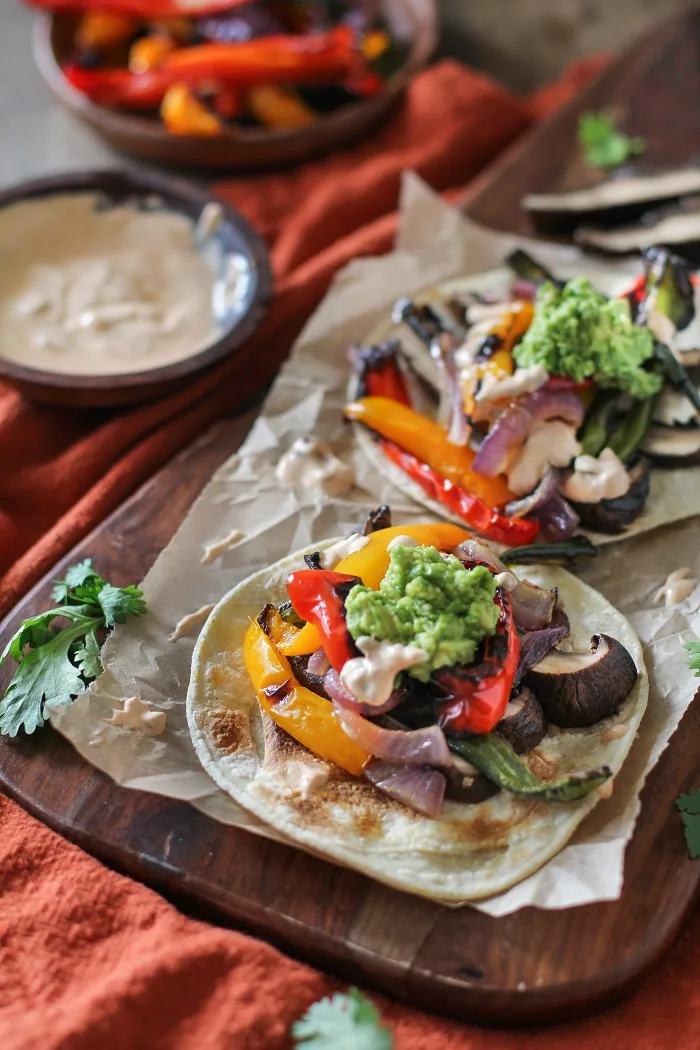 I'm back in the lower 48 after my 10-day trip to Alaska! It was so hard to leave that incredible state, but I have every intention of a return visit. From Copper River Salmon teaching me so much about sustainable fishing and the local environment, to poking around Homer and Seward, and even hiking to a ginormous glacier, Alaska was an absolutely marvelous adventure. Hang tight, I'll share with you a barrage of information as soon as I nestle back in and have a chance to edit all my photos.
In the interim…
OMFajitaG
Fajitas.
Simplest weeknight meal, and perfect for Meatless Monday.
The fajita style of cooking – multi-color bell peppers and onion combination, spiced to perfection – is a definite YES to my palate. From Crock Pot Shredded Chicken Fajita Chili to a more classic approach like these little tacos, I could fajita every which way on the reg. Chicken fajitas made it on the table at least once a month when I was a kid. My mom was all about whipping up big batches to satisfy me and my siblings, as anything that required a tortilla and cheese was always a-okay by us.
Case in point: Fajitas are easy to make in bulk, or to scale down depending on how many people you're serving. Plus, they're ultra bangarang with you whip up a batch of chipotle sour cream and homemade guacamole for tying everything together in creamy bliss.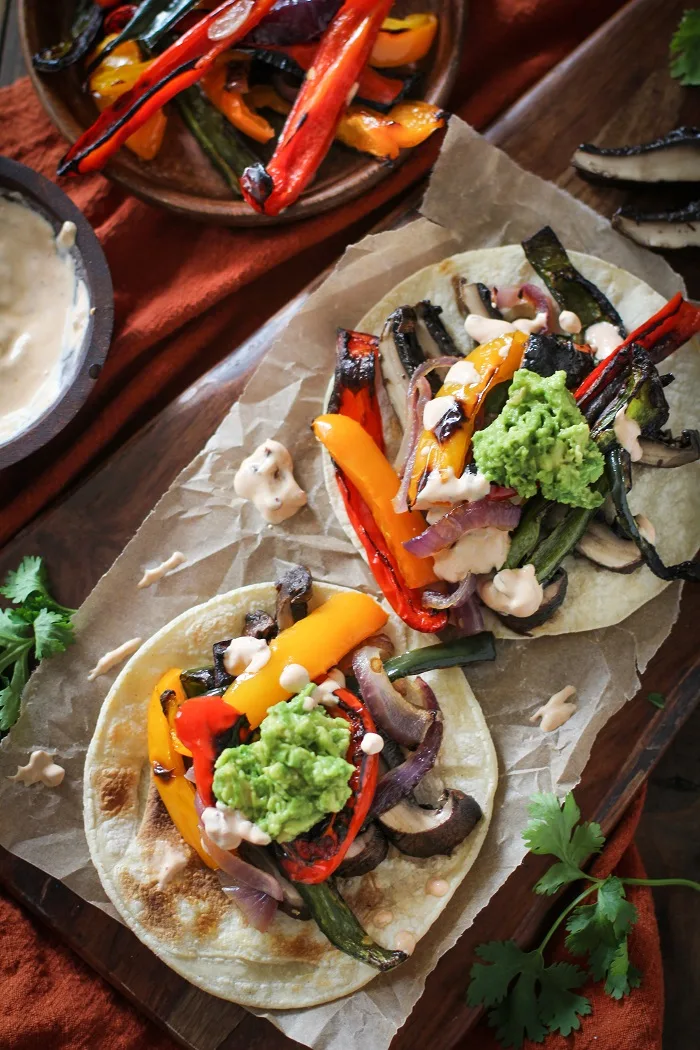 If you didn't get your fill of portobello mushrooms from those Grilled Portobello and Summer Squash Quesadillas I showed you a couple of weeks ago, here's your chance to get your fix!
Rather than making this particular batch of fajitas with chicken, shrimp, or beef, I skipped the animal protein and used portobello mushrooms to make the meal "meaty." If you're amped for some animal, feel free to use your favorite protein for a well-balanced fajita adventure.
This is how you rock down to Fajita Avenue: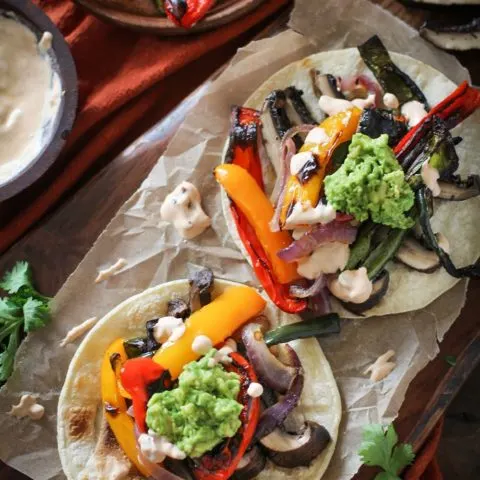 Roasted Portobello Fajitas
Roasted Portobello Fajitas are hearty plant-based fajitas!
Ingredients
2 large portobello mushrooms
1 red bell pepper, cored and chopped
1 orange bell pepper, cored and chopped
1 pasilla pepper, cored and chopped
1 red onion, diced
2 cloves garlic
3 tablespoons to 4 olive oil
2 teaspoons chili powder
½ teaspoon ground cumin
½ teaspoon paprika
¾ teaspoon sea salt, to taste
Corn tortillas for serving
Chipotle Sour Cream:
2/3 cup sour cream
3 in chipotle chilis adobo sauce, or more for a spicier sauce
2 tablespoons fresh lime juice
1 teaspoon pure maple syrup, optional
Pinch sea salt
Easy Guacamole (optional):
2 large avocados, pitted and diced
3 tablespoons lime juice
2 cloves large garlic, minced
1 small jalapeno, seeded and chopped
sea salt
Instructions
Roast the Vegetables:
Preheat the oven to 415 degrees F. Line one large baking sheet with parchment paper, and lightly oil one small casserole dish.
Coat the full surface of the portobello mushrooms with olive oil and sprinkle both sides with salt. Place them gill-side up in the prepared casserole dish.
Spread the bell peppers, pasilla pepper, and onions over one baking sheet and drizzle with enough olive oil to coat the vegetables, about 2 to 3 tablespoons. Sprinkle with chili powder, cumin, paprika, and sea salt. Use your hands to toss the peppers and onion until everything is well coated in oil and seasonings.
Place both the sheet of peppers and the casserole dish with the mushrooms into the preheated oven. Roast for 20 to 30 minutes, flipping the mushrooms and stirring the peppers half-way through, or until peppers and mushrooms are golden-brown, and cooked through.
Remove from the oven and allow vegetables to cool slightly. When cool enough to handle, transfer the portobello mushrooms to a cutting board and cut into thick slices.
Prepare the Chipotle Sour Cream:
While the vegetables are roasting, prepare the chipotle sour cream sauce and the guacamole.
Add all of the ingredients for the chipotle sour cream to a bowl and stir well until combined. Taste sauce for flavor and add more lime juice, sea salt, adobo chilies, and/or adobo sauce to taste. Cover and refrigerate until ready to use.
Prepare the Guacamole:
Add the ingredients for the guacamole to a bowl and mash and stir until guacamole reaches desired consistency. If desired, add more goodies, such as red onion, chopped tomato, cilantro, salsa, etc. Cover and refrigerate until ready to use.
Prepare the Fajitas:
Toast corn tortilla ovens on the stovetop or in the oven until crispy. Load them up with desired amount of roasted portobello, bell peppers, chipotle sour cream, and guacamole. Garnish with fresh cilantro if desired.
Nutrition Information
Serving Size

1 grams
Amount Per Serving
Unsaturated Fat

0g