Eggplant Involtini with Moroccan Marinara Sauce are eggplant rollups using eggplant to take the place of pasta. A unique and delicious vegetarian dinner recipe.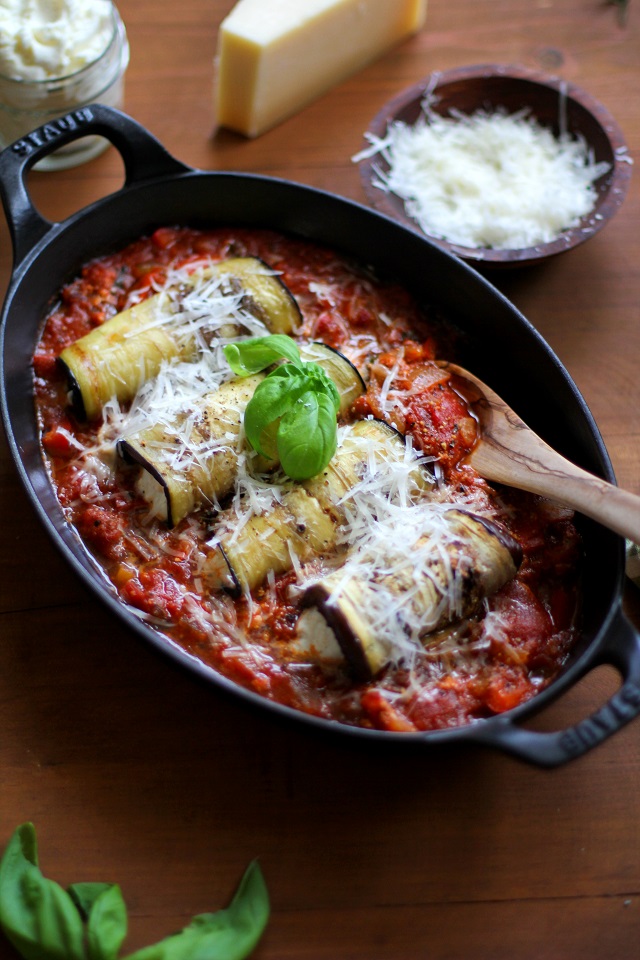 Eggplant Involtini!
…or as I like to call it, "eggplant rolltini!"
Have you tried eggplant roll…er…involtini?
It's a classic dish from southern Italy with breadcrumbs and ricotta cheese rolled up in slices of eggplant and roasted in tomato sauce.
This version is slightly different from a traditional eggplant involtini, as I made a Moroccan-style sauce instead of a classic Italian sauce, and skipped the breadcrumbs altogether in order to keep the recipe gluten-free.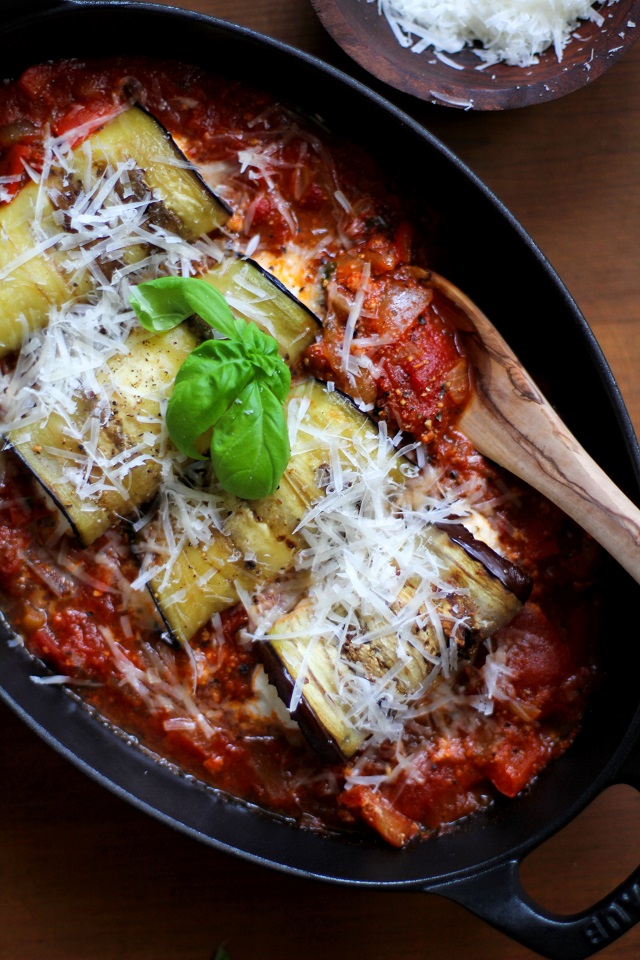 To cut corners, you can use store-bought pasta sauce for the recipe, but I loved how unique the Moroccan sauce made the dish! You could also use gluten-free breadcrumbs if desired, but I thoroughly enjoyed the dish without…because no breadcrumbs = more ricotta cheese = delicious.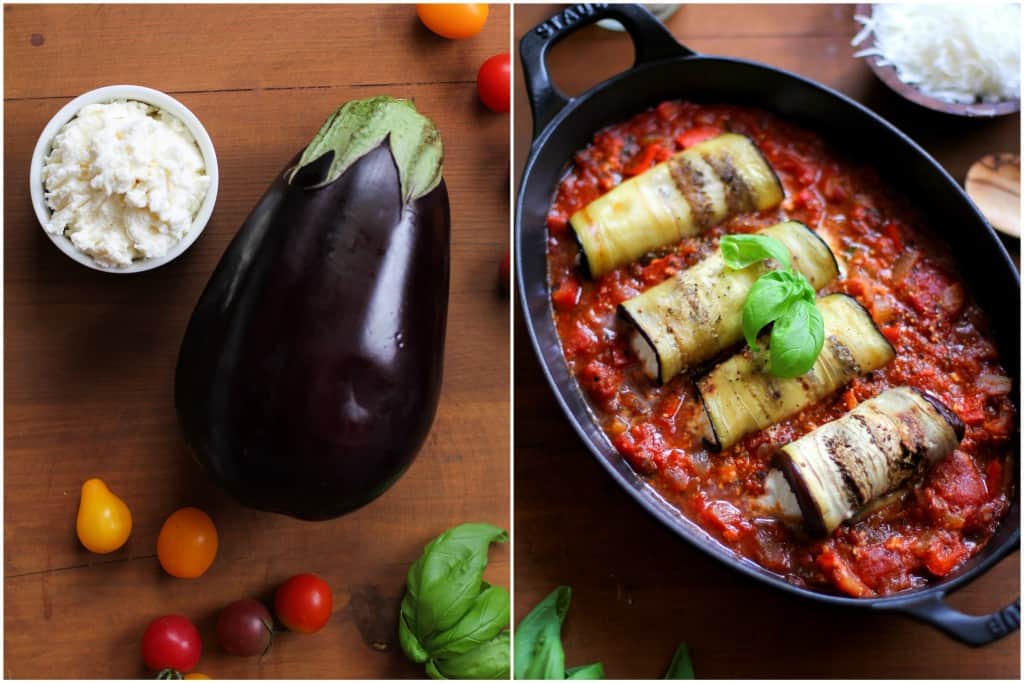 To my knowledge, "Moroccan Marinara Sauce" isn't a real thing…it's just the title I'm giving the sauce since it's basically the same recipe you would use to make a classic Shakshouka (eggs stewed in Moroccan sauce).
You can look at it as a classic tomato sauce all gussied up with harissa and bell pepper for some Moroccan flair.
You can use the Moroccan-style sauce on your zoodles, regular noodles, in your lasagna recipes, for chicken parmesan…the list goes on and on – the sauce can go anywhere a red sauce can go.
So if you're looking for something a little otherworldly to change up some of your classic recipes that call for tomato sauce, this one may just be your jam.
And as it turns out, it's delicious with eggplant, so there is that.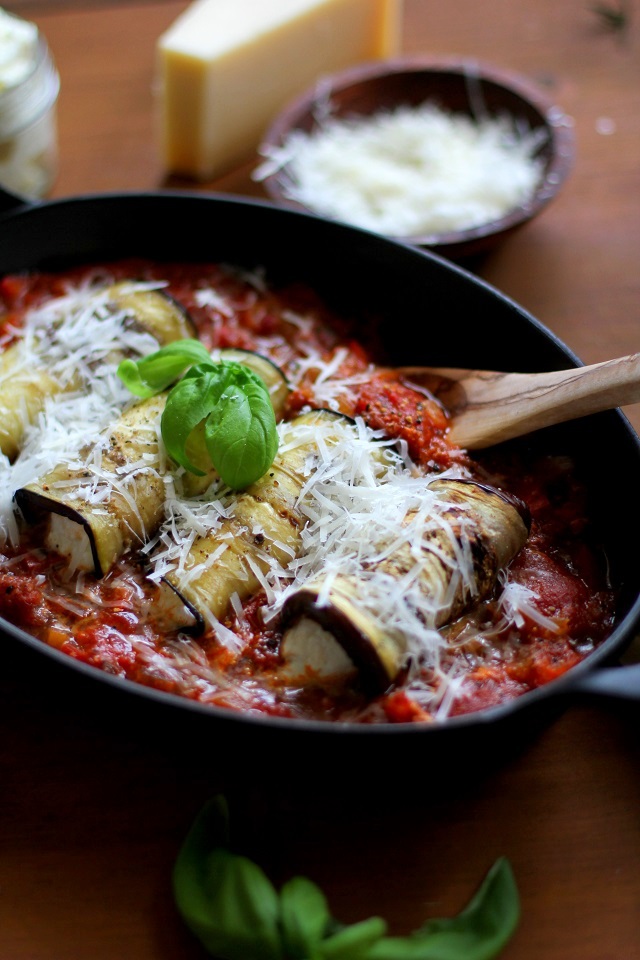 How to Make Eggplant Involtini:
Recipe prep…the elephant in the room.
I will say, this meal is better suited for the weekends than any ol' weeknight. In order to prepare it, you need to slice the eggplants, then let the water drain out for an hour or two.
While your eggplant slices are leeching water, you can prepare the Moroccan marinara sauce, which is a real cinch! You then cook the eggplant slices in a skillet for a couple of minutes in order to soften them up and turn them into noodle-like apparatuses.
Then comes the stuffing, rolling, and baking, which doesn't take long and is actually pretty fun and therapeutic, but from start-to-finish, you're looking at roughly 2 to 3 hours of prep/wait/cook time.
You can make this recipe vegan by using homemade vegan ricotta cheese (or vegan cheese!).
If you're in need of some hearty protein, ground turkey or beef would be amazing stuffers right along with the ricotta.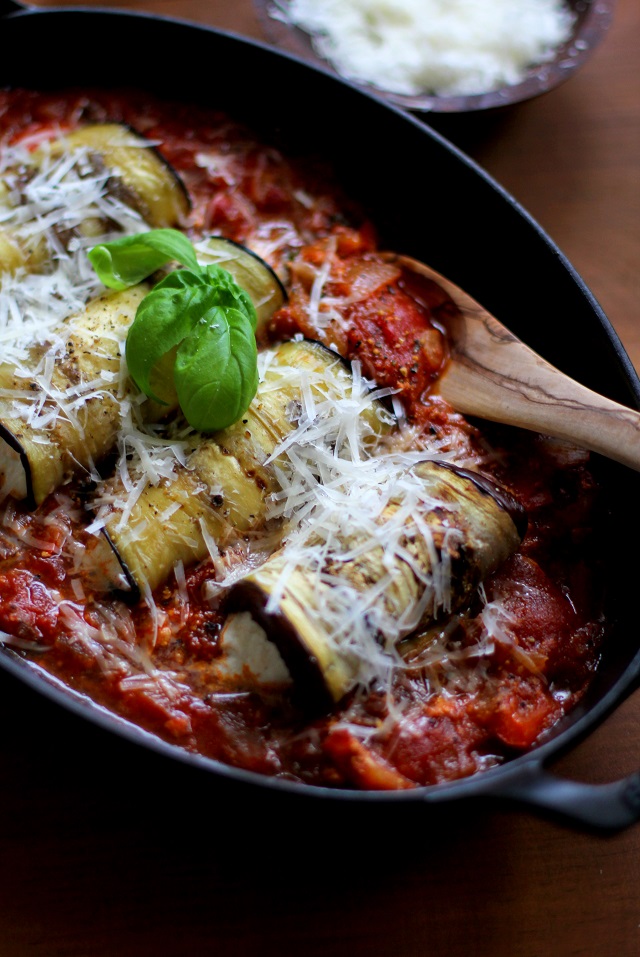 Rolltini your eggplant!
Also check out my Gluten-Free Skillet Eggplant Parmesan, Stuffed Portobello Mushrooms, or my Portobello and Spinach Lasagna Roll-Ups.
Eggplant Involtini with Moroccan Marinara Sauce
Eggplant Involtini with Moroccan Marinara Sauce is a rich, incredible vegetarian and gluten-free "pasta" dish perfect for eggplant lovers!
Ingredients
Eggplant Involtini
2

large eggplants

sliced length-wise into ¼-inch thick slices

2

cups

ricotta cheese

2

cloves

garlic

minced

3

green onions

chopped

¼

teaspoon

sea salt

to taste
Moroccan Marinara Sauce:
2

tablespoons

olive oil

1

medium yellow onion

finely chopped

1

large red bell pepper

chopped

5

cloves

garlic

minced

1

teaspoon

paprika

1

teaspoon

ground cumin

Tiny pinch ground cinnamon

optional

1/4

teaspoon

red pepper flakes

optional

½

teaspoon

sea salt

to taste

1

cup

Harissa sauce

mild, medium, or hot

1

28-ounce can whole peeled tomatoes, chopped
For Serving:
Fresh basil

chopped

Parmesan cheese

grated
Instructions
Prepare the Moroccan Marinara Sauce:
In a medium-sized non-stick skillet, heat the oil to medium. Add the onions and peppers, and sauté, stirring frequently until softened, about 5 minutes.

Add the garlic, paprika, ground cumin, cinnamon (optional), red pepper flakes (optional) and sea salt, and sauté an additional 3 minutes.

Add the Harissa paste and chopped tomatoes and bring to a full boil. Reduce the heat to low, cover, and simmer for 35 to 40 minutes, stirring occasionally. Note: if you're in a time crunch, reduce the simmer time to 10 minutes.
Prepare the Eggplant:
Using a mandolin slicer or a sharp knife, slice the eggplants lengthwise into ¼-inch thick slices. You should end up with 12 to 16 slices and you can save the end slices for other uses, as they will not roll well.

Sprinkle each side of the slices with sea salt and place in a colander in the sink. Allow eggplant to sit for 1 to 2 hours to allow much of the water to drain out. Use your fingers to gently press out any of the excess liquid. (Note: You can also layer the eggplant slices on a cutting board or divide between two plates and put paper towels between layers. Put a heavy object (such as a text book cast iron skillet) on top of the slices in order to speed up the process slightly).

In a small bowl, stir together the ricotta cheese, garlic, green onion and salt until well-combined. Set aside until ready to use.

Heat about 3 tablespoons of olive oil in a large non-stick skillet (enough to generously coat the surface) over medium-high heat. Place two eggplant slices on the hot skillet and allow them to cook until browned, about 2 to 3 minutes. Flip and continue cooking another 2 to 3 minutes, until browned on both sides and slightly softened but not too floppy. Place cooked eggplant on a plate and repeat for remaining slices.
Prepare the Eggplant Involtini:
Preheat the oven to 375 degrees F. Poor the Morroccan Marinara Sauce into the bottom of a 13" x 9" casserole dish.

Scoop some of the ricotta mixture onto the end of each eggplant slice (I used about ¼ cup of ricotta per slice), and roll them up. Place each eggplant roll in the casserole dish, nestling them into the sauce.

Place casserole dish on the center rack of the oven and bake for 25 to 35 minutes, or until the sauce is bubbly, the eggplant slices are cooked through, and the ricotta is gooey.

Serve with freshly grated parmesan cheese and chopped basil.
Notes
Use your favorite store-bought pasta sauce instead of making it homemade to lessen the prep for this recipe.
Nutrition
Serving:
1
Serving
|
Calories:
332
kcal
|
Carbohydrates:
40
g
|
Protein:
12
g
|
Fat:
14
g
|
Fiber:
9
g
|
Sugar:
25
g