Rich and creamy chocolate açaí bowls are a nutritious breakfast that tastes like dessert. Get your superfood fix and satisfy your sweet tooth all in one bowl!
Oh, hello Monday! Where the f/stop did you come from?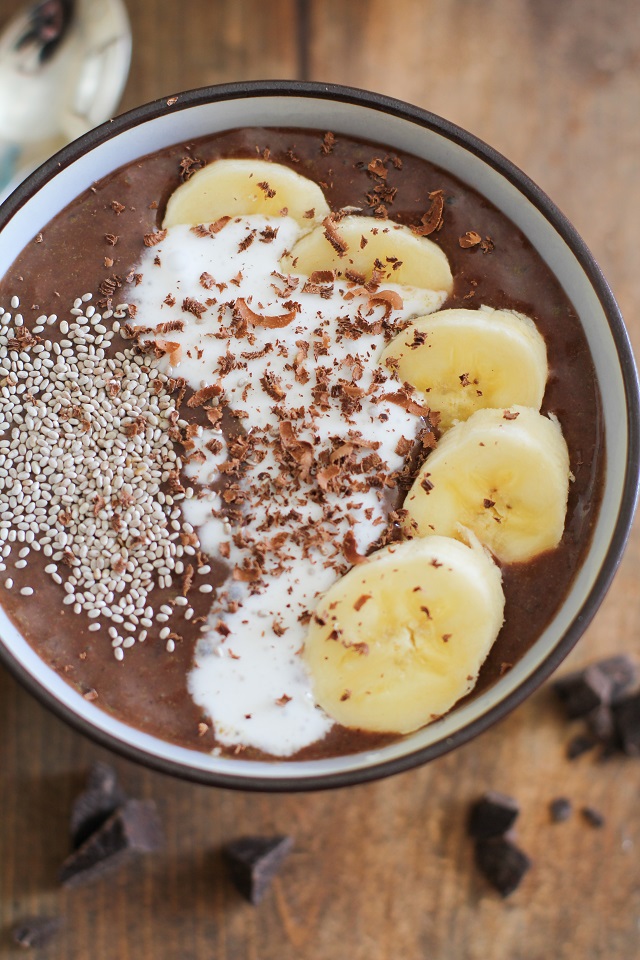 I've been tinkering around with this new thing called insomnia.
Have you dabbled?
I can't say I mind the lack of sleep all that much, given all the badass things that tend to occur at 2am.
Okay, I should clarify: By "Insomnia," I really mean "Self-inflicted coffee drinking at 3:33pm and dark chocolate bar-eating at 9:28pm, because: delicious, and antioxidants (respectively), and then mysteriously find myself still wide awake at the devil's hour doing real badass things like…
Writing deep, nonsensical poetry about my 2am feelings

Baking grain-free muffins,

Sliding around the hardwood floors in my fuzzy socks,

Dance partaaaaay!,

Binge watching The League on Netflix,

Binge watching music videos on the YouTubes,

Researching tattoos and piercings on Pinterest,

Psyching myself up to book an appointment the very next available business hour to get a dream catcher tattooed down the whole length of my side (ironic, considering I'm in no dream-like state at this juncture), and my septum pierced, because 2am me is such a bigger badass than 7:30am me. Or 2pm or 6:30pm me for that matter.

Squats,

Window shopping the internet,

Real shopping the Etsy,

and

Finally pressing the GO button on this photography workshop in Iceland after months of debate

while simultaneously fantasizing about all the Walter Mitty-like things I'm going to do while I'm beebopping around the country, because haven't you seen the movie? Iceland is a total badass.

"
I'm so glad you can relate. Our insomnia selves could totally hang. You're so wild and crazy at 2am. You're so attracted to yourself right now. You're a real rebel, you dishevel-headed daredevil, you.
Making plans like a boss. Buying things your stone-cold 1pm self would have no business purchasing. No regrets, we'll deal with that later. Let the 2am you reign. Basically, you're a freaking superhero.
It's okay that 5:30am is going to hurt like a cardboard papercut. Because 2am you is SAVAGE. Insomnia ROCKS.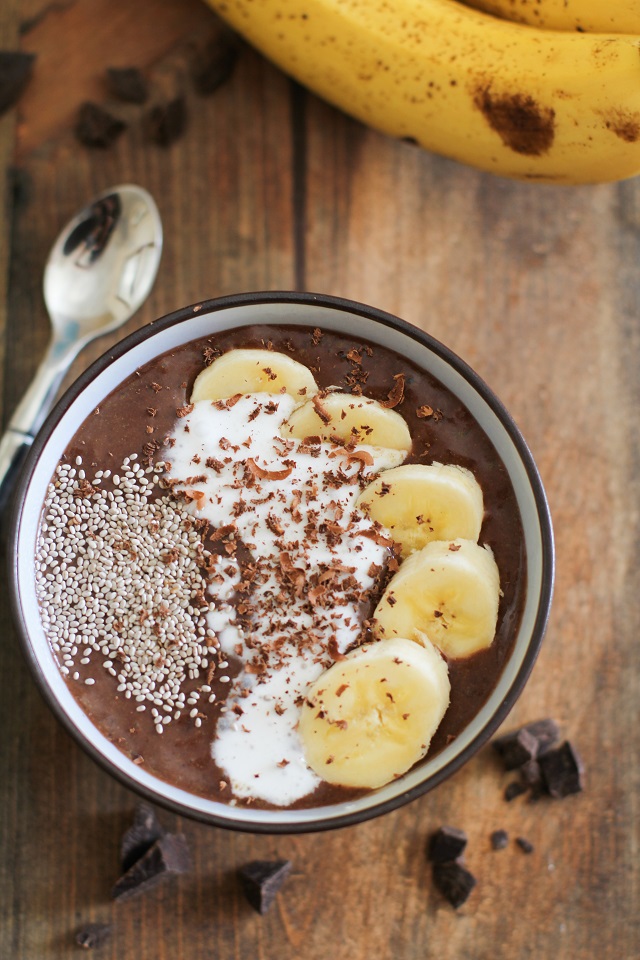 Okay, real life: Once we climb off our insomniatic superhero cloud and are launched into the lack-of-sleep 7am doldrums, what kind of breakfast could we possibly eat? I mean, one with C H O C O L A T E in it, for starters!
This açaí bowl fools you into thinking you're doing something uber naughty for your body, when, in fact, you're doing something nice. Real nice. Because: vitamins, fiber, antioxidants. In case you're unfamiliar with açaí bowls, they're basically a super thick smoothie made with the superfruit, açaí berry. They are eaten out of a bowl with a variety of toppings, like granola, nuts, fresh fruit, etc. In summary: we like them because they're super nutritious and also super delish for your head trap.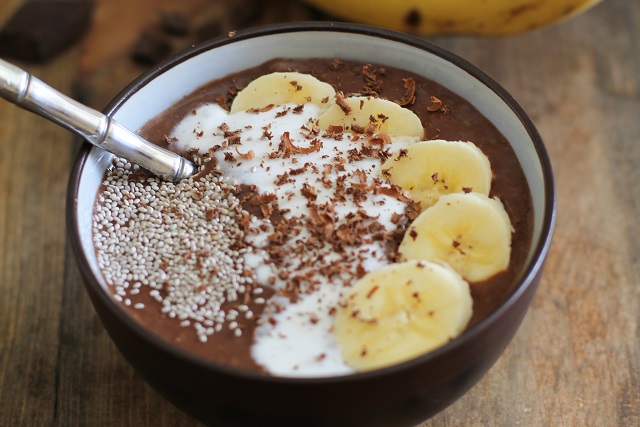 I've made this bowl a half a dozen times, and love the rich chocolate-berry-banana-cinnamon flavor. It's so creamy and tastes decadent but is just so healthful and packed with nutrients. This recipe makes two açaí bowls, but you can easily double the recipe to serve more people. Or halve it in order to just feed your onesie.
Don't let the 7am you talk yourself out of this. Eat like a badass.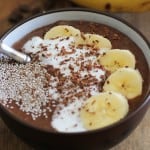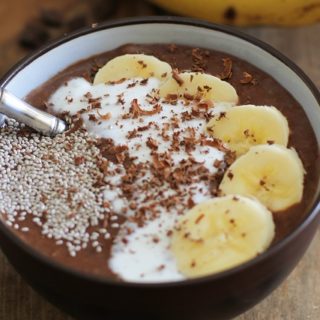 Chocolate Banana Açaí Bowls
Print
Instructions
Add all of the ingredients for the acai bowls to a high-powered blender. Blend until thick and smooth - you may need to start and stop the blender to stir several times, and/or add slightly more liquid.

Pour the acai smoothie into two separate bowls. Serve with chia seeds, coconut milk, sliced banana, and shaved dark chocolate.
Recipe Notes
*I use Sambazon acai smoothie packs, which you can get at most natural food stores
**You can also use unsweetened cocoa powder
More smoothie bowls for your enjoyment: