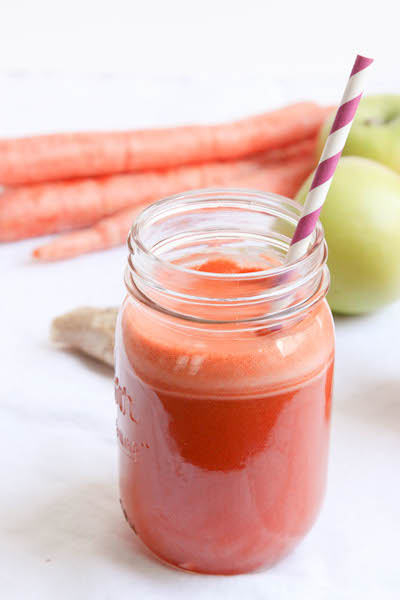 Happy Monday (as happy as a Monday can be after last night's tragedy of the Seahawks defeating the 9ers…wah wahhhh) to you! I have Kelli from The Corner Kitchen here with me today with some juicy juice! And not the kind that will put you in a diabetic coma. The kind that puts wonderful things down deep in you.
Let's be appropriate. It's appropriate that Kelli should share a carrot-ginger recipe up in here because we bonded over the combo when we were first getting to know each other. She loves carrot-ginger anything, I love carrot-ginger anything. If we're going to carrot, we ginger, ya hear what I'm saying? I would LOVE to get my paws on this juice!
Here's Kelli with her rawmazing Carrot Apple Ginger Juice!
– – –
Hi Roasted Root readers! I'm Kelli from The Corner Kitchen. I'm thrilled to be hanging out with you and kicking off the week by taking over my girl Julia's corner of the interwebs! I've been reading Julia's blog for a few years and sometimes I swear my stomach has her on speed dial. Everything this gal creates is awesome….I think we can all agree on this!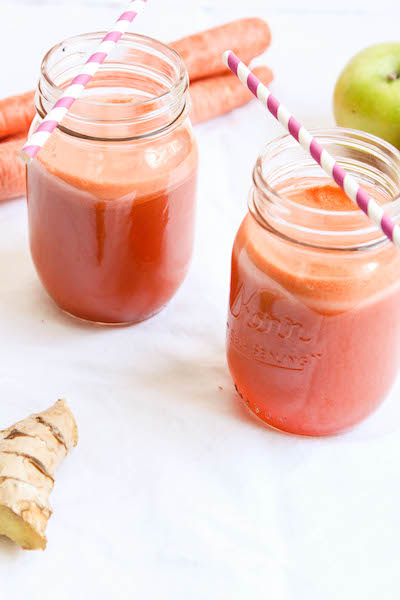 2014 has brought out a new side of me. The side that is a lean, mean juicing machine. Juice for you, juice for me, juice for everyone, every single day!Is it super obvious that I'm the proud owner of a shiny new juicer?The story of the juicers arrival is kind of funny. It was supposed to be a surprise Christmas present from my boyfriend, L. But, it's hard to keep things like this a surprise when you both come home from running errands to find a giant box with the word BREVILLE across the side, sitting on the doorstep.You guys, Breville means one thing (at least to me) – juicer!
I tried to feign nonchalance and act oblivious and as flipped through all the junk mail. I might have been quiet on the outside, on the inside I was all 'I'M GETTING A JUICER FOR CHRISTMAS, I'M GETTING A JUICER FOR CHRISTMAS!!!!!!'.I knew what was up. I was pretty sure L knew that I knew what was up. But we both did a good job of ignoring the elephant in the room on the doorstep, and never spoke of the juicer-sized box.I tried to act really surprised Christmas morning….and by that I mean, I did my very best to suppress my giggly excitement.
Surprise or not, this Breville Juice Fountain Plus Juicer was a great gift (for both of us)!This juice is just what it sounds like….a blend of carrots, tart granny smith apples (although you can use any variety you like) and a small piece of ginger. It's a fresh, mild, rounded blended of juices.
If you're new to juicing Carrot Apple Ginger Juice is a great place to start! It's not quite as scary as jumping into green juice (which is also de-licious, but baby steps). None of the flavors in this juice are too overpowering…it's mild and a little sweet with a touch of tart and a hint of zing.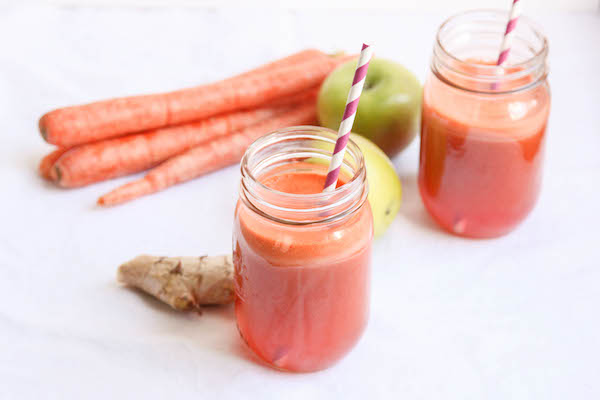 Carrot Apple Ginger Juice
Delicious and nutritious cold-pressed juice with carrot, apple and ginger is an amazing hydrating drink!
Ingredients
4

medium carrots

4

granny smith apples

1

inch

two- piece of ginger
Instructions
Put the ingredients through the juicer according to the manufacturer's instructions.

Drink immediately, or store in a sealed container in the refrigerator. Keeps for about 2 days.
Nutrition
Serving:
1
of 2
|
Calories:
196
kcal
|
Carbohydrates:
46
g
|
Protein:
2
g
|
Fat:
1
g
|
Fiber:
3
g
|
Sugar:
31
g
For more Carrot-Ginger fun:
Crispy Salmon with Carrot-Ginger Relish