Do you ever think about what goes into the food you make? You're looking at me like, "Julia, if I'm making the food, I had better think about what goes into it…else I set out to make chicken alfredo and end up with lamb burgers." To which, I would respond with a sigh and say, "Nooo, my cheeky friend, I mean what goes into the food you make prior to it reaching your door stoop."
And you're all, "listen, smalls. This ain't New York City. I don't have a door stoop. I'm not Alex Hitchens, and I'm totally not going 90% so you can go the other 10%." At which point, I would nod and say, "fair enough."
What were we talking about? Oh yes, food. And where it comes from.
While I cook, I like to visualize all the steps it took for the ingredients to get to my door stoop. The seeds that grow, the water and soil that feed and nurture, the hands that harvest, the transportation from farm to store to home, and finally, the tools that create finished product out of raw material. Even simple recipes, like this butternut squash and yam curry, have a back story.
In my head, the process is likely far more romantic than the reality. The way my story goes, each vegetable was handpicked by someone in love, because let's face it: produce picked with love trumps produce picked with anger any damn day.
And the spices. The way it goes in my fantastical story, each spice is grown in a remote, exotic place where the only way in or out is via elephant or blue whale ride. Each sowed, harvested, dried, transported with…you guessed it…love. And in this way, I can transfer all the lovey dovey goodness into my food. This is what I think about while I am cooking. Sometimes. Sometimes I think about Snoop Dogg.
Hey, you're looking at a typical weeknight meal for me.  Veggie-filled, simple, lots of flavor, filling. The top three ways I like to prepare vegetables are as follows: salads, stir frys (fries?), and curries. Aren't those the ONLY ways one can prepare vegetables? In my house, yes. I refuse to steam or microwave. Like a punked-out child who will not put her whole head under water at the swimming pool. Whoa, memories from childhood are coming flooding back.
If you're into nuking veggies, HALT! Not that I have an opinion about microwaved canned green beans or anything. I totally don't have one of those. You're like, "Julia, I nuked a can of green beans last night. No one died." To which I respond: "I'm sorry, but we can't date anymore. Your broken heart will mend in time."
Anyway, butternut squash curry is the greatest thing that happened since the door stoop. Everyone knows that.
There is nothing like throwing vegetables in a wok or sauté pan and enjoying a delicious, filling meal after a long day. Adding animal protein is easy as pie. In fact, chicken would be great in this curry. If you scoff at vegetarian meals, shrug it off and just add chicken.
Have you entered my Blentec Giveaway yet? Go get it!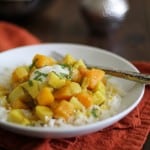 Butternut Squash & Yam Curry
Print
Ingredients
2

tablespoons

coconut or olive oil

1

large yellow onion

chopped

1

cups

large jewel yam

chopped into ½" cubes (4 )

1

cups

small butternut squash

peeled and chopped into ½" cubes (6 )

1

tablespoon

fresh ginger

peeled and grated

4

cloves

garlic

minced

2

teaspoons

coriander

2

teaspoons

ground cumin

1

teaspoon

garlic powder

1/8

teaspoon

cardamom

1/8

teaspoon

ground cayenne pepper

½

teaspoon

ground turmeric

1

teaspoon

kosher salt

1 14-

ounce

full-fat canned coconut milk*

1

cup

low-sodium chicken broth

or vegetable broth

Rice for serving
Instructions
In a large sauté pan, heat oil to medium.

Add the onion and sauté about 2 minutes.

Add the butternut squash, yam, and grated ginger. Stir and sauté about 3 minutes.

Add the garlic and spices, and sauté another 3 minutes before adding the coconut milk and chicken broth. Stir to incorporate everything together.

Cover the sauté pan and bring it to a full boil. Reduce the heat to a simmer and cover the sauté pan. Continue cooking until vegetables are cooked through, stirring periodically.

If serving the curry with rice, prepare the rice while the curry is cooking.

Serve with chopped basil, mint, or cilantro, and a dollop of plain yogurt.