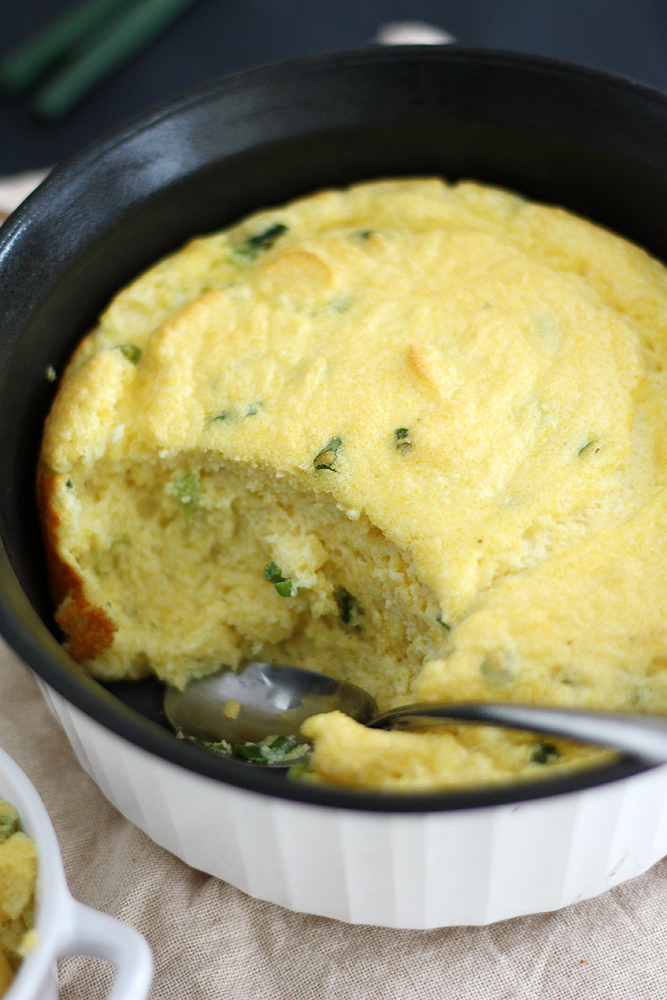 Good morrow, mates! Stephanie with Girl Versus Dough is joining us today with her recipe for buttermilk spoonbread! I came across Stephanie's blog eons ago and was instantly sucked in by her style of writing and consistently delicious recipes. She's an incredibly talented baker AND cook, whipping up tasty eats like these Sweet Potato Marshmallow Cinnamon Rolls, and these (my favorite – – – >) Blackened Salmon + Mango Tacos. . .
. . . Plus, I like the things she tells me. She gives good blog.
For those of you who missed this post, let me fill you in on what's going on during the month of January, both on my blog as well as behind the scenes. Two handfuls of my great blogger friends are guest posting on The Roasted Root this month. I'm intermittently popping in to say hello and to show you some goods. The reason for this is to work with with my editor on editing and buttoning up Let Them Eat Kale!, (which I turned in Jan. 1), and also to finish up some food-related side projects. The added bonus to these guest posts is you get to meet the people I chat with each and every day, try their tasty recipes, and blog stalk their sweet hineys.
I'm going to pass the mic to Stephanie so she can tell you about her scrumtrulescent Buttermilk Spoonbread!
– – –
Howdy ho, The Roasted Root readers! My name is Stephanie and I blog over at Girl Versus Dough about baking bread and other adventures. I'm so honored to be posting on Julia's lovely space today while she takes on the world (but seriously, girlfriend has two cookbooks coming out this year. WHAT) and I sit here eating a massive bowlful of this buttermilk spoonbread. We all do our part.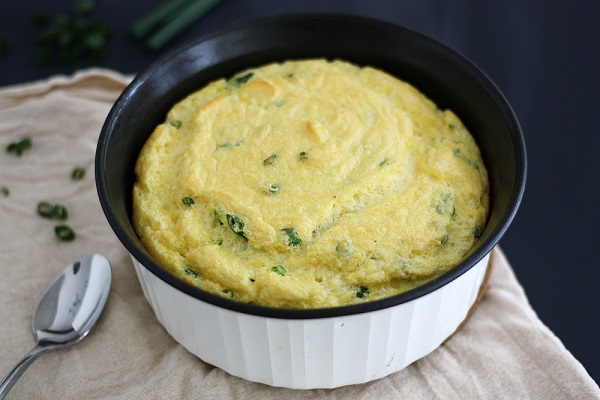 Have you ever tried spoonbread before? I've made it a couple of times in different ways, but this recipe is my favorite version so far. It's light and fluffy, like a souffle, but with a slight tang and zing and pop! and wow! (sorry, got carried away there) from the green onions and buttermilk. My only regret is that I didn't add a heap of shredded cheese to the mixture but I assure you, even without it, I want to sing from the rooftops about how much I love this stuff.
Oh, and the bonus? It's naturally gluten free. My favorite GF recipes are the ones where a) you can't tell it's gluten free and b) it doesn't have a smattering of weird or hard-to-find ingredients, and this one fits the bill. I don't particularly aim to eat gluten free every day, but I have friends and family who do and I know they'd love to chow down on this bread as much as I do. It's simple, it's easy, it's delicious. What more could you want in life, really?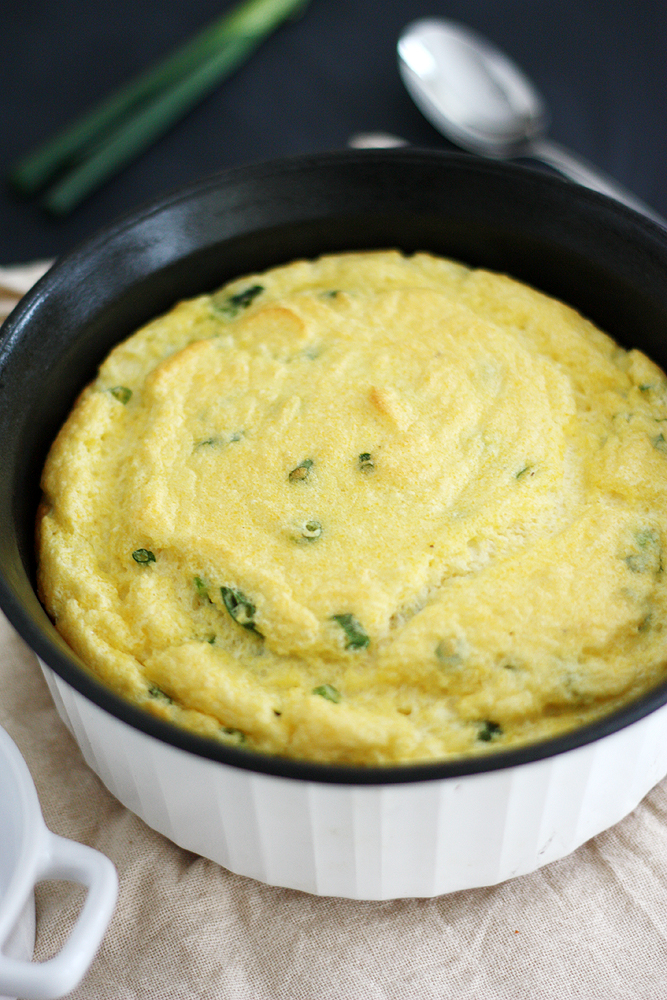 So here's what you need to do this week: Make this spoonbread. Serve it on the side with a bowl of one of Julia's delectable chilis or soups. Devour all of the above. Immediately collapse into food coma bliss. That's what's on my agenda, anyway.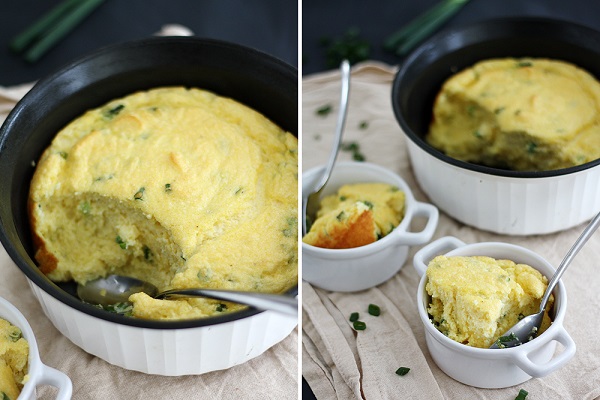 Recipe adapted slightly from Relish
Gluten-Free Buttermilk Spoonbread
Gluten-Free Buttermilk Spoonbread is a lovely side dish to go alongside just about any meal, particularly soup, stew, and chili!
Ingredients
1 1/2

cups

buttermilk

1/2

cup

fine-ground cornmeal

2

tablespoons

unsalted butter

3/4

teaspoon

salt

3

eggs

separated

3

green onions

sliced
Instructions
Heat oven to 375 degrees F (350 degrees F if using a dark or nonstick dish). Butter bottom and sides of a 4 to 6-cup souffle dish.

In a medium saucepan over medium heat, heat buttermilk until warm to the touch. Add cornmeal; stir 2 to 3 minutes until thickened and smooth. Remove from heat. Stir in butter and salt. Let cool slightly.

Meanwhile, beat egg whites until soft peaks form. Stir egg yolks and green onions into cornmeal mixture until well combined, then gently and carefully fold in egg whites.

Pour batter evenly into prepared dish. Bake 30 to 35 minutes until bread is set, puffy and golden brown on top. Serve immediately.
Nutrition