Months ago, I was listening to Radiolab on NPR while driving and an episode called Desperately Seeking Symmetry was on. Just like the title states, the podcast was on symmetry and how life not only makes it, but craves it…and also shies away from it.
One of the topics Jad and Robert discuss during this podcast is chirality, which is the state of non-super imposable symmetry. Kind of like your right and left hand…they have a symmetrical quality to them but when superimposed, they don't match up.
Is this beginning to sound like a paper you had to write in college? There's a point, read on!
To demonstrate chirality, Jad and Robert talk to a man named John, who tells a story about his college years. He wasn't popular or invited to parties and he couldn't figure out why. The ladies ignored him. Lame. One day, John took a gander at a recently snapped picture of himself and it changed his life.
The man in the picture wasn't the man in the mirror (enter Michael Jackson's Man in the Mirror).
The dude in the photo looked strange, not like the handsome man John saw in the mirror. And then it dawned on him: It was his hair part. John always parted his hair to one side but in order to appear the same to others as he appeared to himself in the mirror, he would need to change his part to the other side. And so he did. And so he became popular. And the ladies liked him.
The end. Just kidding, there's more.
One day, John watches the news and Jimmy Carter addresses the nation, saying that the U.S. is in a funk. A state of malaise. Something's up, Jimmy says, and we need to do something about it. What does John do? He writes Jimmy Carter a letter telling him the solution to Jimmy's problem is changing his hair part. While John receives no letter in response, Carter's hair part changes to the other side six weeks later. And somehow all the wrongs are right-ted.
10 bucks says if Obama had a part that he could change to the other side, healthcare.gov would be fixed. Gasp! Political statements? Not appropriate.

So there's your answer. To everything. Sometimes you need to change your hair part. Break away from the man in the mirror, because regardless of your perception, no one else will ever have the same perception as you. Sometimes you need a change of perspective. You need some asymmetry. And sometimes your change of perspective changes the perspective of those around you, too.
We can do this with all things in life. Use the power within to change the things we once thought we were powerless to change. In love and relationships, in location, in career, in chili.
Prior to making this chili, I didn't know what to expect. What would the texture be like and would it taste anything like pumpkin pie? Turns out, pumpkin chicken chili comes out thick, hearty, filling, and is like no other chili I've ever tried. Evidenced by the college paper I just wrote on symmetry, there are few words to describe the grandeur of this chili. Other than awesome, cool, bangarang, unique, lovely, and hhmmmmyyygaaahh.
I totally roasted the pumpkin that went into this chili, but you can use canned pureed pumpkin too…although I can't guarantee I won't call you a cheater, cheater pumpkin eater. Oh hush, Blanche, go change your part.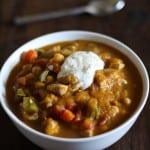 Pumpkin Chicken Chili
Print
Instructions
In a large pot, heat oil to medium heat. Saute the onion for 3 minutes before adding the bell pepper and carrot. Saute veggies until softened but not completely cooked, about 8 minutes stirring consistently.

Add the garlic, cumin, sage, Cajun seasoning, and cinnamon and cook an additional minute.

Add the chopped chicken and allow the meat to brown just slightly, careful to not cook through.

Add the remaning ingredients and stir well.

Bring the chili to a full boil. Reduce the heat to medium-low and allow the chili to bubble and simmer about 35 to 40 minutes, or until the veggies and chicken are completely cooked.

Serve with your favorite chili toppings!
Recipe Notes
*You can replace the Cajun seasoning with chili powder or allspice **In order to roast your own pumpkin, chop the stem off, scrape out the seeds,chop the pumpkin in half, and place it face-down on a baking sheet. Bake it for 50 to 60 minutes (or until the flesh is very soft) at 375 degrees F. Allow it to cool, then spoon the flesh away from the skin and mash it or blend it in a blender.