Braised escarole and beans is a healthful yet comforting meal perfect for winter. Escarole is an endive that looks like lettuce and is full of Vitamins.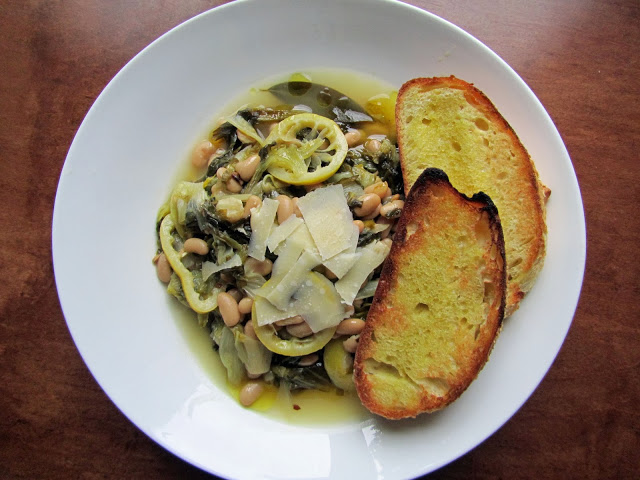 Oh hey, escarole! Have you heard of it? Because – and I tell you this with my tail between my legs – I have never cooked with it.
This girl – the one who loves vegetables, who should know how to pronounce, cook with, and devour escarole – fails the escarole exam. But never fear, Kari's here!
Kari from Loaves n Dishes is guest posting on my site today!
I love her style of cooking! She incorporates every cooking method ever into her recipes and uses fresh ingredients. She inspires me to try new ingredients like escarole, and new cooking techniques.
I never know what she's going to come up with next, which makes reading her blog exciting. Her meals are mouth-watering, AND she's a real sweetheart.
Here's Kari with her show-and-tell!
– – –
Hey y'all!
You don't know how excited I am to be here at the Roasted Root! I have admired Julia since I first discovered the world of blogging, when I became enamored with her smarts, witty writing, and yummy recipes!
I know that Julia rocks it healthy yummy, and that's why y'all come here; but darn if it hasn't been cold and I want something comforting!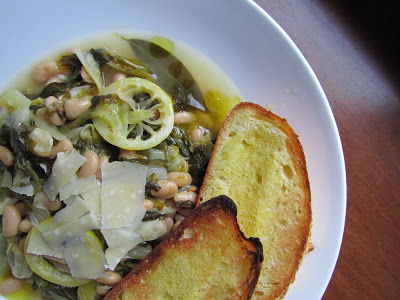 Much of the time for me, comforting is something with ooey gooey cheese, or a big ol' bowl of pasta…or a big ol' bowl of ooey gooey cheesy pasta!
But comfort food can also be a big ol' bowl of Braised Escarole and Beans, and this is the kind of comfort that I'm seeking, especially after all the indulgent holiday eating.
Both escarole (aka endive) and beans are low in calories, high in fiber and packed full of nutrients, and because of that you can go ahead and pile on the Parmesan cheese without an iota of guilt! I'll always find a way to rationalize the use of cheese.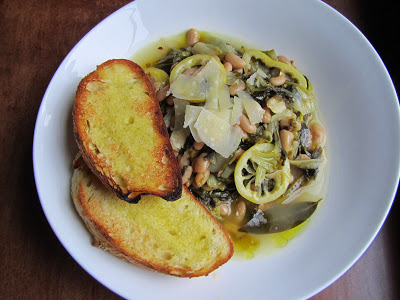 At my house I prefer to eat vegetarian and my man doesn't!
So I like to have options. I make this dish vegetarian using for the liquid half vegetable stock and half water and I also throw in a Parmesan cheese rind which gives the broth some oomph, and lemon slices for brightness.
For my husband, I roast a chicken breast (or use a rotisserie chicken) and place that on top so that he's happy; after all a way to a man's heart is through his stomach!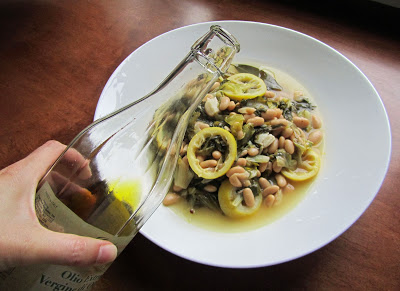 You could skip the Parmesan cheese and just go straight to drizzling some flavorful extra virgin olive oil over the dish.
You're definitely gonna want something to sop up the yummy broth with; perhaps good toasted bread.
Now that we've gotten all comfortable with this comforting dish, I must bid you adieu. Thank you and thanks to Julia for having me!
Braised Escarole and Beans
Braised Escarole and Beans is a simple, light meal that is huge on flavor!
Ingredients
¼

cup

extra virgin olive oil

5

cloves

garlic

peeled and smashed

2

pinches

red chili flakes

1

head Escarole

chopped

2

cups

Chicken stock

or plain water, or 1 cup water + 1 cup vegetable stock, low or no sodium

1

Parmesan cheese rind

optional

2

Bay Leaves

1

15-oz can Cannellini beans, drained

Salt and pepper to taste

½

Lemon

sliced

Parmesan cheese shavings
Instructions
Add the olive oil and garlic to a large skillet or braising pan; heat over medium-high heat.

When the garlic becomes golden in color, add the chili flakes and the escarole; give it a toss. Add the chicken stock (or water and vegetable stock), Parmesan cheese rind (optional), bay leaves, beans, salt & pepper, and the lemon slices. Bring the liquid to a boil; then reduce the heat to medium and cook partially covered for 20 to 30 minutes, until the escarole is soft.

Remove the bay leaves, and ladle the escarole and beans along with the liquid into 2 soup bowls. Drizzle with a little more olive oil and top with parmesan shavings.

Serve with toasted Italian bread.
Notes
If you've got to have meat, serve this dish with some roasted chicken on the top, and then this dish will serve 4 people.
Nutrition
Serving:
1
Serving
|
Calories:
607
kcal
|
Carbohydrates:
45
g
|
Protein:
26
g
|
Fat:
32
g
|
Fiber:
19
g
|
Sugar:
4
g