Nutrient-packed beet rice and kale bowls, with avocado, runny egg, and beet green pesto. These squeaky clean bowls are perfect for a mini cleanse or an overall clean eating lifestyle.
The first time I made these bowls was in Wyoming, and to be honest I wasn't very interested in them way back then (a week ago).
Probably because I somehow decided to consume almost zero nutritious food the whole trip. But after returning home with a spare tire and deciding to go back to my usual vegetable regiment, I re-made these bowls and ohhh momma, they're actually quite delightful!
Designed to be grain-free, vegetarian, paleo, dairy-free, and packed with vitamins and antioxidants, these bowls are decked out with superfood.
First off, let's talk about beet rice. Have you heard of it? It's not really a thing.
Well, I guess it is now.
Essentially, you under-roast a beet so that it maintains some texture, then you chop up said under-roasted beet, throw it in a food processor, and make rice out of it. Kind of like cauliflower rice…but with a beet.
..And we pair said superfood rice-less rice with garlicky sautéed kale, which literally takes seconds to prepare. Okay, we'll say 4 minutes.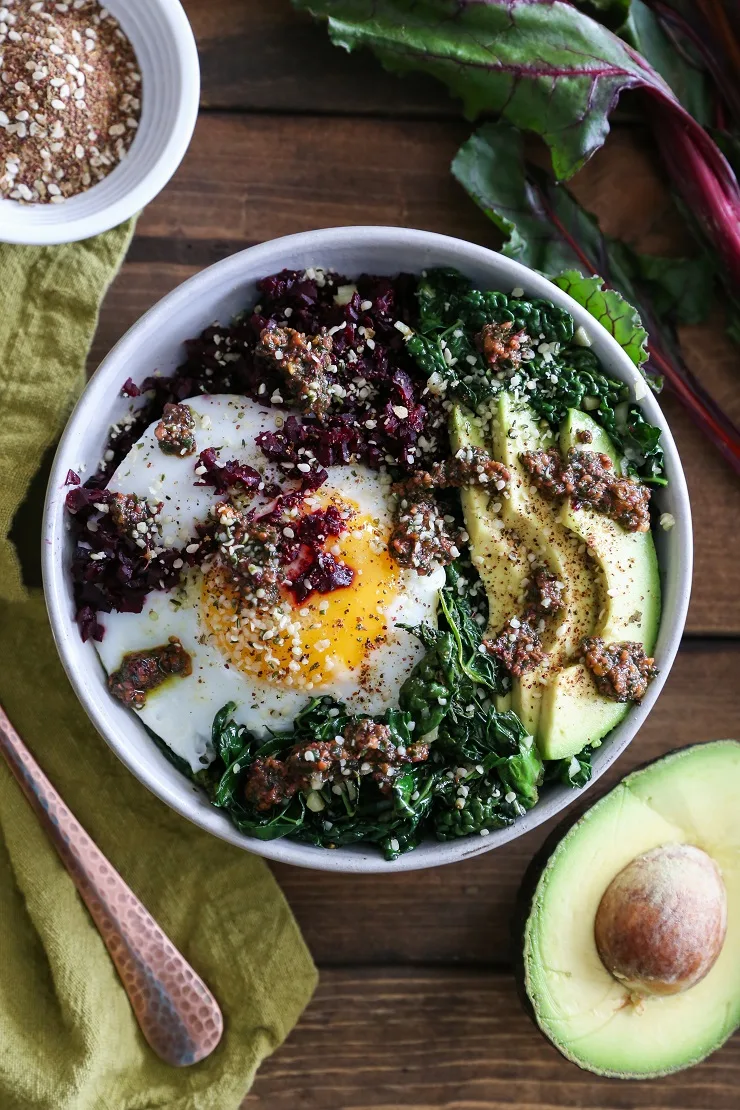 Serve with avocado and a Sunnyside up (or poached or fried or scrambled or something I don't even know about) egg, and you have yourself a well-rounded meal situation.
Are you vegan? Go egg-less and potentially add some black beans or garbanzo beans for protein.
I topped these bowls with a healthy dollop (slash waterfall) of the beet green pesto I posted yesterday.
The pesto just ramps up the flavor profile and ties all the ingredients together. You already have the beet greens from your bushel of beets, so preparing the pesto is an easy step that can be done while the beet is roasting.
If you're meal prepping, you can roast the beet rice up to 4 days ahead of time in a sealed container until you're ready to fix the rest of the meal.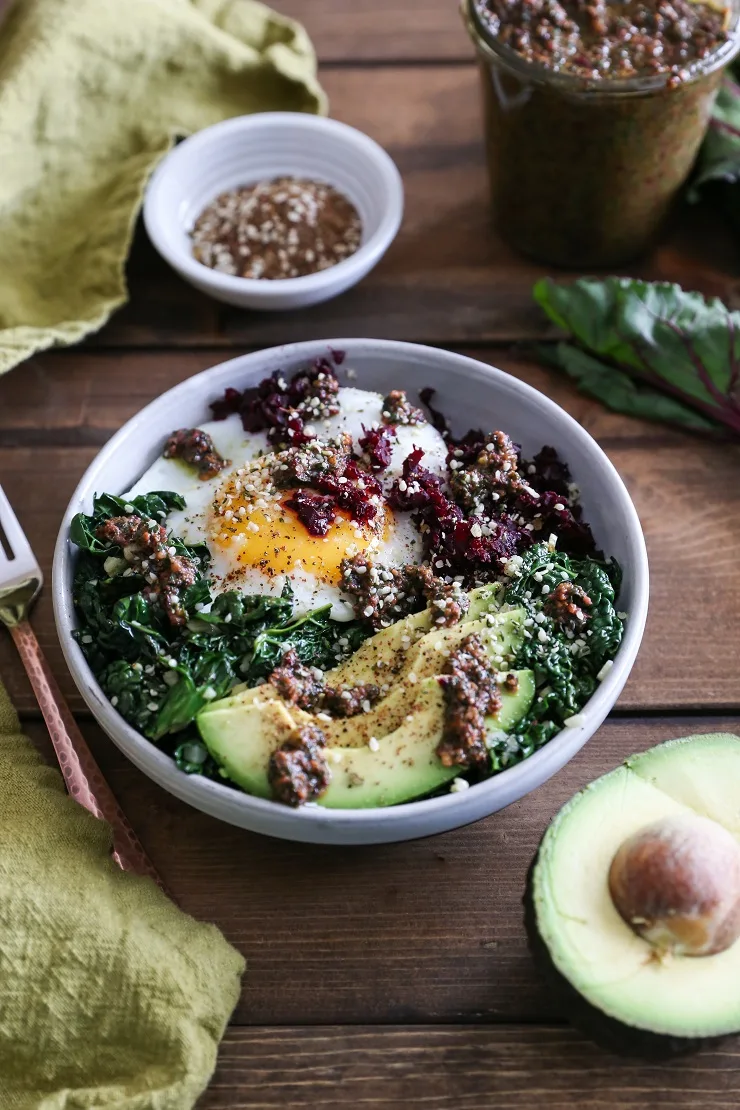 Recipe Alterations:
Add grilled or rotisserie chicken to make this a more substantial meal

Ramp up the protein profile if you're vegetarian or vegan by throwing in your favorite bean

Replace the kale with Swiss Chard, broccoli rabe, or any other leafy green.

Throw some actual rice into the bowl – My favorite rendition of this bowl so far has been everything mashed together with brown rice.

Use any of your favorite pesto sauces, or even a tahini sauce. Guacamole or hummus? Do it!

If you don't have a food processor, you can definitely use a box grater to prepare the beet rice.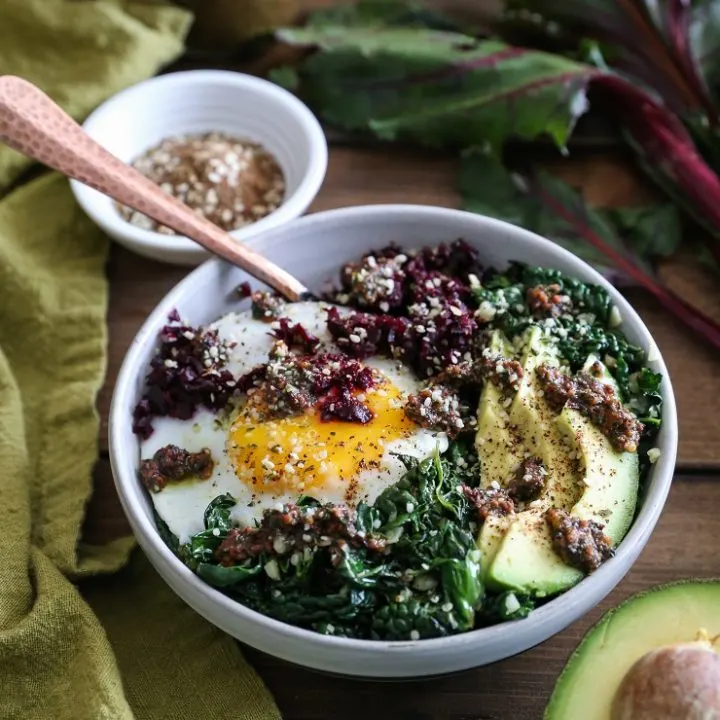 Beet Rice and Garlicky Kale Bowls
Total Time:
1 hour
5 minutes
Clean, anti-inflammatory breakfast bowls with kale, beer rice and avocado is a nutritious way to kick off the day.
Ingredients
1 large beet
2 tablespoons olive oil
2 heads kale, chopped
4 cloves garlic, minced
1 large avocado, peeled and sliced
For Serving:
Eggs, Sunnyside up or hard boiled
Instructions
Preheat the oven to 420 degrees Fahrenheit. Wash and scrub the beet well, pat it dry, then wrap it in foil. Roast for 45 minutes, just until the beet is almost fully roasted.
Remove from the oven and once cool enough to handle, unwrap the beet and chop it into fourths. Place the quartered beet in your food processor and turn it on. Process until beet is reduced to rice-sized pieces. Sprinkle with sea salt and any other seasonings you like, such as ground cumin, curry powder, turmeric, etc.
Heat the olive oil over medium heat in a skillet and add the minced garlic and chopped kale leaves. Saute, stirring occasionally, until kale has wilted and garlic is very fragrant, about 3 to 5 minutes. Sprinkle with sea salt to taste.
Divide the beet rice and sauteed garlic between two bowls. Serve bowls with beet green pesto, or any pesto sauce of choice, along with a hefty portion of avocado and sunnyside up (or poached or fried) eggs.
Nutrition Information
Yield

2
Serving Size

1 Serving
Amount Per Serving
Calories

482
Total Fat

31g
Unsaturated Fat

0g
Carbohydrates

42g
Fiber

17g
Sugar

4g
Protein

17g