Spinach, Leek, and Potato Frittata is a simple yet flavorful breakfast or brunch.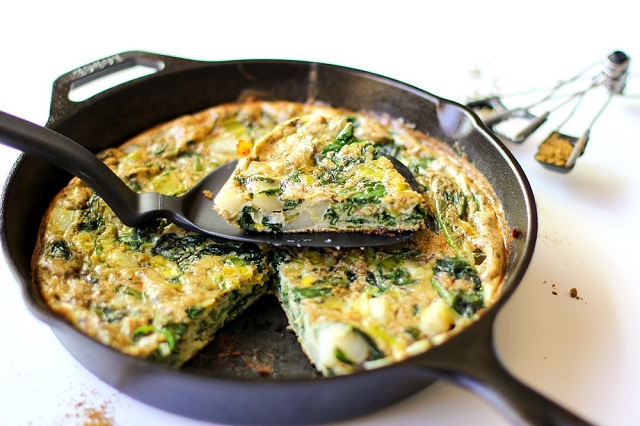 Mother's Day is just a stone's throw away, and we have a menu to prepare!
If you've been around my site for a while, you know I have a very close relationship with my mom. Not only has she guest posted on my blog, but I've made a tradition of baking her muffins and writing a letter to her on my blog every Mother's Day (see this and this post). I feel so fortunate to live near my mom and to have her as the most reliable rock in my life.
While I visit with my mom often, Mother's Day is always a memorable time of year. My immediate family alone is uuuuuuge (I have two brothers, a sister, and ten nieces and nephews), so rounding up the troops to celebrate all the mommies of the world makes for good laughs, and of course: tasty eats.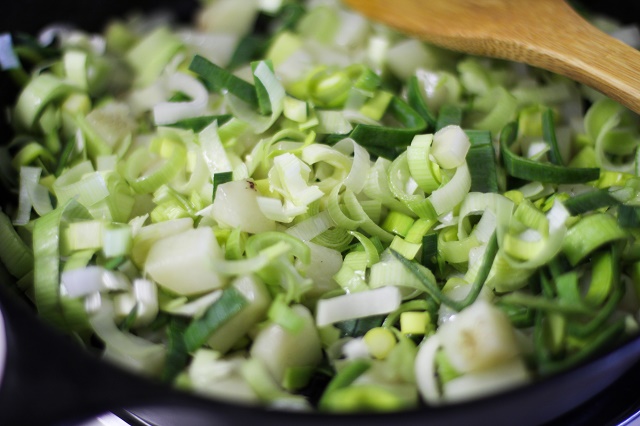 Let's face it: in order to feed a crowd as large as my family (and cater to everyone's taste buds), we need to have a large array of food. Spreads upon spreads upon spreads upon peanut butter and jelly for the kidlets. Let's face it x2: I'm usually the one in charge of the healthy eats. Because my family is cut from meat-and-potatoes cloth, this Spinach, Leek, and Potato Frittata (with a side of bacon, please!) is perfect for the adults in my family who are watching their blood sugar level.
Ergo, zee frittataaaah.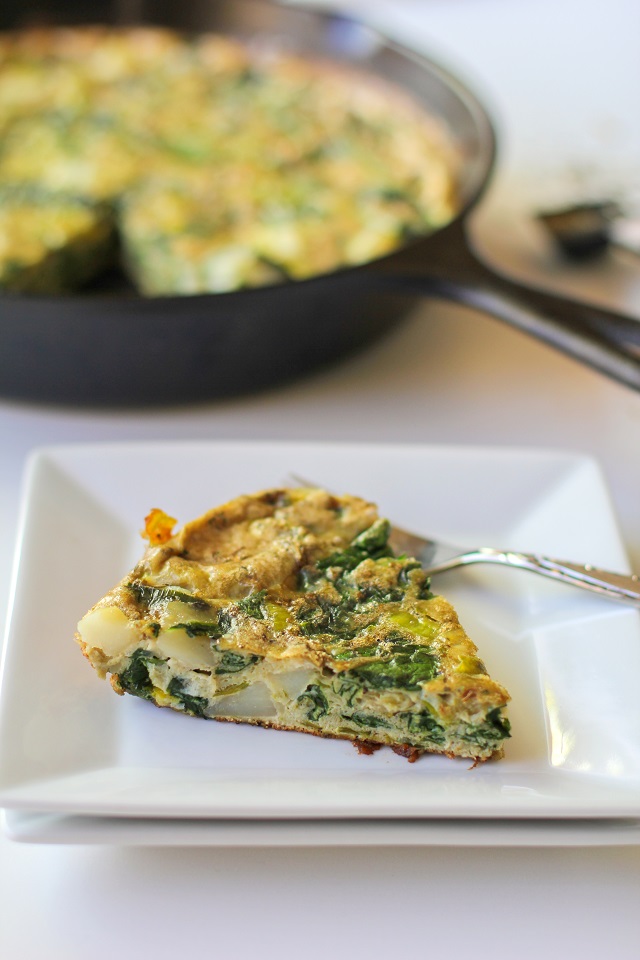 Frittatas never get old in my book. Vegetables + eggs make an approachable and healthful brunch for any occasion. Since Springtime is basically Brunchtime, and Mother's Day is just a couple of weeks away, I've been inspired to whip up frittatas galore to take all the flavors out for a test run. I've gotta say, this one's pretty dandy!
Healthy yet filling, this Spinach, Leek, and Potato Frittata definitely suits the needs of my family. The leek gives the frittata a great deal of flavor, and adding Italian seasoning and cumin also adds to the flavor factor. The potatoes do a nice job of making the frittata nice and hearty to keep the family full and happy.
After making frittata after frittata, I have acquired some tidbits of advice:
Keys to Frittata Success:
Use fresh vegetables, such as potatoes, spinach, kale, chard, asparagus, onion, etc. Don't be affraid to use cups on cups on cups of chopped vegetables, because they will cook down!
Saute said veggies prior to adding the beaten eggs – this softens them up and brings out some flavor.
Add a pinch of seasoning, such as cumin, curry powder, Italian seasoning, etc. in order to give that frittata some pep.
Grate up some cheese, such as jack, mozarella, gruyere, or cheddar. Or go cheeseless…whatever's your jam.