Have you ever had a persimmon smoothie?? This warmly-spiced winter smoothie made with persimmons, fresh ginger and coconut milk is the perfect indulgent treat or healthier dessert.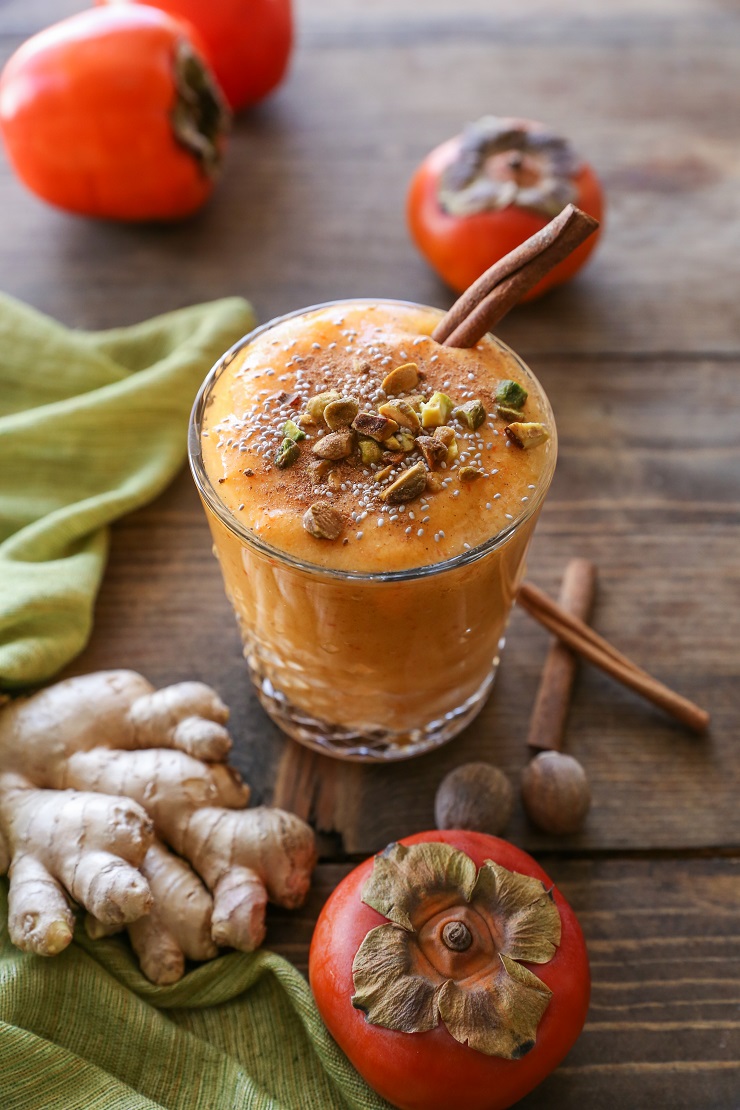 First recipe post of 2017, the pressure is ON!
Just kidding, I generally take a zenful Eckhart Tolle approach to writing these posts. Everything feels much more relaxing when you realize it's all in your head. Stress…pressure…our affinity for melted cheese…every last thought, emotion. Speaking of things in our heads…
Can we talk about our goals for the year? I like the word, "goals." It's seasonally ambiguous, always relevant. Less threatening and final sounding than, "resolutions."
I'm kind of blowing the goal thing out of the water this 2017, and may be coming out of the gates a little too hot, but I just have to share some of my favorites with you.
But you go first.
No you.
No, your goals.
If you show me yours, I'll show you mine.
Okay, fine, you win. I'll go.
This year, I want to…
Do an epic Tour de Europe. Suggestions? Favorite places? Must sees? Lay them on me.

Take a hip hop class and a silks class

Do at least one trail half-marathon, but more ideally 20. JK, like 3.

Spend more active time with my family. We get together for eating time and TV time, but I'd like to recreate with them more, too.

Buy nothing. No joke. I literally want to purchase nothing this year. Except for food, because girl's gotta eat.

Read more, watch less Netflix. Book suggestions? I like mindless novels. I'm all about high school reading level books that make me laugh and cry. Currently accepting all suggestions except for Nicholas Sparks, please and thank you.

Be less old. I legit go to bed when the sun goes down. Send help.
Normally I'd skip the goal sesh, but I figured if it ended up in plain text or HTML format, I'd be more likely to follow through. Hold me accountable? I'll hold yours if you hold mine. This is getting out of control.
From a blogging standpoint, I have a somewhat clear idea of my goals, but am still collecting feedback from you all on my reader survey. Once I have collected my data, I'll circle back to you in terms of the direction TRR will be taking in 2017.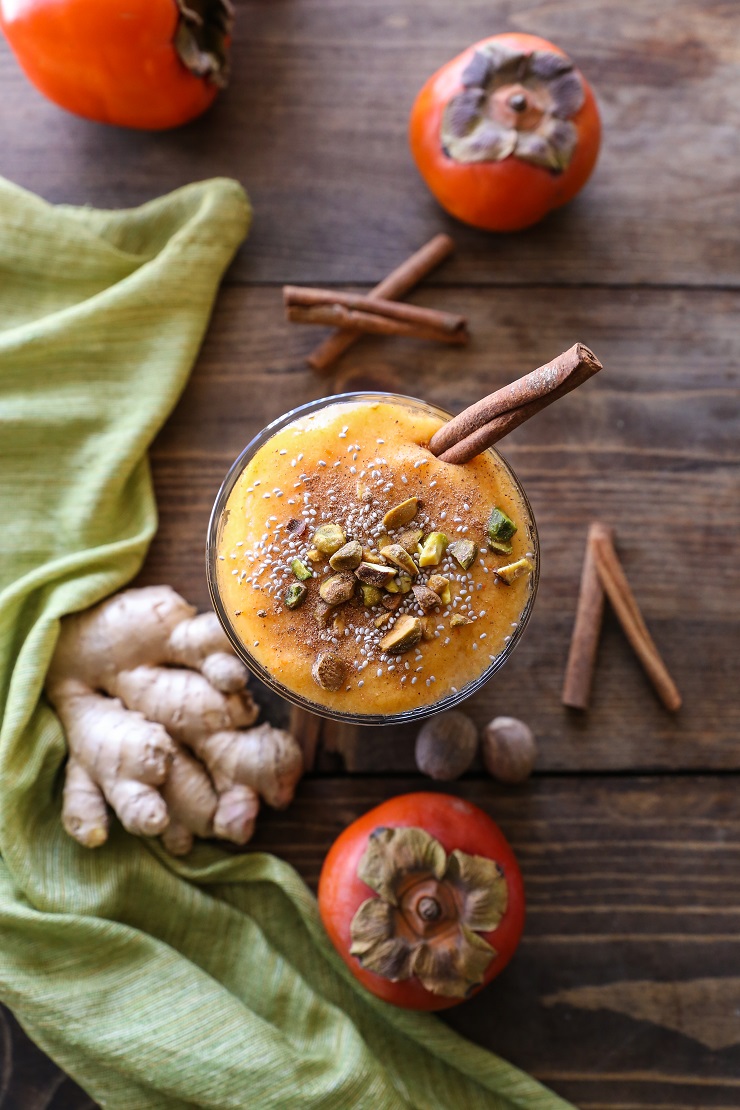 I like to start off my New Years on this blog with a week of smoothie recipes. My guess is your body is craving them after a few months of throwing food caution to the wind, plus they're New Year's Resolutions approved (and encouraged). So to kick off a 3-recipe smoothie week, I'm bringing you a smoothie that was inspired by my own mother!
I walked in the door on Christmas Eve and my mom attacked my mind-soul with the story of this smoothie she made for her significant other, Carlo. It was all the rage. A smoothie made of persimmons, banana, coconut milk, and warm spices for an obnoxiously winter breakfast/snack treat. Have you been into persimmons this year? I've found them particularly drippy, sweet, and luscious this winter…almost caramel-y in flavor. If you're a newb to the persimmon, this is a pretty stellar Intro To.
You can do as my momma did an add ripe bananas to the smoothie, but I liked it just great without. You can use almond milk instead of canned coconut milk if you're looking to save on calories, but just note it will taste less creamy and less rich. Make changes as necessary and proceed forth into 2017 with a fancy smoothie in your glass!
Psst! If you haven't done so already, please feel free to give any feedback you have for me on this site by taking my reader survey!
Chai-Spiced Persimmon Smoothie
A crazy unique fall inspired smoothie recipe!
Ingredients
1

large ripe hyakume persimmon

chopped

½

cup

full-fat canned coconut milk

or almond milk

¼

cup

unsweetened almond milk

5

large ice cubes

1

teaspoon

fresh ginger

peeled and grated

¼

teaspoon

ground cinnamon

1/8

teaspoon

fresh grated nutmeg

cloves

Pinch

optional

½

teaspoon

pure vanilla extract

Pure maple syrup to sweeten

optional
Instructions
Add it all to a blender and blend until smooth. Taste smoothie for flavor and add more spices or pure maple syrup to taste. Serve with chopped nuts, granola, and/or chia seeds on top.
Nutrition