Bibimbap with Sweet Potatoes is a vegetarian take on a classic Korean dish.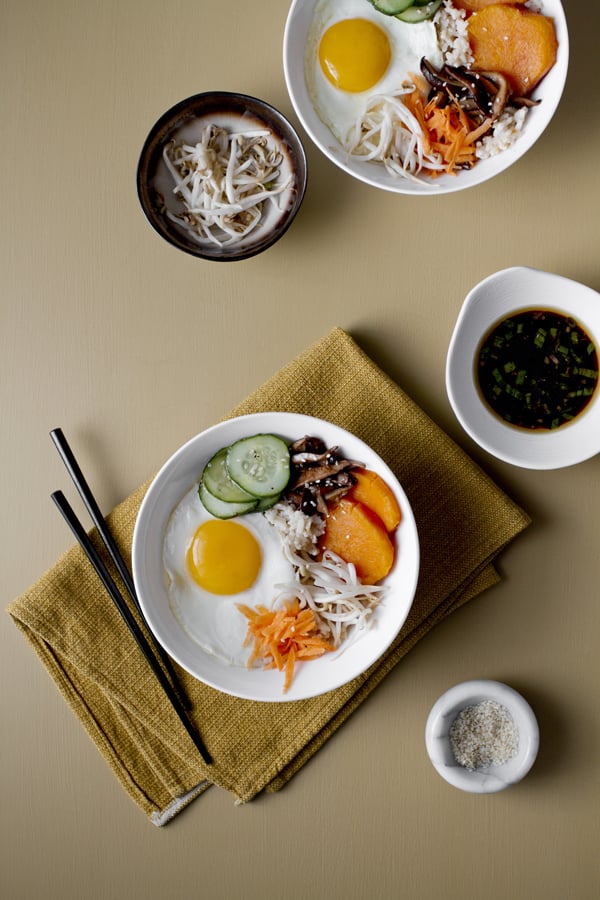 Photo by Rikki Snyder
Bibimbap wapadap aaaa doooowap doobedapbap aaa dooowap bibimbap adoooo hey yeaaa (sung to the tune of Hanson's MMMBop).
Sorry.
That needed to come out. Better that it get broadcasted on the internet than out loud in real life lest anyone should hear and discover just how big of a lunatic I truly-madly-deeply am.
Bibimbap!
There's all sorts of special wrapped up in this post today. First with this crazy sexy cool vegetarian bibimbap, and also with a super rad announcement! First: the bibimbap. If you enjoy ethnic food and/or vegetables, you should get on this lickety split. Done!
Go to Oh My Veggies for my recipe for Sweet Potato Bibimbap.
And now for an exciting announcement!  Kiersten, the creator of Oh My Veggies, wrote an awesome E-Book on How to Monetize Your Food Blog! If you are thinking about starting a food blog or already are a food blogger, you should drop what you're doing and read Kiersten's E-Book.
The E-Book gives you information on how to optimize the advertisements on your site, get set up with affiliates, work with brands, and much more. I wish I had this as a resource the very first day I started blogging, as it would have saved me a boat load of time and confusion.
Take a looksy at Kiersten's E-Book on How to Monetize Your Food Blog!
That's all folks. Get your eat and your read on!