Fall harvest fruit salad with apples, walnuts, grapes, and homemade coconut whipped cream. A marvelous paleo and vegan-friendly side dish to bring on your fall picnics.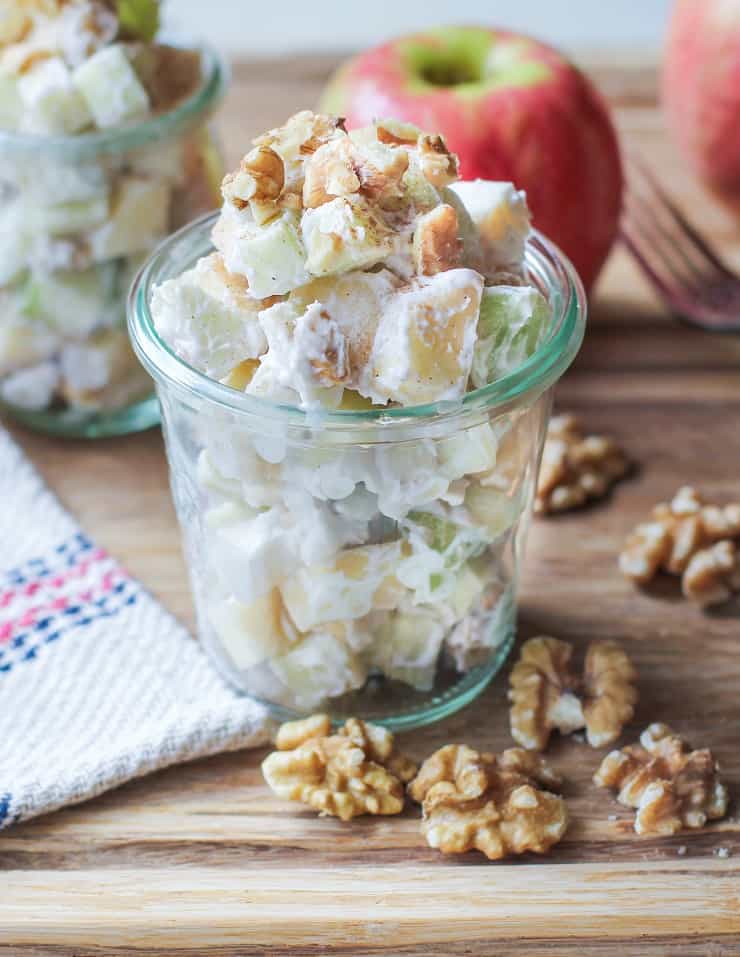 When I was a kid, my whole family would pack up the car and drive from Tahoe to Apple Hill, where we'd go apple and pumpkin picking during the harvest season. We'd eat our fill of apple doughnuts, apple fritters, apple pie, and drink loads of apple cider. Every year, we'd stop for lunch and get roasted chicken with a few side dishes, including apple fruit salad.
Aaaah, apple fruit salad…this was, by far, my favorite of all the apple dishes we'd consume, and I'd typically eat a whole container of it to myself. It was also one of the few instances in which I'd knowingly and willingly consume mayonnaise, as it was prepared with a sweet, creamy dressing with a touch of mayo.
Most years, I go back to Apple Hill with my mom and her significant other, although as an adult, these visits are now much different. For instance, I skip all of the apple treats save for the apple fruit salad (I know, I know, what an utter bore I am), and am generally more interested wine tasting and in collecting apples and pie pumpkins for my own baking needs.
When I'm having a hankering for Apple Hill's apple fruit salad and don't have a chance to make the long drive over there, I simply whip up my own version at home. I make a homemade maple-sweetened coconut whipped cream and use it as the "dressing" to bring the apples, walnuts, and grapes together. You won't believe how simple this super tasty fall side dish is. It's perfect for packing up and taking to family gatherings or picnics, or for snacking on at home.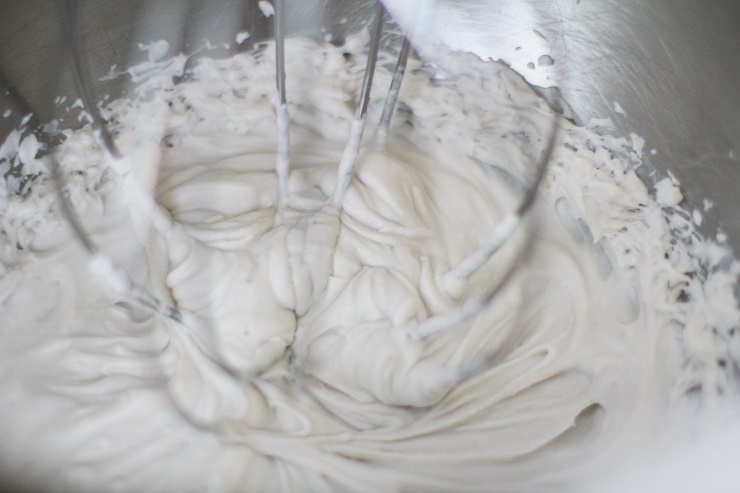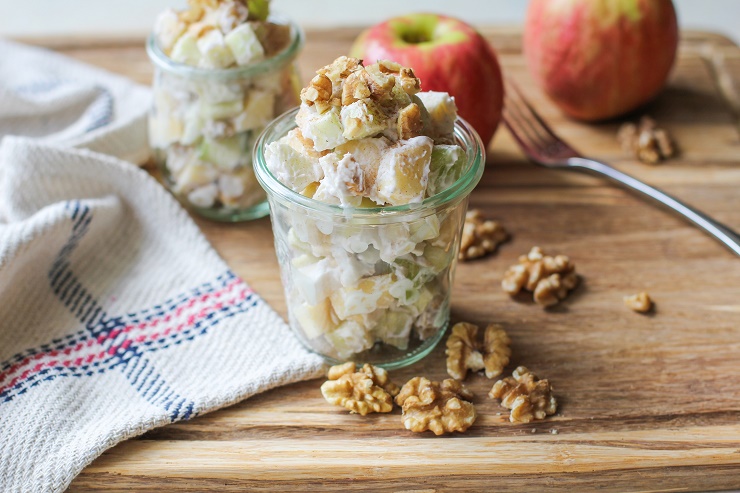 For us in the Reno/Tahoe area, fall weather tends to be perfect for picnics. While we do get rain and snow here and there, we generally have sunny weather with moderate, agreeable temps – marvelous for packing up a lunch or early dinner and going for a woodsy or park-y picnic.
As you may have noticed discerned from my Fruit Salad with Lemon Coconut Whipped Cream and my Zesty Fruit Salad with Coconut Milk and Basil recipes, I find fruit salad to be pretty pivital when picnicking. In fact, I love it just as much as I love a good German-Style Potato Salad. Because it's dairy-free and naturally sweetened, this salad is a nice, refreshing burst of sweet bliss that people of all ages and dietary restrictions can enjoy. Plus, football encounters? Your friends will LOVE this.
Apple Walnut Fruit Salad with Cinnamon Maple Coconut Whipped Cream
Fruit salad with apples, grapes, and walnuts is a nutritious flavorful side dish for the fall or summer!
Ingredients
1

Granny Smith Apple

peeled, cored and chopped

1

Pink Lady apple

peeled, cored and chopped

1½

cups

green grapes

halved

¼

teaspoon

ground cinnamon

1/3

cup

raw walnuts

chopped
Instructions
Prepare the Coconut Whipped Cream:
Place the can of coconut milk in the refrigerator, and refrigerate overnight. This allows the coconut water to separate from the coconut cream.

Open the can of coconut milk and scoop out the hardened cream (or "flesh"), leaving behind the coconut water. Add the coconut cream to a stand mixer fitted with a whisk attachment, along with the pure maple syrup, vanilla extract, and pinch of sea salt. Beat on medium-high until well-combined and fluffy– this process only takes 30 seconds or so. Taste the whipped cream for flavor and add more pure maple syrup if desired. Refrigerate until ready to use.
Prepare the Fruit Salad:
Add all of the ingredients for the fruit salad to a mixing bowl. Add desired amount of coconut whipped cream and toss together until everything is well-coated. Serve along with your other favorite fall side dishes and entree.
Nutrition