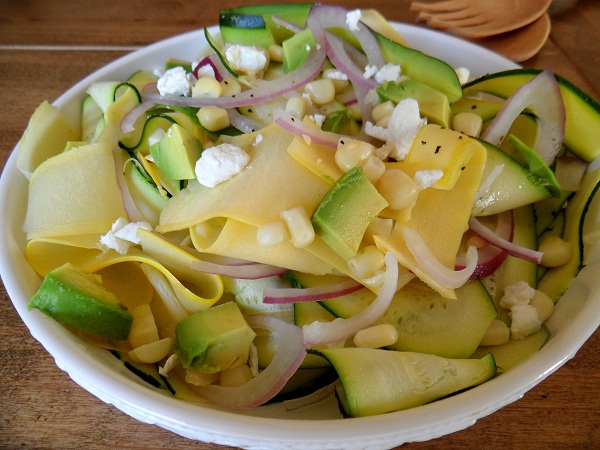 Zucchini makes a great salad! I have seen recipes for zucchini ribbon salad in the past and with the jerky twist of my head and a "pah! Pretentious," I wrote them off without thinking twice; but sometimes what seems pretentious is actually simple and surprisingly delicious. That's what zucchini ribbon salads are.
Have you seen this before?:
This came from my garden. This was a mistake. It's what happens when you allow squash to grow for too long. It's also what happens when squash hides from you in your own garden. This is to show you I have an abundance of zucchini. This is why I experimented on zucchini ribbon salad; because I have a zucchini jungle growing outside of my house.  I used regular sized zucchinis from my garden for this salad, not the monsters. The monsters have a date with the food processor and will be baked up into sugary treats. The regular sized zucchinis are reserved for un-pretentious zucchini ribbon salad and other un-pretentious zucchini recipes.
When shaved into ribbons with a potato peeler, zucchini has a soft, subtle, almost buttery taste. When combined with cool, fresh ingredients like lemon juice, mint, corn, red onion, and avocado, zucchini ribbons are refreshing and fun.  Add goat cheese and I think you know what happens – yum!
Ingredients:
2 medium-sized zucchini
2 medium-sized yellow squash
½ red onion, thinly sliced
2 avocados, chopped
2 ears corn, cooked, cooled and kernels removed
4 ounces goat cheese, crumbled
10 mint leaves, finely chopped
2 tablespoons grapeseed oil
3 tablespoons fresh lemon juice
Salt and ground black pepper to taste
Adapted from Two Peas and Their Pod's Zucchini Ribbon Salad with Sweet Corn & Avocado Recipe.
To Make: 
Cook corn in boiling water about 5 minutes. Allow corn to cool then remove the kernels carefully with a knife.
Remove ends from squash. Using a vegetable (potato) peeler, peel ribbons down the full length of the zucchini and yellow squash and place in a bowl. Add the red onion, avocado, corn kernels, crumbled up goat cheese and chopped mint leaves.
In a bowl, whisk together the lemon juice and grapseed oil. Pour over the squash salad and carefully mix into the salad. I used my hands to scoop up large portions of the salad and turn it over on itself.  Add salt and pepper to taste.