Middle Eastern Za'atar baked chicken bowls with cucumber tomato dill salad and raita are a mega fresh dining experience.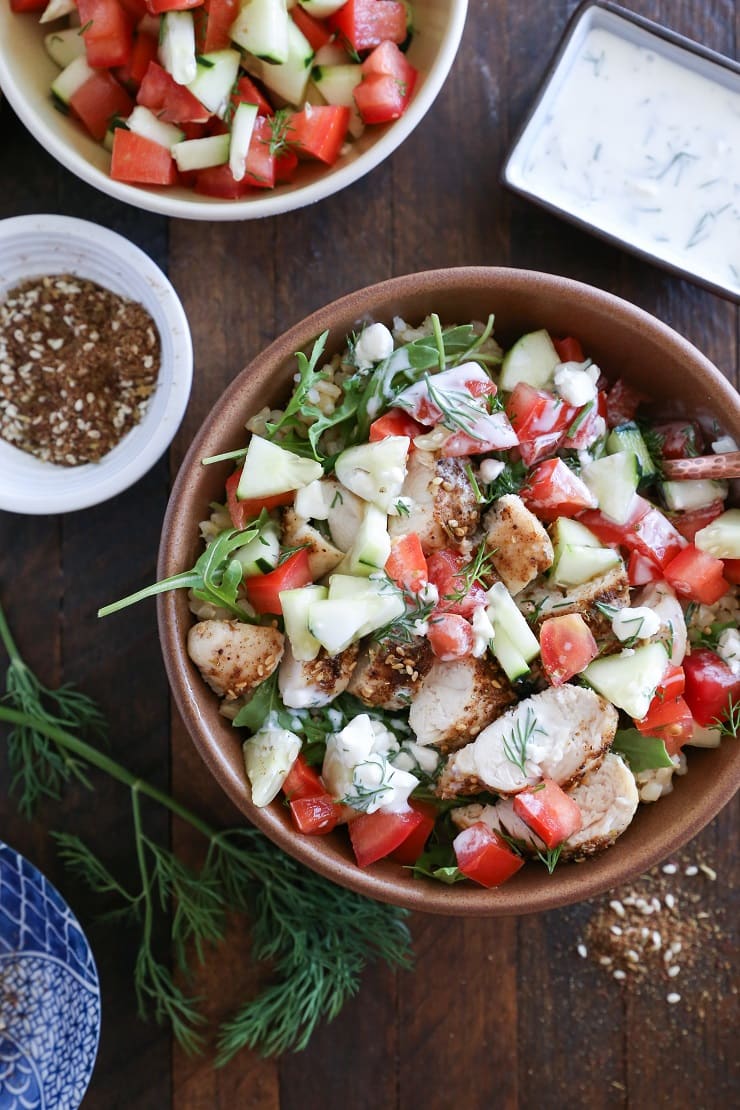 This tidbit of information has probably been made obvious over the years, since you bare witness to most of my meals, but 99.98% of what I eat is consumed out of a bowl.
I'm hopelessly devoted to bowls, signed, sealed, delivered. I'd be lying if I said I don't get flack from the man partner over it, but being on Team Bowl Food is a beautiful, unifying experience. You should try it. We're accepting new members.
Now that we've cleared that up…
This bowl adventure includes za'atar-spiced oven baked chicken in combination, fresh cucumber-tomato-dill salad, and raita, making for a super light and zesty meal.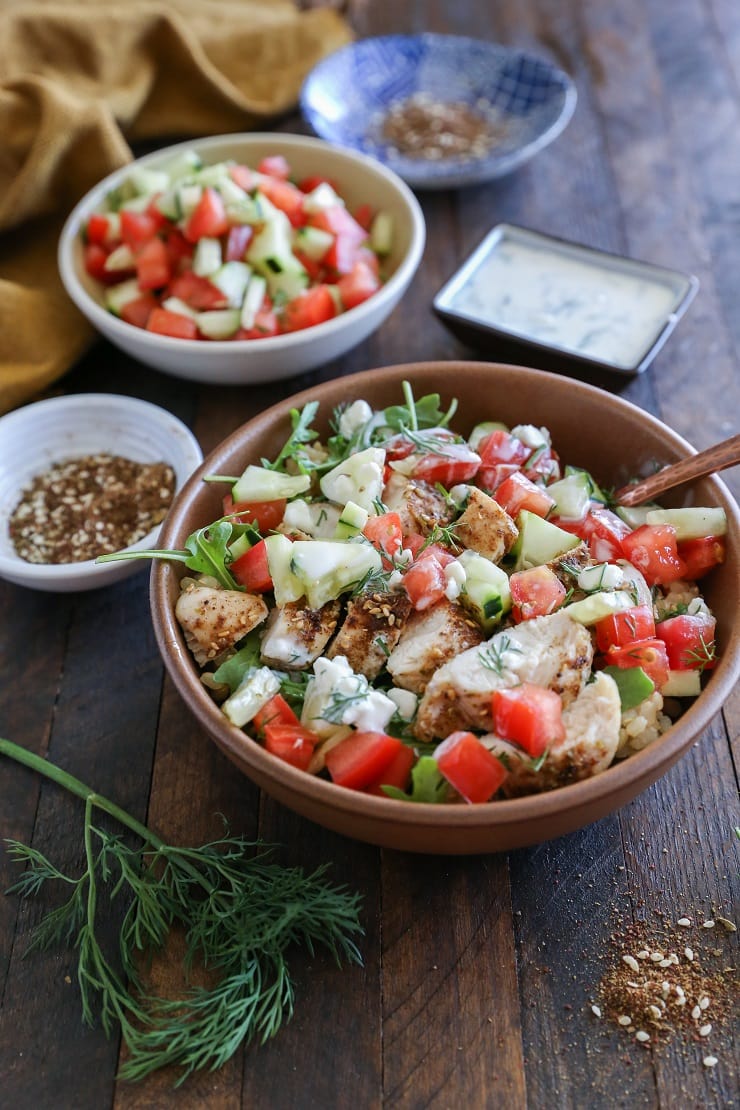 If you aren't familiar with Za'atar, it's a Middle Eastern spice blend involving fresh (or dried) thyme, sesame seeds, sumac, ground cumin, and salt. The blend has an earthy, exotic flavor and is perfect for using on chicken, fish, beef, and vegetables.
While it may seem like there are many moving parts in this recipe, it comes together easily and can also be made in stages. For instance, the chicken can marinate for up to 12 hours, and the cucumber salad and raita can be prepared up to 3 days in advance (well, more like up to 5, but we'll call it 3 for the freshest results).
If you've never tried raita, the concept is very similar to tzatziki. It's a yogurt-based condiment with cucumber and fresh herbs. I love adding goat milk feta for an extra zing, and I also use goat milk kefir rather than yogurt. You can easily replace the kefir with whole milk Greek yogurt!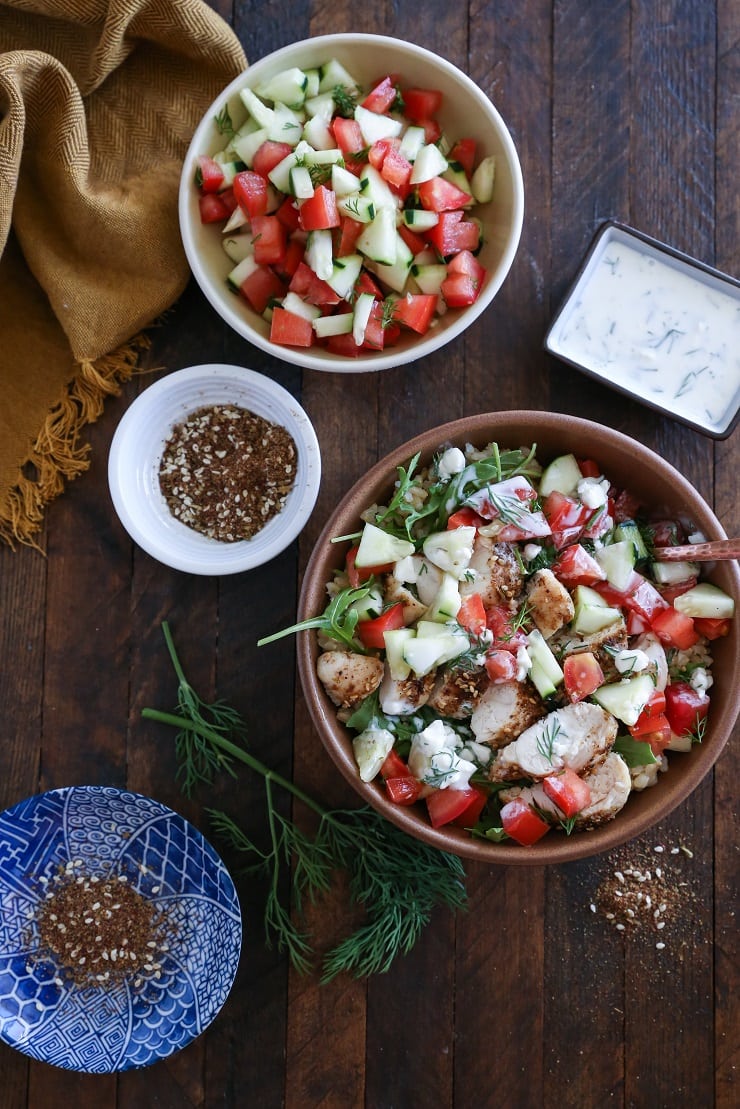 Recipe notes:
If you don't have dried sumac on-hand, you can replace it with your favorite spice blend, such as Garam Masala, curry powder, Cajun seasoning, etc. Get creative!
Meal prep options: Marinate the chicken up to 12 hours in advance, cook the rice up to 3 days ahead of time, and/or prepare the raita and cucumber salad up to 3 days ahead of time.
Replace the kefir with whole milk yogurt or non-dairy yogurt of choice
I served the meal over steamed brown rice, but you can also go grain-free and serve it with spaghetti squash, quinoa (this Cooling Tri-Color Quinoa Salad with Cucumber, Mint, and Lime Dressing would be an amazing accompaniment) , cauliflower rice, or sweet potato rice.
Za'ataaaaaar!
Za'atar Baked Chicken Bowls
Za'atar seasoning sends chicken to a whole new level! These delicious bowls come together seamlessly in a vibrant flavorful meal!
Ingredients
Instructions
Prepare the Chicken:
Stir together the ingredients for the za'atar spice blend in a small bowl.

Place the chicken in a zip lock bag or sealable container and drizzle with olive oil. Sprinkle with 2 tablespoons (or more) of the za'atar spice blend and sea salt. Seal the bag and shake/rotate the bag until the chicken is well-coated in spices and oil. Allow chicken to marinate at least 15 minutes, up to 12 hours

Preheat the oven to 450 degrees F. Place chicken in a casserole dish in a single layer, allowing space between each breast for even cooking. Bake chicken 20 minutes, or until the internal temperature reaches 160 degrees F. Transfer chicken to a cutting board and allow it to rest 5 to 10 minutes before slicing

Form bowls by dividing rice, chicken, and cucumber salad among 3 to 4 bowls. Drizzle with kefir raita and serve.
Prepare the Raita
Stir together the ingredients for the raita in a bowl until combined. Taste for flavor and add sea salt to taste. Refrigerate until ready to use.
Prepare the Cucumber Salad:
Combine the ingredients for the salad in a mixing bowl and toss together to combine. Set aside until ready to use.
Notes
*you can also use whole milk Greek yogurt
Nutrition