Thank you Bob's Red Mill for sponsoring this post! For more delicious recipes and a coupon for $1.00 off any product, please visit BobsRedMill.com!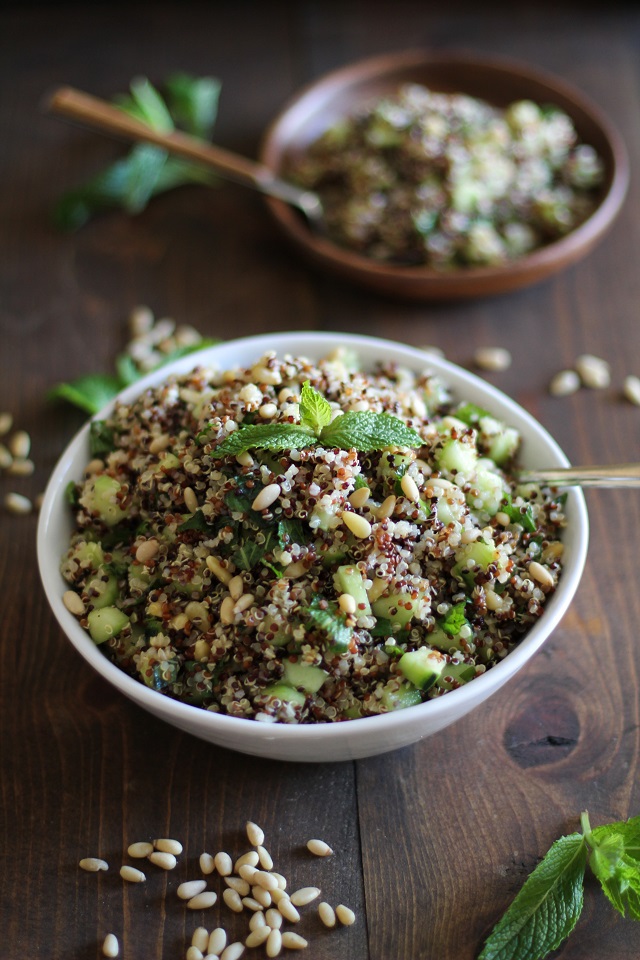 Summer, people! The flowers have bloomed, it's flip flop and muscle T weather, you've broken out your Pac-Man tank top circa 1998, high-waisted jorts circa 1992 and 2015, and teal sparkly jelly sandals circa 1989…life is swol.
And…at the risk of sounding like Captain Obvious… it's kinda hot.
Once we hit that point of no return during the summer (now) when you start getting pitted out while drinking coffee at 6 in the AM, you know it's time to a.) Stop drinking coffee (which will ruin your life), b.) Switch to iced coffee (which will still ruin your life, if like me, you could go the rest of your life without coming in contact with an ice cube and be justfine), c.) Go to all the places where the free air conditioning roams, d.) Move to Antarctica, e.) Adjust your lifestyle and diet accordingly. To involve living inside a vat of water or the nearest air-conditioned Starbucks, and eat ALL.OF.THE.CUCUMBAAAAHS.
Togezaaaaah, we will learn how to be cool-as-cucumbers. We've got this summer heat thing.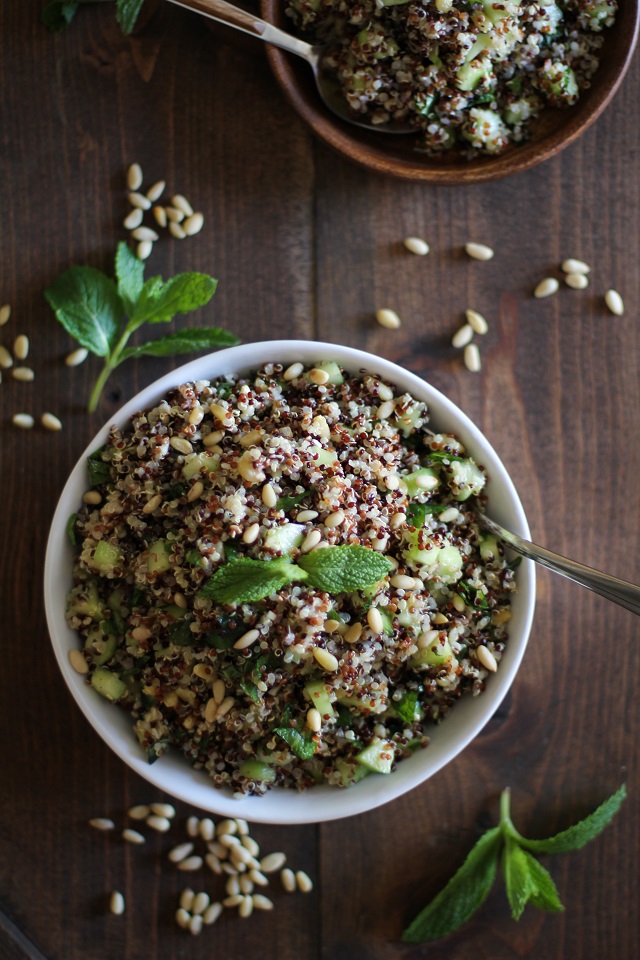 Generally in the throes of the summer heatwave, I try to stick with anti-inflammatory foods – foods that will either cool (or simply not heat up) my body, so that I have my own sort of central air conditioning situation going on. Foods like vegetables (particularly leafy greens or veggies that are high in water), berries, seeds, nuts, and lean meat.
Veggie (or fruit!)-filled quinoa salads are pretty trick for keeping your body cool. This one in particular pulls out alllll the refreshing stops. Cucumbers are 95% water and contain electrolytes, which helps your body hydrate, replenish, and stay cool. They also have an anti-inflammatory called fisetin, which helps ease the inflammation in both your body and your brain. Because quinoa is a seed and doesn't make you retain water the way rice or bread does, it also plays a part in this anti-inflammatory dish, along with the mint and lime juice. All ingredients together result in a healthful side dish to bring to your toasty barbecue. Plus the salad is seasoned up Middle Eastern-style with za'atar seasoning for a little extra mmm mmm good.
I used Bob's Red Mill's Tri-Color Quinoa for this recipe. Just lookit how pretty it makes the dish! I was curious to know if there was a nutrition difference between red, golden, and black quinoa, so I googled it. I read in this article from The Kitchn that all three colors contain the same nutrient properties, so choosing the color you use in your recipes is simply a matter of visual preference.
Because this salad got eaten up lickety split, I'm thinking I'll make an on-the-sweet-side red, white, and blue quinoa salad using fresh berries and coconut milk for the 4th of July. Can you envision it? A sea of color and anti-inflammatories!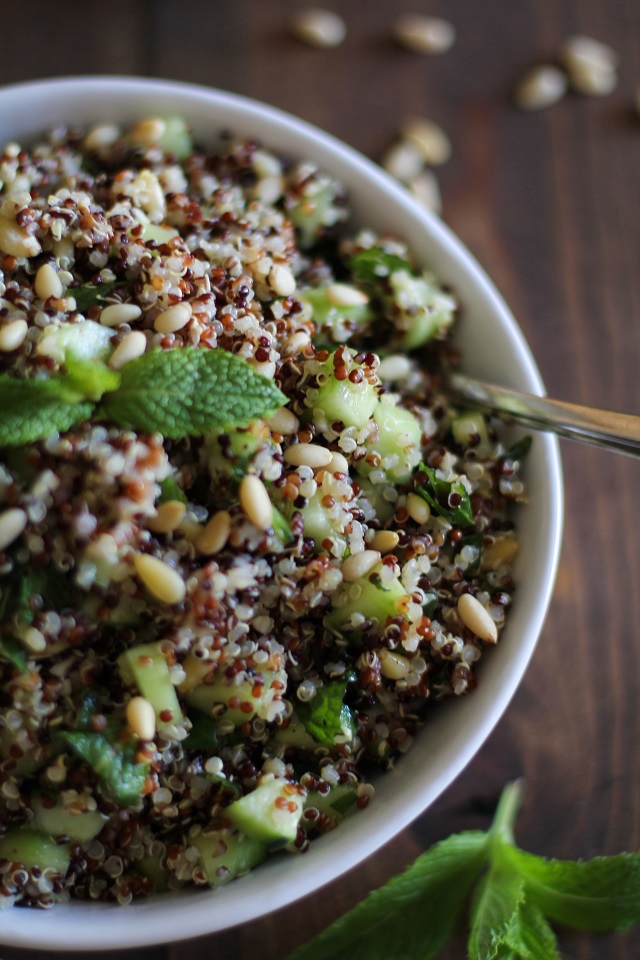 With summer heat and summer barbecues come huge cravings for bacon cheeseburgers, and what's a cheeseburger without fries or potato salad, followed by a hearty scoop of ice cream? While quintessential summer eats taste absolutely fab, they have a tendency to make you feel swolly. Typical picnic or barbecue dishes that are heavy, salty, fatty, dairy-filled, or carby (read: delicious) can make you retain water and make you feel weighted down, like you're a human heater.
This quinoa salad is perfect for keeping your body cool and is a winner in the taste and nutrition departments as well.
Cooool as a cucumbaaah! Own it!
Cooling Tri-Color Quinoa Salad with Cucumber, Mint, and Lime Dressing
A cooling, fresh and zesty salad perfect for the warm months!
Ingredients
1

cup

Bob's Red Mill Tri-Color Quinoa

1

cups

medium cucumber

peeled, seeded, and chopped (1-¾ )

½

cup

mint leaves

chopped

2

cloves

garlic

minced

3

tablespoons

pine nuts

3

tablespoons

olive oil

¼

cup

+ 1 tablespoon lime juice

½

teaspoon

za'atar seasoning

½

teaspoon

sea salt

Optional for serving:

feta cheese

golden raisins
Instructions
Add 2 cups of water to a pot and bring to a full boil. Add the quinoa, reduce heat to a simmer, and cover. Cook 12 to 15 minutes, or until the water has been absorbed. Remove from heat and allow quinoa to sit 3 to 5 minutes. Remove the lid and fluff with a fork.

Add the cooked quinoa to a large serving bowl, along with the cucumber, mint, garlic, and pine nuts. Whisk together the olive oil, lime juice, za'atar, and sea salt. Pour the dressing over the quinoa and toss everything together well. Taste quinoa salad for flavor and add more lime juice and salt to taste. Serve with golden raisins and feta cheese (optional).
Nutrition