Healthy Vegetarian Meal Plan with fall-inspired plant-based meals for the week of October 11, 2020. Print out the grocery list to get a head start on meal prep for the week!

Happy Weekend to ya!
If you're handling the current social, political and economic climate like me, the last few weeks (slash months) have been ultra stressful. One of the things I try to do when I'm more stressed than usual is keep everything in life as basic as possible.
I say no to things I know will be more stressful than they're worth.
I spend time with the people who make me feel relaxed rather than ramped up.
I honor my emotions but also zoom out enough to see the situation in a logical light so that I'm still valuing the way I feel without over-feeling.
And I try to stay organized with my priorities, get enough exercise, and keep my meals simple, nourishing and delicious.
This is where meal prep becomes ultra useful. While many of us feel we never have enough time for meal prepping, making it a priority lifts a huge burden off my shoulders. I don't have to think about what I'm going to make for dinner because it's already made, and I don't have to make multiple trips to the store throughout the week.
That said, I hope you find these meal plans equally beneficial and can use them as a way to simplify and de-stress.
Oh, and when all else fails, baking a batch of Healthy Apple Muffins never ceases to soothe the soul.
On this week's meal plan: Roasted Sweet Potato Kale Salad with Avocado and Jammy Egg, Lentil Sandwiches with Herbed Ricotta, Roasted Cauliflower and Farro Salad, Immunity Boosting Soup, Peanut Noodles and Broccoli, and The Best Vegan Chili.
Hope you enjoy!
SUNDAY
ROASTED SWEET POTATO KALE SALAD WITH AVOCADO from The Roasted Root
Prep Ahead Tip: Sweet potato can be roasted 2 to 3 days in advance.
Vegan/Gluten Free Substitutions: Replace eggs with bean of choice (chickpeas work great) and omit the feta cheese to make vegan.

MONDAY
LENTIL SANDWICHES WITH HERBED RICOTTA from Rhubarbarians
Prep Ahead Tip: The lentils and the ricotta mixture can be made the day before.
Vegan/Gluten Free Substitutions: Use vegan ricotta and gluten-free bread.

TUESDAY
ROASTED CAULIFLOWER AND FARRO SALAD from Joanne Eats Well With Others
Prep Ahead Tip: Roast the cauliflower and cook the grains 2-3 days ahead of time and store in the fridge until ready to use.
Vegan/Gluten Free Substitutions: Recipe is already vegan. Use quinoa or brown rice in place of farro to make it gluten free.

WEDNESDAY
IMMUNITY BOOSTING SOUP from I Heart Vegetables
Prep Ahead Tip: Recipes comes together quickly and can be refrigerated for up to 3 days.
Vegan/Gluten Free Substitutions: Recipe is gluten free and vegan.

THURSDAY
PEANUT NOODLES AND BROCCOLI From Hummusapien
Prep Ahead Tip: Sauce can be made in advance.
Vegan/Gluten Free Substitutions: Recipe is vegan. Use gluten free noodles for gluten free.

FRIDAY
THE BEST VEGAN CHILI from She Likes Food
Prep Ahead Tip: Recipe comes together pretty quickly but vegetables can be chopped up to 2 days in advance.
Vegan/Gluten Free Substitutions: Recipe is vegan and gluten free.

DESSERT
APPLE CINNAMON SWIRL BREAD from Hummusapien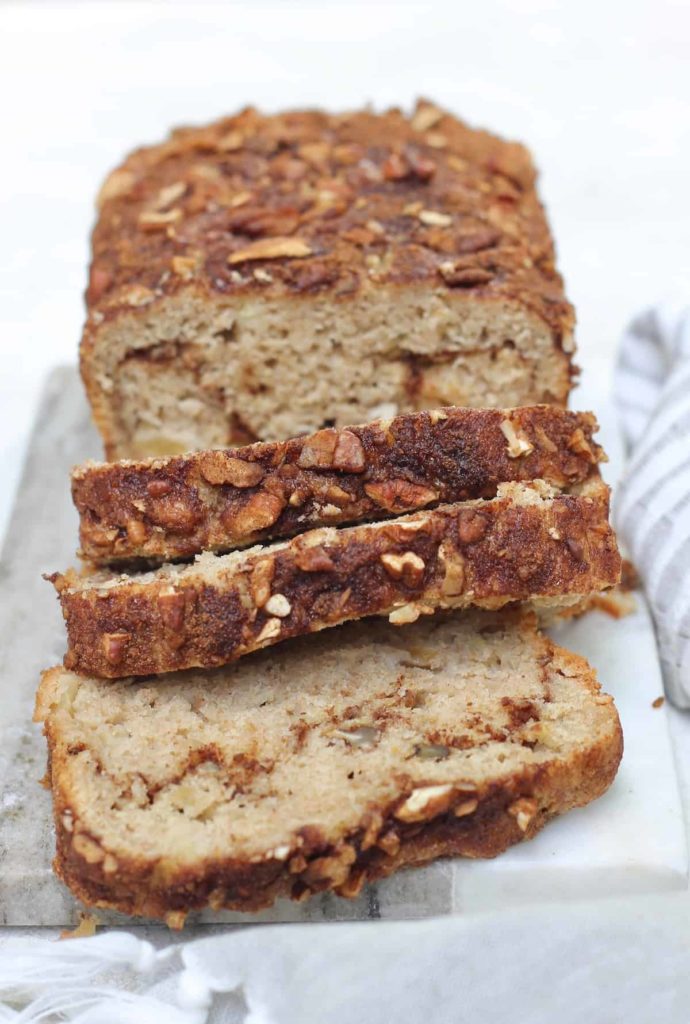 Click HERE to print the grocery list!
SHOPPING LIST