Sweet, cinnamony vegan pumpkin scones made with coconut oil in place of butter. These gluten-free treats are refined sugar-free, dairy-free, and are a healthful alternative to regular scones.
Stay tuned for two ways of preparing this recipe – a gluten-free version, and a grain-free, paleo version.
This post is sponsored by San Francisco Bay Coffee.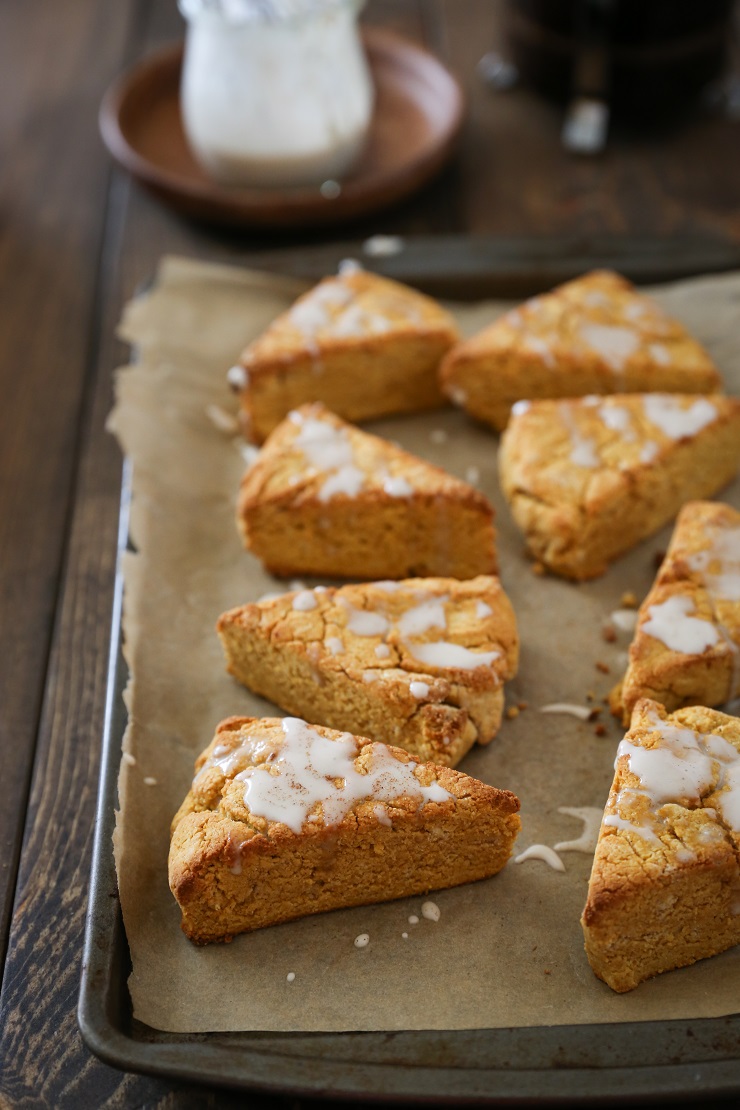 It's that season, friends!
The season for baking, sharing, giving, carbs and sugar and starches, oh my!, hot beverages, slippers, and fleece. You guys, 'tis the season for scones. The season for cozying up, getting lost in a stack of good books, going to bed earlier, putting a dash of cinnamon on everything under the sun, apple-scented candles, and working on your hibernation layer – bikinis be gone.
And did somebody say, "scones??"
Ohhhh momma, have I got a scone for you!
Pumpkin spice scones to be exact…made vegan and gluten-free!
It's not your run-of-the-mill standard issue flour-butter-sugar situation, either. It's a lightened up, yet equally delicious, you'd-never-know-it's-vegan-sugar-free-and-gluten-free type of shindig.
If you're into fall flavors and treats to go alongside your morning Joe, if you dig a well-placed glaze, and/or if you're not allergic to fun, you're going to get a kick out of these coffee-glazed lumps of pumpkin sconeage.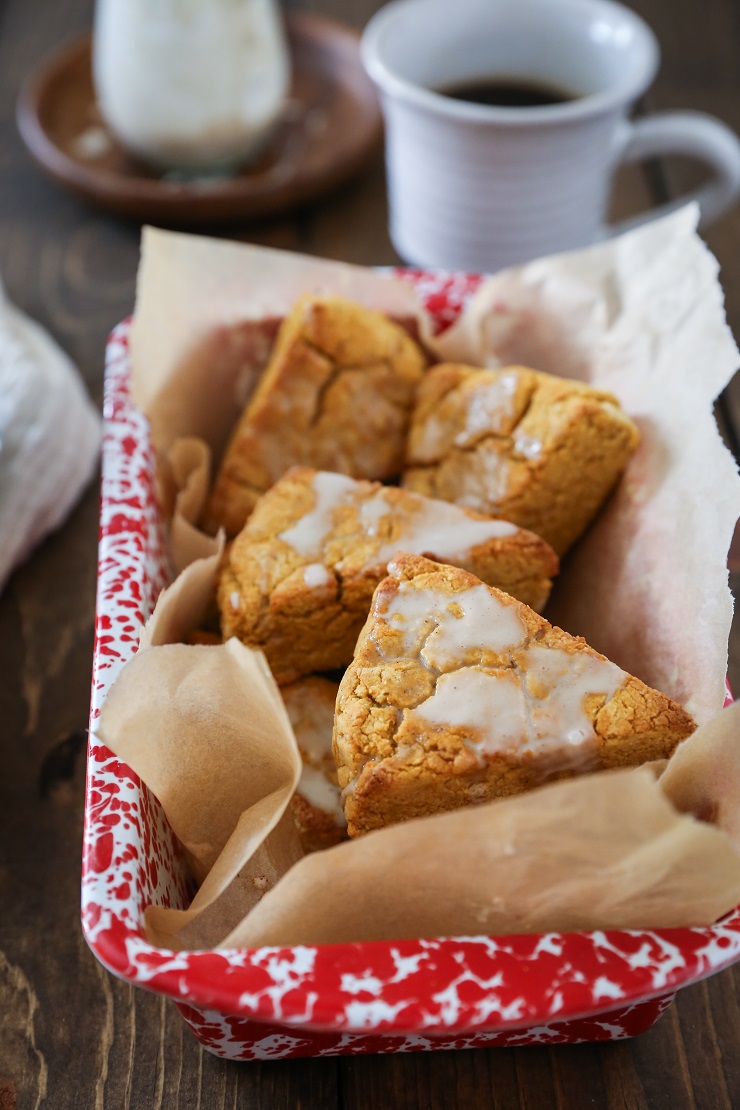 Let's talk scone formulation.
When it comes to preparing scones, I'm a huge fan of this vegan recipe I've devised. Basically, you replace the butter with a different fat – I've found coconut oil and/or coconut milk works best. You can reference the Vegan Raspberry Scones and Maple Walnut Scones I showed you in posts past for example.
How to Make Vegan Pumpkin Scones:
In the case of these scones, we're using coconut oil and canned pumpkin puree. While I'm not vegan and not necessarily dairy-averse, I find this formula to be easier to put together than the butter-filled counterpart, as the only thing you need to do is mix all of the ingredients together in a mixing bowl rather than cutting in the chilled butter.
In addition, you don't need to refrigerate the scone dough prior to baking – you can simply bake off your scones right then and there. So essentially, you're lowering your fat intake plus whipping out a batch of scones in 30 minutes flat.
While the scones are baking, we make up a coconut milk-based coffee glaze, sweetened by pure maple syrup (or honey if you're not vegan). The glaze only requires a small amount of coffee, so I brewed a single (strong) cup to prepare the glaze and used the rest of the coffee for scone dunking and sipping once they were out of the oven.
What Type of Flour to Use:
You can approach these scones in a few ways. I've tested the recipe using gluten-free all-purpose flour and also this Paleo Baking Flour blend from Bob's Red Mill.
If you're fine with a grain-filled scone, the gluten-free all-purpose flour method works great, and if you follow a grain-free diet, the paleo baking flour works marvelously. It's a blend of coconut flour, almond flour, and tapioca flour.
If you're feeling ambitious, you can try coming up with your own flour blend. In addition, you can always use regular all-purpose flour – if you go this route, use 2 cups of flour.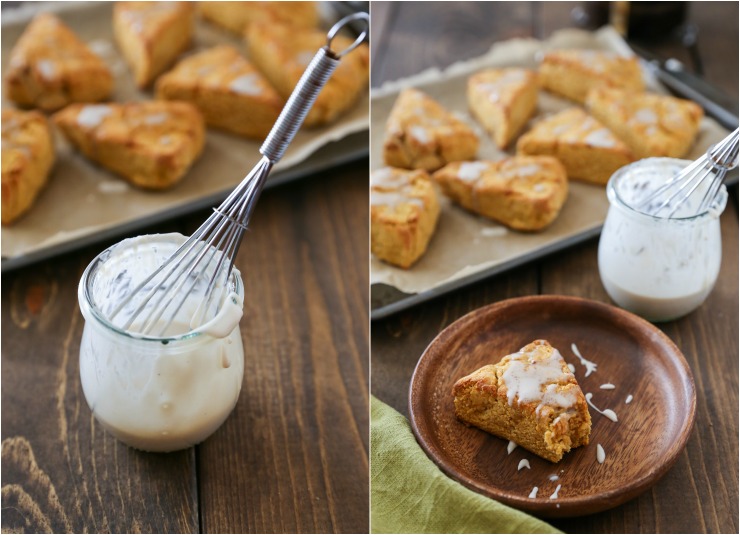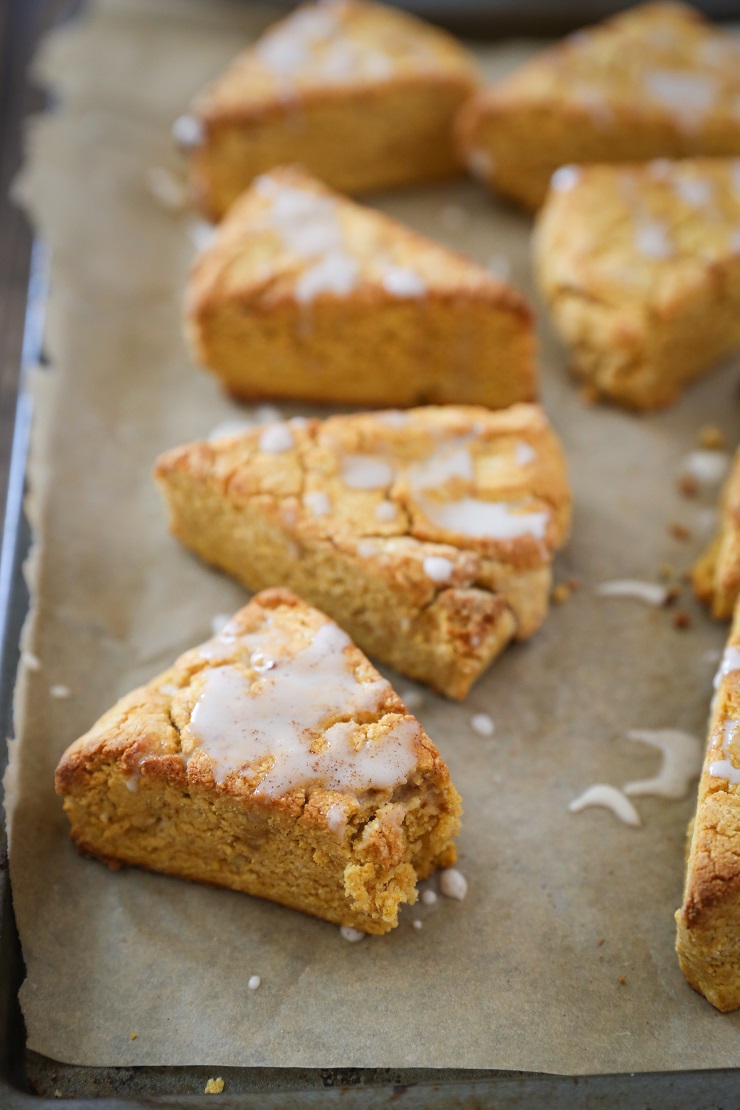 The main features of these scones are as follows:
Gluten-free (with a paleo option)
Vegan (using coconut oil and pureed pumpkin to replace the butter)
Refined sugar-free (using pure maple syrup to replace cane sugar)
Blasted with fall flavor (pumpkin and warm spices, baby!)
Perfect for coffee dipping, gift giving, and sharing (spread the love)
Not to mention, they're most excellent for breakfast, dessert, impulse eat, Netflix snack, etc., etc.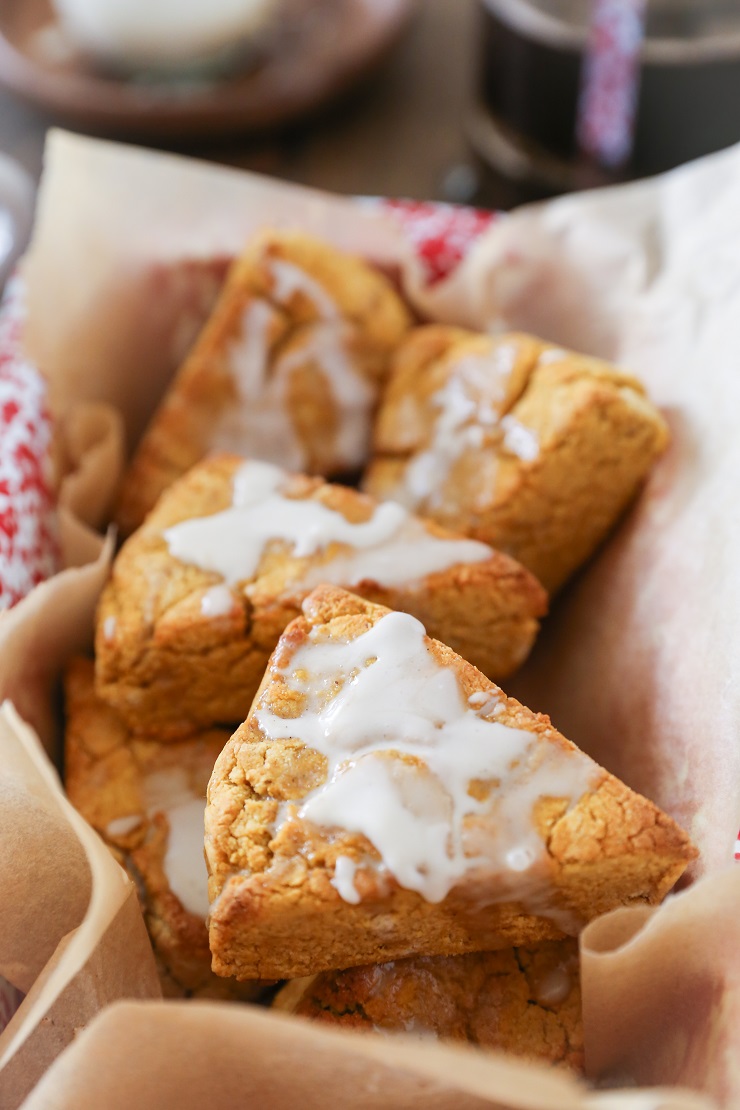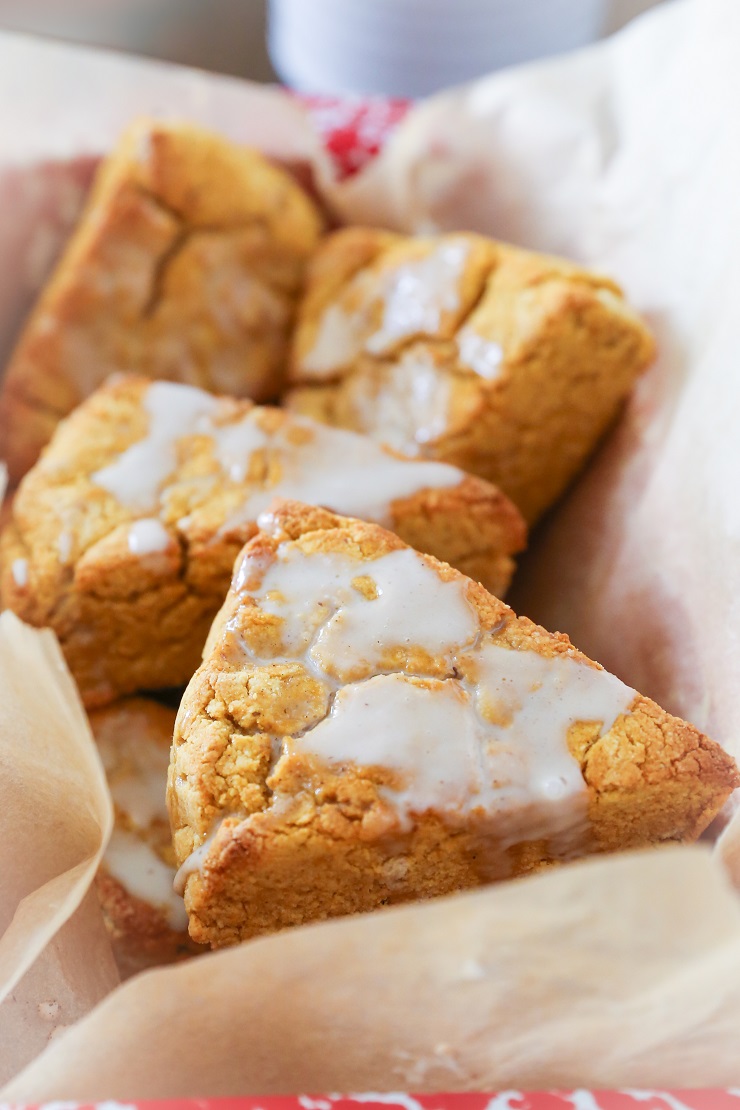 Crispy outside, buttery flaky inside with all sorts of fall pumpkin spice flavor.
Don't skip that coffee glaze, meow…it really brings the whole scone full circle.
More Healthy Scone Recipes:
And remember: sharing is caring. I'm done.
Vegan Pumpkin Scones
Vegan Pumpkin Scones made gluten-free and refined sugar-free for a healthy breakfast or snack.
Instructions
Prepare the Scones:
Preheat the oven to 400 degrees F and line a baking sheet with parchment paper.

In a mixing bowl, stir together the flour, baking powder, ground cinnamon, nutmeg, allspice, and sea salt.

Whisk together the coconut oil, pumpkin puree, pure maple syrup, and vanilla extract in a mixing bowl (wet ingredients).

Pour the dry ingredients into the bowl with the wet ingredients and stir or mash together with your hands until a thick dough forms (Note: if the dough is sticky or wet, add a small amount of flour until it is no longer sticky).

Form the dough into a disc about 1 to 1-1/2 inches thick. Place dough disc on a cutting board or floured surface and cut into equal triangles. Arrange the triangles on the parchment-lined baking sheet and bake for 18 to 22 minutes, or until scones are golden-brown and cooked through. Allow scones to cool 10 minutes before drizzling with coffee glaze (instructions below) and serving.
Prepare the Coffee Glaze:
While the scones are baking in the oven, stir together all of the ingredients for the coffee glaze in a small bowl. Taste for sweetness and add more pure maple syrup or honey to taste. Refrigerate until ready to use.
Notes
*or 2-½ cups Paleo Baking Flour to make grain-free and paleo friendly.
**You can source coconut cream by purchasing a can of it online or at your local grocery store. Or, you can refrigerate a can of full-fat coconut milk overnight and scoop the thick white cream that settles at the top of the can.
Nutrition
Serving:
1
Scone
|
Calories:
215
kcal
|
Carbohydrates:
35
g
|
Protein:
2
g
|
Fat:
8
g
|
Fiber:
2
g
|
Sugar:
7
g