Gluten-Free Vegan Raspberry Scones are perfectly sweet and tangy and are so easy to make! They have that perfectly flaky and moist interior and nice crispy exterior – just the way a mouth-watering scone should be!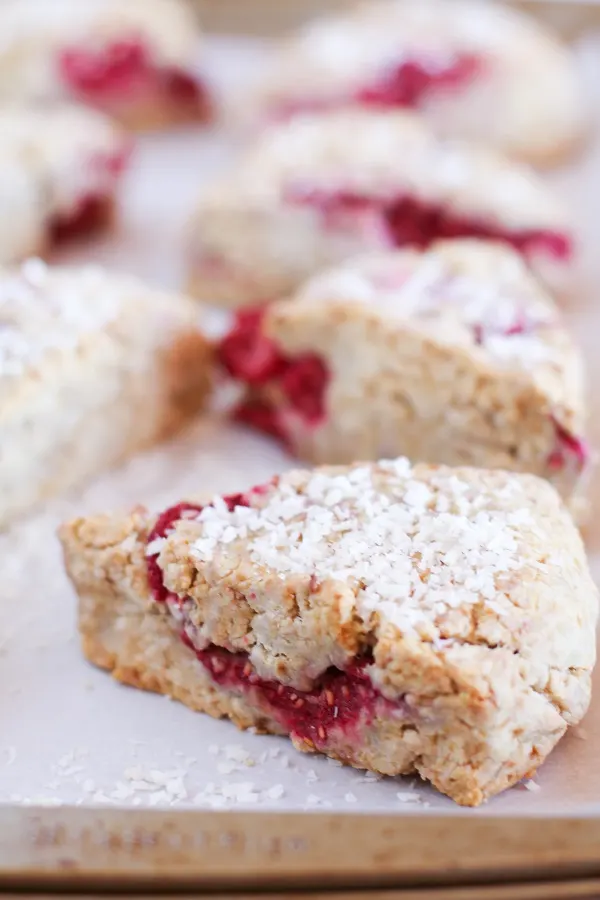 Some of my fondest memories growing up involve baking with my family.
My three siblings and I were a rambunctious bunch, but getting us in the kitchen to focus on a recipe together was a sure way of channeling our excess energy into a project.
I would sit on the counter to get a good view, sneak bites from the sticks of butter that were meant to go into the recipe, and help my mom pour ingredients into our mixer.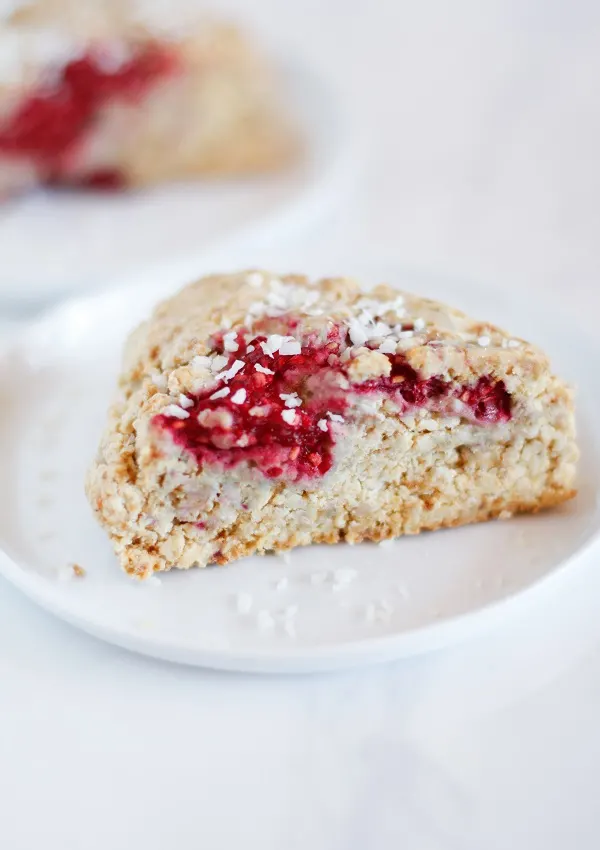 Those of you who have been around The Roasted Root block a time or two know that I prefer baking my treat recipes with natural sweeteners.
When it comes to replacing cane sugar in my recipes, coconut sugar is my go-to because it's an easy 1:1 substitute. Plus, coconut sugar naturally contains magnesium, potassium, zinc, iron, B vitamins, and amino acids.
Sugar with benefits? Can do!
Coconut sugar is also lower on the glycemic index than cane sugar, ranking at GI 35, versus 60 for refined cane sugar. Anything with a GI above 50 will raise your blood sugar level, which means coconut sugar is a great alternative for people who are sensitive to sugar spikes.
The raspberry scones are vegan, gluten free, and naturally sweetened using coconut sugar. They're a blast to bake!
All we need is six basic ingredients to make these scones: gluten-free all-purpose flour, coconut sugar, coconut oil, coconut milk, and raspberries.
How to Make Vegan Raspberry Scones: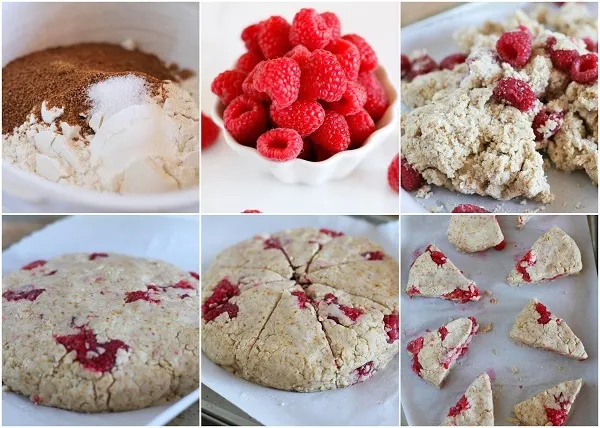 Because the recipe doesn't require cutting in chilled butter, the dough is much easier to make than regular scone dough. Simply stir everything up in a mixing bowl!
You'll form a disc out the the dough, then cut it into 8 equal-sized triangles. Bake, and enjoy!
Normally I'm not one to get all amped up about the texture of scones.
In fact, I've never talked scone texture in my life.
But, you guys, the texture of these vegan raspberry scones is indescribable!
Fresh out of the oven, they're crispy on the outside with a soft and moist-for-a-scone inside, and have little bursts of tangy, sweet raspberries.
Drizzle these puppies with pure maple syrup fresh out of the oven, and ooohhmmmyyygeeerd!! Money!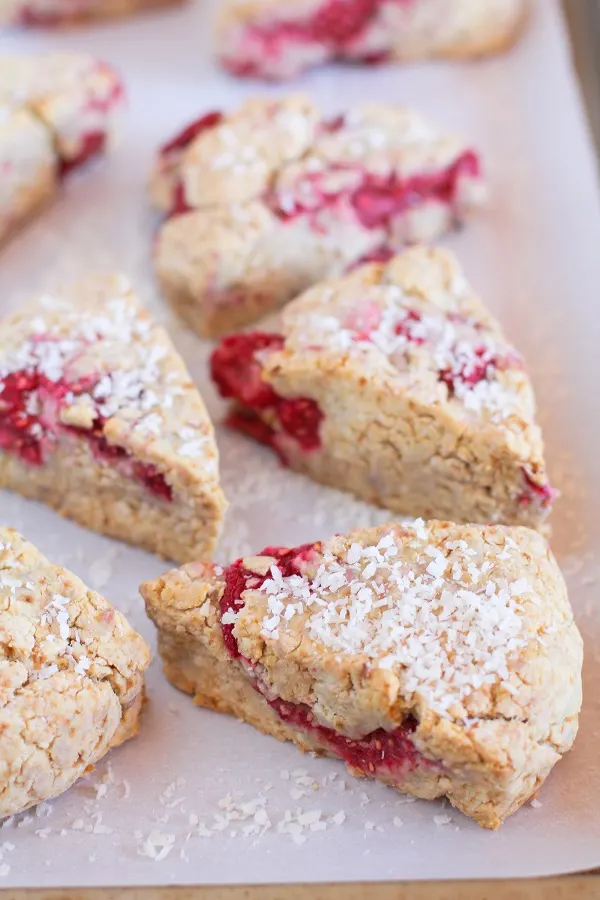 I hope you love these scones are much as I do!
More Scone Recipes:
Feed these to people!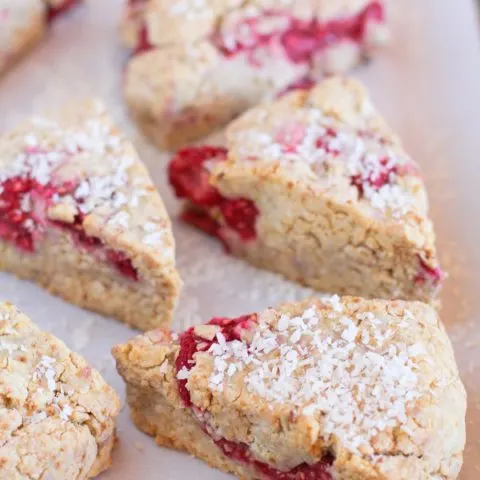 Vegan Raspberry Scones
Easy dairy-free, gluten-free Vegan Raspberry Scones are perfectly sweet and vibrant. Perfect for sharing!
Instructions
Preheat the oven to 400 degrees F and line a baking sheet with parchment paper.
In a mixing bowl, stir together the flour, baking powder, shredded coconut, coconut sugar, and salt (dry ingredients).
In a separate small bowl, whisk together the coconut oil, coconut milk, and vanilla extract (wet ingredients).
Pour the wet mixture into the bowl with the dry mixture, and stir until a dough is formed.
Carefully fold in the raspberries.
Turn the scone dough out onto the parchement-lined baking sheet and form it into a ball.
Press it into a round disc about 2 to 3 inches thick.
Cut triangles using a knife, making 8 equal-sized scones.
Evenly space the scones on the baking sheet and bake for 18 to 22 minutes, until browned.
Allow scones to cool at least 10 minutes before serving with butter and honey.
Nutrition Information
Yield

8
Serving Size

1 Scone
Amount Per Serving
Calories

16
Unsaturated Fat

0g
Carbohydrates

34g
Fiber

4g
Sugar

7g
Protein

2g