Silky sweet potato pie with a gluten-free crust. This luscious pie recipe is dairy-free, refined sugar-free, paleo, and healthy!
Sooooong, song of the south. . . sweet potato pie and I shut my mouth!
I told the boys I live with that every pie needs a theme song. We listened to the song by Alabama while enjoying this entire pie. Twice.
I have to admit, I was very proud of the fact that the boys in my house ate a full sweet potato pie in one sitting.
I'm choosing to see this as a reflection on the quality of the pie versus the wolverine-like appetite of the men.
This isn't typical behavior for them. They work hard, work out hard, eat meat like they will never eat again and are the healthiest boys I know.
Ergo, when something sweet and delicious is hanging at my house, it doesn't necessarily get snapped up right away (least not by them…maybe just by me) the way a savory meat and veggie dish does.
In fact, the boys in my house have extremely cautious and steadfast judgment when it comes to food. Jerks.
Yet upon finding out that this pie was gluten-free and sugar-free (it's sweetened with honey), the boys consumed the whole thing before I could take pictures (I encouraged them to, mind you…I'm such a sweet potato pie temptress) all while giggling and bantering over the can of whipped cream.
The next day, I made a second sweet potato pie because not only is this the best pie on the planet (I'm serious), but I did need some photographs for the ol' blog site.
True story: I've always found sweet potato pie to be far superior to pumpkin pie. Yams and sweet potatoes are naturally sweet, have a thick and creamy texture and more flavor than pumpkin, in my humble opinion.
Couple this with a pie crust that is wheat-less, gluten-free (and grain-free), full of fiber and protein and you'll be singing the Song of the South all day long!
My cookbook,
Paleo Power Bowls
, is now available! CLICK HERE to check it out. Thank you for your support!
If you make this recipe, please feel free to share a photo and tag @The.Roasted.Root on Instagram!
More Pie Recipes: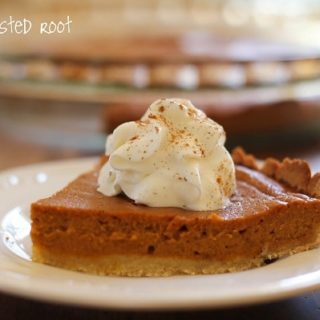 Silky Smooth Sweet Potato Pie (Gluten-Free)
Total Time:
1 hour
10 minutes
Silky gluten-free sweet potato pie - dairy-free and naturally sweetened
Ingredients
For the Grain-Free Pie Crust
8 Tbsp ice water
1 egg, lightly beaten
For the Sweet Potato Pie Filling
3 cups pureed sweet potato, (about 1.5 sweet potatoes)
2 eggs
¼ cup unsweetened almond milk, or canned coconut milk
1/8 teaspoon cardamom
1 teaspoon lemon juice
½ teaspoon salt
Instructions
To Make the Pie Crust:
Add almond flour, coconut flour, tapioca starch and salt to a food processor or KitchenAid (with whisk attachment).
Pulse/mix flour until combined and any chunks are smoothed out.
Begin adding oil and water one tablespoon at a time, continuing to pulse/mix between tablespoons. First, beads the size of peas should form and as you add, dough should begin coming together
Once you have added all the oil and water, add the lightly beaten egg. Dough should come together in one big hunk.
Take the dough in your hands and smoosh it into a ball, then form a disk.
Wrap tightly in plastic wrap and freeze for 1 hour, then transfer to the refrigerator.
To Make The Pie:
Poke holes in the sweet potatoes using a fork and roast for 40 to 50 minutes 400 degrees in the oven.
Allow sweet potatoes to cool enough to handle. The skin should peel away from the flesh easily. Remove skin and discard.
Heat the oven to 400 degrees.
Place flesh in a blender along with the rest of the filling ingredients. Blend until completely smooth (you can also perform this step by hand by mashing the sweet potato flesh with a fork and mixing everything together in a mixing bowl).
Remove pie crust from refrigerator. Roll out half of the pie crust or smoosh it with your fingers into a pie dish (use the other half for another sweet potato pie).
Pour sweet potato mixture into the pie crust and smooth with a spatula.
Bake in the oven for 10 minutes at 400 degrees then lower the temperature to 325 and bake an additional 30 minutes, until pie does not jiggle when shaken.
Allow pie to cool at least one hour before serving. You can chill the pie in the refrigerator and serve it cold.
Notes
Makes one 9" pie crust, or 2 small pie crusts. I used half of the pie crust dough and made the pie thinner. To make a full 9" pie, increase the filling recipe by 50%, but use only up to 1/2 cup honey or to taste. Any more than a 1/2 cup may be too sweet.
Nutrition Information
Yield

10 slices
Serving Size

1 slice of 10
Amount Per Serving
Calories

175
Total Fat

9g
Unsaturated Fat

0g
Carbohydrates

19g
Net Carbohydrates

15g
Fiber

4g
Sugar

11g
Protein

4g