Turkey Soup with Root Vegetables using leftover Thanksgiving turkey is a fabulous way to keep the holiday feast going!
Who here is obsessed with carcasses? Spoiler alert: I am.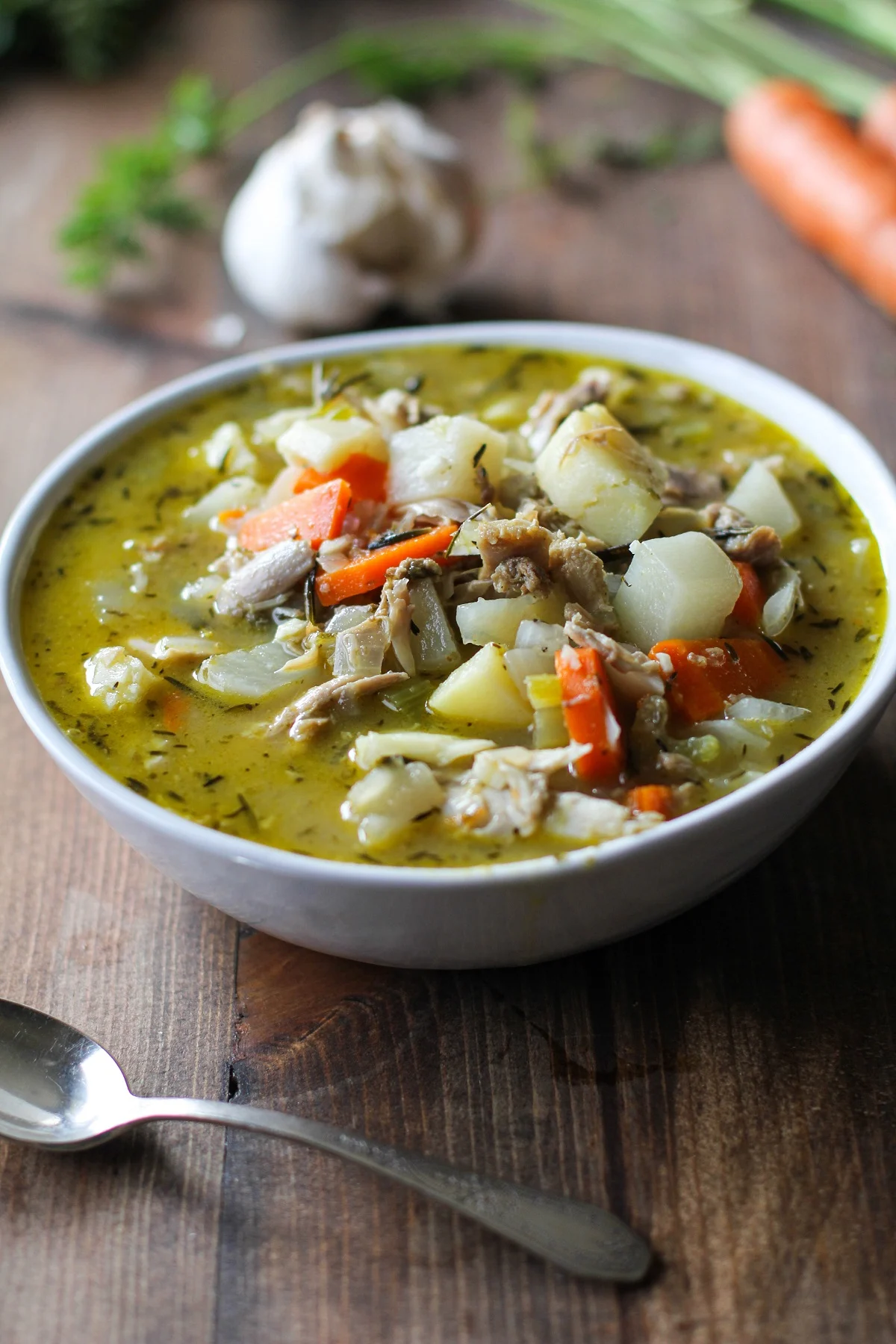 Fact or fiction?: Julia made The Most Epic Turkey Stock Ever last week.
Fact.
The end.
Not really.
You see this soup here? Totally not made with The Most Epic Turkey Stock Ever. Totally made with store-bought chicken broth.
Back story time!
One of my favorite parts about the holidays is the turkey carcass. My family always leaves a huge amount of meat on the bones and no one ever wants the carcass. I want the carcass always. So per usual, I got my carcass after our Thanksgiving feast was over, and I determined I would make the most bangarang turkey stock ever. And so I did. And guys, it really was bangarang. Like I even told my mom, "Mah. I made bangarang turkey stock."
While making the bone broth, I left the remaining meat on the bones and allowed the stock to cook on low overnight. This resulted in super flavorful stock and super tender leftover meat.
When I pulled the meat off the bone, eating bits of delicious succulent dark meat along the way, and strained the stock, my knees were weak with love.
I had love-weak knees. That's how great this whole experience was.
Bonus points: I ended up with like a gallon of stock. That's money saved in the ol' piggy bank times one gallon! Let's put it all that money-saving stock in a big ass mason jar, shall we? Sure!
You see where this is going.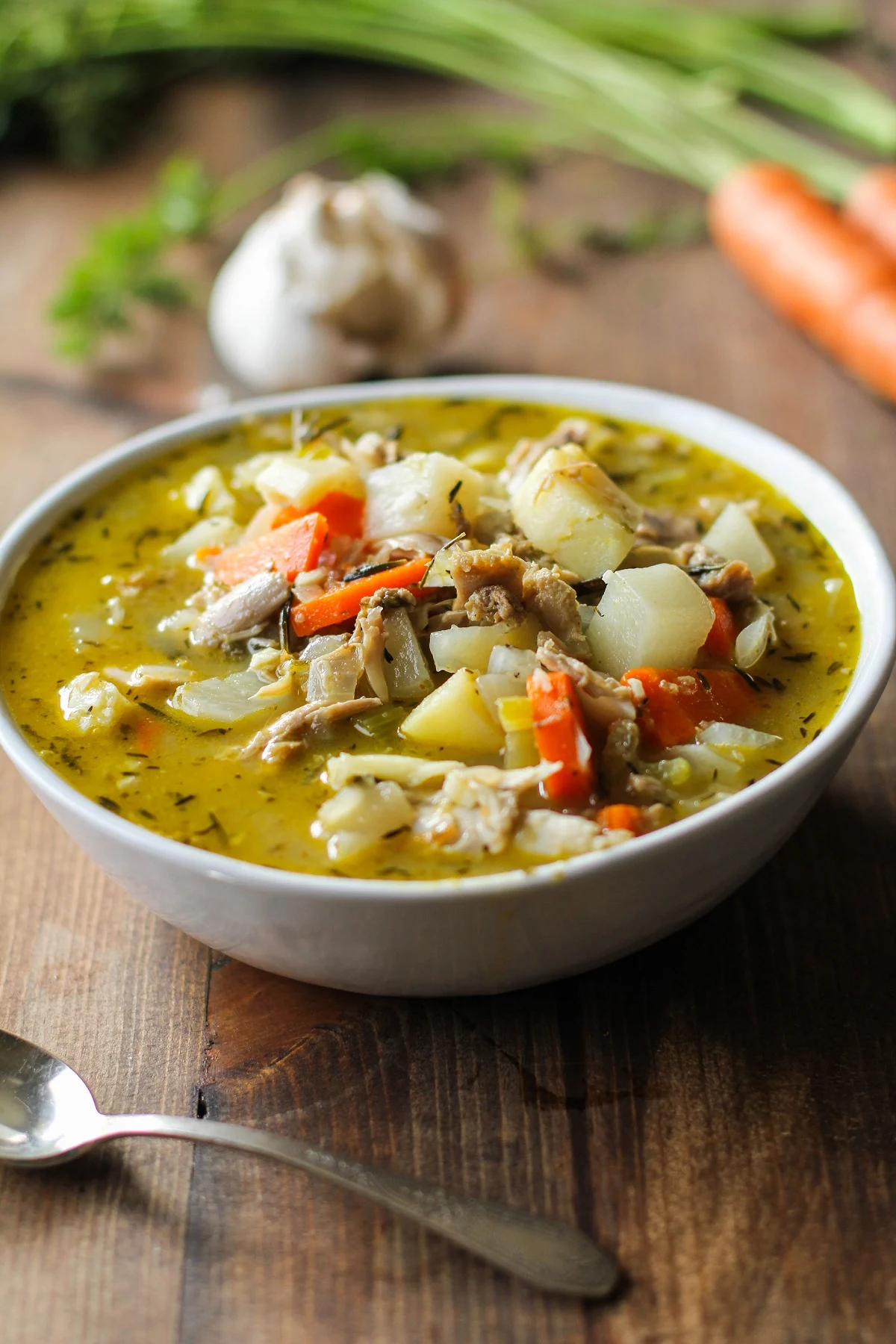 Bones in trash, meat in a zip lock baggie, stock in jar. Bueno.
Time to put my jar of stock in the fridge.
You know how sometimes you luck out when you drop something made out of glass and your fragile item doesn't break, and you're like, "phew! Thank GAH I had luck today!"? That didn't happen in this case.
I went to put my enormous jar of fabulous stock in my refrigerator, and the thing took a flying leap into the air like a possessed wombat and chucked itself at the floor.
Okay, what really happened was butter fingers here dropped the jar from like 4 inches above the kitchen tile (4 INCHES!!!) and the whole thing shattered in the most obnoxiously dramatic way. Glass all asunder, turkey stock flew everywhere.
I stood there in a puddle of delicious stock, my fancy boots soaked (like it would have been convenient to be wearing galoshes, but again: no luck was found the day I dropped The Most Epic Turkey Stock Ever).
When things like this happen, it usually takes me a hot minute to figure out to do. Like, I mentally search for the Edit -> Undo option in the magical place where reality meets fantasy land, and once I'm unable to find it (which is always), I then make my plan of attack. Long story short, I clean the gallon of stock off my everything and abandon the idea of making soup, because: no stock.
And then, after a couple of days of mourning my loss, it dawns on me that I can just use store-bought chicken broth with my leftover turkey. So that's what I did, and the rest is history.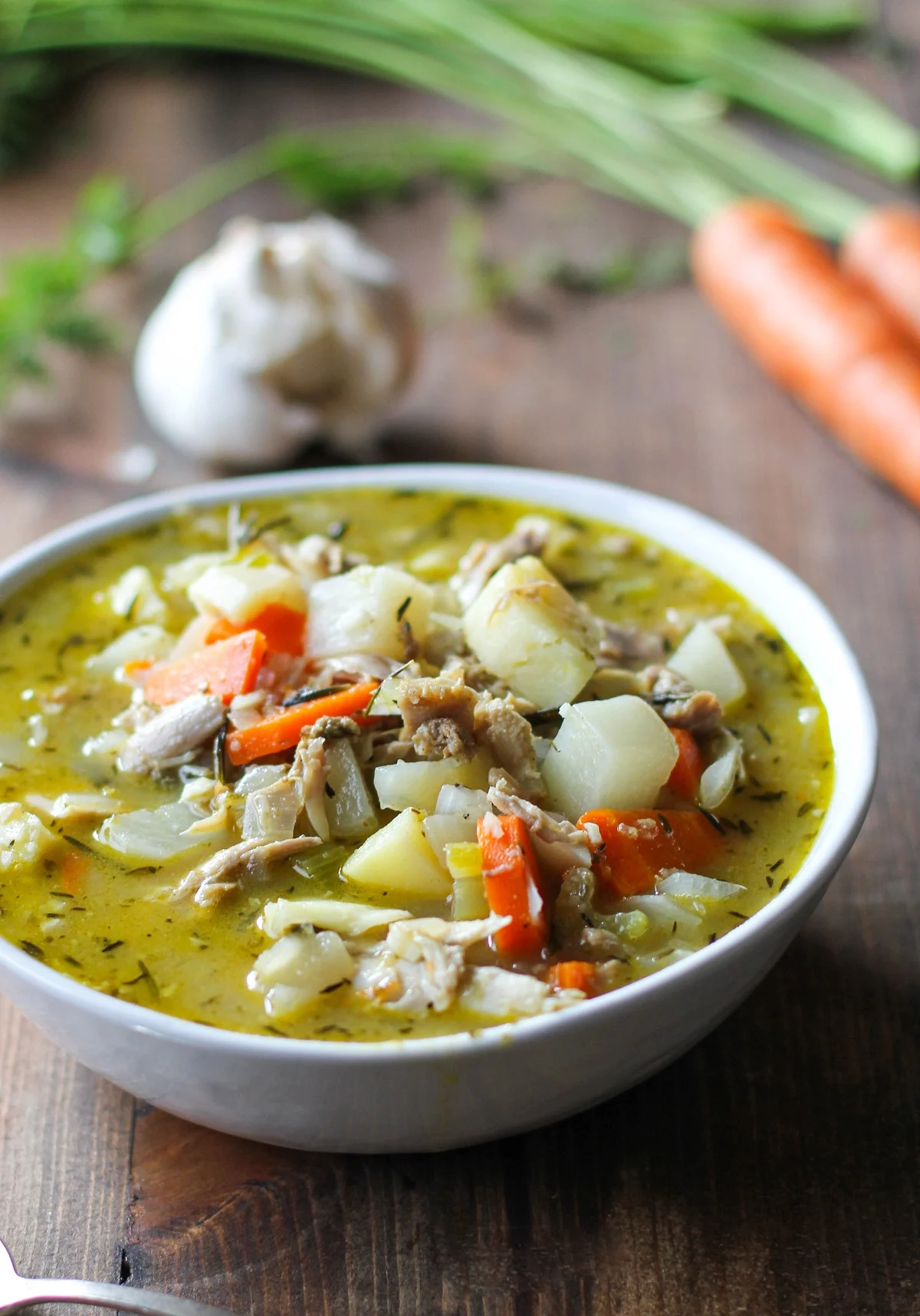 This soup is hearty!
It's all spruced up with root vegetables such as carrots, parsnips, and turnips, and is packed with all sorts of herb-y turkey flavor.
If you still have leftover turkey from Thanksgiving, this is a great way of putting it to use.
You can even make a double or triple batch to freeze for later. If you're fresh out of turkey leftovers, you can totes use chicken.
Have a swig!
My cookbook,
Paleo Power Bowls
, is now available! CLICK HERE to check it out. Thank you for your support!
If you make this recipe, please feel free to share a photo and tag @The.Roasted.Root on Instagram!
More Healthy Soup Recipes: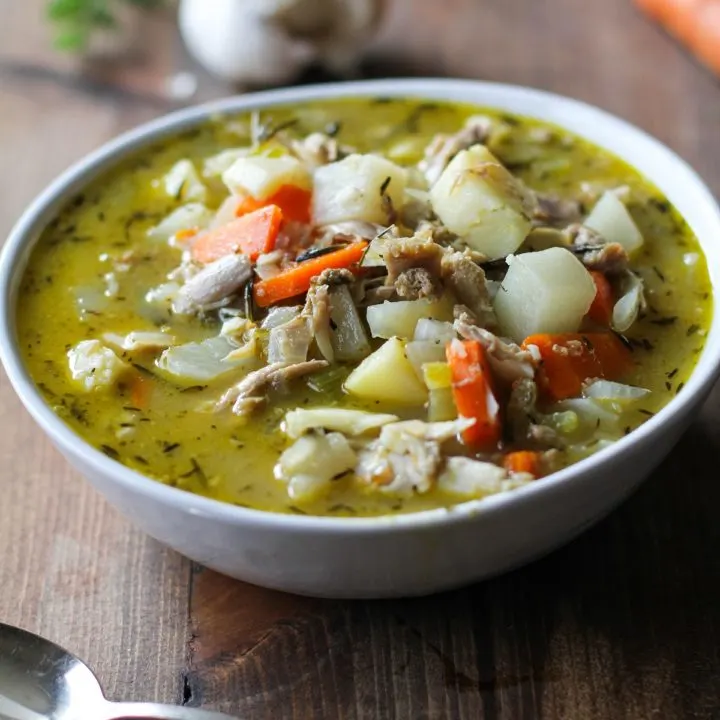 Turkey Soup with Root Vegetables
Use up your leftover Thanksgiving turkey meat in this incredibly tasty Turkey Soup with Root Vegetables.
Ingredients
1 tablespoon avocado oil or olive oil
1 large yellow onion, chopped
2 large carrots, peeled and chopped
1 large turnip, peeled and diced
2 stalks celery, chopped
1 large parsnip, peeled and chopped
5 cloves garlic, minced
5 sprigs fresh thyme
2 teaspoons fresh rosemary
1 teaspoon dried oregano
1/4 teaspoon ground cumin
1 teaspoon kosher salt, or to taste
4 cups homemade or store-bought turkey broth, or chicken broth
2 to 3 cups cooked leftover turkey, chopped
Instructions
Add the first six ingredients (oil through celery) to a large stock pot or dutch oven and heat over medium. Saute, stirring occasionally for 18 minutes.
Add the garlic, salt, and herbs and continue sauteeing for 2 minutes.
Add the broth and bring soup to a boil. Reduce heat, cover the pot, and simmer for 20 minutes or until vegetables are cooked through.
Remove the cover, add the cooked leftover turkey and continue cooking 3 minutes, until turkey is hot.
Serve heaping bowls and enjoy
Nutrition Information
Yield

3
Serving Size

1 Serving
Amount Per Serving
Calories

346
Total Fat

7g
Unsaturated Fat

0g
Carbohydrates

22g
Fiber

6g
Sugar

12g
Protein

38g