Quick and easy Leftover Turkey Stir Fry with broccoli, bell pepper, onion, ginger, garlic and leftover turkey from Thanksgiving or Christmas. A delightful way to use leftovers!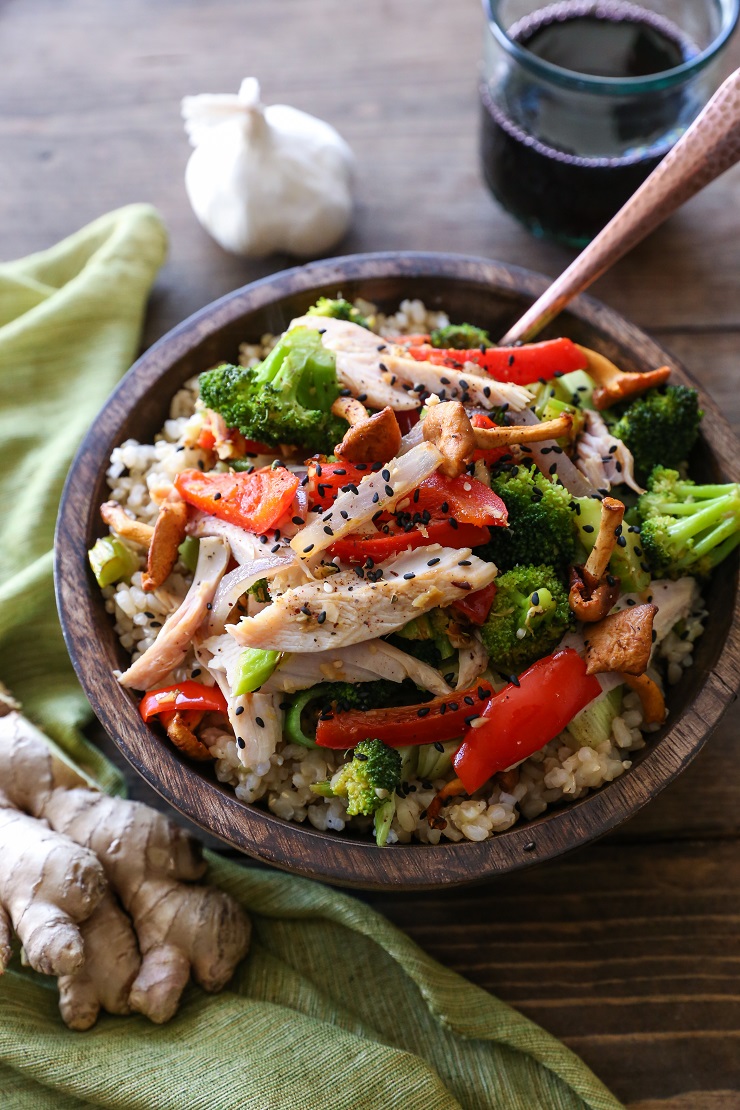 Each year, I'm always bummed to see Christmas go.
Like waving goodbye to your favorite uncle who was just visiting and must return home, back to reality.
I write this post by Christmas tree light as a way of telling the holiday I can hang. We're cool. You've got a friend in me, man.
The post-Christmas re-cap with friends is always one of my favorite snippets of the holiday season. Who's aunt/uncle got too drunk, who induced family uproar via Cards of Humanity slash heated game of gin rummy, who kept it together this time around, who ate what at which holiday table.
Of course, I'm always particularly interested to hear about the food aspect of everyone's gatherings. In the post-holiday discussion this year, I learned one of my friend's families does chili dogs Christmas day, as they go big on Christmas Eve.
In addition, one of my friends did a bring-your-own-ingredient burrito bar – a concept I fully intend to employ with my own family next year.
Traditionally, my family has celebrated more Christmases with turkey as the main dish than not.
Every once in a while we'll do ham (or both ham and turkey), or prime rib, but for the most part, we're fans of the poultry.
So this year was no exception – My family celebrated the holiday together in Tahoe on Christmas Eve this year, and we roasted a turkey as the main event.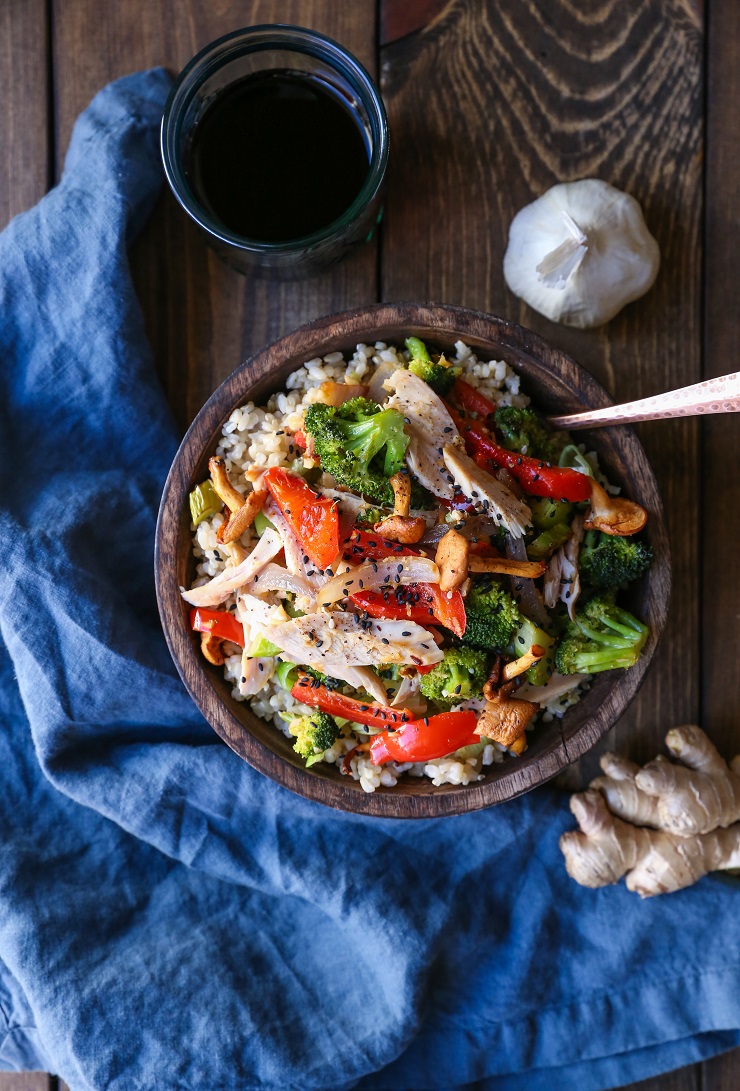 My favorite part about bringing the turkey to any feast is leaving with said turkey.
This year, I commandeered about 80% of the leftover turkey and on my drive home fantasized about turkey grilled cheese sandwiches with gooey gouda and cranberry sauce (or jam), turkey shepherd's pie, turkey quesadillas, turkey soup, and on and on and on.
I still have quite a bit of meat left, and have every intention of making the aforementioned food fantasies a reality, but you know what I've eaten for both lunch and dinner since Christmas Eve?
This exact turkey stir fry with veggies. I made a big batch of brown rice, bought all of the vegetables in triplicate, and have essentially gotten this recipe down to a lightning-fast system.
Since I have a batch of rice already made, the stir fry portion of this meal only takes about 15 to 20 minutes.
I enjoy using a ton of garlic and ginger in my stir fry for flavor so that I can avoid using sauces that are filled with sugar.
For those of you who want to turn this into a teriyaki adventure, go for it!
You can also add soy sauce, red chili sauce, curry paste (any color works great), wasabi, etc. AND for those of you who have meat leftovers that aren't turkey: Toss it in!
You can easily replace the turkey with tri tip, ham, goose, etc. The recipe as written will generously stuff two hungry individuals – if serving more hungry individuals, you can easily double (or triple) the recipe.
Leftover Turkey Stir Fry
Stir fry with leftover holiday turkey is a great way of repurposing your leftover meat and veggies!
Ingredients
1

cup

uncooked brown rice

I used short-grain

1

large crown broccoli

chopped into florets

½

red onion

sliced

1

red bell pepper

cut into matchsticks

1

cup

hedgehog or oyster mushrooms

5

cloves

garlic

minced

1

tablespoon

fresh ginger

peeled and grated

¾

teaspoon

sea salt

to taste

1-½

cups

to 2 roasted turkey

chopped or shredded

Sesame seeds for garnish
Instructions
Cook the rice according to package instructions.

While rice is cooking, heat coconut oil in a large skillet over medium-high heat. Add the onion and saute 5 minutes, stirring frequently, until onion begins turning translucent.

Add the broccoli and red bell pepper and cover with a lid, stirring occasionally, until vegetables have softened yet are still al dente, about 5 to 8 minutes.

Add the mushrooms, garlic, and ginger, and continue cooking until garlic and ginger are very fragrant, about 3 minutes.

Add the turkey, cover, and cook until heated through, about 3 minutes. Add sea salt to taste and serve over cooked rice. If desired, drizzle with soy sauce, teriyaki sauce, or liquid aminos.
Nutrition
Serving:
1
Serving
|
Calories:
748
kcal
|
Carbohydrates:
79
g
|
Protein:
56
g
|
Fat:
7
g
|
Fiber:
5
g
|
Sugar:
4
g