Ooey gooey cheesy turkey, black bean, and sweet potato rice enchilada skillet. This easy-to-prepare meal is packed with veggies and lean protein!
This post is sponsored by Healthy Aperture and The National Turkey Federation.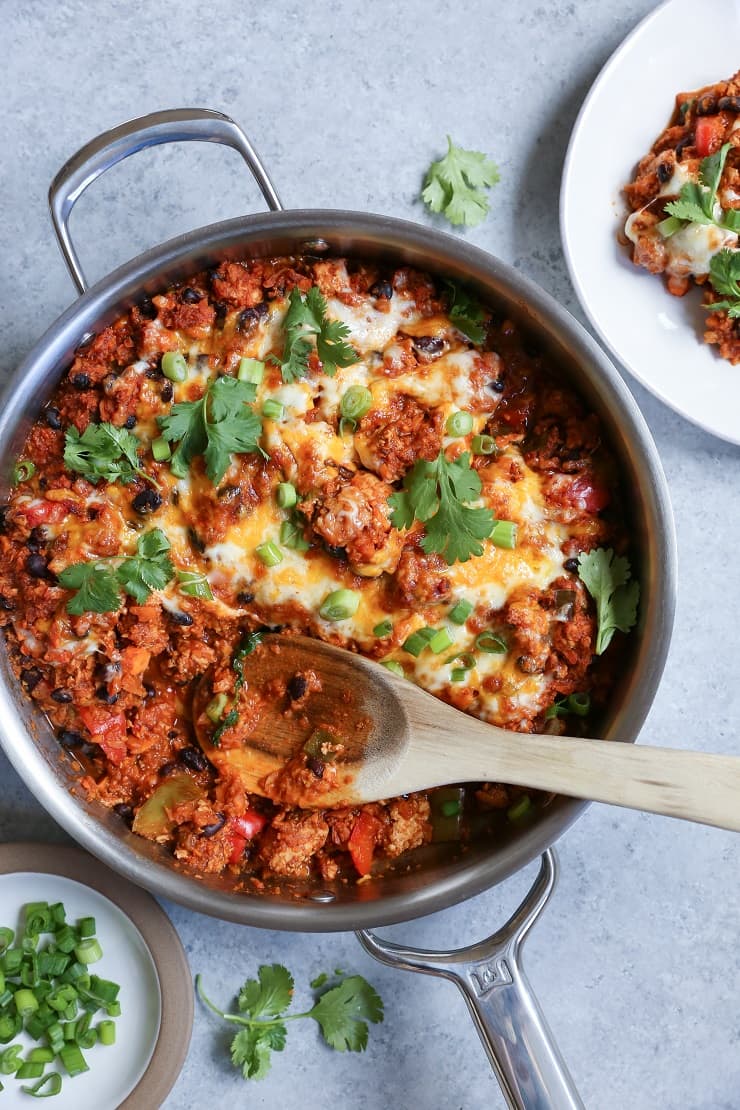 Did you know June is National Turkey Lovers' Month®? It's true, we adorers of turkey have a full month to celebrate. Plus, National Turkey Lovers' Day is June 18th, so we can prepare this ultra goo fest to be the main event.
As you all know, turkey is one of my top sources for animal protein. It's lean, it's clean, and it's super versatile. In addition to being an incredible source of lean protein, I love how turkey is a canvas for creating dishes with any variety of flavor. You can go simple, subtle, and herby, or big, bold, and zesty, plus everything in between!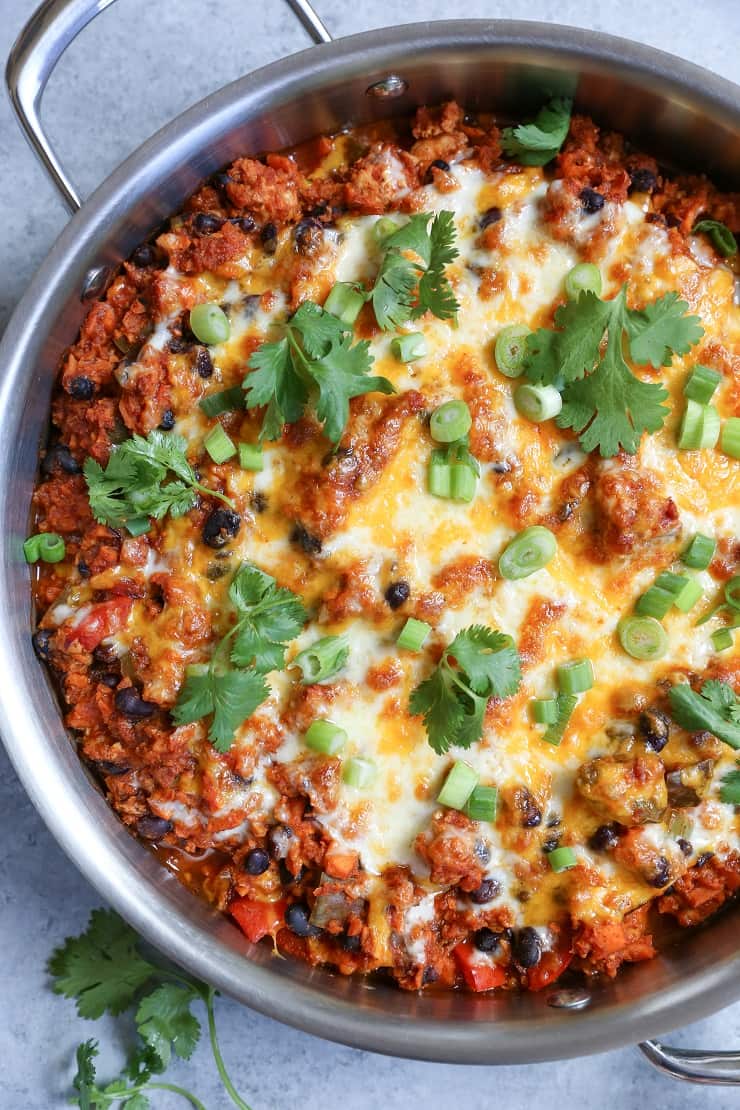 While most of us think of ground turkey, there are so many different cuts that can be incorporated into your weekly menu. For instance, I cook with turkey drumsticks, breasts, and tenderloin regularly, and you can also find quality turkey sausage, chorizo, and more at your local natural food store. I love going bold when it comes to turkey – I use ground turkey regularly in my Mexican meals and turkey breast or thigh meat in Thai and Indian food.
This turkey and sweet potato rice enchilada skillet is so simple to prepare, is super filling, and while it's comforting, it's still on the healthful end of the spectrum. 
Simply whiz up a sweet potato in your food processor to create "rice." Saute the onions and peppers, then add in the sweet potato rice. Brown up the ground turkey in the same skillet, add in the sauce, top with cheese, and shazam! A grain-free version of enchiladas that is oh-so-scoopable and perfect for any weeknight dinner. One skillet, basic ingredients, lots and lots of flavor!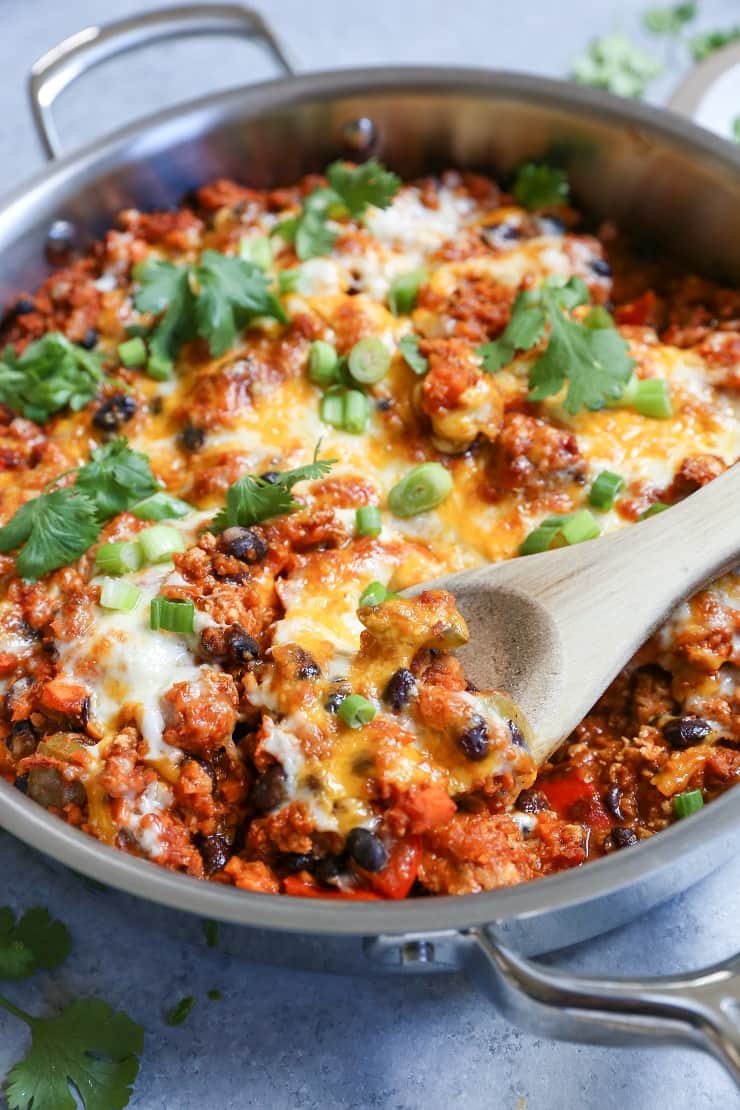 You can adapt this recipe to your liking! You can go beanless, use a non-dairy cheese if you don't do dairy, and/or replace the sweet potato with 2 cups of cooked brown rice or quinoa. Serve the turkey enchilada skillet with warm corn tortillas, or do as I did and eat heaping mounds from a bowl with sliced avocado.
Gobble gobble!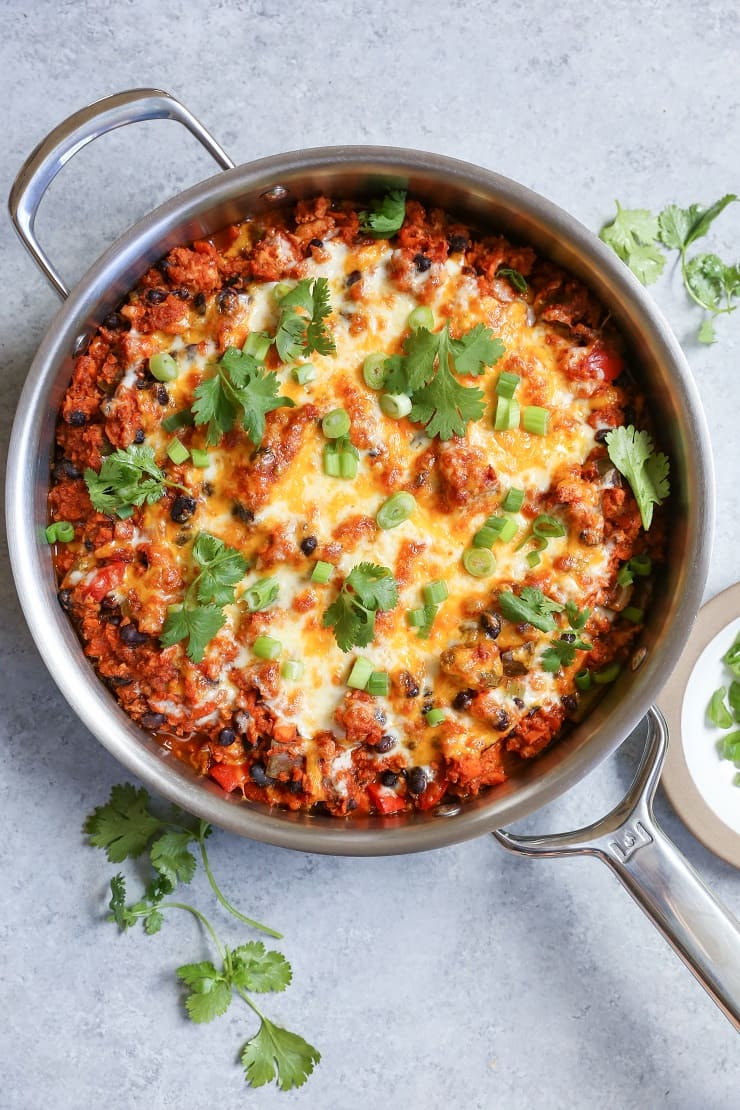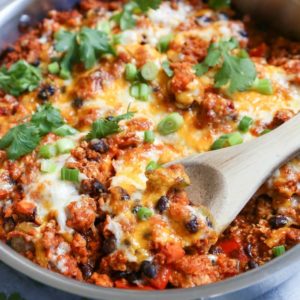 Turkey Enchilada Skillet
Print
Ingredients
2

tablespoons

olive oil

1

large

sweet potato

processed into rice, 4 cups

1

red bell pepper

cored and chopped

1

green bell pepper

cored and chopped

1

pound

lean ground turkey

1

15-ounce can

black beans

drained and rinsed

1

15-ounce can

tomato sauce

2

tablespoons

tomato paste

3/4

cup

low-sodium chicken broth

2

tablespoons

chili powder

2

teaspoons

ground cumin

1

teaspoon

sea salt

to taste

1

cup

Monterey Jack cheese

shredded

1

cup

cheddar cheese

shredded
For Serving:
1

bunch

green onion

chopped

1

avocado

peeled and sliced

1/2

cup

fresh cilantro

chopped
Instructions
Chop the sweet potato into large chunks and place in a food processor. Process until rice-sized pieces form. Set aside.

Heat the olive oil in a large (12-inch) oven-safe skillet over medium-high heat. Add the chopped bell peppers and saute, stirring occasionally, until softened, about 5 minutes.

Move the bell peppers to one side of the skillet and add the ground turkey meat, pressing it into an even layer in the skillet. Allow it to brown on one side for 1 to 2 minutes. Flip, and allow turkey to brown on the other side another 1 to 2 minutes. Chop up the turkey using a spatula and mix everything together.

Add the sweet potato rice and black beans and stir well.

In a blender, combine the tomato sauce, tomato paste, broth, chili powder, ground cumin and sea salt. Blend until smooth. Pour this mixture into the skillet and stir well. Bring to a gentle boil, then reduce the heat, cover, and simmer 15 minutes.

Preheat the oven to 375 degrees F.

Uncover the skillet and sprinkle the grated cheese over the skillet and place on the center rack of the preheated oven. Bake for 10 minutes, or until cheese has melted and turkey reaches an internal temperature of 165º.

Serve with or without warm corn tortillas with fresh cilantro, green onion, and avocado.
Nutrition Facts
Turkey Enchilada Skillet
Amount Per Serving (1 of 5)
Calories 479
Calories from Fat 189
% Daily Value*
Fat 21g32%
Cholesterol 47mg16%
Carbohydrates 38g13%
Protein 37g74%
* Percent Daily Values are based on a 2000 calorie diet.