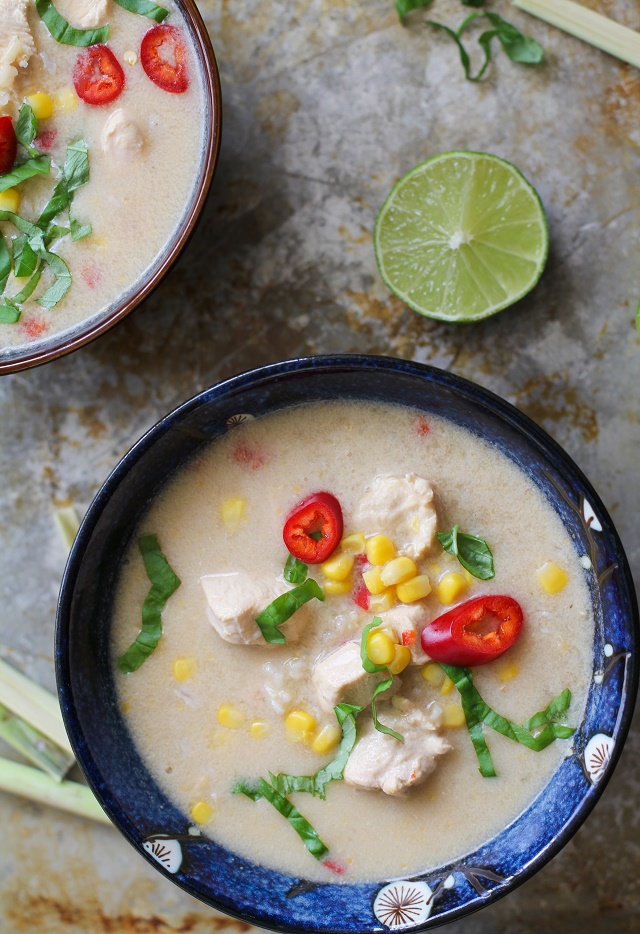 I'm back on the West side, and I have a bit of a confession. I un-did something disappointing. I went to North Carolina for five days and didn't eat a lick of Carolina barbecue. Not one biscuit, no sweet tea, not a single hush puppy, not even a smidge of banana pudding. I un-did the entire North Carolina cuisine experience when I was in North Carolina, and I have no good reason for it, other than I forgot.
My good friend, Sandi got married on Saturday, hip hip hooraaaaaaay! We had a wonderful time catching up and between jibber jabbering and wedding preparation, we had little time to spare. Ergo, no Instagram pictures of fried okra. Those'll have to wait until next trip.
Before I left for NC, I made a batch of Thai Chicken Soup. Until this point, I had relied on Thai restaurants for the soup, thinking there was no way I'd be able to fashion up something half as delicious. It is one of those dishes I sidled around like a kid with gum on her shoe. I gave it the one eyebrow up, turned the other direction, and let it be. Now that I've done made the thing, I'll be doing so time and again.
Remember my phobia of rhubarb I told you about when I posted the Gluten Free Strawberry Rhubarb Cake?  That's pretty much how I felt about lemongrass before making this soup. Why does it looooook like thaaat?  What do I dooooo with iiiiit? Somebody help meeeee.
At first glance, lemongrass seems strange…like a house with no door.  How do you get into it? Do you break a window and hope there's no security system or rabid dog inside? Once you peel the outer layers off, take a nice smash at it, and cut it into pieces, lemongrass becomes more familiar, and less like a menacing extraterrestrial. And it makes Thai dishes delicious.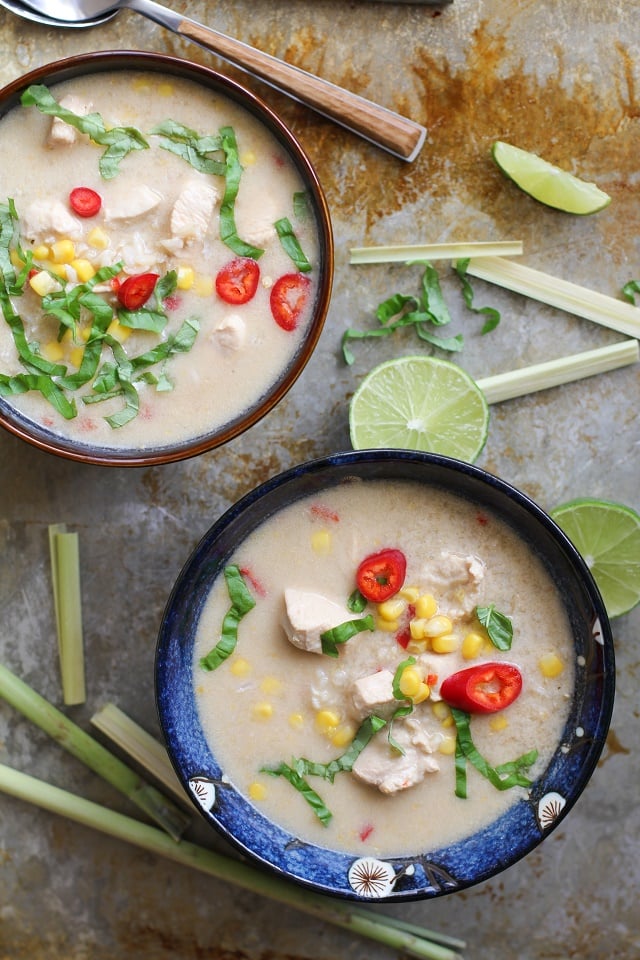 This is a great recipe to change up the normal cold-day chicken noodle soup repertoire. It's all Thai'd up and full of flavor. Now if I could only get some Carolina barbecue to go with it…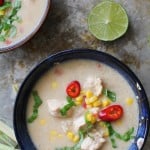 Thai Chicken Soup
Print
Ingredients
1

tablespoon

olive oil

3

stalks lemongrass*

2

ears corn

kernels removed

2

red mini sweet peppers

chopped, or ½ a red bell pepper

1

pound

boneless skinless chicken breasts

chopped

2

tablespoons

fish sauce

2

teaspoons

yellow curry powder

1

quart

low-sodium chicken broth

2

limes

juiced

1

cup

coconut milk

canned full-fat coconut milk recommended
Instructions
Place chopped chicken in a bowl and marinate it with fish sauce. Sprinkle curry powder over it and allow it to sit while you're sautéing the lemongrass, corn, and peppers

Chop the ends off of the lemongrass, and peel the outer layers. Smash the stalks and using only the bottom 1/3 of the stalk, cut strips.

Add oil to a large saucepan or stock pot and add the lemongrass, corn, and peppers. Sauté until softened and fragrant, about 5 minutes.

Add the chicken and cook just until browned, about 1 to 2 minutes.

Add the chicken stock, lime juice, and coconut milk. Cover the pot and bring to a gentle boil.

Reduce heat and simmer until chicken is cooked through, about 20 to 30 minutes.

When ready to serve, remove the harder pieces of lemongrass.

Serve with chopped cilantro
Recipe Notes
*You can replace the fresh lemongrass with lemongrass paste to taste