Just when you thought pancakes were for weekends only, in walks these nutritious Sweet Potato Sheet Pan Protein Pancakes! Gluten-free, dairy-free, flourless and easy to prepare in the blender, these pancakes are perfect for meal prepping in advance or for serving family.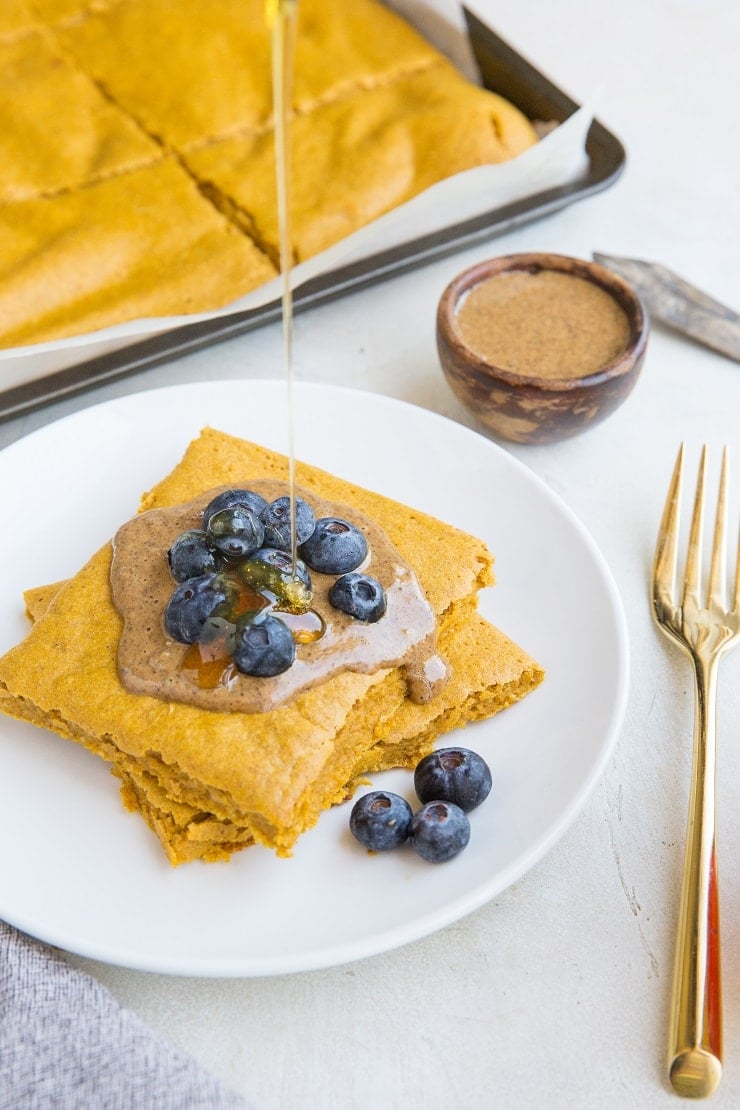 Hello, breakfast of dreams!
If you've seen my Paleo Sheet Pan Pancakes and my Sweet Potato Rolled Oat Protein Pancakes, we're combining concepts here.
We're making a big batch of pancakes using a sheet pan to omit the entire process of cooking them individually on the stove top. All the pancakes DONE in one fell swoop!
That means you can multitask while the pancakes are baking and aren't married to the stovetop.
Plus, they are gluten-free, dairy-free, and at a minimum require only THREE basic ingredients!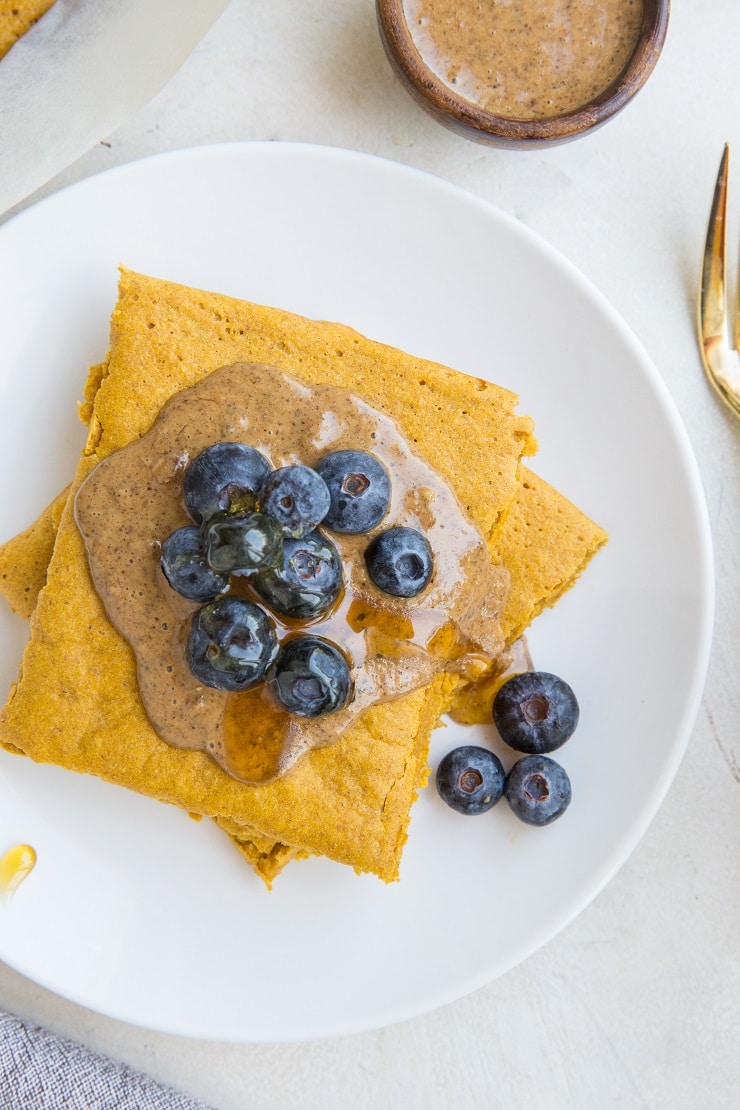 My partner has been a long-time meal prepper of sweet potato pancakes (he is who inspired this recipe!), as he makes all of his meals for the week on the weekend. He typically cooks them on the stove top but I recently got smart (and selfish) and thought it would be great to cook them all at the same time instead of being confined to the kitchen.
While I change up my meals often, I find these pancakes are pretty perfect for a pre or post-workout meal, as they fit my macros nicely.
Let's Talk Macros:
Skip this part if you don't care about macros!
The macro breakdown on these pancakes is pretty epic for my fellow active individuals. 2 slices of pancake yield 16 grams of protein and 38 grams of complex carb, which is pretty great for a pre or post-workout meal! I like to start my day with 25 to 30 grams, so I usually eat a small amount of another source of protein with the pancakes.
Recently, I learned we're more sensitive to insulin in the morning, leading up to right around 2pm, so I figured I would experiment and eat the majority of my carbs for breakfast and lunch (which falls nicely around my workouts) in order to capitalize on that.
If you're aiming for a lower carbohydrate diet all around, a less carb-rich meal is probably still the approach you want to take, but if you exercise and have macro targets you're looking to hit, my partner and I find these pancakes fit nicely into our daily routine.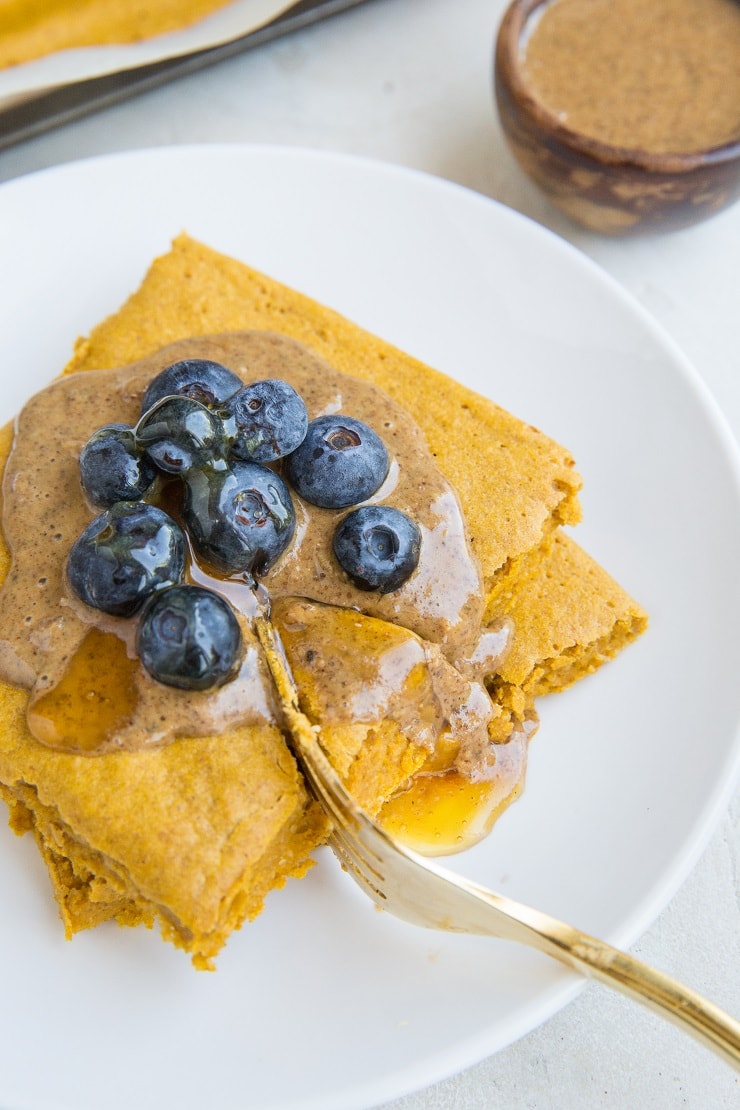 But don't let all this talk about macros ruin the mystique of these sheet pan protein pancakes! They're pretty romantic little buggers in spite of also being healthful.
I happen to think the ingredients are pretty rad, so let's discuss them!
Sweet Potato Sheet Pan Pancakes Ingredients:
Rolled Oats: Rather than using flour, we're taking whole oats and blending them into a flour for these pancakes. I like using sprouted organic gluten-free rolled oats, but you can select your favorite oat option. Just note if you're a gluten-free eater that your oats need to state that they're gluten-free.
Sweet Potatoes: Much of the bulk of these pancakes is cooked sweet potato! They add natural sweetness and volume to the pancakes, and when combined with eggs, sweet potatoes hold together nicely. They add complex carbohydrate, resistant starch, antioxidants and vitamins to the meal. Plus, they're delicious!
Eggs & Egg Whites: The only liquid we need for these pancakes are whole eggs and egg whites. I know, it's crazy! The combination of egg whites and whole eggs ensures these pancakes hold together easily and also have a good amount of protein.
If you don't have another use for the yolks, I recommend buying egg whites in a carton. Because you need 6, that equates to just over 1 cup of egg whites (1 cup + 1 tablespoon to be exact).
Ground Cinnamon & Sea Salt: Ground cinnamon and sea salt add that enticing warm appeal and a flavor enhancement. Don't skip them!
Optional: Protein Powder, Vanilla Extract, and/or Pure Maple Syrup. In order to boost the protein count, I add protein powder (I use goat milk protein or hemp protein). If you're less concerned about the protein, skip it! Vanilla extract and pure maple syrup also improve the standalone flavor of the pancakes. I don't add pure maple syrup to the batter, because I eat them with honey on top but if you want to be able to grab a slice and eat it without toppings, I recommend adding some sweetener.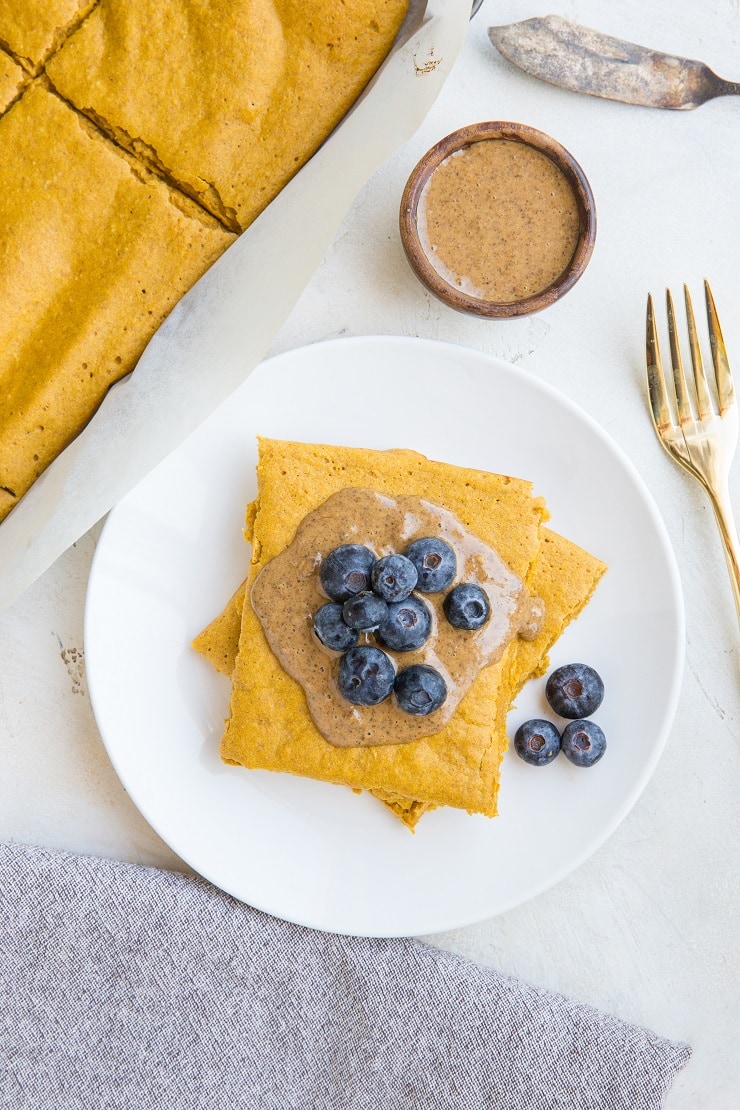 How to Make Sheet Pan Protein Pancakes:
The only forethought you need to put into this recipe is you'll need to cook the sweet potato ahead of time. You can do this using your favorite method! My partner microwaves his, I boil mine. You can cook the sweet potato up to 4 days in advance, or get the rest of the recipe ready while the sweet potato is cooking.
Once your sweet potato is cooked, you make flour out of the oats by blending them in your blender. This is no big deal – it's actually pretty convenient – since the pancake batter itself is prepared in the blender as well! You simply add all of the ingredients and whiz it up!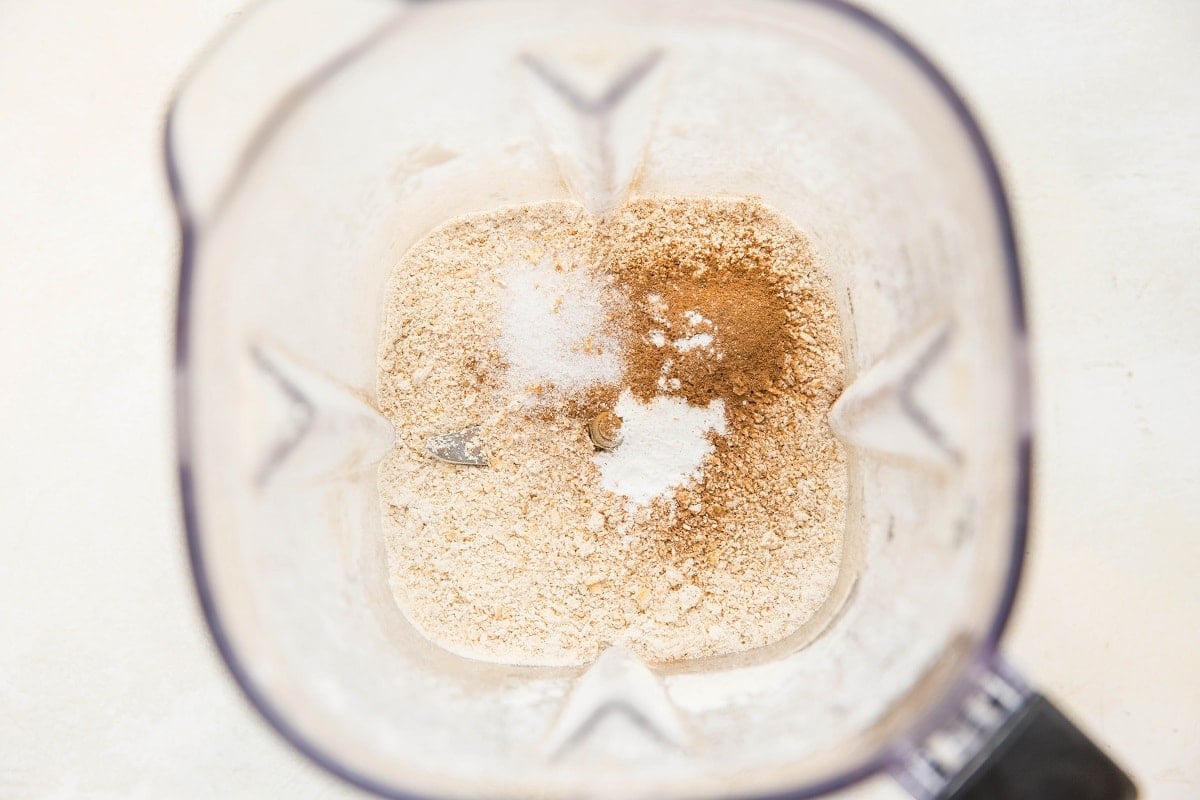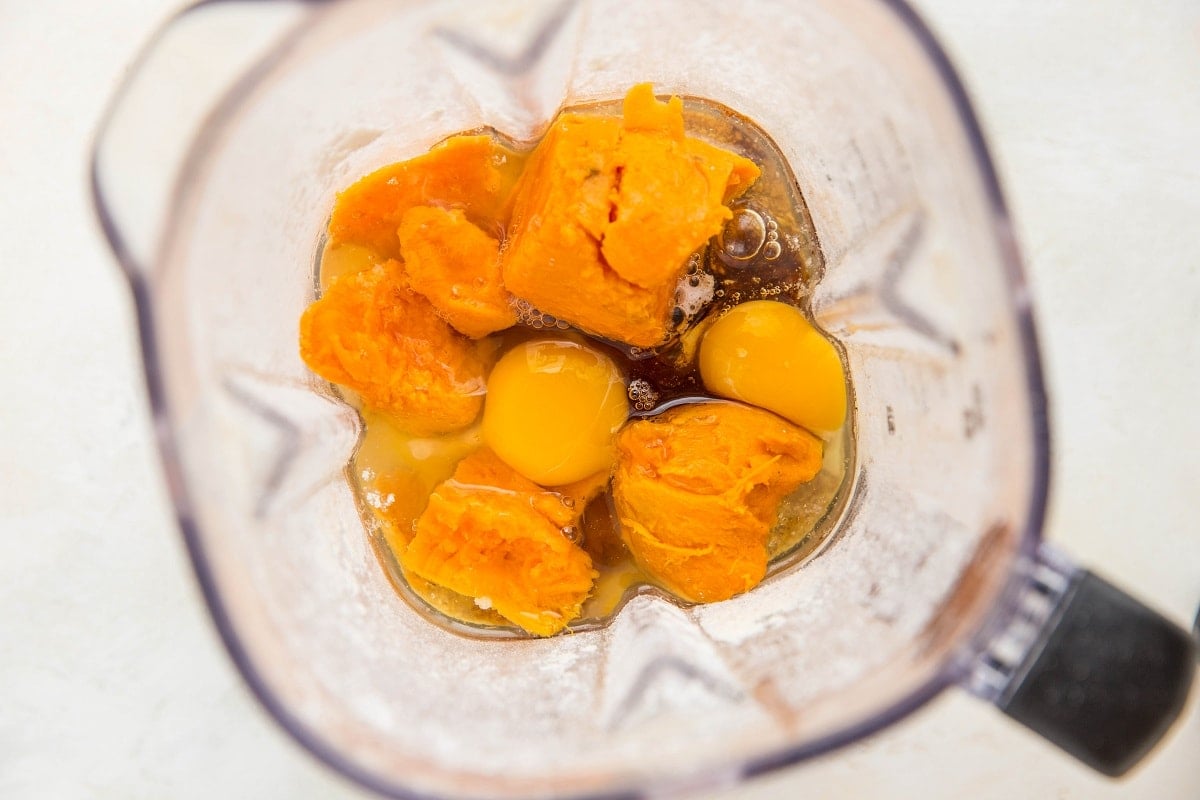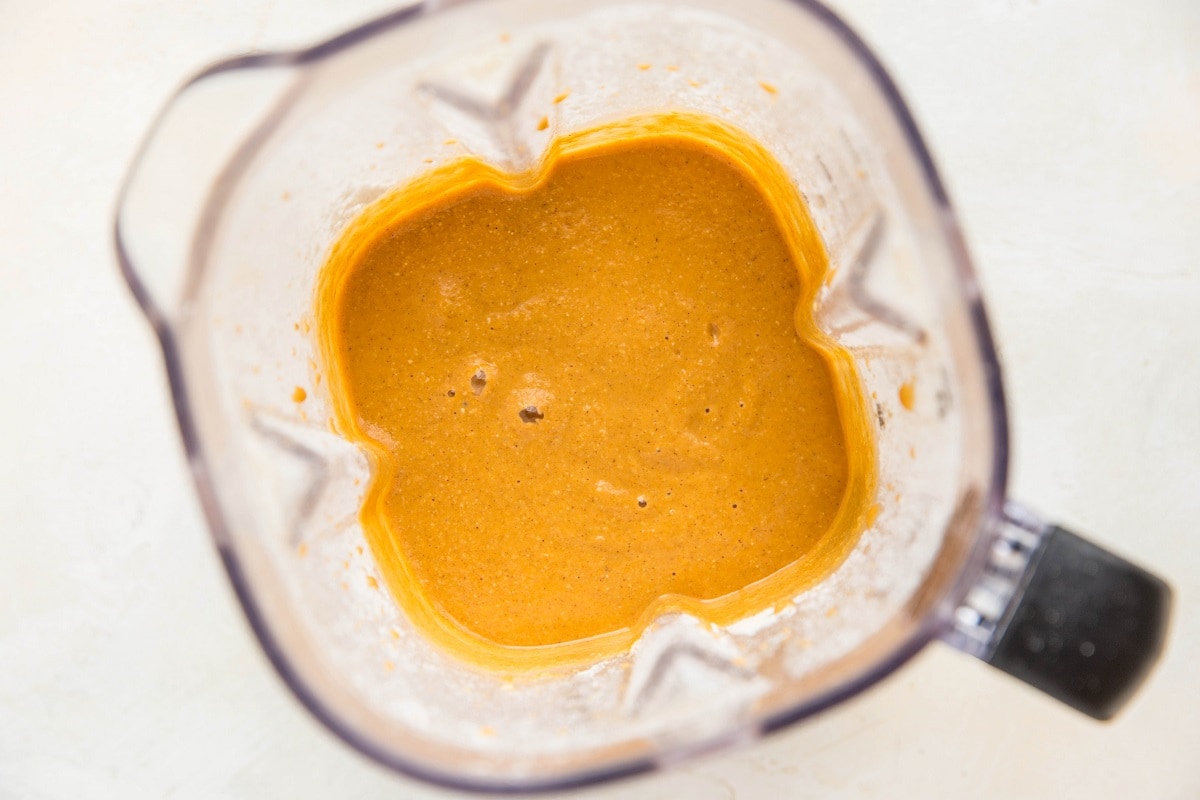 After the batter is made, it all gets poured onto a parchment-lined baking sheet. If you don't have parchment paper, you can liberally grease a baking sheet with coconut oil or butter. Because the pancakes don't have very much fat in them, I recommend sticking to parchment paper as it is much easier to remove from the baking sheet (and avoids adding excess fat to the pancakes, if that is a concern).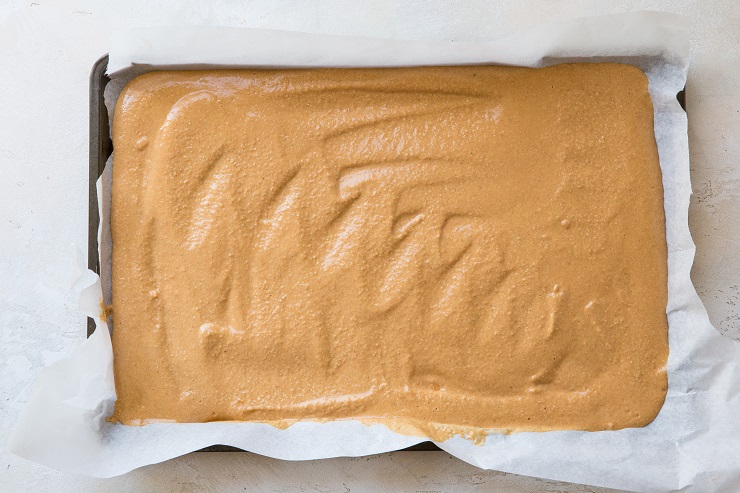 Once your pancakes are out of the oven, you can top them however you'd like! I go crazy over the combination of Nuttzo and honey or sliced banana.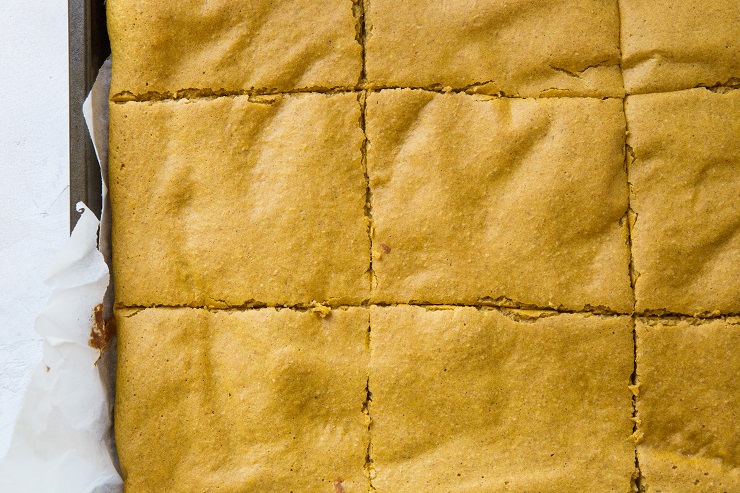 That's it! I hope you love these beauties as much as we do!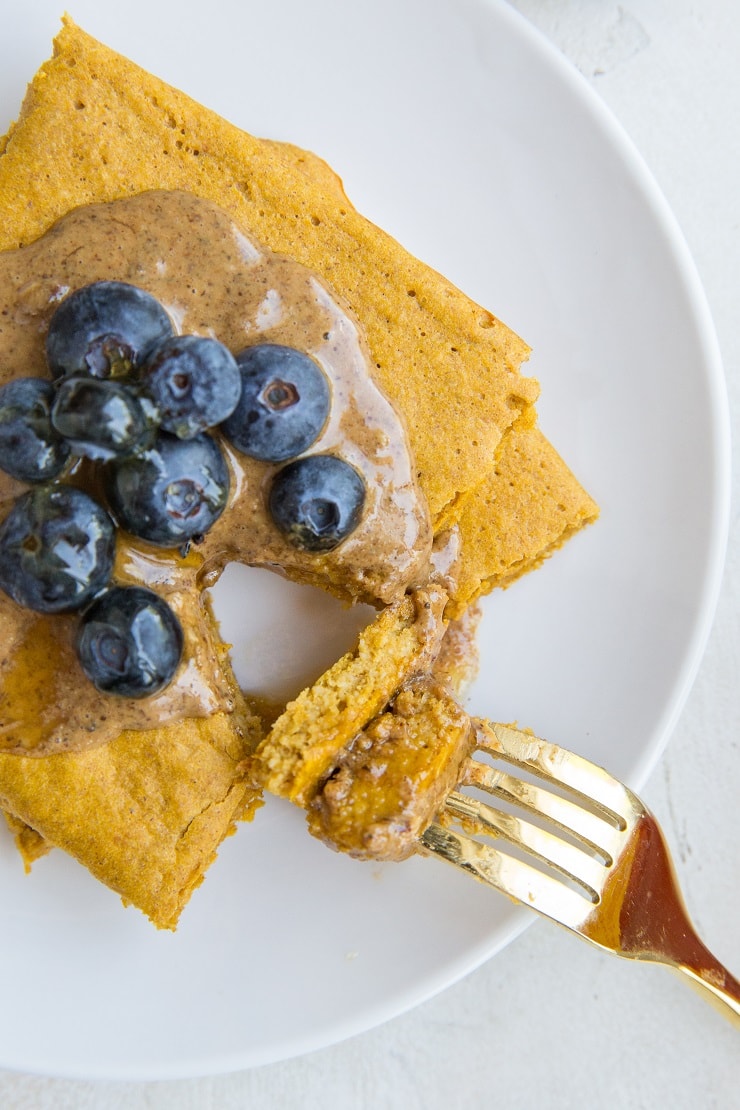 More Delicious Breakfast Recipes:
My cookbook,
Paleo Power Bowls
, is now available! CLICK HERE to check it out. Thank you for your support!
If you make this recipe, please feel free to share a photo on Instagram and tag @The.Roasted.Root!
Sweet Potato Sheet Pan Protein Pancakes
Sweet potato pancakes made easy in the blender and baked on a sheet pan. A low-fuss, delicious and healthful pancake recipe!
Instructions
Cook your sweet potatoes using a method of your preference. I chop them into chunks and boil them for about 15 to 20 minutes, until they're tender. While the potato is cooking, you can prepare the rest of the recipe (or cook the potato up to 4 days in advance)

Preheat the oven to 375 degrees F and line a large sheet pan with parchment paper.

Add the oats to a blender and blend until a flour forms - it's fine if there are small chunks...you just want it to have a similar consistency as flour.

Add the remaining ingredients to the blender and blend until smooth.

Pour the pancake batter onto the parchment-lined baking sheet and smooth it into an even layer.

Bake for 20 to 24 minutes, or until the pancakes have set up and are cooked through - I do 22 minutes.

Remove the pancakes from the oven and allow them to cool for 5 minutes before slicing and serving.

Serve with your favorite toppings. I go with nut butter and honey and sometimes fresh fruit.
Nutrition
Serving:
1
of 12
|
Calories:
129
kcal
|
Carbohydrates:
19
g
|
Protein:
8
g
|
Fat:
3
g
|
Fiber:
3
g
|
Sugar:
3
g