Sweet potato, kale and bacon scramble is a nutritious, delicious way to start the day! It's clean, easy to make and filling!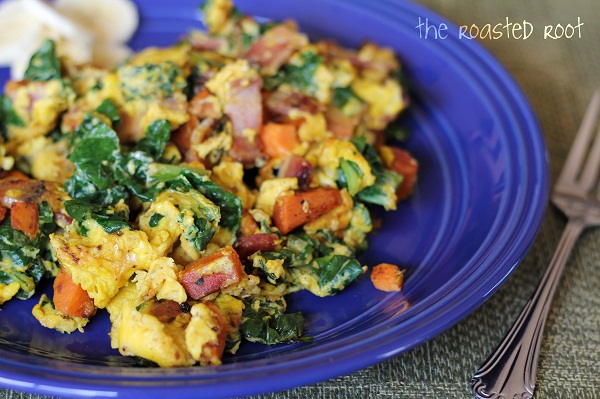 Busy days mean sleeeeepy evenings. And sleepy evenings mean extra coffee in the morning plus super food breakfast.
Days have been busy round these parts. Evenings have been sleepy. Breakfasts have been super.
I posted a version of this recipe a few months ago and wanted to bring it back to the forefront. We call this breakfast "The Ush" because we uuuuuuuuuusually have it….every. single. morning…or some rendition of it.
Protein, vitamins, a side of fruit. Does a body good. G is the breakfast master in our commune.
I drink coffee while he makes The Ush. This Ush was made by G, not me. I hope you try it, because it's super.
Sweet Potato, Kale & Bacon Scramble
Sweet Potato, Kale & Bacon Scramble is a filling and nutritious way to start the day.
Ingredients
6

eggs

4

strips thick cut smoked bacon

2

teaspoons

olive oil

1/8

cup

liquid

such as water, chicken broth, vegetable broth

½

inch

medium sized sweet potato

peel on, chopped into ¼- squares

¼

red onion

diced

2-3

leaves

stalks kale

stems removed and chopped, chopped

Toppings of your choice: cheese

guacamole, salsa, plain Greek yogurt
Instructions
In a medium-sized skillet, heat about two teaspoons of olive oil on medium heat.

Add the chopped sweet potato and onion and saute 3 or 4 minutes before adding a little liquid and covering.

In about 2 minutes, check to see if the liquid has burned off. If it has, add a little more and cover again. Repeat this several times until the sweet potato is soften, but still al dente.

Add the chopped kale stems. Saute another 3 to 5 minutes and add additional liquid if necessary.

Add the chopped bacon. Allow the bacon to cook to desired crisp. Add the kale leaves. Allow to steam for about 30 seconds before pouring the scrambled egg mixture evenly over the meat and veggies.

This is where the technique comes in. Avoid the temptation to stir. Simply allow the skillet to sit 2 to three minutes. Then, using a wooden spoon or spatula, begin flipping sections of egg and veggies (similar to how you would fold whipped egg whites into a cake batter, just gently fold the scramble onto itself).

Once all sections have been flipped over, everything to sit and cook another 2 or 3 minutes. Repeat the flipping. Continue doing this until the egg is no longer cooking to the skillet. Add salt to taste.

Serve with your favorite toppings!
Nutrition
Serving:
1
of 2
|
Calories:
461
kcal
|
Carbohydrates:
9
g
|
Protein:
28
g
|
Fat:
34
g
|
Fiber:
3
g
|
Sugar:
3
g