Breakfast of champions right here! Broccoli, Mushroom, and Sun-Dried Tomato Scramble is full of flavor and makes for a nutritious, vegetarian breakfast.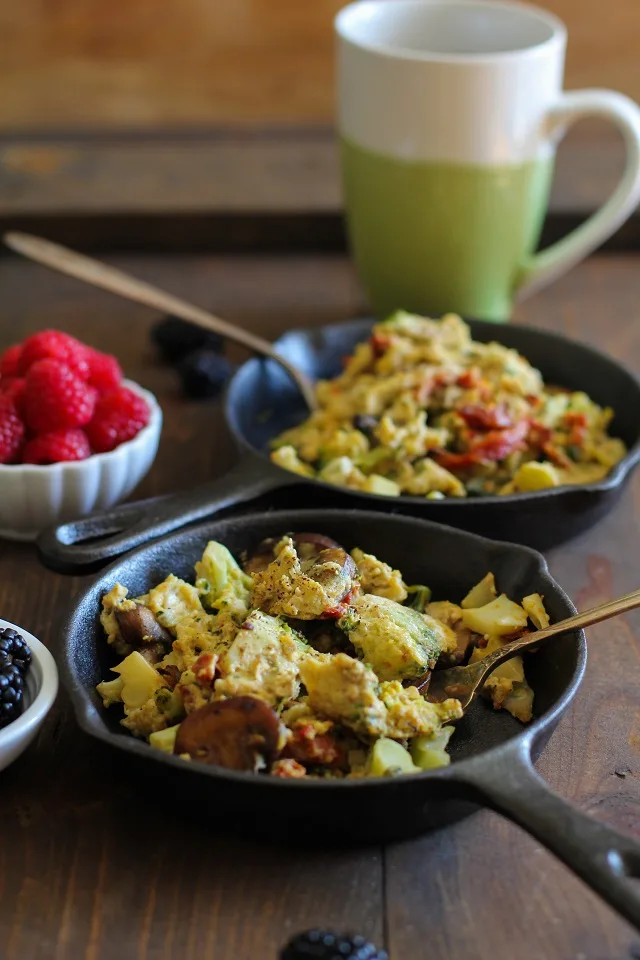 Breakfast is the easiest meal of the day for me. If I'm in the mood for something sweet, I'll do a fruit-yogurt-nut concoction, using whatever fruit is on the counter or in the crisper. If I'm feeling like eggs, I just saute up any veggies that are going out of business, and scramble them up. I'll even throw in a sun-dried tomato or artichoke heart if I'm feeling frisky.
So basically, breakfast is where I put any produce items that are four, five seconds from sighing (<-that's Australian for "ripening" or "going bad." It's the garbage disposal of all the meals. But in a good way…in a resourceful, fresh, healthy, start-the-day-off-on-the-right-foot-path way.
Picturesque, ain't she?
The other morning, I was in the mood for a veggie scramble and had leftover steamed broccoli from a previous meal as well as a carton of mushrooms that had no immediate purpose. I sauteed the mushrooms until they were nice and golden-brown, then added my chopped steamed broccoli along with sun-dried tomatoes for spunk and flavor. The whole thing didn't take more than 20 minutes to make and I was super satisfied until lunch.
You can also use fresh raw broccoli by finely chopping it and sauteeing it when the mushrooms until it's soft. Or, if you're like me and always have a supply of collards, spinach, and/or kale on hand, you can replace the broccoli with a leafy green. We've got options, people!
If you're looking for some extra scrambled egg steez, you can add mozarella or jack cheese for a nice melty experience. Or ham, bacon, or pepperoni. Heck, you could even toss in some leftover pasta sauce and make a sort of pizza egg scramble. Just some ideas for your head organ.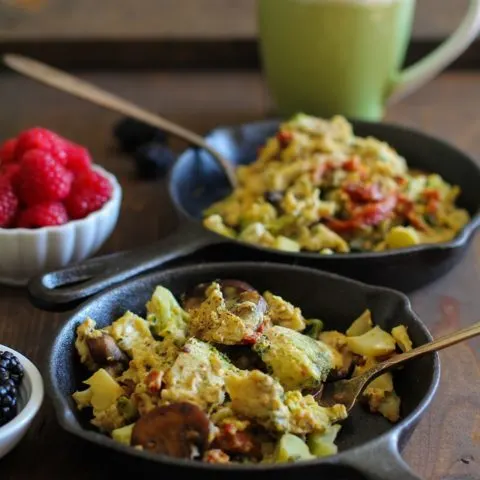 Broccoli, Mushroom, and Sun-Dried Tomato Scramble
Broccoli, Mushroom, and Sun-Dried Tomato Scramble is a nutritious and delicious breakfast scramble to make your weekend extra special.
Ingredients
2 tablespoons grapeseed or olive oil
1-½ cups mushrooms, chopped
2 cups steamed broccoli, chopped*
1/3 cup sun-dried tomatoes, drained
1 clove garlic, minced
6 eggs, well beaten
sea salt
Instructions
In a medium-sized skillet, heat the grapeseed oil to medium. Add the mushrooms and saute, stirring frequently until golden brown and soft, about 3 to 5 minutes. Add the chopped steamed broccoli, sun-dried tomatoes, and garlic. Saute, stirring occasionally until garlic is fragrant, about 3 minutes.
Pour the beaten eggs evenly over the veggies and allow them to cook, untouched, about 1 to 2 minutes. Use a spatula or wooden spoon to stir the mixture together until eggs are fully cooked, about 2 to 3 minutes. Sprinkle with desired amount of sea salt and serve.
Notes
*If using raw broccoli, saute the broccoli with the mushrooms until softened. If necessary, add a couple tablespoons of water while sauteing the veggies to help them steam.
Nutrition Information
Serving Size

1 grams
Amount Per Serving
Unsaturated Fat

0g