Hearty and nutritious scrambled eggs with sweet potato, bacon, and spinach. An easy breakfast recipe that keeps you full and satisfied.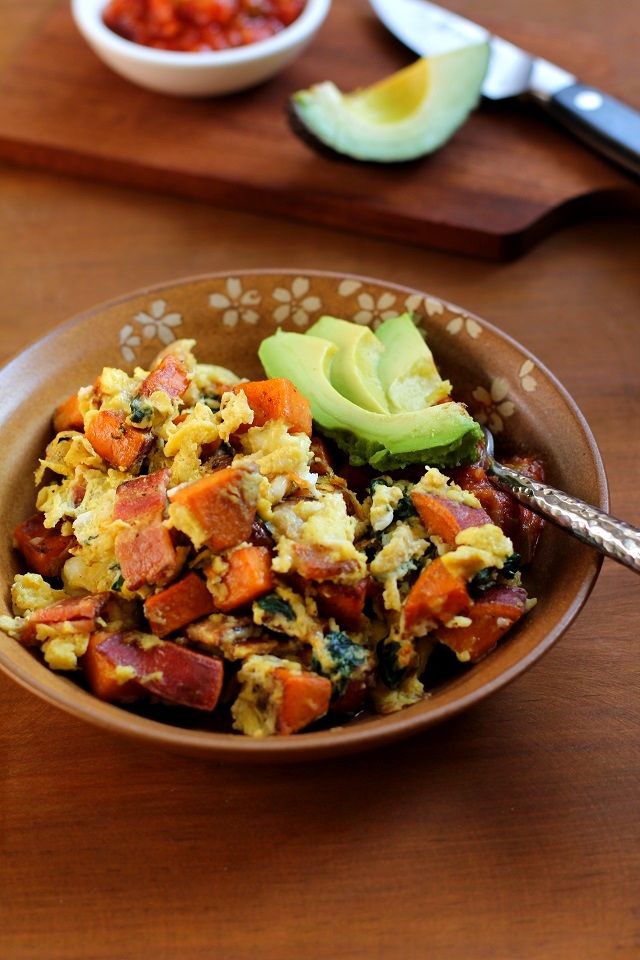 Howdy, how was your weekend? I went for a long and gorgeous hike on Saturday, packed a ham and avocado waffle sammie for the trail, then met some friends for beer at my favorite local brewery, Alibi. Took a little jogerooski on Sunday, followed by an afternoon in the sunlight at the Lake. Today, I get to hang out with my good friend, Sarah and her husband, who are visiting Tahoe for a vaycay! We're hiking the Flume Trail and will be lunching at one of my favorite eateries, Mountain High Sandwich Co. Follow our adventure on InstaG if you wish, but in the meantime, let's talk scrambled eggs.
Do you love them? Loathe them? Prefer them plain Jane with salt and pepper? With a sprinkling or smattering of cheese? How do we feel about vegetables? Meat? Huevos Rancheros? Do we require the runny yolk of the sunny side upper in order to feel like all is right in the world? Could we skip the dern things altogether because they smell and look weird?
I'm a sucker for scrambled eggs and enjoy them most with some sort of potato and a green. Throw some fatty meat in there and WUNDERBAR! When it comes to the breakfast scramble, I've managed to get this thing down to a system over the years. My favorite?: sweet po', bacon, and spinach. Call me a creature of habit, but for me, there's something so pleasurable about this combination that I rarely deviate from it, unless I have leftover roasted, grilled, or steamed veggies (or cooked meat) from dinner the previous night, in which case, in the egg dish they go!
The reason veggie-packed egg breakfasts are a staple in my diet: 1.) The taste = scrumptious 2.) The fillingness 3.) The fiber and protein combo. I find starting my day with a solid amount of protein + veggie fiber makes my digestive system one happy place. I've also discovered in my old age that skipping breakfast is a big no no for this girl…my soul system just don't work like that.
SO when it comes to the scramble, this is my ush. Chopped up sweet potatoes pan-skilleted in bacon fat with spinach. Although some view the sweet potato as a vegetable to be enjoyed during the fall and winter months, it is an all-seasons every-day occurrence for me. I like to add hot sauce or salsa to my finished scramble, and if I'm really letting my hair down, some slices of avocado. I know. It's silly simple…probably nothing to ooh and aah over…but definitely a winner on the daily.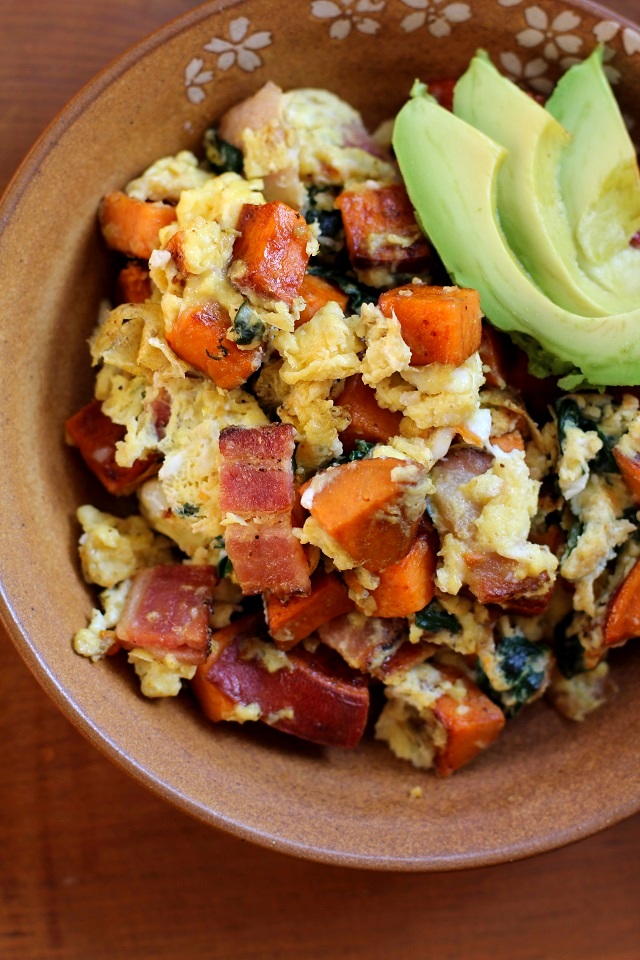 BACON, can we have words? I like using bacon from the butcher's department..you know, the real thick kind? With the variety of flavors, like "sweet n spicy" or "peppered" or "double cherrywood hickory smoked" <- I just made that up. Case in point: I get a pound of bacon from the butcher's cabinet at my grocery store every week. It ends up being cheaper than the packaged kind, and you guys: the bacon is like 456 times better than the reg. Just like the ingredients that go into a dish make all the difference, so does the technique.
Here's my methodology:
Cook a couple slices of bacon in the cast iron skillet, just until crispy on the edges, but still floppy, you see.

Leave bacon fat in the skillet, but remove the bacon and chop it up.

Cook sweet potato hunks in bacon fat until crispy on the outside and soft on the inner reaches.

Add the baby spinach and chopped bacon.

Add the beaten eggs and allow everything to sit for a minute or two (without scrambling like a crazy person) so that the result is big hunks of scramble, rather than little gritty bits of scramble.

Flip 'er with a spatula and cook more.

To add cheese, or not to add cheese? Add cheese.

Serve with hot sauce, salsa, and avocado

You can totes wrap this scramble in a tortilla to make a bk burrito

I just wanted to make this a well-rounded list of 10.
And that is all…you now hold the key to what I consider to be the perfect breakfast scramble. You can adjust the amount of bacon, sweet potato, and eggs according to how many people you're serving (slash how much bacon fat you're in the mood for). You could make this a sausage thing or a country ham thing, shoot, you can even turn it into a frittata or comelet. Just be sure to remember the avocado!
If you love a good scramble, also check out my Roasted Vegetable Scramble and Broccoli Mushroom and Sun-Dried Tomato Scramble.
Most important meal of the day, annnnnd GO!
Sweet Potato, Bacon, and Spinach Scramble
Sweet Potato, Bacon, and Spinach Scramble is a nutrient-dense way to fuel your day!
Ingredients
2

slices

to 3 thick-cut bacon

½

medium sweet potato

chopped into ½" chunks

2

large handfuls baby spinach

5

eggs

well beaten

salt to taste
For Serving:
Hot sauce or salsa

slices

Avocado
Instructions
Heat a medium-sized (10-inch) cast iron (or non-stick) skillet to medium high. Cook the slices of bacon just until the sides begin to crisp up, flipping a couple of times. Transfer bacon to a cutting board and chop.

Add sweet potatoes to the hot skillet. Stir well, cover, and cook for 10 to 15 minutes, stirring occasionally. Sweet potatoes should be crispy on the outside and cooked-through on the inside. Note: if sweet potatoes start to darken too quickly, turn heat down to medium-low.

Add the chopped bacon and spinach and cook until spinach wilts, about 2 to 3 minutes.

Add beaten eggs and allow skillet to sit untouched for 2 minutes.

Use a spatula to flip eggs, allow them to sit again 1 to 2 minutes.

Flip eggs again and continue cooking until they reach desired done-ness.

Serve with avocado and salsa
Nutrition